Charity pursuits and coastal happenings in Newport Beach
By Newport Beach Magazine Staff
Speakeasy Soiree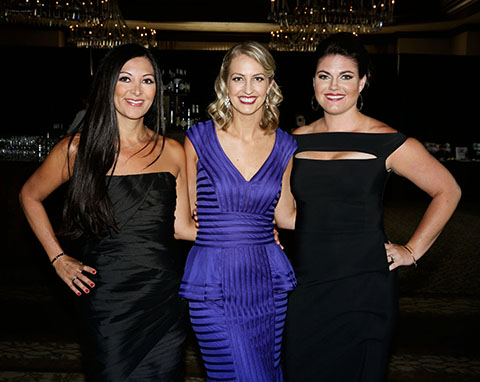 Guests at Big Canyon Country Club were invited to step back into the 1920s on May 17 for the CHOC Glass Slipper Guild's annual gala. In the driveway of the exclusive club, a vintage Lincoln Zephyr convertible greeted visitors, the first of the evening's many era-appropriate touches. More than 440 attendees joined the Glass Slipper Guild for a lively cocktail hour, which featured classic signature drinks like the French 75 and a Champagne bar. Inside an elegant draped tent on the golf range, chandeliers glittered overhead as guests enjoyed dinner, a raffle and live auction. The evening took an inspirational turn with a touching speech by special guest and guild member Kara Kipp, who shared how CHOC saved her son's life when he was diagnosed with a rare pediatric liver cancer. The event raised $330,000 for CHOC Children's, which will be used to fund the 6,400-square-foot post-anesthesia care unit for the hospital. —A.H.
Champions to CureDuchenne Gala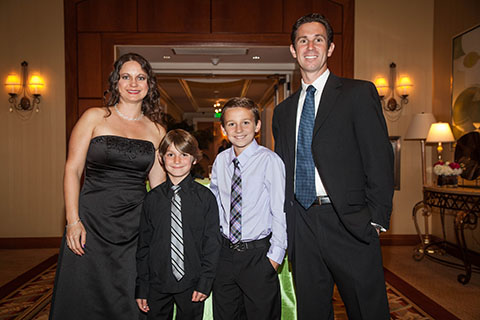 A heartfelt evening saw more than 250 guests gather in the Balboa Bay Resort's Grand Ballroom on March 29 to raise awareness and funding for the Newport Beach-based national nonprofit CureDuchenne. The night began with cocktails and a silent auction, leading up to a four-course dinner conceptualized and executed by local celebrity chef Jamie Gwen. CureDuchenne founders Paul and Debra Miller addressed the guests throughout the gala, honoring avid supporter Doug Freeman and the CureDuchenne "champion," 10-year-old Tyler Armstrong, who summited three mountains to raise awareness for the disease. Duchenne is a progressive muscular dystrophy disease affecting one in 3,500 boys who end up wheelchair-bound by age 10; most don't survive their mid-20s. As there is no FDA-approved treatment, the live auction toward the end of the evening served as an open platform to support funding treatment programs. What started with a $50,000 bid garnered a grand total of more than $360,000 in support of efforts. Celebrity advocate and American Idol contestant Sarah Burgess concluded the night with a performance of her song "Run Away," which she wrote for CureDuchenne and boys with the disease, including her recently diagnosed 7-year-old brother. —K.P.
Dancing for Tomorrow's Stars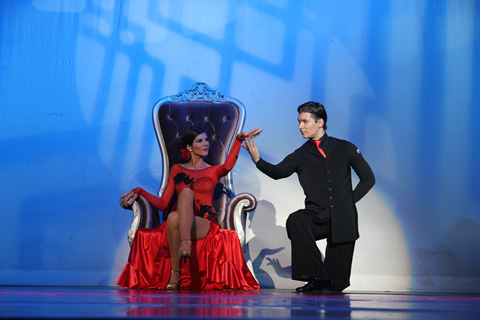 Community leaders strapped on their dancing shoes for the Assistance League of Newport-Mesa's seventh annual Dancing for Tomorrow's Stars fundraiser at The City National Grove of Anaheim. Raising more than $150,000, the March 29 event brought together 300-plus attendees, including performers Ben Anderson, head of BCA Development; Brad Davidson, vice president of metabolism and performance research at Stark; Lisa Heil, an Orange County philanthropist; Lauren Kear, a private investor who lives in Newport Beach; Marco Antonio McAleer; and Marisa Wayne, daughter of John Wayne. As guests enjoyed dinner, the dancers took the stage to compete in front of a panel of judges, which included Alfredo Molina of Black, Starr & Frost. Lisa was named the best female dancer as well as the fan favorite, while Brad took home the award for best male dancer. Proceeds from the event fund the organization's four philanthropic programs for children in need in Newport Beach and Costa Mesa. Programs include Operation School Bell, which provides school supplies and uniforms, and the Cheri Harris Children's Dental Health Center, where children in need are referred to receive a full range of dental and orthodontic services as well as dental hygiene instruction. —A.H.
Bet on the Wheels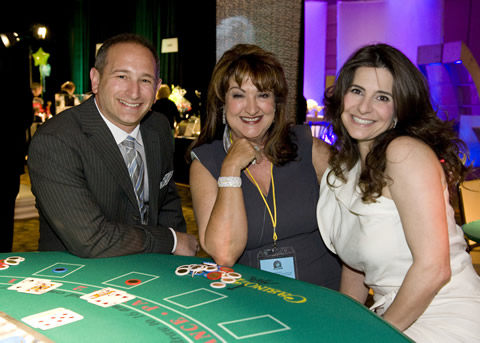 Local arts programs won the jackpot at the The Guilds of Segerstrom Center for the Arts Bet on the Wheels event, an evening of casino-style gaming, auctions, dining and dancing to the Jet Set Quintet at the Hotel Irvine on April 12. The evening raised more than $250,000 for Segerstrom's arts education programs. In addition to playing poker, blackjack, craps and roulette, attendees nibbled on treats from themed dining areas, including an Italian trattoria, a gastropub, an Asian cafe, a sweet shop and a martini lounge. The inaugural Guilds Inspiration Award was presented to Bev Sandelman, former Guilds chairwoman, for her dedication to the organization. The Guilds also honored Segerstrom Center board member Eve Ruffatto and her husband Mike for their support, as well as Idit and Moti Ferder, who always provide an item for the event's top raffle prize. This year's raffle items included a three-strand pearl necklace from Lugano Diamonds, a one-year membership to Segerstrom Center's private donor rooms and a shopping spree at South Coast Plaza with complimentary valet service for one year. Attendees showed their generosity during auctions, with proceeds supporting the center's outreach efforts that benefit nearly 300,000 students, teachers and families every year. —S.S.
Black & White Ball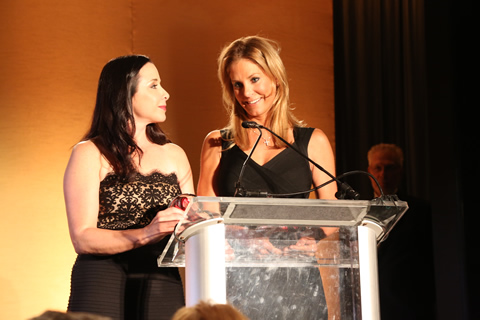 An annual "celebration of children," the Court Appointed Special Advocates (CASA) of Orange County's Black & White Ball brought together more than 450 people at the Island Hotel on April 25. The Friday evening soiree was a touching tribute to the organization's dedication to helping abused, abandoned and neglected children in the foster care system. CASA supporters helped raise a net total of $780,00 that will directly benefit more than 800 children, providing them with much-needed mentorship and support in all aspects of their lives. This year's event featured a silent auction with more than 100 items; a live auction that included vacation and sports packages, jewelry and more; and a gourmet dinner. The Children's Champion awards were presented to Lisa and Stephanie Argyros for their years of support to the organization, while Newport Coast resident Larry Wilson was honored as an outstanding advocate. The highlight, however, was a touching talk by youth speaker Ty, who has had a CASA advocate for seven years and shared how having an adult who believed in him encouraged him to pursue his dreams for the future. —A.H.
Founders' Celebration Brunch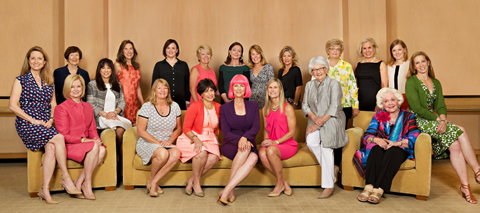 What started out as a simple request by breast cancer survivor Sandy Sewell of her closest friends to donate a minimum of $1,000 annually to the Hoag Family Cancer Institute has grown to include more than 1,000 supporters. Since the committee's beginnings in 1987, about $15 million has been raised to support the institute's world-class cancer care. At the April 28 morning event held at the Island Hotel, approximately 500 attendees raised more than $900,000. The highest contribution level—the Silver Circle, which starts at $25,000—saw donations from Bill and Helen Close, Margaret and Tom Larkin, Ginny and Peter Ueberroth, the Marin-Finn Foundation and an anonymous donor. Perhaps the most spectacular part of the morning, however, was when Circle 1000 chair Beth Knapp invited cancer survivors in attendance to stand as she announced a number of years they have been cancer-free. To conclude the event, award-winning actress and best-selling author Jamie Lee Curtis gave an amusing yet inspirational speech explaining her connection to the disease. As a special tribute to a young friend of Jamie's who died of cancer, the actress donned a pink wig worn by the girl to keep her spirit and courage alive. —K.C.
Driving Forward in Style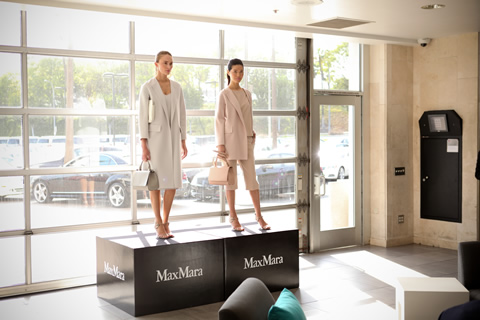 A live band, MaxMara models and the latest Mercedes-Benz vehicles filled the showroom floor of Fletcher Jones Motorcars for Women2Women's annual fundraiser for Hope International on May 8. Attendees enjoyed the sights and sounds during a buffet dinner and cocktail reception, which also provided the opportunity for guests to bid on silent auction items, such as BareMinerals makeup consultations, Angels baseball tickets, Cardelucci photography prints and more. Afterward, Karen Butera, president of Women2Women, offered a heartfelt welcome to attendees while thanking those who facilitated the event. A special guest for the evening, Hope International President and CEO Peter Greer, gave a touching speech about the unique structure of the organization prior to the live auction, which opened with a "front of the valet" pass. Other auction items included a men's Tiffany watch, Lasik eye surgery, a Bulgari purse and even a 6-week-old golden retriever. The event raised $75,000 to benefit entrepreneurial women in India who otherwise wouldn't have the means to launch a business and provide for their families. —K.C.