CITIZEN SCIENCE PROJECTS AT CRYSTAL COVE STATE PARK ENGAGE VISITORS AND STUDENTS ALIKE IN RESEARCH THAT HELPS PRESERVE THIS SPECIAL PLACE.
By Sharon Stello | Photos by Jody Tiongco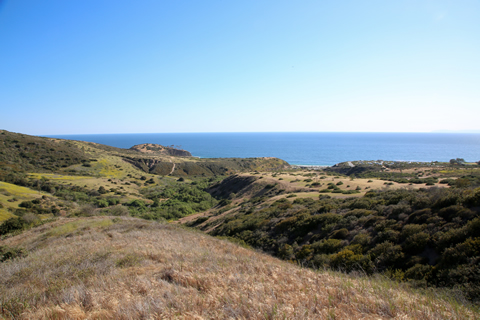 Strolling around the new Berns Environmental Study Loop trail at Crystal Cove State Park, visitors can become scientists for the day, measuring wind speed, peering into a bladderpod bush to find brightly colored harlequin bugs, or listening for the distinct calls of threatened California gnatcatcher birds and recording how many they count.
These are just some of the citizen science projects that thousands of community members, schoolchildren and youth groups are participating in, providing data for research that helps preserve the park while learning about the environment.
Visitors counting harlequin bugs learn that this indicator species provides insight into the ecosystem's health. The bugs' survival depends on bladderpod plants, which are sensitive to temperature variation, so scientists study both in hopes of better understanding how climate change may impact plants and animals in the park. That effort includes tracking the bugs' population.
Crystal Cove Alliance (CCA), the state park's nonprofit partner committed to protecting the site's cultural, natural and historic resources, coordinates more than a dozen of these types of citizen science projects.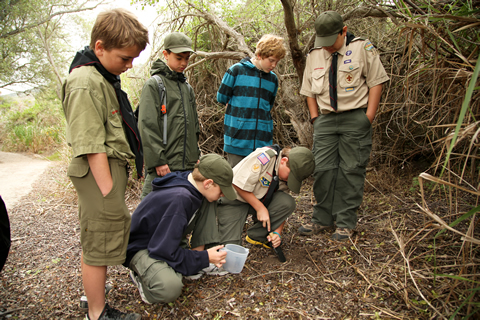 This unprecedented effort to host hands-on projects on public lands is seen as a model that could be replicated throughout California's vast state park system. The outdoor lessons complement classroom instruction and textbook reading to teach science, technology, engineering and math, bringing to life these so-called STEM subjects that have seen a great many students fall by the wayside. 
"A lot of people talk about it, but this is a place where they're actually doing something about it," says Maj. Gen. Anthony Jackson, the director of California State Parks. "This is a model park. I wish I could bottle what this community has … and take that bottle to all 280 state parks. [The system] would run itself."
Harry Helling, president and CEO of CCA, sees the park as a proving ground for innovative teaching methods to provide educators with engaging ways to meet new curriculum standards. "We truly have turned Crystal Cove into a laboratory for testing these new approaches," he says.
Interactive Initiatives
Since 1999, projects primarily have focused on the beach side of the park, with experiments looking at ocean acidification, boat cruises to study sea life and water quality, and box kits that children can borrow to scout for dolphins and report back in exchange for a free book. But, with the February 2014 opening of the Berns Environmental Study Loop in the park's Moro Canyon section, several inland projects were added. 
The half-mile trail—made possible thanks to a $1 million donation from Laguna Beach residents Michael and Tricia Berns—is part of the 35-acre restoration of a former trailer park. In addition to the walking path with eight mini field science stations, new features include an amphitheater, fire pit and student staging area for campfire programs, Junior Ranger courses and guided walks.
"The Environmental [Study] Loop is a place where the kids can get their hands on real science," Anthony says. "… With the thousands of kids that will go through here, you're going to get the next great scientist."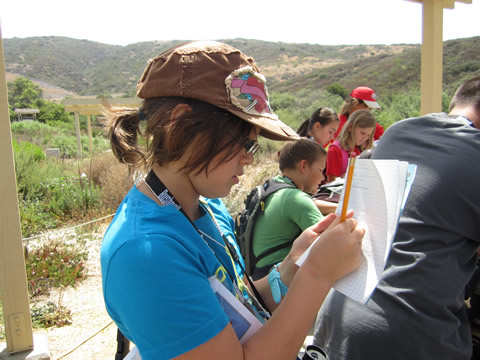 While students and community members hone their science skills, they also contribute to real research. Crystal Cove is an attractive study site due to the largely untouched habitat—particularly in the backcountry—and ongoing restoration. "Crystal Cove is at the very tail end of one of the last remaining pristine watersheds in Orange County," says Sara Ludovise, CCA education manager. "… It's a chance for us to understand how a watershed in its purest form is working and how it's supposed to work."
Researchers from top universities have conducted studies at Crystal Cove for years, but their efforts weren't widely publicized. By seeking help from visitors, an extensive amount of data can be amassed. "It turns out that there's a lot of great science that happens in this park—that, in fact, happens in every park," Harry says. "The power of citizen science … is that you have many eyes at all times in the park focused on many things."
Student Scientists
Some of those citizen scientists are students from El Morro Elementary School, located right next to the park. An after-school citizen science club of fourth- and fifth-graders met twice a week over two months this winter, visiting the park to collect data, then analyzing and presenting their findings. Fifteen students used special tools to measure soil moisture and plant transpiration—water released through leaves—to examine where water goes in Moro Canyon and whether the type of landscape affects the water's path. 
"They're really fun," says fourth-grader Sherwin Riahi about the projects. "… I like how they're kind of complicated, and I like that we get to take the information and put it on iPad minis."
"I kind of like working with the plants because I like nature, and I like finding out what they're called," fourth-grader Colette Reed adds. "And I like to be able to point them out to my dad when we go hiking."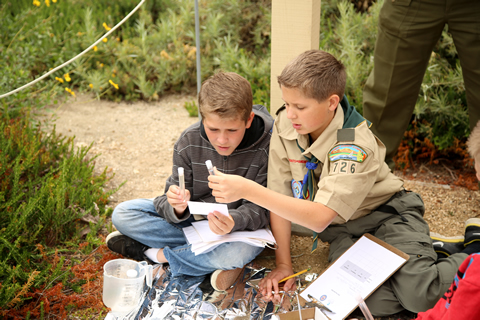 While the students are having fun, they're also discovering. "I learned that [there are] different plants in different climates and they all have a different way to survive," says fourth-grader Theo Coffey. "… If other plants come in that weren't originally here, they'll just destroy the ones that were already here."
Jennifer Long, a University of California, Irvine graduate student who leads the El Morro group, is studying whether citizen science projects help children complete the scientific process from hypothesis to presentation and grasp difficult concepts such as water cycles.
Notably, data collected by the students contributes to research by Travis Huxman, a UCI professor of ecology and evolutionary biology. Travis has been exploring water's role in an ecosystem, how it moves through Moro Canyon from rain to stream to underground aquifer and back to the ocean, and how much is used and transpired by plants. "The park is a great place to look at this," Travis says. "… It's one of the very few watersheds that's mostly intact that drains into the ocean."
Answering big picture questions—like "where does the water go?"—may help the land's administrators make restoration decisions. Bringing research and education together, Travis says, benefits both students and scientists. "Crystal Cove is one of these unique places in the world where building science there just really enriches the experience," he explains.
Reimagining these public spaces with science projects allows students to explore parks in a whole new way, Sara adds. "It helps them see that a lot of the things they've been learning in school have a real-world application," she says. "Seeing that moment when they tell you they get the concept for the first time … when they light up like that, it really inspires me."
For students at Dana Hills High School, skills learned at Crystal Cove will be applied in an Earthwatch Institute trip to study brown hyenas in South Africa next year as part of a Global Sustainability Project. Dolores Dang-Wright, who teaches environmental science at Dana Hills High, was one of four local teachers selected for the project.
Nearly 20 juniors and seniors in Dolores' class have laid the groundwork for the trip by learning how to use motion-sensor trap cameras, necessary equipment for the expedition. Students used cameras donated by the Irvine Ranch Conservancy to determine where animals live in Crystal Cove. These students won't be among the 11 selected for the trip, but set the stage for next year's students by learning how to operate the cameras, design the setup, collect data and communicate their findings—skills needed for scientific research. "They're getting real, hands-on research [experience] using tools that we don't have normally in a classroom," Dolores says.
Junior Sarah Haghi says going to the park every couple of weeks and setting up the cameras, then reviewing the photos of wood rats, rabbits and birds, and telling the public about this work at the loop trail opening were memorable experiences.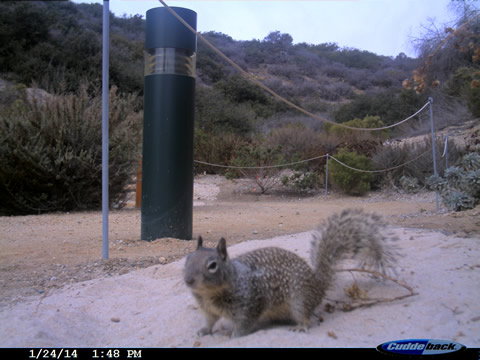 "I think it's so much fun to be a part of such an important concept and an important goal," she says. "These areas are so valuable because it really preserves the wildlife there."
Community Collaboration
Beyond schools, other youth groups also are involved in these science projects. Local Boy Scouts camp at the top of Moro Canyon to study soil and water conservation while Girl Scouts visit Crystal Cove to learn about animal habitats and more. On March 22, local Brownies participated in World Water Day at the park, discussing water conservation, the current drought and ways to solve the problem.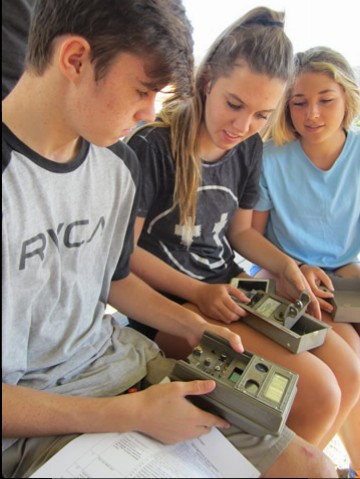 However, not all of the participants are children. Companies in the region will be sending volunteer groups of employees to remove invasive plants, and adults from the Braille Institute of America's Anaheim center have helped count birds by listening for their calls and made audio recordings of water in the park. 
Linda Becker, who teaches a sensory awareness class at the institute, brings blind and visually impaired students to the park to use hearing as well as olfactory and tactile senses to learn about their surroundings. Her class was invited to check out the Environmental Study Loop before it opened to the public. 
Linda says this helped students fine-tune their listening skills because they had to pick out the gnatcatcher's call from the sounds of quail, crows and other birds, as well as rushing water, wind through the trees and people walking and talking along the trail. And, helping with research to preserve this special place means a lot to Linda and her class. "This is our way of giving back," she says. "It was just a magnificent feeling that we could help with research on a different level."
It's clear that Crystal Cove has touched the lives and hearts of people throughout the community. Now, with the many educational opportunities at Crystal Cove, there's an abundance of ways that visitors can continue that connection and, literally, dig deeper into the history and natural habitat to help preserve it for years to come.