HITCH A RIDE ON A ROAD TRIP THROUGH SOME OF SOUTHERN CALIFORNIA'S MOST CELEBRATED SURF TOWNS.
By Tess Eyrich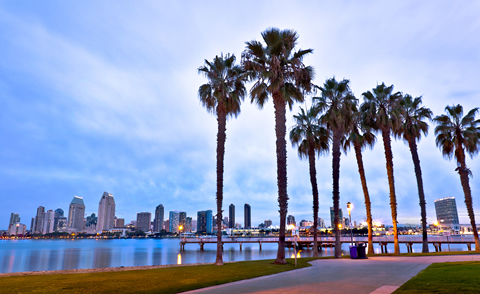 It's summer again in Newport, that special time of year when full days at the beach and late brunches at Mutt Lynch's become a bit more commonplace. We live in a beautiful town—a place so remarkable that it's often difficult to leave—but it turns out we don't live on an actual island, after all. What's more, Southern California's rugged coastline is ripe for exploration, so pack up the car and hit the road for a summertime adventure through a patchwork of the area's most timeless beach retreats.
San Diego Style
If Los Angeles is a cool older sister and Orange County a mellow younger brother, San Diego is something like a too-often overlooked middle child: It's a perfect medium between an urban playground and a laid-back beach town, and it offers healthy doses of culture, entertainment and outdoor adventure.
Get a feel for San Diego's rich history at Balboa Park, a 1,200-acre nirvana that plays host to museums; preserved buildings like the Marston House, built in 1905; and sprawling gardens divided by theme. The San Diego Museum of Art is the area's oldest and largest art museum, with an impressive collection that includes works by greats such as El Greco, Diego Rivera, Henri Matisse and Georgia O'Keeffe.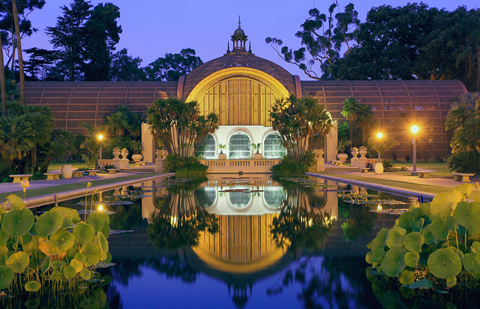 Just outside, lush spaces like the Spanish Alcazar Garden, sunken stone Zoro Garden and succulent-bedecked Desert Garden beckon; the crown jewel, however, is without a doubt the latticework Botanical Building, which debuted in 1915 and is home to an astounding collection of ferns, palms and rare cycads.
Stay for lunch at The Prado, Balboa Park's award-winning restaurant, or head deeper into the eclectic North Park neighborhood for even more dining and shopping alternatives. Carnitas' Snack Shack spotlights products with a menu that changes daily (think rib-eye steak sandwiches with chipotle aioli and pulled pork poutine with white cheddar and bacon gravy). Best of all, the roadside stand is open until midnight every night of the week to satisfy those after-hours cravings.
Also in North Park are world-within-a-world boutiques like high-end home shop Pigment, known for its selection of materials used to assemble do-it-yourself terrariums, and legendary vinyl store Off the Record, where Nirvana played a set in 1991.
If you're more in your element in the great outdoors, travel north into La Jolla, where La Jolla Sea Cave Kayaks offers guided tours of the coastline's seven sea caves, six of which are only accessible by water. The seventh, Sunny Jim cave, can be entered via the 145-stair underground tunnel that originates inside the historic Sunny Jim Cave Store. Explore the abyss for just $4, or drive up Pacific Coast Highway and into the Torrey Pines State Natural Reserve, a picture-perfect stretch of land where rolling swells hug pastel sea cliffs laced with more than 8 miles of pristine hiking trails.
Of course, perhaps the ultimate harbinger of summer in Southern California—opening day at Del Mar—happens just 10 minutes from the reserve at the Del Mar racetrack. The 2014 season launches July 17 and continues through Sept. 3; even if you're not a fan of the sport, stop by for one of the track's popular post-race concerts (past headliners include Fitz and the Tantrums, Pinback and Weezer).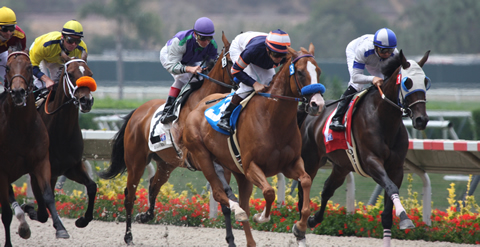 As you leave the San Diego area, be sure to make a few final detours in Encinitas, located along the coast in the northern part of the county. Leucadia Surf School offers lessons for beginners at Moonlight State Beach, while stronger waves can be had at Swami's, one of the iconic surf spots immortalized by the Beach Boys in "Surfin' U.S.A." The cafe is named for famed yogi swami Paramahansa Yogananda, whose Self-Realization Fellowship temple sits on a bluff just above the sand. The temple's grounds welcome visitors, and the surrounding koi ponds, meditation gardens and scenic overlooks are some of the most spectacular sights in all of Encinitas.
On your way out, grab a treat at the Leucadia Donut Shoppe, the friendly red-and-white storefront owned by Tom and Emily Cheu, and cap off the experience with a stroll through downtown Leucadia's stretch of fun vintage shops (Lou's Records, Surfy Surfy) and up-and-coming boutiques (Aloha Sunday Supply Co., Seaweed and Gravel).
An LA Story, Retold
Making your way toward LA, you'll pass through the collection of retro beach towns that put Southern California on the map during the postwar period: first Redondo Beach, then Hermosa Beach, Manhattan Beach, Venice Beach and Santa Monica. Continue along Pacific Coast Highway and you'll end up in Malibu, the utopian paradise that's evolved into more of a state of mind than a city after decades of being depicted in films and TV shows ranging from "Gidget" to "Baywatch."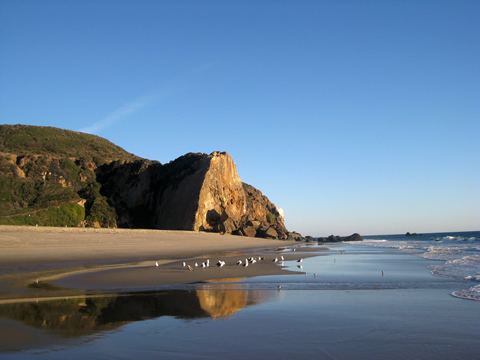 The town has maintained its locals-only roots, but with a decidedly contemporary edge. Rapid modernization has occurred over the past decade, thanks in large part to Oracle Corp. founder Larry Ellison, who continues to snap up and revamp floundering Carbon Beach properties like the former Casa Malibu Inn, which closed last year. While the oceanfront digs undergo renovations, visitors can dine at Nikita and Nobu restaurants located on adjoining parcels of land owned by the tech billionaire.
For a more organic experience, however, head to Malibu Farm, the year-old cafe at the end of the Malibu Pier. Helmed by chef Helene Henderson, Malibu Farm is entirely focused on freshness, with standards like burgers, sandwiches and salads reimagined to incorporate produce and eggs sourced from Helene's own coop.
At the opposite end of the Malibu coastline, Geoffrey's is the city's most buzzed-about brunch spot due to its first-class food and unbeatable location—every seat on the patio affords panoramic ocean views. Just minutes from Geoffrey's, the trail that snakes through Point Dume State Beach constitutes more of a brisk walk than a hike, but it yields access to stunning Paradise Cove, the bohemian beach community also known as the most expensive mobile home park in the world. Meanwhile, if you trek across Point Dume, you'll stumble upon Zuma Beach, a more intimate hideaway that typically draws fewer tourists.
Even if you're not swimsuit-ready, Malibu offers a variety of under-the-radar activities that will help you see the neighborhood in a whole new light. The area is especially gratifying for architecture buffs, with historic homes like Adamson House—designed by renowned architect Stiles O. Clements in Spanish colonial revival and Moorish revival styles—open to the public on a daily basis. Known for its thousands of colorful painted tiles, detailed carvings and ironwork, Adamson House is a must-see property.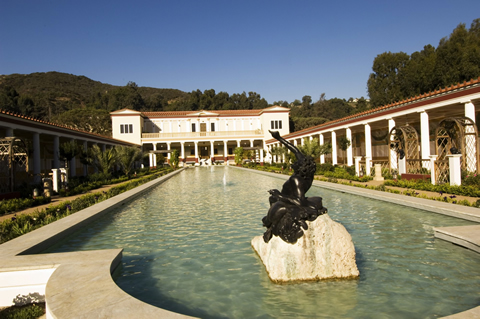 International influences also take center stage at the Getty Villa, a multilevel, indoor-outdoor complex that contains more than 44,000 Greek, Roman and Etruscan antiquities. The impressive space was built in the 1970s to mimic a first-century Mediterranean villa, and its pools, manicured gardens and 450-seat outdoor theater are testaments to J. Paul Getty's remarkable vision.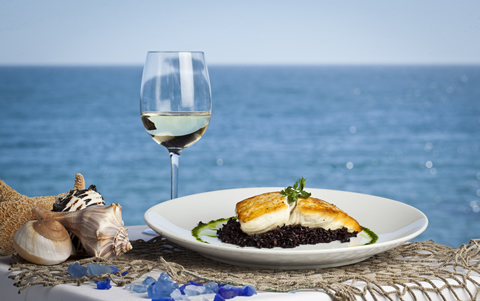 Or, enjoy the work of a different kind of visionary, Fred Segal, whose Malibu Country Mart has grown from a humble base camp for little-known European labels into a star-studded retail destination with more than 50 high-end clothing, accessories and housewares stores. End the day with dinner at Giovanni Ristorante Italiano and drinks at local watering hole Moonshadows, and you'll have experienced a quintessential Malibu evening.
Santa Barbara in Bloom
Just this once, ditch the freeway and head toward Santa Barbara via Pacific Coast Highway—a lengthier drive but also an infinitely more memorable one. Leo Carrillo and Point Mugu state parks give way to Ventura, a sun-drenched artists' town.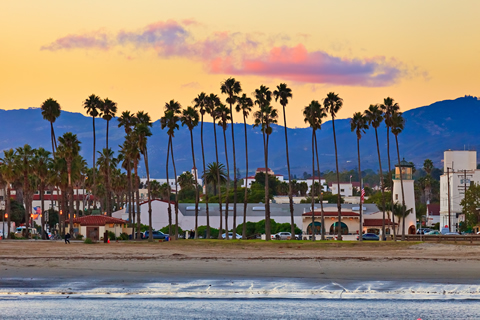 Soak up the sights at the Bell Arts Factory, a refurbished manufacturing space that's been transformed into 30 studio spaces and offers demonstrations and lectures by resident artists. Another option is to head to the Museum of Ventura County for its revolving exhibitions and collection of mind-blowingly lifelike historical figures by George Stuart. Over the past 50 years, George has handcrafted more than 400 historically accurate depictions of personalities ranging from Cleopatra to Abraham Lincoln—many of which have been displayed in places like the Smithsonian Institution and presidential libraries.
Hold off on grabbing a snack until you reach Santa Barbara, where La Super-Rica Taqueria has more than earned its reputation as Julia Child's favorite taco stand for its freshly made tortillas and tamales. If you're looking for something more substantial, Los Agaves serves up award-winning Mexican standards like ceviche, tostadas, burritos and enchiladas.
Work off the calories with the team from Santa Barbara Adventure Co., which offers guided kayaking tours of the Santa Barbara coastline and Refugio State Beach, as well as daily twilight trips that give paddlers front-row seats for gorgeous sunsets.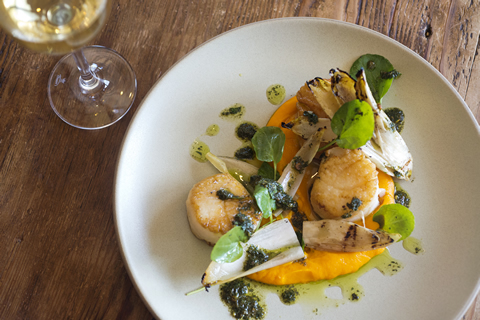 Back on land, be sure to step into downtown's Finch & Fork restaurant for appetizers or a full meal. Sophisticated styling (think dark woods and polished metals) coupled with inspired dishes and artisanal cocktails make this one of Santa Barbara's most coveted reservations—order the fried chicken sliders with cilantro slaw or the slow-braised short rib, and steel yourself for a culinary epiphany. By this point you're sure to be in the throes of a food coma, so unwind with a movie at West Wind's Santa Barbara Drive-In, which screens classic films, contemporary blockbusters and double features.
But you'll need at least another half-day to fully take in one of the most fascinating landmarks the area has to offer. Located just miles from Santa Barbara in Montecito, Ganna Walska Lotusland is an expansive 37-acre property complete with more than 15 enchanting gardens. The gardens comprise just one part of the preserved estate of the late Madame Ganna Walska, a Polish opera singer and horticulturalist; touring them is a transformative experience that can be arranged by appointment only, so be sure to book reservations in advance.
And, as you prepare to return to Orange County—hopefully with a gourmet pastry from Jeannine's Bakery & Restaurant in hand—don't be afraid to take the long way home.
***
REST YOUR HEAD
Much more than just pit stops between destinations on the map, these hotels and resorts offer luxury accommodations and amenities guaranteed to enhance any Southern California road trip. 
San Diego/La Jolla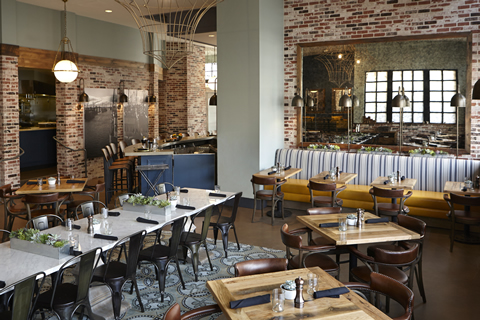 Hotel Solamar San Diego: Sleek and stylish, Hotel Solamar is the definition of contemporary luxury and offers palatial guest rooms along with a rooftop pool, the poolside LoungeSix bar and recently renovated Jsix restaurant. Enjoy in-room spa services, pet-friendly accommodations and more. (hotelsolamar.com)
Omni San Diego Hotel: Perfect for families, the Omni San Diego is centrally located in the historic Gaslamp Quarter and boasts close proximity to Balboa Park and Petco Park, home of the Padres. (omnihotels.com/sandiego)
Pier South Resort: Opened earlier this year, the boutique Pier South Resort is an all-suite LEED Silver-certified property on Imperial Beach offering a full-service spa and a restaurant with 180-degree views of the Pacific. (piersouthresort.com)
Los Angeles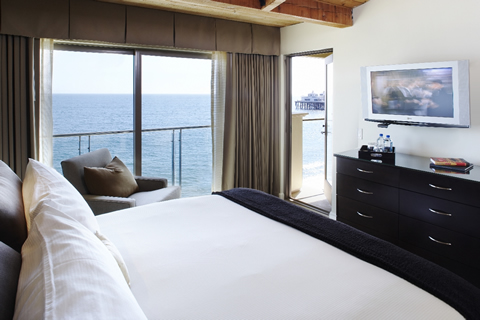 Malibu Beach Inn: David Geffen's Carbon Beach pet project is an intimate 47-room sanctuary just steps from the shore and minutes from Malibu's top-ranked restaurants, beaches and attractions. (malibubeachinn.com)
Malibu Country Inn: A more casual option, the Cape Cod-style Malibu Country Inn has 16 guest rooms, many of them with private patios and all with views of a garden. (malibucountryinn.com)
Oceana Beach Club Hotel: Situated a few miles down the coast from Malibu, this Santa Monica hotel is a friendly retreat built around a dazzling pool area, and it also features the culinary talents of award-winning chef Josiah Citrin. (hoteloceanasantamonica.com) 
Hotel Palomar: Nestled between Beverly Hills and Santa Monica, the hotel offers 350-square-foot guest rooms and suites with sweeping views of the city.  (hotelpalomar-lawestwood.com)
Santa Barbara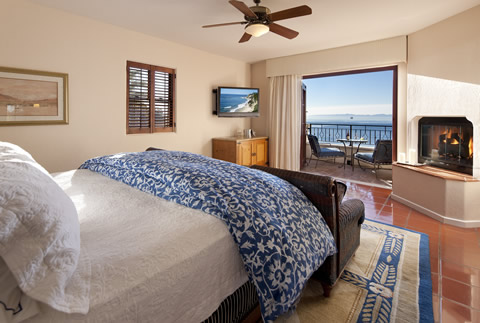 Bacara Resort & Spa: A Mediterranean oasis in the heart of Santa Barbara, Bacara Resort & Spa's 354 artfully appointed guest rooms and suites sit just beside the surf and are complemented by three golf courses and four restaurants. (bacararesort.com)
Canary Hotel: A block away from State Street, the charming Canary Hotel is a boutique property with an elegant lobby, spacious accommodations, a rooftop pool and the delightful Finch & Fork restaurant. (canarysantabarbara.com)
The Fess Parker, a DoubleTree by Hilton Resort: Recently rehabbed, The Fess Parker offers the definitive Santa Barbara experience with 360 pet-friendly guest rooms on a 24-acre resort property. (fessparkersantabarbarahotel.com)