q & a : Cort Ensign
Newport Beach's Cort Ensign decodes the sport (and joy) of running. – By Somer Flaherty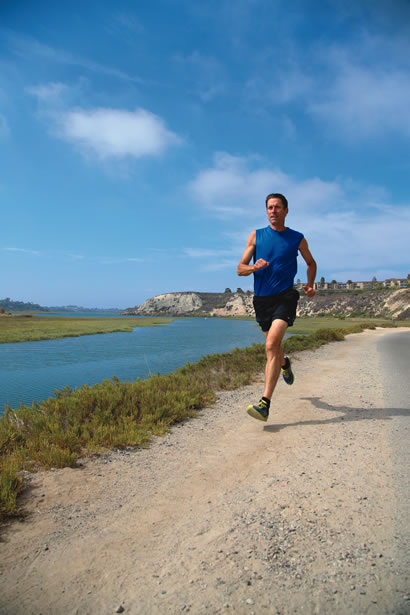 Like other professional runners, Cort Ensign doesn't have sponsors, nor does he get paid to log endless miles. He is a day job-holding athlete that sets pace at an almost 40-mile-per-week training regimen. His running schedule mixes explosive runs where he maneuvers up 1,000 steps in Laguna—10 times over—with a routine 2.25-mile Tuesday evening sprint. Cort's competed in everything from the Avalon 50-mile run, a dirt road endurance race around Catalina Island, to the local Corona del Mar 5K. Here, he lends his top tips (for newcomers and vintage members alike) for a sport he says "helps strengthen every aspect of your life."
NBM: Running is almost a daily part of your life; what tips do you have for people just getting started?  
CE: Start slow and listen to your body. Try alternating walking and jogging. If anything hurts, do not run through it. Enjoy the experience and do it with like-minded friends.
NBM: Where can you find these "like-minded folks" if your friends aren't into running?
CE: Join a running club. They become your friends and your support group. I started back into running with Cal Coast Track Club in 2007. It provides me with the opportunity to put running on my calendar and then forces me to show up each week. It's an excellent support group for people that would like to run, improve and stay fit.
NBM: Where are your favorite places to run in Newport?
CE: I like to run around the Back Bay and in the state parks on the backside of Newport Coast. These areas are free of cars, noise, traffic and pollution, and allow me to escape the suburban landscape.
NBM: Finishing a marathon can be an ultimate goal for a runner—any advice?
CE: Get into a marathon running group. There is one that meets every Saturday morning at 7 a.m. at the Corona del Mar High School track. They train at different levels from walkers to sub-three-hour marathoners. Ask the coach to help you prepare a plan for completing a successful marathon. They can help you train, hydrate, fuel properly and coach you to a successful finish. Plus, they will support you on your quest and ultimate victory.
NBM: What's your most important tip for any kind of runner?
CE: Always be prepared to finish a run well-hydrated, nourished and without joint, tendon or muscle pain, even if it requires turning back early.
NBM: What do you like most about running? 
CE: It can be done anywhere at any time with just a pair of running shoes.
Cort's picks for great local runs:
Short Course: Park at Turtle Rock Community Park in Irvine, enter the left side entrance to Shady Canyon via the sidewalk and run the horse trail from Bommer Canyon to the top of Quail Ridge—approximately 300 feet of elevation gain. It's a nice, flat and wide dirt trail that is easy on legs, and there are no cars or bike traffic (approximately 1.5 miles each way). Back track at the gate entrance for another mile of flat dirt trails.
Long Course: Park at the very top of Newport Coast at the end of Ridge Park Road at the turn-around, and travel east on the fire roads to Laguna Canyon Road and back for a seven-mile run, or travel south toward the coast for a seven mile run with some steep hills to work the cardio on the return trip.
Peak Performance
Check out these products for a great run.  Some say the key to running is a smooth stride, explosive power and a strong core, but the right gear helps, too. Whether you're prepping for your first 5K or tackling yet another Boston Marathon, hit the road with these top product picks for your next run. NBM
| | |
| --- | --- |
| Adizero Feather 2 by Adidas, available at Dick's Sporting Goods (435 Newport Center Dr.; 949-640-1107; adidas.com). | Gathered Tee by Lija, available at Spa Montage (30801 Coast Hwy., Laguna Beach; 949-715-6010; spamontage.com). |
| Heart Rate Monitor Watch by Polar, available at California Home Fitness (1000 Bristol St. N, # 3; 949-251-9500; polarusa.com). | Run Response Shorts, available at Lululemon, Fashion Island (563 Newport Center Dr; 949-644-9642; lululemon.com). |
| PROSUN SPF 20, available at Melvita (907 Newport Center Dr.; 949-729-8037; usa.melvita.com). | |