Artist : Sticky Shaw
Up-and-coming artist Sticky Shaw bears his soul across canvases.- By Dana Nichols | Photos by Jody Tiongco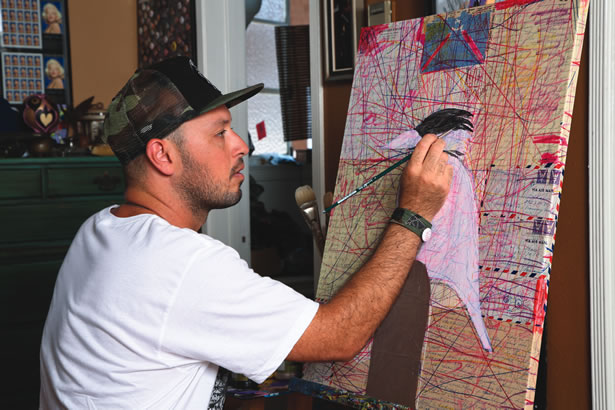 Meet Robert "Sticky" Shaw, self-described as "one of the weird kids who wears black and hangs out in Newport Beach." Since the early '90s, as a fifth-grader who befriended original Volcom-sponsored surfers Troy Eckert and "Punker Pat" Towersey, to now, a 31-year-old rising art star turning heads with his craft, Sticky has always sought out the multilayered curiosities lurking in the dark corners of this paradise beach town. His signature street style, inspired a little from Newport Beach's natural beauty and a lot from the grimier world at large, was presented as a solo exhibit at Laguna Beach's AR4T Gallery this June. Titled "Love Kills," the collection rattled patrons with a putting-it-all-out-there punk rock approach.
"I know it makes me vulnerable," he says of his acrylic, spray paint and paint pen works on collage backgrounds. "But I really have nothing to hide. Let's share it. And if I can help somebody out, let's talk about it." His assemblages are personal stories made of very real things: concert ticket stubs, high school art, subway tickets, love letters, blood (real and fake), lipstick and song lyrics. Others often open up to him about struggles with breakups, self-harm and learning disabilities after viewing his art. "Little pieces of memorabilia in my works correlate to the dichotomy between love and pain," he says.
Balboa Beginnings
The youngest of three brothers and three sisters, Sticky grew up in a canal-front house on Balboa Island. After years of special-learning classes because of his struggle with dyslexia, he gravitated toward art classes at Newport Harbor High School. "Being 15 years old and being told my reading is like a third grader is a really hard thing for a kid to hear," he says. "I knew art was for me because there's really no wrong or right answers to it."
As graduation approached, he found solace in the music of bands like the Sex Pistols, Dead Kennedys and the Subhumans. He already had his nickname, Sticky, from slicking back his hair in junior high. Older siblings were involved with Volcom, motivating his artistic ambitions. "Watching the creative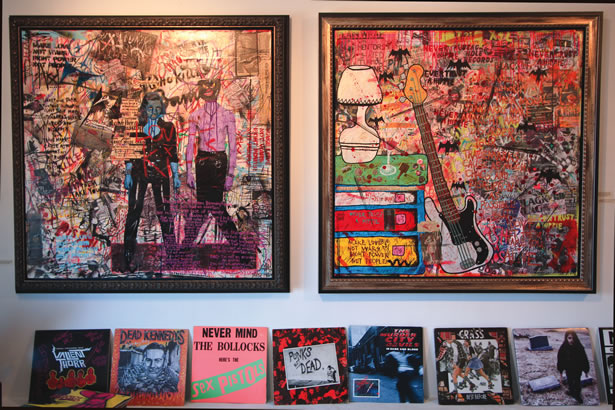 process of Volcom grow, and being around people who design clothes and make cool art, was an inspiration," he says. "They started in Newport—just surf kids—and they've been able to be so edgy and creative, and different."
Today, Sticky keeps a stack of high school sketchbooks within easy reach. He recently opened one to read a teacher's note: "A-minus. What is Sid!?" Sid Vicious, bassist of the Sex Pistols, appears in sketches near happy frogs and abstract Volcom logos. Claiming to never look at or care about grades, Sticky completed three years of fashion and art courses at Orange Coast College before delegating himself to art full time. As for his reading, emailing and texting have helped it improve, but when he wants to delve further—he's currently reading Patti Smith's memoir, "Just Kids"—he'd rather have a friend read the book aloud.
Emerging Artist
In addition to exhibiting at AR4T Gallery three times since 2010, Sticky has also designed graphics for 2012-13 and 2013-14 Arnette snow goggles and a 2008 custom Sticky Slim Zip Fleece Volcom sweatshirt, was tapped by Danny Kass to design a "Sticky Bomb" Grenade Gloves/Vestal Watch collaboration in 2009, and was brought on to hand paint 1,200 pairs of 2005-06 snow goggles and 400 pairs of holiday 2005 sunglasses for Von Zipper. His artwork was displayed in the former Mammoth Ski Museum in 2003, the former Lab 101 Gallery in Culver City in 2006 and Billabong Design for Humanity in 2011 and 2012. He toured Mammoth, San Francisco, Portland, Denver, Aspen, Lake Tahoe and Tokyo in 2010 with the "I AM SNOWBOARDING" collaborative art project that paid homage to snowboarder Jeff Anderson.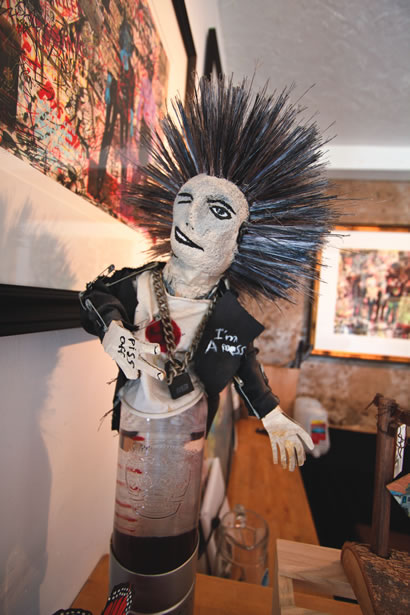 It was on this tour that Sticky had one of his art style's most defining experiences: illegal tagging in the dark streets of Tokyo. "To be friends with one of your favorite artists is kind of surreal," he says of snowboarder Jamie Lynn. "It was my first real time tagging with a pen and spray paint in the streets, and doing it with my idol just made it such a different level. Since I'm dyslexic I'm not too sure what it says, but I like the strokes."
This was reflected in "Love Kills," with Sid Vicious' tragic love story playing a starring role in communicating Sticky's own heartbreak in the show's title piece. He exhibited two mural-size panels, emblazoned with bright spray paint scrawl and stencils of vampire snails and love spiders and messages like "Who Killed Bambi?" and "Make Love not Wars / Fight Power not People." Dancing cranes are recurring characters, inspired in part by Japan and the sea birds of Newport Beach Harbor.
"The best thing about growing up in Newport Beach and on Balboa Island is the harbor, and seeing all the marine life and the sea birds," Sticky says. He standup paddleboards several times a week and says he would be a different person if he hadn't grown up here. "Newport's very clean. It's gorgeous. But Newport does have some edge to it. It's just hard to find, or you gotta be in the right spot."
Sticky is currently working with Lib Tech on a 2013-14 snowboard graphic. Artworks and prints are available at AR4T Gallery in Laguna Beach (AR4T.com). Follow Sticky on Facebook.com/stickyshaw and on Instagram (@Stickyshaw). NBM