Wedding Trends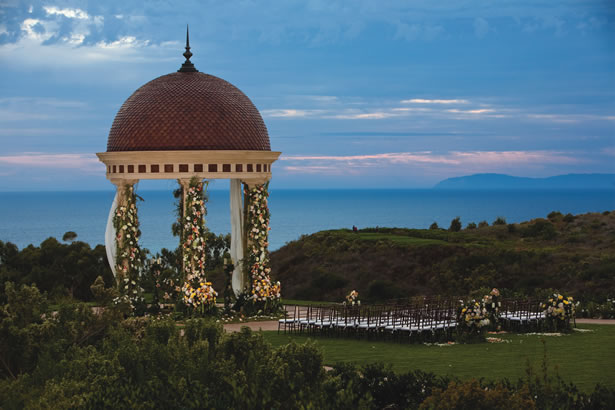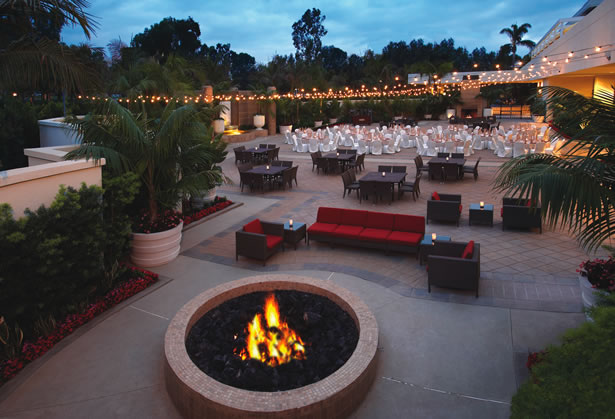 Wedding trends come and go, but timeless destinations never step out of style. 'Tis the season to get hitched, and Newport Beach, with its scenic seaside backdrop and boutique array of elegant venues, remains one of the most sought-after wedding spots for locals and globe-trotters alike.
We highlight a few of the top venues here, but, of course, there are many more Newport locations to consider. Let an on-site wedding coordinator take you for a whirlwind tour inside some of the city's top venues so that you can choose your big day's locale wisely. Each venue featured here excels in service and personalization, but the unique setting and views will stay in your photos forever. Find one that speaks to your true passions and desires.
The Resort at Pelican Hill
Luxurious, glamorous and masterfully executed, Pelican Hill galas manage to be extraordinary and understated all at once. Wedding guests relish a coveted invitation to spend a day or evening at this award-winning golf resort that emulates an Italian seaside village from its ocean-view bluff.
Architecturally designed with privacy in mind, the resort's freestanding Mar Vista wing affords wedding parties their own enclave apart from the hotel. An event lawn, indoor ceremony room and terraced ballroom provide all-weather options, in addition to the convenience of two bridal lounges for spa-style preparations.
Few brides can resist the notion of walking down the petal-strewn Event Lawn to meet their groom in front of the Italian-style Wedding Rotunda. Fresh, gentle breezes sweep across the naturally captivating surroundings that perch 300 feet above the sea. For cozy celebrations in the cooler months, the warm setting of La Capella sets a romantic mood for a ceremony or reception, complete with a fireplace, wood-beam ceiling and two picture windows that face the Pacific Ocean. For receptions on a royal scale, retreat to the Mar Vista Ballroom. Just one ballroom wedding per day guarantees event exclusivity, lavish décor and a high staff-to-guest ratio.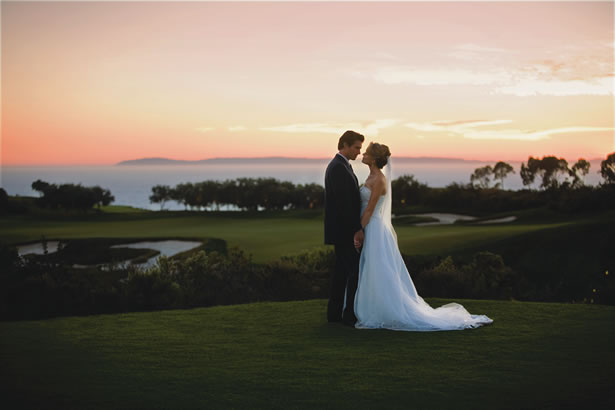 New this year, the resort added signature restaurant Andrea to its list of ocean-view wedding settings. In a casually chic ambiance for 80 guests or less, chef Luca Cesarini treats your friends and family to his acclaimed Northern Italian cuisine paired with fine wines. Your custom menu may include fresh hand-made pastas from the temperature-controlled "Cucina della Pasta" and artisan-style gelato made right on site. Entertainment, décor and table settings reflect your personal taste, whether you choose to settle in on the ocean-view veranda, elegant main dining room, private dining room or the Andrea bar.
A wedding butler attends to the couple's big-day needs, from transportation to appointments. As your party winds down, retire to a two-bedroom, ocean-view villa for the night, compliments of the resort. (22701 Pelican Hill Road South; 949-467-6800; pelicanhill.com)
Fairmont Newport Beach
In addition to a traditional setting in the Bay Laurel Ballroom that sparkles with light from a grand crystal chandelier, Fairmont Newport Beach offers couples several other atmospheric venues for ceremonies and receptions.
Weddings held in front of the romantic garden gazebo—nestled in a private garden amid tropical foliage and singing birds—make a graceful transition to a lavish reception at the adjoining Orchid Terrace where floor-to-ceiling windows and glass walls overlook the garden. The light-filled terrace opens onto the lush grounds and bubbling fountains for an airy, indoor-outdoor atmosphere year-round.
When the sun goes down, a warming fire pit lights the night in the Bamboo Garden outdoor courtyard. Get comfortable in the spacious lounge area for conversations by the fire. Depending on the size of your guest list, your on-site event planner can create a space that ranges from small and personal to open and expansive, accommodating up to 800 people. Upgrade your affair with carved ice sculptures, linen chair covers or specialty linens that coordinate with your scheme.
Very intimate weddings or rehearsal dinners might hole up in the bambú Cellar Room for a private feast off the resort's bambú Restaurant. One wall showcases the hotel's collection of award-winning California wines, a glimpse of what's to come.
Before the big day at Fairmont Newport Beach, check in for serious pampering at the Amadeus Spa and Salon. Afterward, book a romance package that indulges the senses: Champagne, chocolate-covered strawberries, breakfast for two and plenty of time to unwind at the Palms Pool and poolside cabanas. (4500 MacArthur Blvd.; 949-476-2001 ; fairmont.com/newportbeach)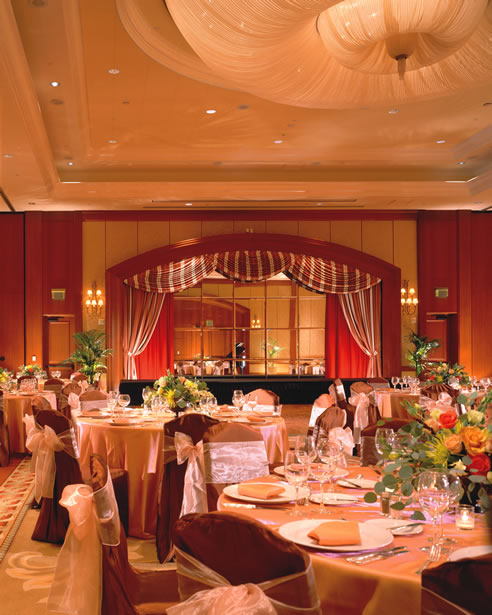 The Balboa Bay Club & Resort
Any bride who envisions crystal chandeliers catching the sunlight in an outdoor gazebo or fancies making a grand entrance to the ceremony by stepping off a yacht has found her venue soulmate. Behind a stately facade along Newport Harbor, The Balboa Bay Club & Resort makes these and other fabulous dreams come true.
As the only waterfront luxury hotel in Newport Beach, the club saved some of its best real estate for nautically inspired ceremonies and receptions. Larger affairs catch warm sea breezes when they spread out on the beachfront lawn. A secluded beach backdrop pairs with views of members' esteemed boats bobbing gently in Newport Bay. Smaller parties prefer a charming ceremony in a hidden garden lawn along the bay. Pull out all the stops and request a chiffon-draped canopy with fresh floral décor, mahogany Chiavari chairs and a decorated gazebo with those crystal chandeliers.
The Balboa Bay Club & Resort exudes quintessential California coastal elegance and ease from its waterfront locale. Receptions may be formal or relaxed, but are always sophisticated. Five crystal-and-pearl chandeliers glitter from 18-foot ceilings in the Grand Ballroom, where tables set with crystal stemware and white china offer a classic, neutral canvas for your personal color palette. More intimate receptions might take over a private bay-front event room with a cozy, residential feel. Marble credenzas and soft-lit sconces complement French doors that open to a private patio with magnificent bay views.
Call on your on-site wedding coordinator to plan the rehearsal dinner and post-wedding brunch, too. Manicured lawns, a quiet beach and poolside patios add variety to your venue options without leaving the property. While traditionally upscale, the resort is far from stuffy. Recent requests for casual events surrounding the wedding festivities have included bayside barbeques, a lobster and clambake to the tune of a steel drum band and Hawaiian luaus where guests learned to dance the hula.
Executive Chef Josef Lageder, a native of Austria, has wowed many couples with his artistic presentations and a gourmet blend of French-California cuisine. Actively involved in international food and wine societies, he cultivates partnerships with top ethnic catering companies as well, should you have an especially unique request. (1221 West Coast Hwy.; 888-445-7153; balboabayclub.com)
Hyatt Regency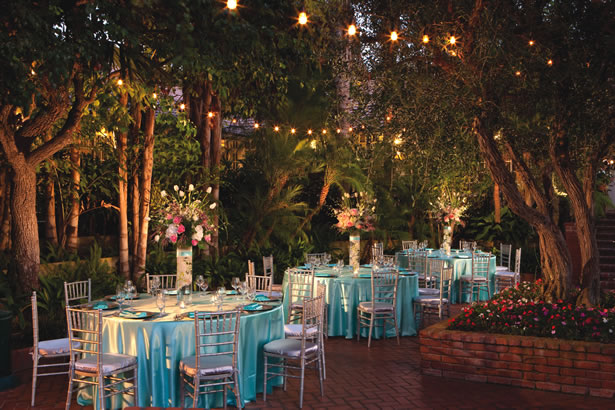 California resort style resonates at the casually upscale Hyatt Regency. Tucked amidst the resort's tennis club, par-3 golf course and 26 acres of landscaped grounds, a host of tailored venues await.
If stunning panoramas of Newport Bay appeal to you, head straight for the 360-degree vantage point of the Back Bay from inside the Terrace Ballroom. Or savor the natural views of the outdoor amphitheater. A dramatic enough setting for the annual summer jazz concert series, this tiered grass gallery for up to 1,100 guests elevates weddings to a theatrical scale. Two other popular al fresco options are the Terrace Arbor, accented with garden statues, and the Plaza Arbor, a pavilion-style covered patio with soothing fountains and tropical foliage.
Groups of 100 or less feel at home in one of the resort's more intimate settings. A garden patio features a cozy fire pit while a brick walkway through the perfumed rose garden leads to an enchanted wedding enclave that glitters under twinkling lights and cascading vines of wisteria.
On the menu, pick your pleasure. Award-winning Executive Chef Felix Nappoly and his creative culinary team lay out an impressive presentation that incorporates fresh local ingredients and regional influences. Choices range from cutting-edge California cuisine to culturally diverse menus that brim with Indian or Kosher specialties.
For ultimate one-stop convenience, ceremonies are never an afterthought at the Hyatt Regency. Opt for a modern, in-the-round set up or traditional chapel-style seating. More than 400 guest rooms, valet parking for your guests and the signature Spa by the Sea round out the offerings. (1107 Jamboree Rd.; 949-729-1234; newportbeach.hyatt.com)
Newport Dunes
From surfer bros to ball gown brides, anyone who has dreamed of a toes-in-the-sand celebration eventually finds Newport Dunes. Explore the resort's 110-acre property, set on a horseshoe-shaped lagoon, to discover 16 private event spaces, each with their own unique view of the Back Bay. Cabanas, gardens, pavilions and a terrace are just the start. Newport Dunes makes it easy and convenient to host a beachfront ceremony, with an on-site marina to boot. Say your vows on the sand, then stroll just a few steps to an adjacent reception site decked out with dining tables, a dance floor and ambient lighting. Sunset ceremonies at the water's-edge gazebo are also popular for the dramatic backdrop and unparalleled photo opportunities. Couples nervous about the weather find peace of mind with a variety of indoor, tented and open-air event options on site. The resort's Back Bay Bistro restaurant even features a retractable roof for day-to-night flexibility. One recent couple started their first dance just as the roof rolled back to reveal the evening stars.
These reasonably priced venues combine casual elegance along the shore with a staff that prides themselves bending over backwards to accommodate special requests. Menus cover the gamut, from sushi stations to a Champagne brunch. Your guests who crave more time on the waterfront can take in summer movies and concerts on the sand when they stay in one of the resort's 24 beachfront cottages. (1131 Back Bay Dr.; 949-729-3800; newportdunesspecialevents.com)
Whether you choose to settle in at one resort, or take in several settings during your big day of events, the top-notch wedding pros at Newport Beach venues will be at the ready to make your experience both unique and hassle-free. Be sure to negotiate a discounted block of rooms for guests, as well as a posh suite for yourselves. And once you have booked your ideal wedding location (the sooner the better, especially for summer celebrations), consider adding a few festivities around the big day to ensure additional time with guests. Out-of-towners always appreciate a mini golf tournament, sunset sail or an invitation to join you for a day at the spa. Even something as simple as a catered beach picnic allows everyone time to mingle and reminisce. When in doubt, choose locations and activities that feel true to you both and are so enjoyable you feel as if you've already started the honeymoon. NBM