The Ultimate Desert Developer
Newport's Bill Bone is the ultimate desert developer, and Toscana Country Club is his masterpiece.- By Kedric francis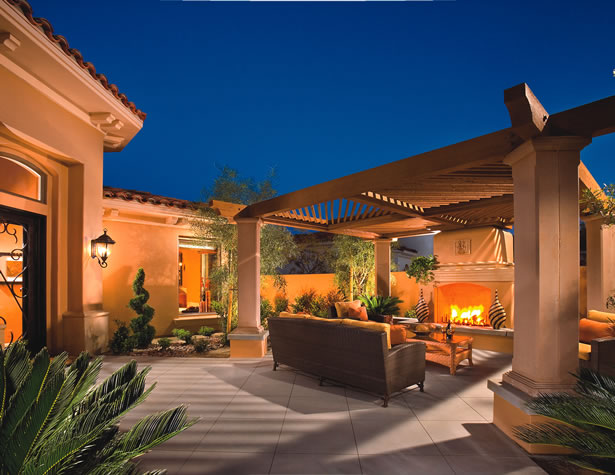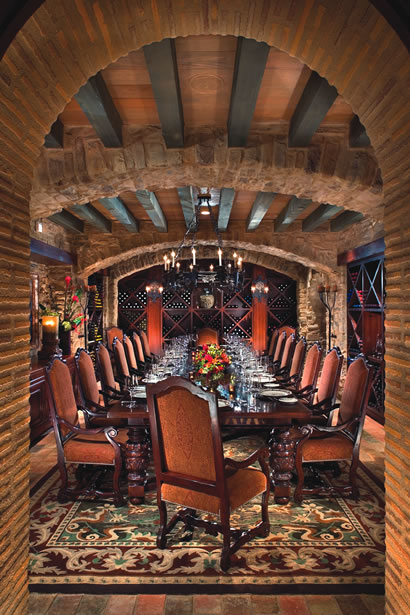 Mediterranean architecture, stunning views, lush landscaping and a championship golf course, together in a private gated community: Visiting the Toscana Country Club after a two-hour drive from Orange County to Indian Wells, and it's like we never left O.C.—or at least the luxury resort aesthetic common on the coast.  With 626 homes and custom estate home sites (some 300 are complete), Toscana is an ongoing success story in the world of SoCal development. It features 36 holes of Jack Nicklaus Signature Golf, a 90,000-square-foot Club Villa with gourmet dining, golf shop and sports club and spa. Prices range from $1.3 million to more than $2.4 million.
If it weren't for the warm desert air and the familiar silhouette of the San Jacinto and Santa Rosa mountain peaks, we could still be in Newport Beach. Toscana's design wouldn't look out of place at Pelican Hill, Shady Canyon or Big Canyon country clubs—which shouldn't be surprising, as the same architectural firm, Altevers Associates, designed these resorts and clubs, as well as the Toscana Country Club. The aesthetic is not the only O.C. connection. William Bone, founder and CEO of Sunrise Company, the developer of Toscana, has lived in Newport Beach for years, splitting his time between here and his desert homes.
Good Bones
If Hollywood casting agencies were looking for someone to play a quintessential SoCal developer in the movies, they could do no better than booking Bill Bone. He's a handsome, tanned gentleman quick with a smile, the sort of "hail fellow well met" sort you wouldn't be surprised to see having a cocktail after a sail at the Bay Club or dining out at Rothschild's or Basilic on Balboa Island. But get Bone started on the subjects of luxury real estate, golf resort development and the history of the Coachella Valley and its communities, and it's clear why he's the go-to guy for development in the desert.
Founded in 1963, Sunrise Company has 13 resort communities, two resort hotels and numerous office buildings, shopping centers and commercial hotels.
With his company and partners, Bone built Indian Ridge in 1973, followed by Rancho Las Palmas Marriott in Rancho Mirage, JW Marriott Desert Springs Resort and Spa in Palm Desert and co-developed PGA West, leading the way down the valley toward Indian Wells and La Quinta. "This is where the land was," he says. "We could build things here that you couldn't in Palm Springs."
It didn't hurt that the center of gravity in the Coachella Valley moved to Palm Desert from Palm Springs when Ernest Hahn built the Palm Desert Town Center in 1983 (now the Westfield Palm Desert), paving the way for the El Paseo luxury makeover that followed. "Before Ernie built his center, El Paseo had barber shops and beauty salons," Bone recalls. "There were no luxury goods, no art galleries and jewelry stores. That was all in Palm Springs."
Retail is the essence of a town, Bone believes, a surprise perhaps coming from someone in residential, resort and golf real estate development. "Show me the nicest retail center in town and I'll tell you what the town is all about," he says. Bone bought 640 acres in Indian Wells in 1984, but he bided his time before breaking ground in 2003. It wasn't until then that he felt the time was right to build a new golf and country club community that would be "first tier." Many existing clubs in the valley were older, and if not obsolete, then definitely behind the design times.
"First tier clubs are a function of price and exclusivity," he says.  "Design criteria has changed so much, there's been an evolution of excellence."
And Bone would know. His company is one of the few club and golf course developers that are also homebuilders. "We build most of the homes in our communities," he says. Sunrise has built some 12,000 homes in the desert; the next largest builder can claim 600 homes.
Country Club Style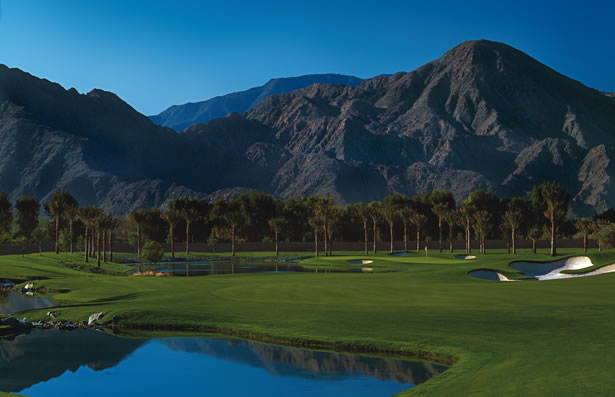 "We sell lifestyle first, houses second," Bone says. And it's clear that's the case. Every house and lot is on a golf course. "We spend more money on the rear architecture then the front," Bone says, because that's the direction most owners are looking—toward the green open spaces and the mountains beyond.
"Sitting on your patio, all homes look different." Indeed, driving through the community you see more landscaping than houses, and there's precious little of the design repetition that's common in the Coachella Valley. Repetition is what drives down prices in building, of course, but Bone says he wanted to create a street scene where you don't see the same design. "SoCal architecture is too repetitive."
The look Bone and the architects were going for was that of an Italian hill village, with separate groups of homes and club buildings clustered around the golf courses. "We're building smaller, simpler houses than we did 20 years ago," Bone says. And the open floor plans of the homes, all with courtyards and many with separate guest casitas do reflect modern resort homebuilding seen in Hawaii, Los Cabos and other luxury communities. "You've heard of R and D?" he asks rhetorically. "I believe in R and C—research and copy. It's much cheaper," he laughs.
But Toscana, while certainly reflective of the SoCal Mediterranean look, brings many familiar design elements to a new level. The club complex is welcoming, luxurious without being overwhelming. Instead of one grand clubhouse, a group of five buildings combine to include all of the luxury offerings and amenities at Toscana, including Il Forno Trattoria, a stunning wine cellar for private dining, the sports club, golf club and the Spa Bella Vita, which rivals top luxury spas at the finest resort hotels.
"We spent $21 million on the fitness facility and spa, Bone says. "Thirty years ago, clubs didn't even build fitness facilities or spas." Featuring large suites—including two Grand Suites larger than anything we've seen at SoCal resorts—the spa is also complete with private gardens, sitting areas, fireplaces and outdoor showers.
To The Tee
Of course golf is a key part of the desert lifestyle, and Toscana doesn't disappoint, with two 18-hole Jack Nicklaus Signature golf courses. One is lushly landscaped, while the other takes advantage of the desert topography and the arid aesthetic.
"People who are not great golfers are attracted to great courses," Bone says. And he should know, as Sunrise has been involved in developing some of the top courses in the region, including co-developing PGA West, the Western Home of American Golf (a tagline Bone came up with himself).
"Golf has evolved dramatically in the past 30 years," he says. Early resort courses were simple "laugh and scratch sort of places," never intended to be championship-level challenges. Starting in the '80s, consumers have become aware of the differences, and higher quality, more challenging and complicated courses were developed.
Bone expects that half of the residents at Toscana will be non-golfers (the club is limited to 550 equity golf members), who like to live or vacation on golf courses for the park-like setting, plus the entertainment value of watching their neighbors play, whether well or badly.  And they come for the weather. Newport Beach has always been a point of origin for desert second-home owners. But for us, the difference in weather is a matter of degrees—as in relatively few, especially compared to those in from colder climes.
Chicago, Seattle and more recently, Calgary, Canada (direct flights followed the energy boom) are prime points of departure for desert denizens. "They want to see green grass, flowers blooming and palm trees," Bone says. He estimates that since the recession, more than 50 percent of Toscana buyers are from outside Southern California, whereas previously, SoCal residents bought 60 percent or more. And while the recession had its effect, "the luxury markets are recovering first," he says, which isn't always the norm. "Oversupply at entry level was so egregious. It's going to take a long time for that inventory to be absorbed. But nobody overbuilt the luxury market. It's infill. There are no vast tracts of vacant luxury homes."  ,