Ride the latest wave of beauty with specialized spa treatments and salon experiences. – By Ashley Breeding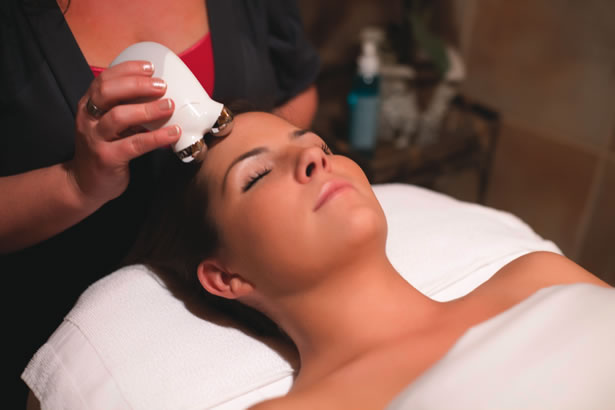 Going under the knife—or even the laser, lights or liquids—isn't for everyone. But even those with a more naturalist approach to beauty can benefit from a little grooming and pampering. Visit one of Newport Beach's top salons and spas to liven your look and your mood with the latest beauty trends.
Brows That Wow
Want to take off 10 years in just 10 minutes? Try a brow lift, like that offered at Spa Gregorie's, advises Michelle Gumiran, the spa's supervisor. Eyebrows frame the face, and the right shape and arch can change your look dramatically, she explains. "Along with proper brow grooming, the brow lift gives a more youthful appearance." Using a handheld New Face device, which delivers micro-currents to lift muscles in the face, the brief and painless procedure produces results that last for a few days. "It's perfect for anyone who wants to look great for an event or needs a quick lift," Michelle says. (Spa Gregorie's, 200 Newport Center Dr., #100; 949.644.6672; spagregories.com)
For routine brow maintenance, threading remains the choice of beauty experts at James Albert Salon, says Maryam Gharabi, a brow specialist at the salon. A technique that originated in Eastern cultures and is now popping up in salons across the West, threading is done by rolling a twisted cotton thread over unruly brow hair, plucking the hair from the follicle. "Threading is great because it not only takes the hair from the follicle, which causes it to grow back thinner each time, but it's good for sensitive skin because you're not pulling on it," Maryam explains. "And your skin gets a massage at the same time." (James Albert Salon, 1821 Westcliff Dr.; 949.646.1616; jamesalbertsalon.com)
Fabulous or Freaky?
One of the trendiest technologies in anti-aging skin care, the non-surgical Stem Cell Facelift—also called autologous fat transfer—promises a fuller, fresher looking face with a fast recovery time—by extracting stem cell-rich fatty tissue from the patient's abdomen or buttocks, which is refined and then re-injected into the face, where it is said to produce new skin cells and collagen, smoothing wrinkles and reversing the signs of aging.
'Dos are Coming Undone
Stowe away the flat irons and curl sticks—the natural look is back! This is happy news for the effortlessly chic California gal. "People are staying away from styling tools and really working with their natural texture," says Casey Crawley, an educator and art director at Toni & Guy salon in Newport Beach, who relies on just a dollop of styling product to help define her clients' God-given locks. "Classic styles are being reborn with modern twists like messy braids, knotted buns and tousled curls."
Trends in hair color aren't as subtle, with last season's "ombre" look reaching new levels: "Think bold color—dark oranges and reds fading into lighter shades of the same hue," Casey says. "Bright white blonde is also hot right now."
Ladies who prefer a look that is more coiffed than carefree will be pleased to learn that the bob is back! "Many clients are opting for long layers with short fringe—bangs are huge right now," she explains. Also en vogue is the Twiggy-inspired pixie cut, which is most flattering for delicate facial features. (Toni & Guy, 1177 Newport Center Dr.; 949.721.1666; toniguy.com)
Earthy Delights
Those who aren't keen on sweeping synthetic lotions or potions over their precious pores need not miss out on the soothing spa experience—many spas in Newport Beach offer earthier options, such as Balboa Bay Club & Resort Spa, which uses natural ingredients like fruit, sea salt, herbs and cane sugar in many of its body therapy offerings. Get wrapped up in warm green tea and ginger with the Ultimate Body Facial & Wrap, which also features an exfoliating scrub made from pineapple, papaya and grape seed, as well as a volcanic clay massage and peppermint exfoliant. Cleanse the body and mind with the Zen Revival Body Wrap, which features a nourishing wrap made from "seaweed algae to stimulate metabolism, ginger root to invigorate the mind and green tea to balance yin and yang." (1221 W. Coast Hwy.; 888.445.7153)
Sole to Soul
A quick soak and polish may suffice in the summer months when we'd rather spend hours basking in the rays than sitting in a salon chair, but in the chillier months—hands down—there's no better way to relax and unwind than with a luxurious mani/pedi. Bellagio Salon and Spa in Newport Coast offers a lavish pampering experience that's a treat for both the soles and soul. A notch above your standard mani/pedi, the Ultimate Manicure and Pedicure includes a hydrating hand soak and warm paraffin dip that's not only relaxing, but seals in moisture to protect skin from cold, dry winter weather. Tootsies are also treated to a toasty soak, exfoliating scrub and massage (calves included), paraffin dip, soothing foot mask and moisture-locking lotion. Top it off with a pretty polish of your choice and voilá—you're refreshed and ready to put your best foot forward! (Bellagio Salon and Spa, 21165 Newport Coast Dr.; 949.720.9277; salonbellagio.com)
Best Face Forward
Let's face it: looking our best is a large part of feeling our best, and in Newport Beach, we're fortunate to have access to the crème de la crème when it comes to plastic surgeons and beauty experts. But no matter how talented a doctor is with a scalpel, significant healing time is still inevitable—and in today's busy world, who has time to devote a month to hiding from the masses? Enter the new wave of quick, non-invasive treatments. Often obtained in an outpatient visit that's no longer than a lunch break, these treatments are designed to achieve the same results with far less pain and time away from your busy schedule. It might take a bit longer to reach the results you're looking for, but aren't the best things worth waiting for?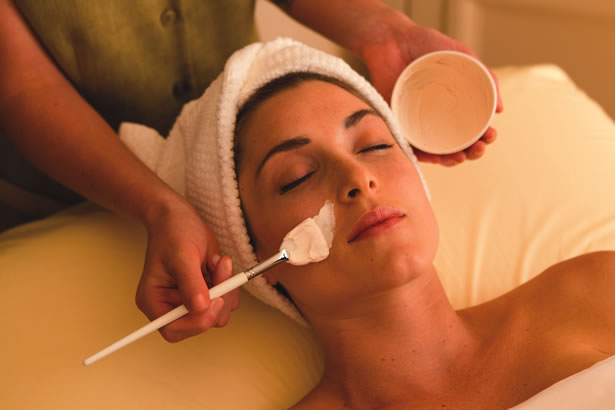 Diamond Away the Rough
Natura's Diamond Experience delivers baby-smooth skin. Despite this luxury facial's name, it doesn't actually have diamonds in it. "It's formulated with more than 30 active ingredients including ATP and marine-originating DNA, but uses the 'diamond' name simply because it's the best of the best," explains Liza Esayian, spa director at the Spa at Pelican Hill. "We call it the 'Red Carpet-Ready' facial because it delivers such an amazing glow— and because it's used by many celebrities who are getting ready for big events." Great for mid-20s skin and older, the 80-minute treatment includes a powder peel that's brushed onto the face and activated with an enzyme that creates a fizz and exfoliates the top layer of dead skin, a nourishing and plumping Cryo mask and rich, luxurious moisturizer. "What's also great about this is that the exfoliation process creates only a brief redness on the skin," Liza says. "And the glow lasts for about four to five days." As if silky smooth skin and virtually zero recovery time isn't fabulous in itself, the service at Pelican Hill also comes with a facial, neck and shoulder massage, making it a truly amazing and relaxing spa experience. (27701 Pelican Hill Rd. S, Newport Coast; 800.820.6800; pelicanhill.com/spa)
Sneak Peek
Patients entertaining the idea of facial fillers (such as Restylane or Rejuva)—a minimally invasive and less costly solution to correcting signs of aging—can now get a "sneak preview" before they commit, thanks to a temporary filler offered by Dr. Val Lambros, M.D., FACS, a board-certified plastic surgeon based in Newport Beach. A combination of saline solution and a local anesthetic—that lasts approximately 20 minutes—is injected into problem areas of the face, allowing the patient to get a glimpse of the effects of hyaluronic acid fillers, which can last up to three years. Effective at masking the telltale signs of aging, fillers are often applied to the brow area, hollow areas around the eyes, imperfect noses, hollow temples and jowls at the jaw line. "The preview is kind of like trying on a dress before you buy it," Dr. Lambros explains. (360 San Miguel, Ste. 406, Newport Beach; 949.759.4733; vallambros.com)

 Ooooh2
A new Oxygen Facial offers instant results. Popular with a long list of Hollywood's A-listers, from Victoria Beckham to Justin Timberlake, Intraceutical's Oxygen Facial delivers an instant lift with no visible signs of irritation like redness or blotchiness, says Dr. Jeffrey Olsen of The Skin Care Clinic in Newport Beach. "It literally lifts the skin immediately," he says. "We apply the facial to half of the face first, so the patient can see the dramatic results."  Delivering a mixture of hyperbaric oxygen, or pure oxygen at high pressure, the treatment is applied with an airbrush—like a tiny power washer—to pump oxygen and moisture into the skin. And unlike with most facials, which require you to wait 12 hours before applying makeup, this facial requires no recovery time—making it the perfect "lunchtime" beauty break for the woman-on-the-go. "The Oxygen Facial actually helps with makeup application, because it gives the skin and smooth and moisturized [canvas]," Dr. Olsen explains. He recommends a facial every three to four weeks for four months, and then once every two to three months as texture improves. (The Skin Care Clinic, 2503 Eastbluff Dr., Suite 105, Newport Beach; 949-760-8065; theskincareclinic.com)
A Better Way to Burn Fat
Sometimes—no matter how nutritiously we eat or how many spin classes we take—we cannot seem to peel away those problem areas. Popular among Hollywood's elite like Jennifer Aniston and the Kardashian sisters, and suited perfectly for body parts like arms, thighs and "saddlebags," a new non-invasive treatment called Velashape (2) can burn off those extra fat stores in just 15 minutes, says Dr. Vince Afsahi of South Coast Dermatology. "This system was originally developed five years ago, but has recently been updated to perform smoother and faster," he explains. "By non-invasive, it means no needles or surgery, and minimal downtime." Four devices—a suction, radio and light frequency, and roller massage—are used simultaneously to heat fat tissue beneath the skin, which causes the fat to shrink and can also reduce the appearance of cellulite and unsightly bulges in the skin. "This procedure is great for patients who live a healthy lifestyle and are in shape, but struggle with isolated areas—it's not a replacement for diet or even liposuction," Dr. Afsahi says. "It's a great adjunct to exercise." Most patients require about one treatment per week, for four to six weeks. (South Coast Dermatology, 400 Newport Center Dr., Ste. 602; 949.644.1434; dermphysician.com)
Fitness Forward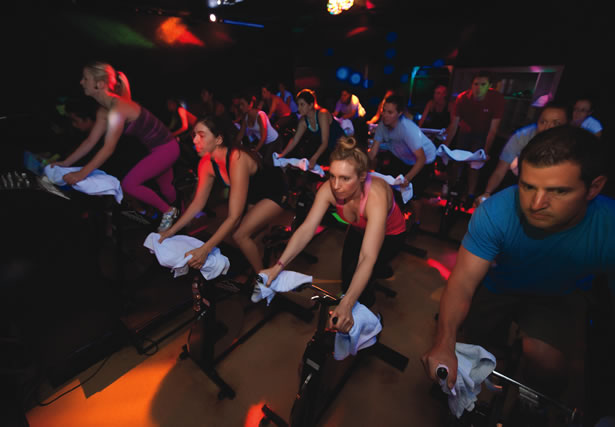 On A Hei
"I feel as if I'm floating through life," I explain to Jenny Vande Hei, owner of Costa Mesa's Ra Yoga and Ayurvedic yoga therapist (rayogastudio.com). A holistic approach, her yoga therapy combines the physical and spiritual benefits of yoga with the ancient Indian teachings of Ayurveda to create a custom nutrition and lifestyle plan. Taking my New Year's resolutions beyond losing the last five pounds, this year I wanted to tap into my intuition. Vande Hei's voice carries a soothing effect, the kind that instantly dissolves stress. "That's actually very normal, but we'll get to that later," she tells me.
The program begins with a lifestyle assessment, taking into account things like eating and sleeping habits We move on to a dimly-lit room with calming music, breathing exercises and meditation. Emptying my mind has always been a challenge, but Vande Hei utilizes Yoga-Nidra (a type of guided meditation that the U.S. military use to treat soldiers suffering post traumatic stress), and I am able to turn off the mind chatter. Then, she demystifies my feelings of floating by uncovering my dosha, the dominating element in one's body. I am a vata (air), which explains my dry skin, fast walking pace and small eyes. When imbalanced, vata's experience feeling as though they're being thrown with the wind or floating (aha!). Later, Vande Hei presents a comprehensive lifestyle plan, including a custom "grounding" yoga practice, a nutritional plan with supplement suggestions, custom tea blend, self-massage technique, and a spiritual practice consisting of journaling, meditation and breathing exercises.
Yoga therapy is no boot camp or body makeover, but Vande Hei promises a holistic approach to resolutions. "I'm not saying change your life, but if you can remember to take three deep breaths whenever you're at stop light, I think I've done my job," she says –Stefanie Phan
Top Fitness Trends
What's New and What's Here to Stay
Remember when exercising was fun (think jumping on a trampoline as a kid)? Literally jump start your fitness routine with a Cardio-Tramp class at Pilates on 17th in Costa Mesa (pilateson17th.com). This cardio workout on a "rebounder," or mini trampoline, is said to improve circulation, balance, coordination, muscular conditioning and more—but most of all, it's fun.
Speaking of fun, how about flying through the air with rings, silks, ribbons and a trapeze? The Athletic Club for Women features Aerial Fitness classes with some of the top talent in the area (athleticclubforwomen.com).
Taking spin class to the next level, Bike 2 the Beat uses disco lights, black lights and pumping music to motivate class goers to move and sway to the beat as they pedal away at top speeds (bike2thebeat.com).
Another trend for maximizing workout time is mixing cardio and strength training in new, high-intensity classes, such as Shockwave at Equinox (equinox.com). "High-intensity mixed with strength training is the way it's going," comments instructor Tracy Bauer. "That combo is the most efficient for getting lean and dropping calories." The Shockwave classes mix traditional high-intensity cardio exercises such as rowing, with strength training using the exclusive Viper training tool, kettle bells, the BOSU balance trainer, resistance bands and tubing, stability balls and more.
Those looking for a brand new venue can head to Curl Fitness, a recently opened gym at Via Lido Marina priding itself on customer service and offering a range of fitness choices, from personal training to group classes, Pilates to yoga (curlfitness.com). There's even a Curl Bar with healthy cool downs like organic juices and smoothies.
The mind-body approach to fitness is also gaining momentum, with studios such as Full Circle in Corona del Mar, led by seven time U.S. national tai chi champion David-Dorian Ross (fullcirclecdm.com).
New machines and Pilates principals meet to create workouts such as the Gyrotonic Expansion System, designed to stretch and strengthen with minimal effort. In Newport, the Gyrotonic method is offered at studios such as Body Design (bodydesignonline.com) and Aline Studios (alinestudios.com). Similarly, the SPX machine and its related classes help strengthen, tighten and tone the body quickly and safely. Check out SPX at Pilates Plus (pilatesplusoc.com). Workouts using TRX Suspension Trainers are offered at Yoga Works (yogaworks.com); TRX exercise tools are designed to build lean muscle, boost metabolism, tighten the core and increase endurance and are popping up at studios as part circuit training and other classes.
Some trends are certainly not new but appear here to stay, such as pole dancing for fitness, which is still offered nearby at places like OC Pole Fitness (Westminster and Aliso Viejo; ocpolefitness.com) and Pilates on the Pole (pilatesonthepole.com) in Newport.
Boot camp is a tried and true staple for those wanting to kick start their fitness plan. But how many places feature a real live Marine Corps sergeant leading the way? For that, you'll want to book a boot camp at the Newport Beach Athletic Club (newportbeachathleticclub.com).
Cross Fit is also known for its intensity, and Newport Beach boasts its own Cross Fit gym for members serious about getting fit (crossfitnb.com).
Of course, these are only a few of the many fitness options offered in and around Newport Beach. Try a few and pick one that's convenient, challenging and enjoyable—or play the field. After all, variety is the spice of life.  –Micaela Myers
Raise The Barre!
With a cult following for its wildly addictive results—inner thighs slimmed, defined shoulders and washboard abs—ballet-inspired fitness classes have Newport Beach ladies hooked at the barre. The one-hour workouts focus on interval training and targeted isometric moves with light weights—think tiny squats that cut glutes under for a bikini ready bum and 2-inch arm raises to sculpt shoulders—followed by deep stretching for long, lean dancer-esque limbs. In Newport Coast, The Bar Method (barmethod.com) keeps toned beauties lifting and tucking to "the most targeted body-sculpting" sequence. Those closer to the Peninsula head to Pure Barre (purebarre.com) where "lift, tone and burn" is repeated religiously. And Pop Physique (popphysique.com) tucked upstairs inside SEED at The Camp in Costa Mesa, promises a "popular physique and a hotter sex life." Now there's a reason to step up to the barre! –Stefanie Phan
Health Hotspots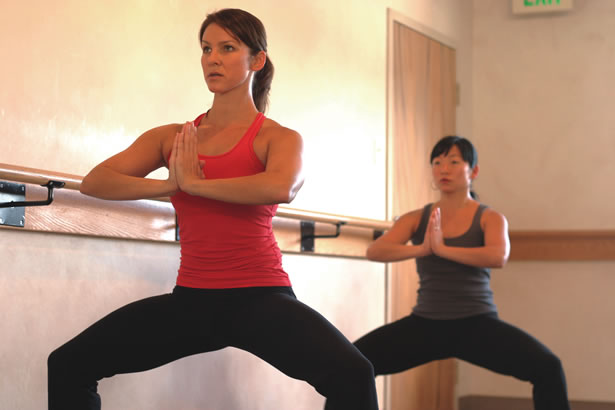 Fitness fans, spa lovers and those just looking to lose a few pounds have hundreds of choices for trainers, gyms, salons and spas in and around Newport Beach. Throughout the city there are blocks, buildings and neighborhoods that have a high density of health: CdM near Goldenrod; Newport Coast and Pelican Hill; Westcliff; Fashion Island and South Coast Plaza. They're epicenters of effort and excellence, where clusters of practitioners help clients along the path to physical perfection, health and wellness. One of the top hotspots is the Design Plaza.
We're not sure what Scott Burnham had in mind when naming the group of buildings between Avocado and Newport Center Drive the Design Plaza, but maybe it's time for rebranding because this cluster of commercial buildings is more like the Pretty Plaza, or maybe Fit City. There's Yoga Works (yogaworks.com), where many locals did their first downward dog, and Spa Gregorie's (spagregories.com), for years one of the best go-to day spas for (fave new treatment for those on the go is the "Fassage," combining the best of a facial and a massage in one sitting). Salon Gregorie's next door is still one of the hippest hair spots around, though many clients followed post-punk rocker and chopper rider Michael Nash when he moved to the Design Center-adjacent Studio 4 Salon.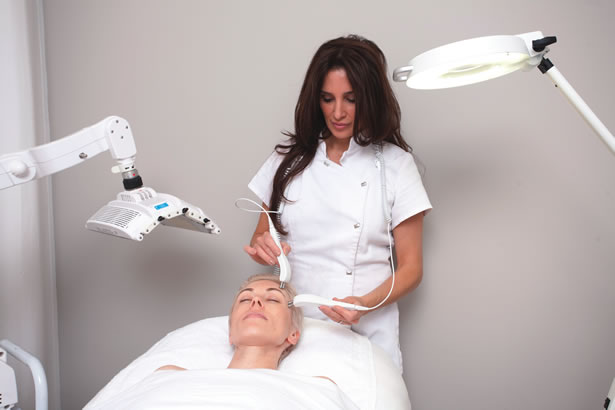 He's still the coolest (and funniest) stylist in town. Indeed, it's the smaller, sole practitioner practices that inspire our loyalty. Many migrated with aesthetician extraordinaire Grace Gutierrez when she opened her own True Grace Skin Care (truegraceskincare.com) a few years ago. Grace gives the best facials and beauty treatments in town in her chic little space, and she's the perfect choice for a spa-phobic guy's first facial. Not only will he come out looking all smooth and hydrated, the charming Argentine beauty is quick to wax and pluck the more hirsute among us into submission. Upstairs in the same building, it's less beauty and more brawn as Dr. Travis Conley (drtconley.com), a master of the active release technique (it hurts, but it helps!), treats everyone from elite athletes with sports injuries to ladies suffering neck pain due to the effects of over-augmentation, a common complaint in NB, apparently! After a treatment, stop by Wild Strawberry Café (wildstrawberrycafe.com) for a something healthy like a smoothie or detox salad (though a Nutella crepe sure is tempting). If it's later in the day, though, there are the proven therapeutic benefits of a perfectly drawn pint of Guinness at Muldoon's Irish Pub (muldoonspub.com). –Kedric Francis ,