When Oak Grill was unveiled last summer at Island Hotel, the stunning outdoor patio—with its massive shady trees and romantic hanging lights—captured most of the attention. But in the year since, the talented kitchen team, helmed by Executive Chef Marc Johnson, has provided a more important reason for visiting the restaurant: perfectly prepared plates with fresh, seasonal ingredients.
This summer's menu—which makes its debut July 7, according to Marc—is all about the heirloom tomato. Incorporated into nearly every section of the menu, the ingredient is exceedingly versatile. It stars in the heirloom tomato soup, a seasonal dish that brings to mind classic comfort fare. The bright, orange-hued broth is less acidic than its traditional counterpart and is also accompanied by crispy brioche croutons for texture, a dollop of queso fresco and a basil leaf.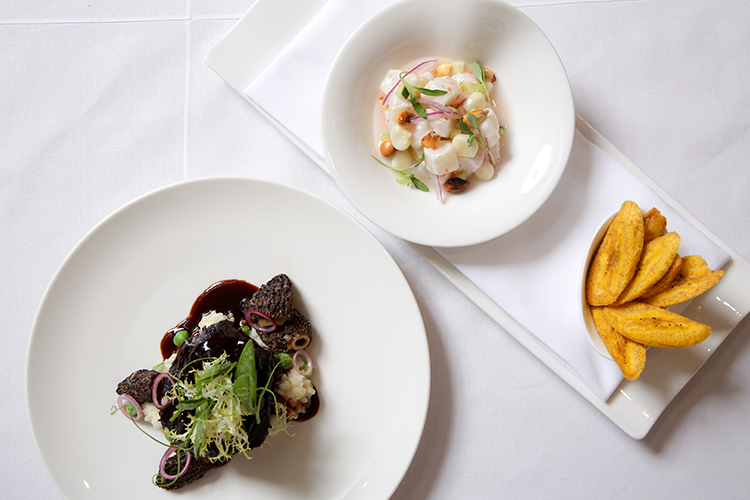 ---
 Summer 2015 is all about the heirloom tomato at Oak Grill, located off the lobby of the Island Hotel near Fashion Island.
---
If you're looking for more small plates, a pork belly starter will satisfy any palate. Marc is an expert at preparing this popular cut of meat, so you can find it on the menu nearly any time of year in some form. For summer, it's paired with a thin slice of grilled bread, a light avocado mousse and juicy heirloom tomatoes that add a pop of color and fresh flavor to help cut the complex richness of the pork.
Alaskan halibut is another ingredient making multiple appearances on the seasonal menu. The citrusy ceviche, a sharable plate that serves four, features pieces of the fish cooked a la minute with a Peruvian take. It's joined by hominy served two ways—raw and toasted, almost like a corn nut—as well as a sliced rocoto pepper, onions and plantain chips. Those who want a larger portion of fish can order the Alaskan halibut entree, served with vinaigrette, English peas, watermelon and more heirloom tomatoes; the light flavors of the produce contrast perfectly with the satisfying smokiness of the fish.
Heirloom tomatoes make yet another appearance on the entree menu, this time with Maine diver scallops, feta cheese, basil pesto and Haas avocado. But if you're ready to step away from seafood, the braised beef cheeks are an excellent foray into the indulgent meat offerings. So tender they almost fall apart at the touch, the meat melts in your mouth and is complemented by a creamy ramp risotto.
With so many plates to choose from, it's hard to imagine you'll have room for dessert. For those who have a second stomach for all things sweet, try the guanaja cremeux: It's an artistically arranged brick of rich chocolate custard and smooth sassafras whipped cream. A few decadent bites are the perfect way to end a meal.
—Written by Allison Hata
(Oak Grill, 690 Newport Center Dr.; 949-760-4920; oakgrillnb.com)