By Allison Hata | Photo by David Tosti
The Segerstrom name is synonymous with some of Orange County's most acclaimed institutions. And at the head of that family, there was one man who served as a driving force for change—a visionary, an entrepreneur, a leader.
Newport Beach resident and real estate developer Henry T. Segerstrom died Feb. 20 at the age of 91, but he leaves behind a monumental legacy. Every visitor at South Coast Plaza, audience member and artist at the performing arts complex, and student at Segerstrom High School share a piece of Henry's innovative and cultured Orange County.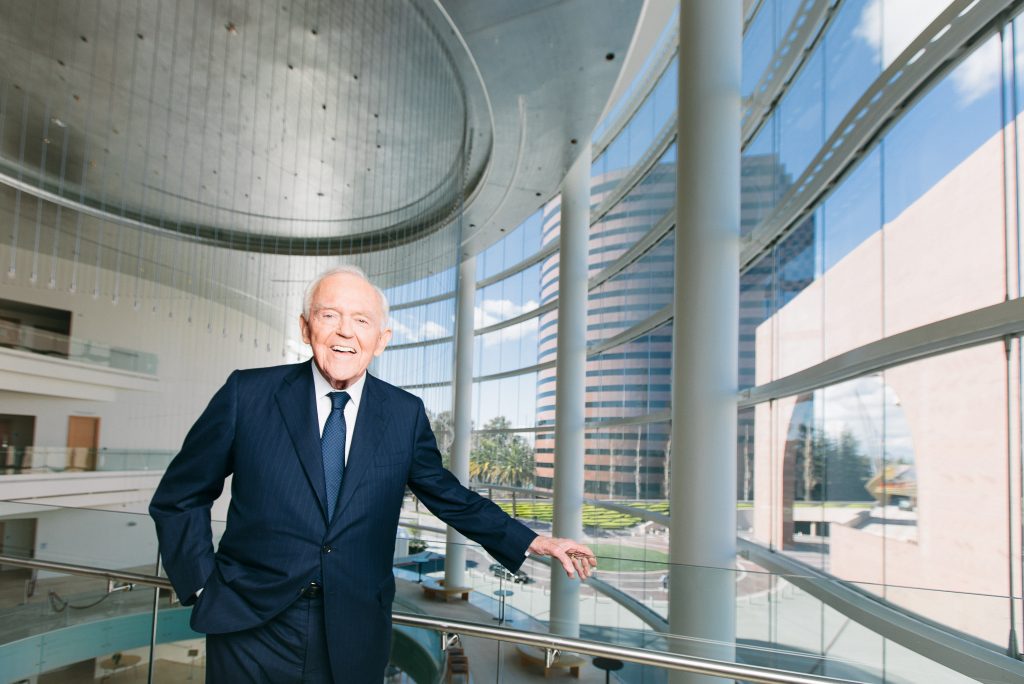 The son of Swedish immigrants, Henry was born April 5, 1923, in Santa Ana. Even as a teenager, it was clear he would go on to do great things. Rather than joining the family farm immediately, the Santa Ana High School class president matriculated at Stanford University at age 17: "I wanted to break free and be independent," he shared with Newport Beach Magazine in 2011. "So I set a criteria and said I wanted to go 500 miles away so I wouldn't come home every weekend."
He interrupted his education when civic duty called, enlisting in the Army following the Pearl Harbor attack in 1941. Three years later, he deployed as a captain, but was severely wounded after a German explosive detonated near him during the Battle of the Bulge in December 1944. Despite his injuries, he recommenced his studies and earned a master's in business administration from Stanford's Graduate School of Business.
When he returned to Orange County, Henry foresaw the changes in Southern California's economic growth and helped his family's lima bean farm transition into a wildly successful real estate development company. Personally, he also served as a director of the Orange County Water District, contributed to developing new schools in Santa Ana, and helped pass a bond measure to fund the first local public transportation system.
Henry's aspirations took C.J. Segerstrom & Sons beyond the farm and established it as a power player in the world of business. He had a clear vision for his hometown—one that truly began to take shape in 1967, a turning point for both the Segerstrom family and the region as a whole. That year, South Coast Plaza opened its doors on one of the family's former lima bean fields in March, and Henry himself ushered in partnerships with international luxury designers to help establish the retail center as one of the most financially successful in the country.
Also a cultural leader, Henry wanted to bring a dynamic arts scene to Orange County. He organized a gift of land from the family to South Coast Repertory in 1976 for the construction of its new home—the first piece in developing the Orange County Performing Arts Center complex. His personal pledge of $40 million (which eventually rose to $51 million) supported the construction of the Renée and Henry Segerstrom Concert Hall on a part of the land in 2006, and the entire 14-acre campus was renamed the Segerstrom Center for the Arts in 2011.
"There is nothing in or a part of Segerstrom Center for the Arts that is not world-class, the very best," Henry told us in 2011.
Henry's passion for the arts, philanthropic commitment and unwavering work ethic are just a small part of his legacy. With his family by his side, he helped transform Orange County, a contribution that was celebrated by the public at a visitation held Feb. 28. Tributes from public figures, as well as respects paid by 2,000-plus mourners to his wife (Elizabeth); children (Andrea, Toren and Anton) and their spouses; six grandchildren; and seven great-grandchildren, prove that Henry Segerstrom will be greatly missed—but never forgotten.