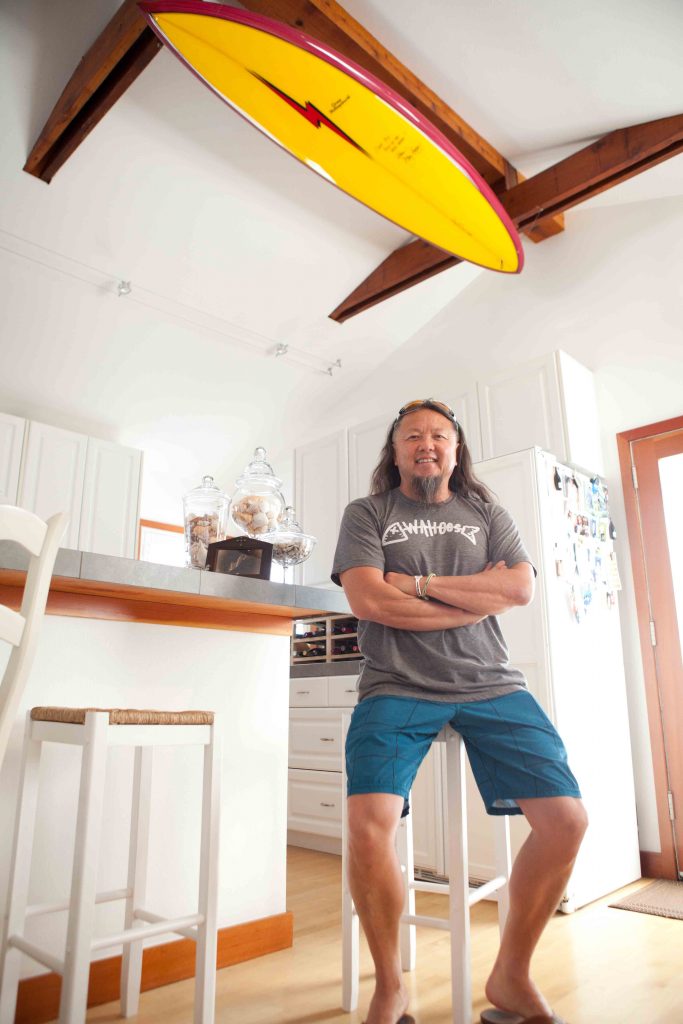 Follow your passion to build the ultimate retreat at home.
By Joe Carberry
Behold the power of the man cave: a place to get away, cheer on sports teams and enjoy, well, manhood. But today's male sanctuaries aren't just about wings and beer. They've become inclusive, a place where families can host parties, watch flicks together or simply get away from the chaos of daily life.
For longtime local Wing Lam, founder of Wahoo's Fish Taco, and his wife Kelly, that meant decorating their loft around something close to both of their hearts: the coast. The space incorporates Wing's love of surfing, while also reflecting Kelly's passions, which range from paddleboarding and yoga on the beach to running a successful health and wellness company.
"I've got the coolest collection of surfboards hanging overhead from some of the coolest guys on the planet, and they've never been surfed," Wing explains. Gerry Lopez, Shaun Thompson and Rusty Preisendorfer are just a few of the renowned names on the boards hanging from the ceiling. The loft also features 60-inch televisions and opens up onto a beautiful deck overlooking the ocean. With a fully functional kitchen and bar, the couple re-created a tropical resort with a super-clean feel—like sitting in a suite in the Bahamas.
"Our house is very unassuming from the outside," he says. "Everyone that comes over is blown away by the room."
The home is equipped with all the features of a space designed for fun, and soon it will transition into a bona fide playroom as the couple welcomes their first child together later this year. Wing and Kelly are in search of a new primary residence to settle down with their little one, so the loft will become an ocean-inspired space for the whole family to escape—a very modern take on the multifunctional man cave.
Customization is Key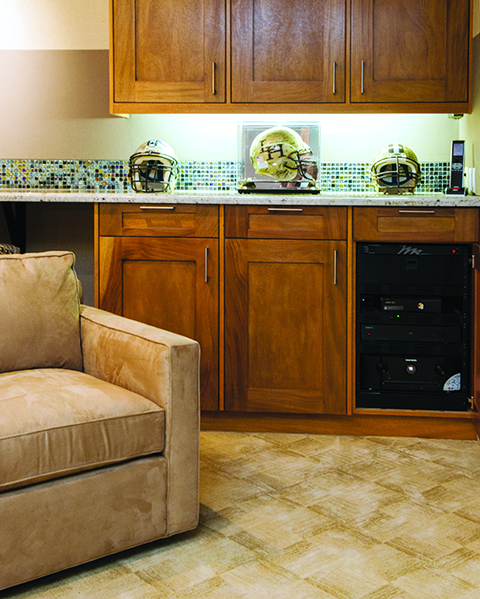 Just like Wing and Kelly's loft, most man caves are built around a theme—and the ideas for said themes are endless. There are team-based spaces with interiors designed around a local athletic franchise like the Lakers or Dodgers, where the main focus is sports and watching them.
Before listing it for sale last year, Yankees pitcher CC Sabathia notably recreated a sports bar in his Bay Area home, complete with a full bar, theater-style seating and score ticker just below the ceiling line. Those who aren't into sports can follow the lead of Star Trek junkies who have replicated the USS Enterprise in their homes (perfect for high-tech media centers), or gearheads who have built lounging spaces into garages to simultaneously work on cars while enjoying the game. Any conceivable passion can be brought to life in a dedicated space—including passions shared with the whole family. Online sites have plenty of items for tricking out the room, from full-sized frozen Han Solo replicas to checkerboards featuring shot glasses in place of pieces. Many man caves also feature some sort of adult beverage dispenser, be it a kegerator, minifridge or full-on bar setups complete with tap handles and liquor cases.
"One thing I notice about the man caves I've worked on is that they all feature a lot of remotes," says Chris Kittrell of Kittrell & Associates Interior Design. "Television, music, motorized shades to lower and raise without leaving the chair. And you always need some of the chairs to be of the lounge variety."
Building Out
Do thoughts of frothy beer taps and pool tables have you yearning for a cave of your own? To build a space in your home, the essential haven starts with the right space. Since Newport building plans haven't traditionally lent themselves to basements, most locals look for rooms away from the main house or—in the case of Wing and Kelly's loft—you can fold the recreational space right into a living area.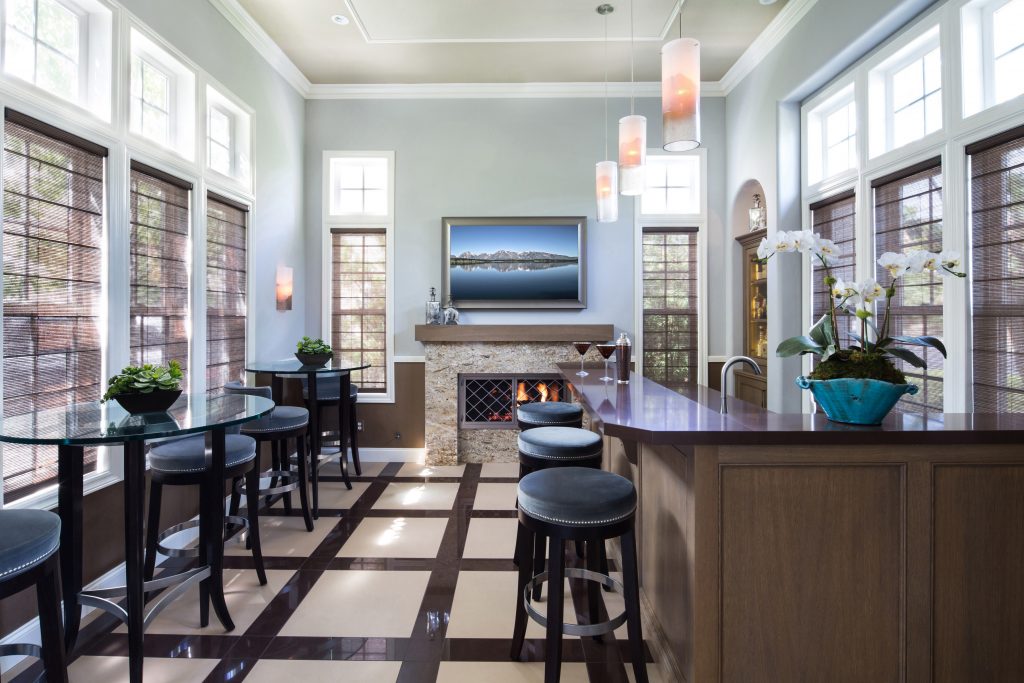 You're also going to want to think about room shape: "The bigger and more awkward, the better," says Lulu Designs' Lindsay Espinoza, who grew up in Newport and now runs her business out of Costa Mesa. "If it's a big, awkward room that you don't know what to do with, it'll make a perfect man room. A 12-by-12-foot room kind of blows for a man cave because all you can do is put a television in there. The rectangular shape is always best because it allows for multiple viewing options and will serve more than one purpose."
Your man cave will eventually have to serve multiple purposes. "I always create multiple groupings so you'll have your main viewing area, then seats around a bar and other alternate seating," Lindsay says. "Some people want to watch. Some people want to drink and socialize, and you want your room to accommodate all of that."
A multipurpose room is especially important for those without a dedicated area away from the primary living areas of the home. With that in mind, your space can't stick out in terms of design.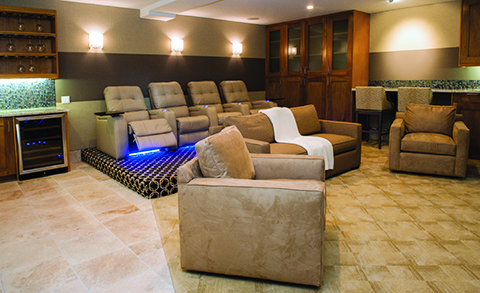 "[If that's the case], we look at the color scheme and style in the rest of the home," Chris says. "So we incorporate those elements into the man cave—including texture, flooring, lighting—so they all work with the space and it doesn't look too extreme in keeping with the spirit of the rest of the house in style and color."
Chris says this is especially important if space is a commodity and if hosts want to encourage guests to move away from the kitchen and family area to entertain in a different part of the home. "Everyone in the family ends up using the man cave," she explains.
Another important aspect, according to Lindsay, is a change in heights. "You want stadium seating like you're going to a cinema, but you want that television to almost create a stage so every seat is the best seat in the house," she says. "That helps with sound, too, so people standing in the back are not chatting over the people watching the television. Different heights of seating will also help with that."
Regardless, the most important aspect in the construction of a man cave is creating a space original to you and your family. "No matter what, there has to be a sense of seclusion," Chris says. "A place to lock yourself away to escape our hectic lives. Everybody needs that."