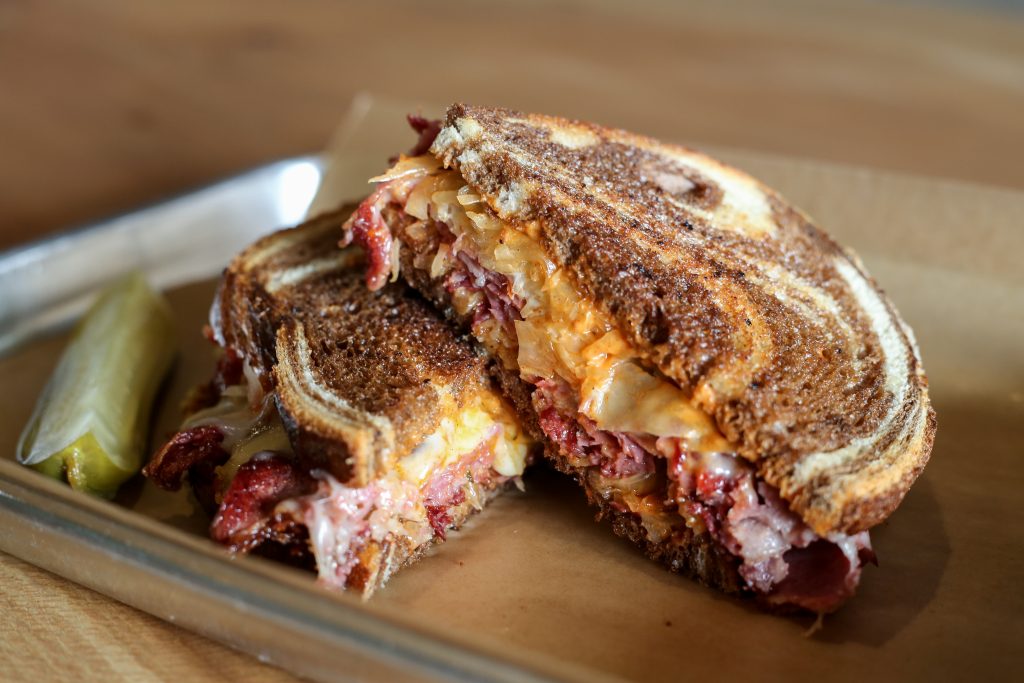 The imaginative offerings at Dory Deli offer a twist on tradition.
By Kirsti Correa | Photos by Jody Tiongco
Shaved celery, fresh greens, shredded carrots, ranch dressing and morsels marinated in a peppery sauce: Sandwiched in between a roll, this is a winning recipe for Dory Deli's Buffalo Mary sub. What sets the dish apart is that it's actually vegetarian—the buffalo "chicken" is really cauliflower. The vegetable is battered and fried, then coated in sauce to bring a familiar taste to diners. One bite, and it's akin to a traditional buffalo chicken sandwich—a little tangy, similar accompaniments and abundantly flavorful.
It's just one example of the culinary ingenuity happening behind the scenes at Dory Deli, which opened on the peninsula in late January. The Reuben sandwich, for instance, takes the name Reubinstein—after the restaurant's chef Chris Rubinstein—but still incorporates the classic corned beef with thick slices of meat, sauerkraut, Swiss cheese and Russian dressing piled between slices of toasted marble rye bread.
Though small, the modifications signify the deli's creativity and extra effort. Even when it comes to the decor, everything is executed in a meaningful way. Drawing inspiration from its beachfront location, Dory Deli displays a nautical theme with anchors and gauges throughout the restaurant. Old-fashioned photographs on the walls are a nod to the building's long history in Newport; meanwhile, communal banquette seating reflects the friendly atmosphere of the peninsula, and an outdoor patio allows customers to enjoy the view of the ocean with their meal.
As for other menu features, the fish for some of the sandwiches like the Scuba Sando and ahi burger is sourced from the Dory Fleet fishing company, which is located steps away from the deli. And prior to the restaurant's opening, a barista from Kéan Coffee came to assist employees in achieving the proper technique for making drinks like an espresso with latte art.
Open every day starting at 6 a.m., Dory Deli offers early risers plenty of options that can accompany their cup of coffee. The Yoga Pants burrito is a healthy wrap of egg whites, Peppadew peppers, arugula and a dash of Parmesan; the heavier Sweatpants burrito, however, boasts scrambled eggs, steak, caramelized onions and cheese. Another dish that interests patrons—one of the most popular breakfast entrees—is the chicken and waffles, which pairs a buttermilk fried piece of poultry with a Belgian waffle and maple bacon butter.
Dory Deli puts as much effort into entertaining its evening visitors as it does its morning guests. The deli display case is stocked with craft bottled beers from breweries including Ballast Point, Stone and Sierra Nevada, and eight tap handles pour drafts like Beach City Pierside Pilsner, Port Wipeout IPA and Saint Archer White Ale. The restaurant stays open late, usually until 10 p.m. on weekdays and midnight on weekends, offering the perfect hangout spot to enjoy the longer days with a cold beer and hot sandwich in hand.