Men in the midst of a mid—or even early—life crisis will find that these 10 cars offer the speed, sport and agility they'll need to embark on their next great adventure.

By Richard S. James
Typically afflicting men between the ages of 45 and 55—but also known to strike earlier—the telltale "symptoms" of a midlife crisis include a trendy wardrobe, dying out the gray, a new hobby and, perhaps the clearest indicator of all, a shiny red sports car. When someone reaching the half-century mark suddenly finds a passion for spirited, open-top motoring, friends and family will surely utter the words "midlife crisis." The symptoms are often misinterpreted, however. Buying a fast and flashy vehicle is actually a sign of another set of conditions: success and independence.
"We sell quite a few cars to people in that age category," says Tim Tauber, general manager of Newport Auto Center, which sells prime examples of midlife crisis cars from manufacturers like Porsche and Bentley. "I don't know if you'd call it a midlife crisis if you're talking about people that have worked hard all their life and want to treat themselves to something nice."
For such men, the desire for something fun to drive never leaves as they climb the ladder to success in their respective careers. As the years pass and families grow, so does the need for a more practical, functional mode of transportation—meaning dreams of whipping around the curves and bends of Newport Coast Drive at a million miles an hour are temporarily shelved. Once the kids are grown and bank accounts are flush, however, it's time for the sports car to make its way into the family garage.
Of course, with a sports car comes the teases and taunts of a midlife crisis, but don't be afraid to showcase your brand new ride as a badge of honor—after all, you earned it.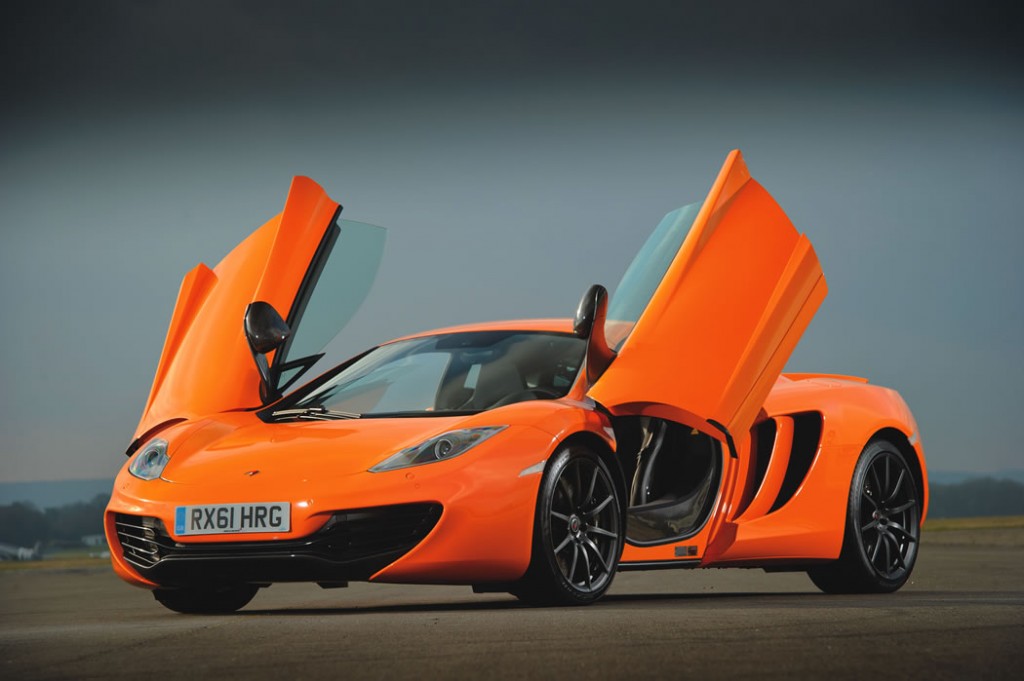 McLaren 12C
McLaren Newport Beach
The McLaren 12C may well indeed be one of the world's best cars available on today's market. While it may not be the fastest car on earth, it provides more than enough motivation to be a thrilling ride and will move around a racetrack quicker than almost any other road car. Yet, it's also easy to live with on a day-to-day basis. You won't curse yourself for pulling the 12C out of the garage if you get stuck in rush hour traffic on the freeway like you might with other supercars.
Adaptive damping and the seven-speed, dual-clutch transmission are the keys to both the 12C's comfort around town and its prowess when the driving becomes more spirited. McLaren may have delivered the best of both worlds with this option.
All-in option: The racetrack-only 12C GT Sprint; 0 to 60 mph unconfirmed officially, but tests at approximately 3 seconds; roughly $316,000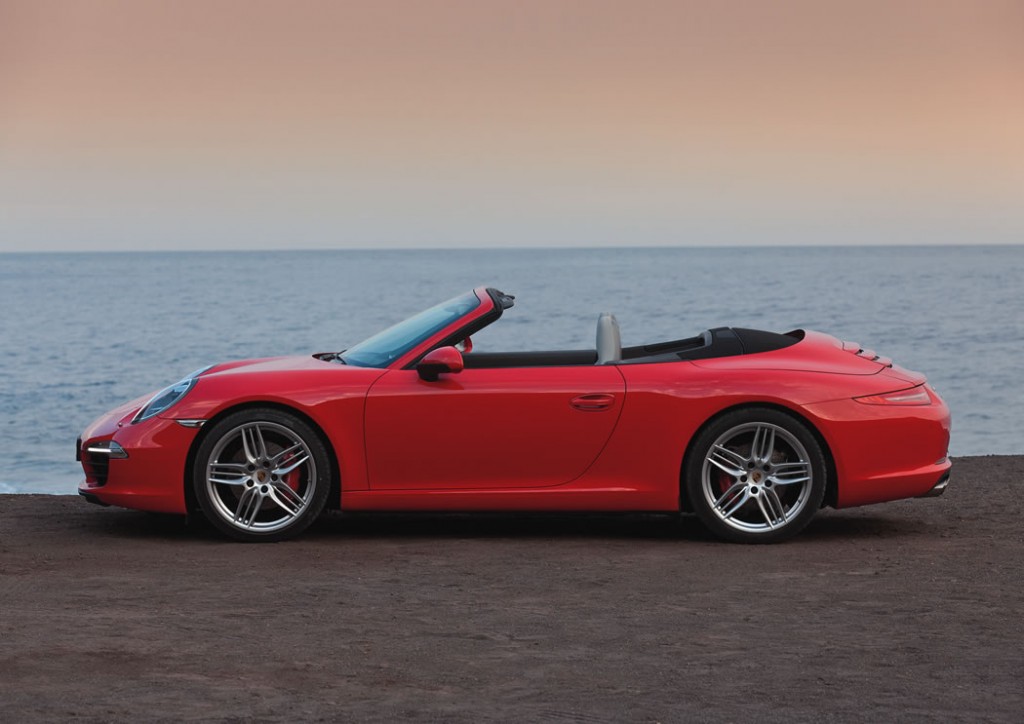 Porsche 911
Newport Auto Center
A Porsche, and the 911 in particular, might be the quintessential midlife crisis car. It ticks all the boxes: high-performance, luxurious and, most importantly, can be had in the glorious shade that Porsche calls Guards Red. With coupes, convertibles, Cabriolets, Carreras, Turbos and the "race car-for-the-street" GT3, there is a 911 model for every taste and speed. There's a reason the car has been around for 50 years.
The base Carrera starts at $84,300, and is plenty quick with 350 horsepower from its flat six-cylinder engine, hitting 60 mph in 4.6 seconds. The options from there are almost limitless, allowing buyers to customize the exterior and internal specifications of a 911 to create a car that won't be like any other Porsche in the neighborhood.
All-in option: Take the 911 up a notch with the 911 Turbo S Cabriolet; 0 to 60 mph in 3 seconds; from $193,900.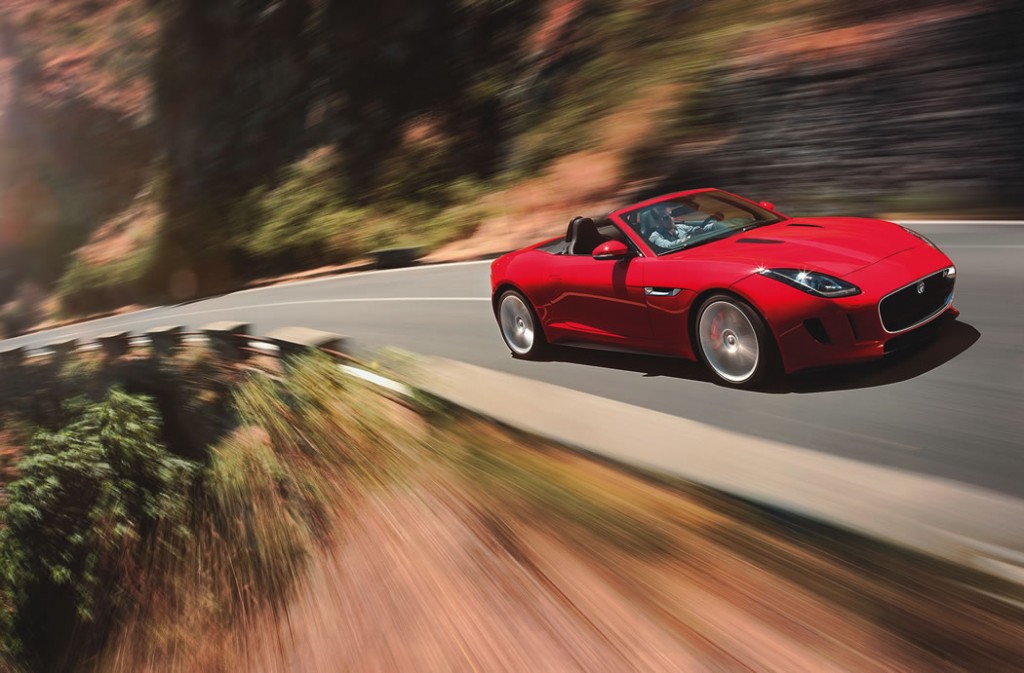 Jaguar F-Type
Jaguar Newport Beach
For a long time, Jaguar forgot about its own youth. But the rebirth that began several years ago now has culminated in the return of a true sports car to the Jaguar fold for the first time since the beloved E-Type in the 1960s. Arriving recently as a convertible, the stunning coupe version of the F-Type was unveiled in November 2013 at the LA Auto Show. While the coupe may be one of the most beautiful cars on the road, the convertible seems the default option for Southern California. It comes in three varieties—the supercharged 340-horsepower standard V-6 F-Type; the 380-horsepower S; and the 495-horsepower supercharged V-8 S. The latter emits a glorious melody that will have drivers throwing the top down and turning off the sound system to enjoy the sweet sounds of the car at work.
All-in option: Upgrade from the base model with an F-Type R coupe; 0 to 60 mph in 4 seconds; from $99,000.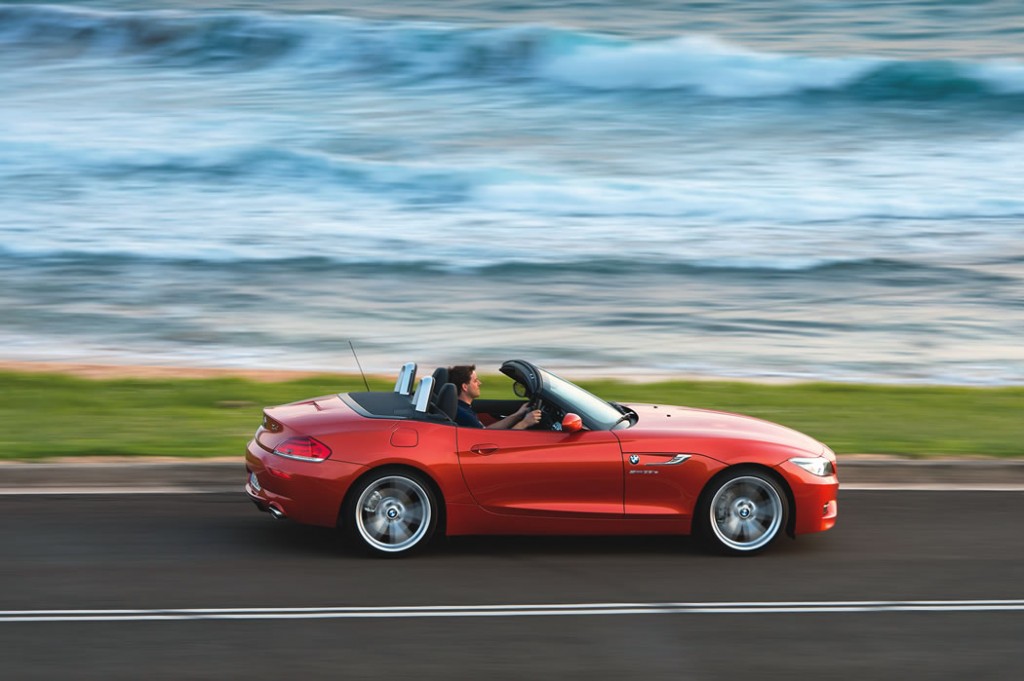 BMW Z4
Sterling BMW
Two seats, a folding hardtop and rear-wheel drive equal a recipe for fun and a surefire remedy for a midlife crisis. BMW uses that formula for its Z4, which features a base turbocharged inline four-cylinder engine that's as fun as it is efficient. With the highly regarded N54 turbocharged inline, though, the cure comes even quicker. Legendary BMW handling completes the package for canyon-carving amusement.
The 241-horsepower Z4 sDrive28i is plenty for this car, but the Z4 sDrive35i model takes it to a whole new level, delivering 60 mph in 5 seconds with the brilliant noise for which BMW inline six-cylinders are known. Order it with the double-clutch transmission for the option of rapidly changing gears with paddles behind the steering wheel or cruising in full automatic mode.
All-in option: Z4 sDrive35is; 0 to 60 mph in 4.8 seconds; $65,800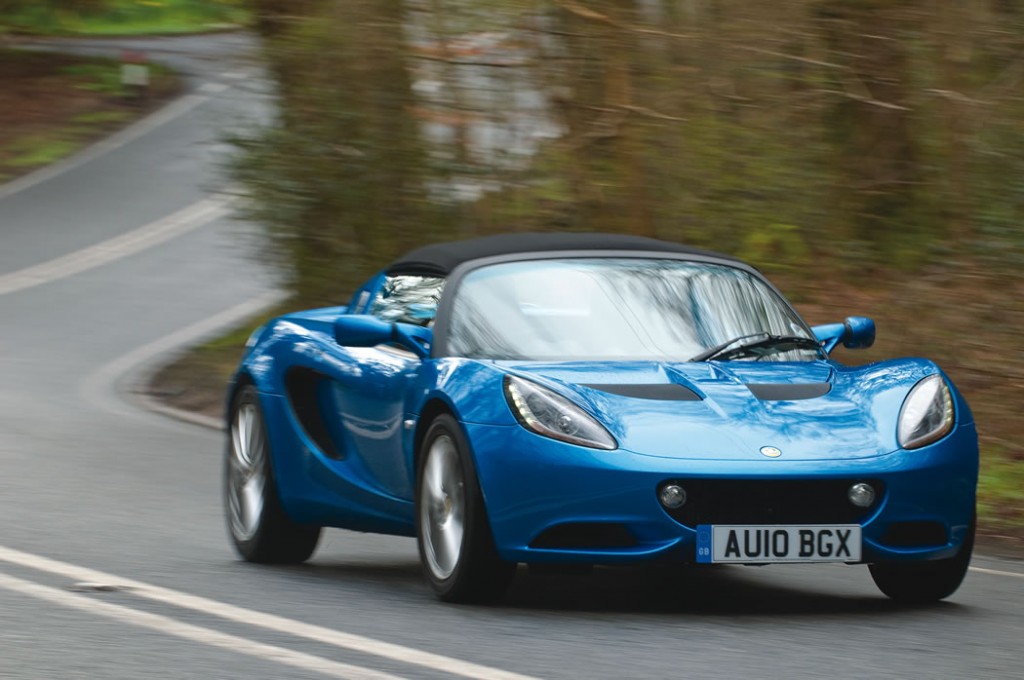 Lotus Elise
Lotus Orange County
The Lotus Elise is about as close as you can come to driving a go-kart on the street. Light and nimble, it is the embodiment of Lotus founder Colin Chapman's mantra: "Simplify, then add lightness." There is little on this car that isn't about moving as swiftly as possible.
The Elise has a hidden trick—because it's light, it doesn't need a huge engine to get it up to speed rapidly. So the little 1.6-liter engine not only does the trick in that regard, it does so while sipping fuel, earning an EPA combined 45 mpg rating. While perhaps not the most comfortable commuter car, its hybrid technology makes it an economical choice when it comes to fuel costs.
All-in option: Exige S; 0 to 60 mph in 3.8 seconds; roughly $80,000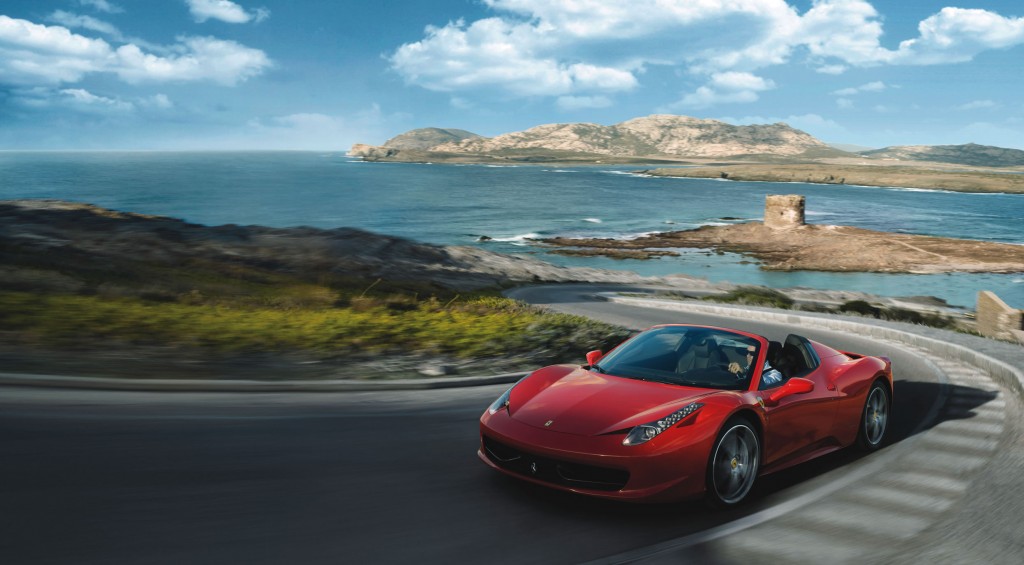 Ferrari 458 Italia
Ferrari and Maserati of Newport Beach
The Ferrari 458 may not be the top of the manufacturer's range, but the little sports car company from Maranello, Italy, keeps doing amazing things with its mid-engine V-8 vehicles. The 458 is easily the most stunning yet in a line that began with the 308 model. Aerodynamics play a huge role in the sensuous shape, but what's under the hood will stir your soul as much as the curves delight your eyes.
The 4.5-liter V-8 puts out an impressive 562 horsepower from its normally aspirated engine, which might explain the delightful way it screams at full throttle. The 458 is definitely not the car to choose if you're trying to maintain a low profile.
All-in option: 458 Speciale; 0 to 60 mph in 3 seconds; $298,000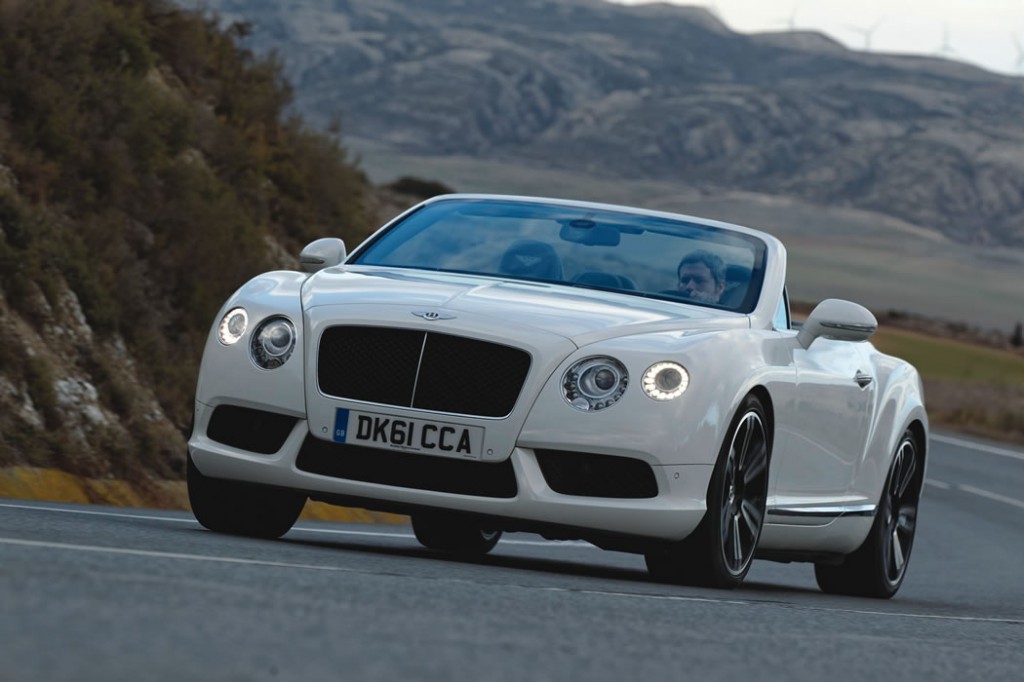 Bentley Continental GTC
Newport Auto Center
It goes without saying, but one of the biggest benefits of achieving success is being able to indulge in a little pampering. There are few cars more indulgent than the Bentley Continental GTC. Offering comfort, performance (power comes courtesy of a twin-turbocharged V-8 engine) and top-down style, all bathed in acres of the softest leather, the GTC is a brilliant example of the midlife crisis car. Yet, it's also practical with its roomy back seat and a sizeable trunk to carry equipment for a new hobby. Meanwhile, the technology impresses with a central console system featuring 15 MB of storage for music as well as a vast mapping databank and live traffic data. Or blast tunes from an MP3 player, the car's six disc CD changer or an SD memory card. All-in option: Four-seat Continental GT Speed Convertible; 0 to 60 mph in 4.1 seconds; $238,700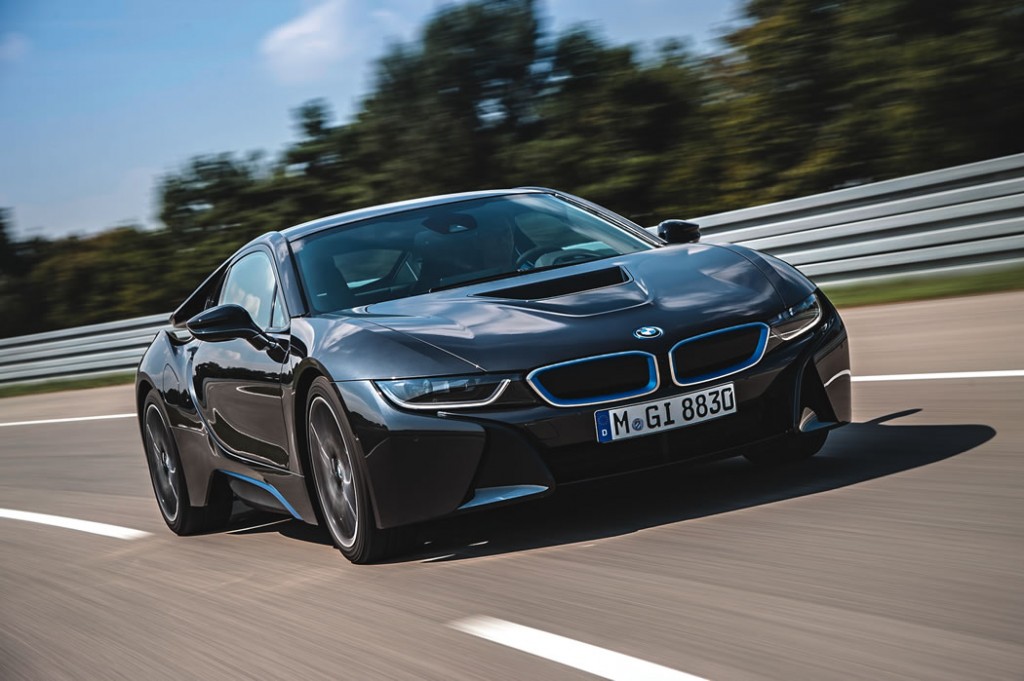 BMW i8
Sterling BMW
If you want luxury and performance with a dash of environmental sensitivity, the BMW i8 may be just the ticket. This plug-in hybrid has the fuel consumption of a compact car, yet offers blistering performance thanks to the combination of a 231-horsepower twin-turbo, 1.5-liter gas engine and a 131-horsepower electric motor.
It's not just the performance that's going to turn heads, however. The i8 is wrapped in a carbon fiber body that looks like nothing else on American roads. Virtually unchanged from the concept car that shocked the world when it was unveiled at the 2011 Frankfurt Motor Show, it's a flowing design that features some truly unique elements, including optimized aerodynamics for stability and a lightweight construction. The real trick will be finding one—the first year's production is allegedly already sold out. All-in option: This is it—0 to 60 mph in under 4.5 seconds; $135,700.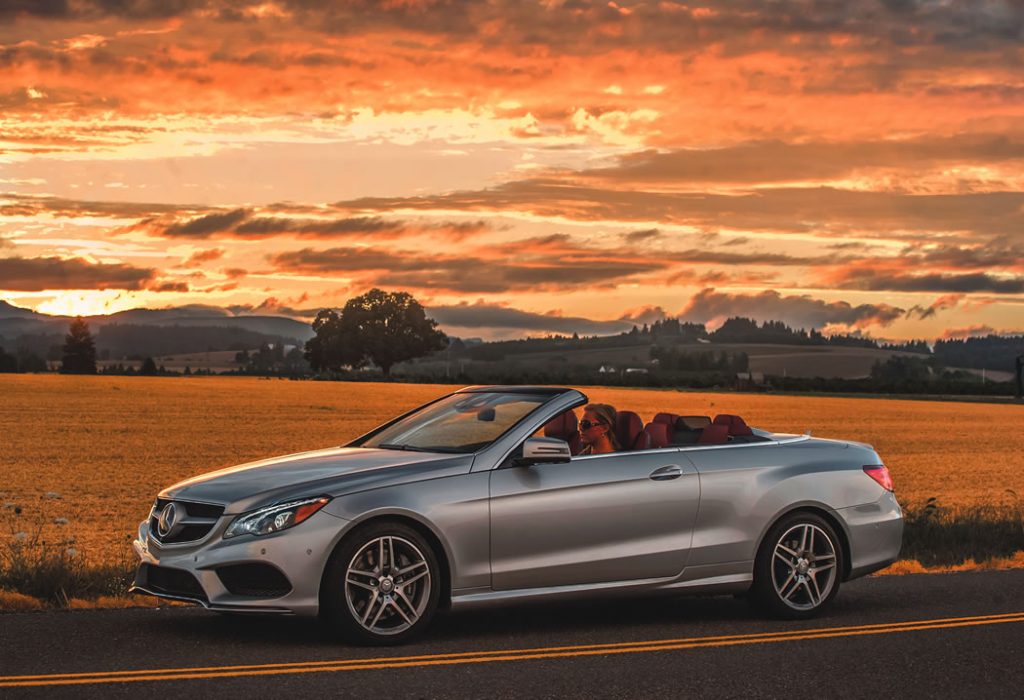 Mercedes-Benz E-Class Cabriolet
Fletcher Jones Motorcars
For top-down cruising in comfort and safety, it's hard to beat the Mercedes-Benz E-Class convertible. Not only has the E-Class—restyled for 2014—retained its soft top while many other cars are using a folding hardtop, but Mercedes-Benz has insulated it to reduce wind noise so claims the lowest noise in its class. With the top down, Mercedes-Benz's Aircap is designed to reduce wind noise and turbulence to keep passengers' hair in place.
Luxury, performance and safety are generally a given with Mercedes; the company in recent years, though, has pushed hard into technology, especially in the safety arena. With optional features such as Pre-Safe braking that can recognize an imminent collision, a 360-degree camera and Active Lane Keeping Assist, the E-Class works hard to keep its occupants sound.
All-in option: E550 Cabriolet; 0 to 60 mph in 5 seconds; $67,300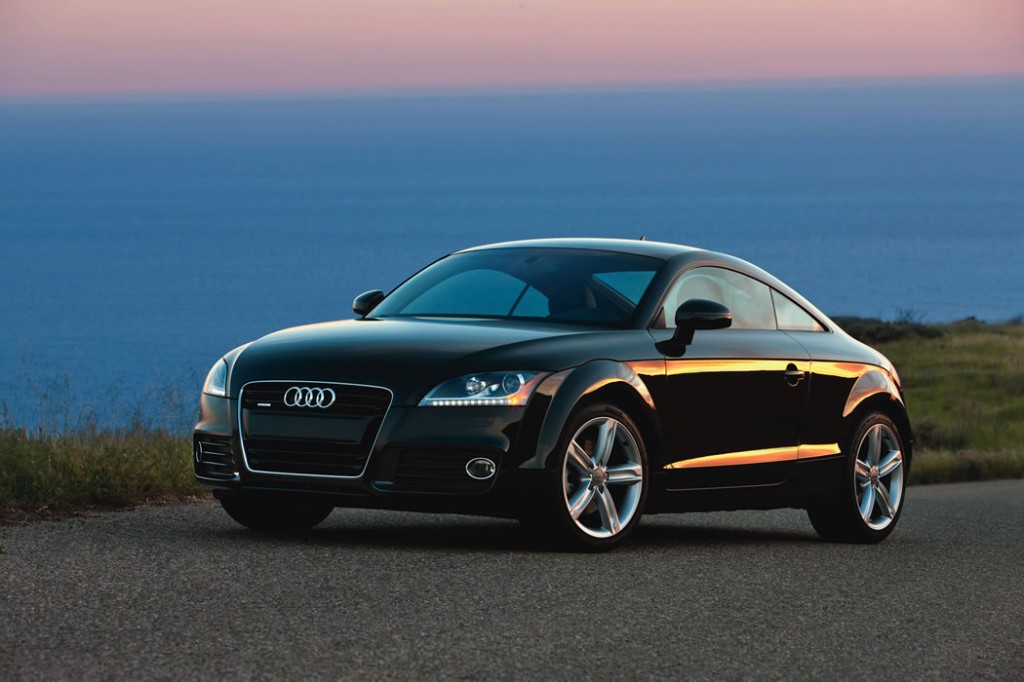 Audi TT
Newport Auto Center
Most of the cars on this list aren't for the budget-conscious, with a starting point around $100,000—but there are more reasonable options that still offer a midlife crisis cure. The Audi TT feels like it was built around the driver, and the beautiful shape is a nice evolution of the first-generation car that ignited a design revolution.
The TT comes in options from $39,900 for a basic coupe with a four-cylinder engine to $51,700 for the next model up's most powerful convertible, the TTS Roadster. The TT may not be the sportiest vehicle on this list, but few cars feel more personal.
All-in option: With the TTRS no longer available, try the R8 V-10 plus; 0 to 60 mph in 3.7 seconds; $170,545. NBM