Local designer Shala Shamardi creates an inviting space to relax with a drink.
by Somer Tejwani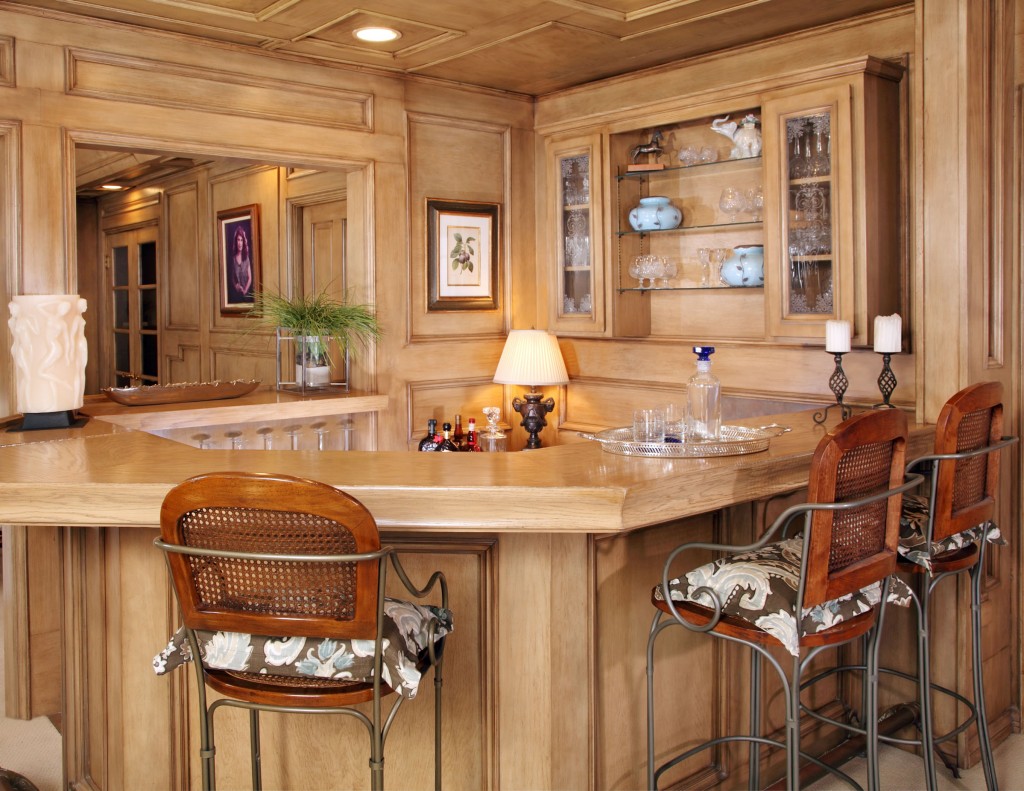 Interior designer Shala Shamardi, a Newport Beach resident for more than 30 years, says she loves that locals are willing to try fresh, exciting styles and new approaches to traditional design. Shala, who started her own interior design business more than a decade ago, recently was tasked with creating a refined home bar for a Corona del Mar client. The result is a sophisticated, step-down full bar situated between the family room and the informal dining room.
"I wanted to design a bar that blends well with the surrounding areas and [is] as elegant as the adjacent rooms that I have worked on," she says, noting that the biggest challenge of the space was the bar's location. "It needed to be a practical space, which would not stand [out] like a sore thumb between these two rooms. The goal was to create a tasteful area that is practical."
Although Shala had to work within the designated space, thoughtful design choices made the bar feel like a natural extension of the home. For example, turquoise accents tie in with the family room colors, while weathered brick flooring in a herringbone pattern plays off of the brick fireplace.
To achieve her design goals, Shala called in custom-made cabinetry that was glazed in a one-of-a-kind color to enhance the richness of the bar's wood and sophistication of the design. As with any good bar, comfort was important, but Shala also took into account the architectural style. By choosing chairs with open backs and legs, the furniture maintains an open feel in the space and showcases the bar's woodwork. Of course, this bar was designed to be more than a display piece, so Shala created a two-level counter and ensured the finishes were practical and durable. The top level was finished in the same wood glaze as the cabinets, but also covered with a stain that would enhance durability. The lower level was made of leathered antique brown granite, which is practical enough for daily use, but still contributes to the the overall visual appeal of the bar.
For homeowners interested in creating their own home bar, Shala advises making sure the space is ergonomically functional. Splurge on practical amenities like an under-counter fridge with an ice maker and counters in durable materials like granite or Caesarstone. Finally, always consider the aesthetic of the surrounding areas—it makes a difference if the bar is located in a space by itself or needs to seamlessly blend in with other rooms. Either way, the bar should create an inviting place to relax with a glass of wine or sip cocktails with friends without ever leaving the comfort of home. NBM