Outdoors Inspired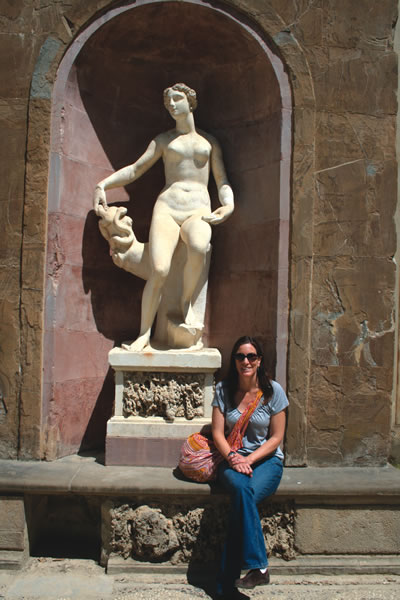 Wherever I travel, I find myself wandering into parks and gardens as if they have a secret magnetic pull on me—Central Park in Manhattan, Prospect Park in Brooklyn, Boboli Gardens in Florence. … There I will be, in one of the most amazing metropolitan areas on Earth, standing in a garden.
It's the same here at home, where I always prefer yardwork to housework and would much rather be outside than inside (and we have wonderful gardens here in Newport, including Roger's Gardens and Sherman Library & Gardens). My mom grew up on a 1,500-plus acre farm, so perhaps it's in my genes.
Needless to say, for this issue, I was especially drawn to the feature "Beyond the Pool," where we explore fabulous outdoor spaces with amenities usually reserved for the indoors. From kitchens to fireplaces, comfy furniture to TVs, these designs take us back to nature with all the comforts of home. After all, what's better than a drapery of leaves or a ceiling of angel hair clouds?
The fact homeowners are seeking to take their outdoor spaces to the next level is expected given our year-round mild weather. The surprise lies in the design elements, materials, hidden features and spectacular amenities designers are now employing to create these outdoor oases.
I now have some big plans for my little yard!
We hope our coverage—from the arts to interior and landscape design—helps bring your home one step closer to your dream space, whether you prefer four walls or a canopy of trees.
Sincerely,
Micaela Meyers, Group Editor
5 Things I Learned in This Issue 
The best thing about being an editor is that you're always learning something new. Here are five things—among many others—that I discovered as we put this issue together:
1. Yes, you can actually purchase a home in Newport for under $300,000.
2. I live down the street from one of the 2013 "100 Great Hospitals in America" and the only Orange County hospital on the list: Hoag Hospital (Becker's Hospital Review).
3. Science and fashion have something in common: the Me-Ality Size Matching Station—a new device in Bloomingdale's South Coast Plaza that scans you to report what sizes and brands of jeans will fit you perfectly. (I tried it, and it works!)
4. From professional music performances to ancient art artifacts, powerful annual exhibitions, art classes and galleries, the Newport Beach area is booming with visual and performing arts all summer long.
5. While First Cabin Restaurant at Balboa Bay Resort is about to get a contemporary update, you can still sip on a famous BBC Mai Tai, which has been around since 1973.
As you can see, we cover a lot of ground in this issue. This is just a small sampling, so sit back and enjoy!