Costa Mesa Eateries
Bite into something completely different at this pair of youthful Costa Mesa centers rife with interesting eateries. – By Lisa Marie Hart | Photos by Kyle WOods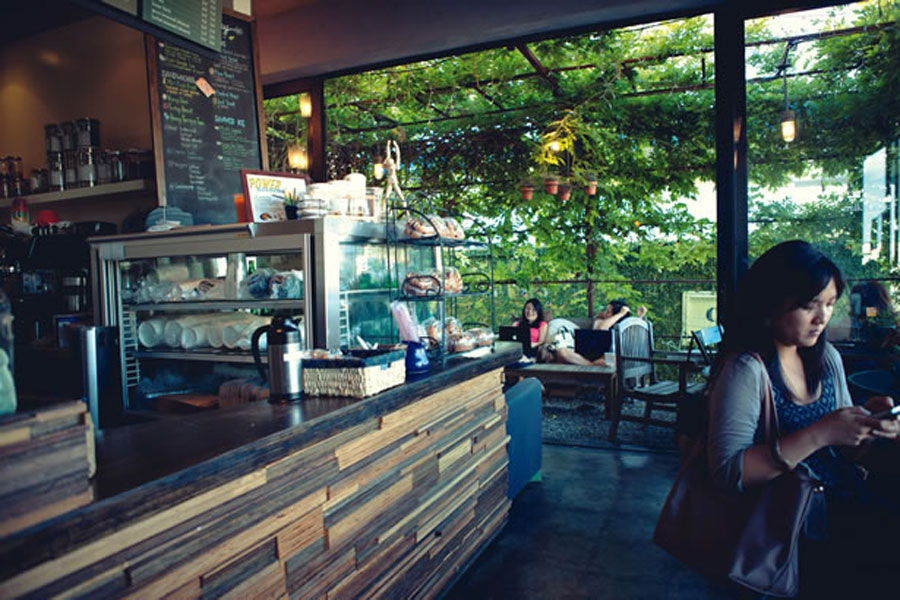 When you need a break from dinner with friends over fresh seafood and harbor views, turn the wheels toward Costa Mesa. Located six miles up the CA-55, a pair of complexes promotes some of the most out-of-the-ordinary food concepts in OC, served up with a hip side of scene.
We cross Newport's borders for the best bites at The Lab and The Camp, rustically chic fraternal twins that aim to embody an "anti-mall." Sitting caddy-corner from each other near the merge of Bristol and Baker, each is a unique puzzle of boutiques peddling edgy street apparel, outdoor gear and handmade eco-friendly gifts mingled with pop-up trailer shops, public art and ambient nook-and-cranny courtyards. Many restaurants gear their menus toward local produce, organic ingredients and sustainable practices. While students and 20-somethings roam by day, night brings a more refined vibe to complement international wine lists and notable craft beers. Expect a thoroughly trendy crowd, limited parking (The Camp is your best bet), and indoor-outdoor seating (and be sure to check reservation policies and hours before you head out, as some establishments are only open at night or on certain days).

Asian Influence
A young, after-work brood fills modern and trendy Zipangu at The Lab for the well-priced daily happy hour, 5:30 – 7 p.m. The bar, sushi bar and lounge area mesh in a music-pumping environment that's more urban hangout than Japanese restaurant. From the solid rundown of raw fish—a list as long as the entertaining cocktail menu—the Oh My God roll is a perpetual standout.
Across the street at The Camp, pick up takeaway or sit under an umbrella at East Borough Fraîche Vietnamese, a traditional banh mi (bread) sandwich place. Street fare-style baguettes come with a choice of stuffings, such as the touted Bò Kho (Vietnamese beef stew) with potatoes and carrots. Add a side of spring rolls and peanut sauce or try a grapefruit lemongrass chicken salad.
Vegan-Friendly
You may recognize vegan chain Native Foods from its newly sprouted counter at Fashion Island. At The Camp, patrons peruse the entirely non-dairy menu inside a circular yurt. Natural light streams onto tables and a breeze floats down from one giant ceiling fan. Even carnivores appreciate meatless versions of popular staples. The Nuevo Native Nachos are big enough to split; veggie-based taco "meat" and a chipotle dressing top a pile of homemade corn tortilla chips. Regulars arrive with a sharp craving for the Chicken Run Ranch Burger, and few can resist a vegan cupcake to go.
For a pricey primer in raw food dining, reserve a table at sparsely cool 118 Degrees at The Camp. Billed as "vibrant living food," every item is  dairy-, soy- and wheat-free. While not everyone appreciates the experimental, plant-based concept—where no entrees are cooked above 118 degrees—those looking to detox after an indulgent summer can tote an open mind for breakfast, lunch, dinner or the multi-course Sunday brunch. Vegan cheeses—a smash of fresh herbs, nuts and seeds—are just one example of Chef Jenny's penchant for playing with texture, crunch, color and spice.
Casual Yet Inspired
Unusual concoctions stretch far beyond the name at Taco Asylum, a lofty, indoor-outdoor space at the back of The Camp that specializes in the element of tortilla surprise. Non-traditional fillings range from duck and short ribs to pork belly and grilled octopus. For a dash of fire, reach for the spicy Ghost Chili hot sauce that also heats up the rice (Israeli couscous with lime and cilantro) and beans (a cold lentil salad). The bold ambitions at $5 a pop may not cut it as "gourmet," but the menu certainly wakes the taste buds—and the imagination.
Let the lines at Umami Burger tell the tale: The high, pink burgers styled at this LA-based chain generate fast devotees. As a 2012 newcomer to The Camp, its popularity rages, so arrive before you're hungry. Japanese mural art climbs the walls where diners argue over which burger merits the chain's fame. (Hint: It could very well be the truffle burger.) Garlic aioli, diablo sauce and house-made ketchup prevail among six dipping sauces for the addictive shoestring and sweet potato fries.
A Cup of Sweet Treats
Sink into a vintage armchair at Gypsy Den Cafe, a funky, boho enclave in The Lab for salads, soups, sandwiches or an earthy breakfast. Well-loved mismatched furniture invites long, heart-to-heart conversations over the cafe's specialties: European coffee drinks and home-style desserts. Try a tall slice of coconut cake or a warm dish of bread pudding.
At The Camp's pint-sized Milk + Honey, tea is queen. Request honey aloe vera chunks in your lychee iced tea for an incredibly refreshing pick-me-up. For a guilt-free dessert, order the frozen yogurt and a dollop of fresh fruit. Off to one side, a tiny garden patio offers a handful of seats, but The Camp opens to plenty more around each bend.
Atmospheric Night Out
Captivating wine lists are half the draw at Old Vine Cafe and Ecco, two European-infused outposts at The Camp. Though weekend lines form for the blueberry french toast at the former, OVC's four-course tasting menus at dinner offer a fuller experience, especially with a smart vino pairing. Ecco imports most ingredients from Italy and relishes the two-day process of making pizza dough by hand. Don't miss the wood-fired Neapolitan sausage pizza or the zeppole, Italian doughnuts served with sweet cream and dark chocolate sauce.
At The Lab, some like it dark inside Habana. A buzzing, candlelit bar scene and romantic outdoor patio complement a menu that takes patrons to a place most airlines can't go—the heart of old Cuba—at least in spirit. Hearty, flavorful dishes actually blend Cuban, Caribbean and Latin cuisine. Ever-popular choices include ropa vieja (shredded meat in a tomato sauce) and the skirt steak.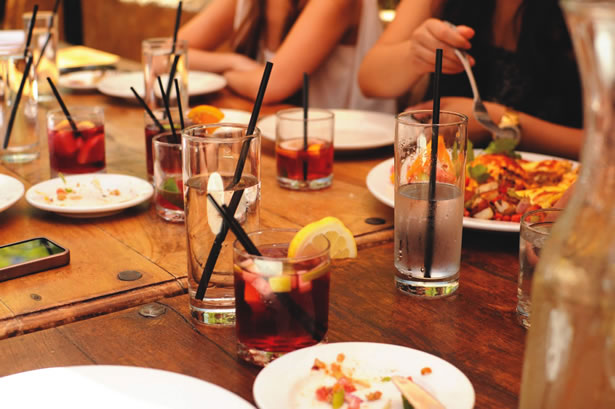 Watering Holes
After shopping or while waiting for a table at a neighboring restaurant, unwind at Wine Lab at The Camp, the new sister to the PCH locale. Doors open at noon, when craft beers flow from the tap, as do small-production wines poured from an innovative system of eight wine kegs. Whether ordering organic wine by the glass or a red flight out of Paso Robles, be sure to sample a fig and honey baguette with goat butter or a trio platter of artisan cheeses.
Staying on for a dose of nightlife? Peek into small, hip Commissary Lounge at The Lab, or the sprawling Mesa at The Camp. Under the retractable roof, find oversized lounge furniture, fire pits, signature drinks and small plates. Both are driven by volume from the deejays. Back at Habana, the number of patrons ordering red or white sangria is only usurped by those with a mojito in hand.
For more, visit The Camp, 2937 Bristol St., Costa Mesa; 714-966-6661; thecampsite.com; and The Lab, 2930 Bristol St., Costa Mesa; 714-966-6600; thelab.com. NBM