A LOCAL DESIGNER FOCUSES ON SUSTAINABILITY AT A LEED PLATINUM-CERTIFIED HOME IN CORONA DEL MAR. 
By Sharon Stello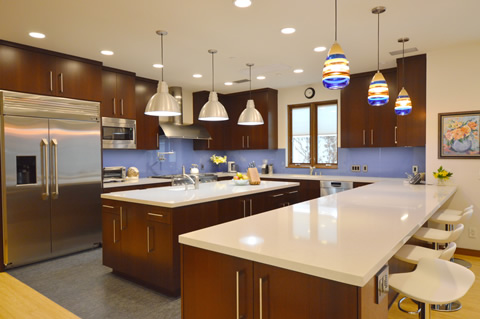 From eco-friendly homes to the Sundance Film Festival, Orange County interior designer Rachel Hulan has dedicated her work to green projects for the better part of a decade.
"I've always had a focus on sustainability in the general sense," says Rachel, who graduated from the Interior Designers Institute in Newport Beach, where she's now a professor. "I became more aware of health issues that were being caused by products I was recommending."
In OC, about 360 residences and apartments are LEED certified at any level—and of those, only four are in Newport Beach, including the LEED Platinum-certified home of Wayne and Shannon Inouye in Corona del Mar that Rachel worked on. 
When planning the design, the kitchen—which is visible from the front entryway and flows from the great room—was the focal point. Rachel says her clients were open to using nontraditional materials such as linoleum and LED lights, but they also wanted products that would last and were made locally or in the U.S. whenever possible.
Adhering to the local theme, pendant lights were made by Santa Ana-based glass blower Caleb Siemon of Siemon & Salazar. To achieve a colorful look with the backsplash—one that included no grout lines for easy cleanup—Rachel opted for back-painted sheets of tempered glass created by John Steed Homes' suppliers Advance Glass Co. in Costa Mesa and Mr. Paint of Laguna Niguel. 
For the best results with sustainable design, Rachel recommends researching products and planning early on in the project. "If you do that, there's absolutely no reason for green design to be any more expensive or difficult [than traditional design]," she says.
All the elements of the Inouyes' kitchen blend well with the rest of the house, which incorporates walnut repurposed from a bowling alley for the stairs and 78 rooftop solar panels, for truly "green" living. With that project behind her, Rachel is applying many of the same sustainable approaches to another Corona del Mar house for the Inouyes, who plan to sell the second home in order to spread the principles of eco-friendly living to another family. 
***
NATURE MADE
Decorate your kitchen and help the environment at the same time with eco-friendly yet trendy pieces suited for everyday living.