Basilic Restaurant offers up savory Swiss-French cuisine in a charming atmosphere on Balboa Island.
By Micaela Myers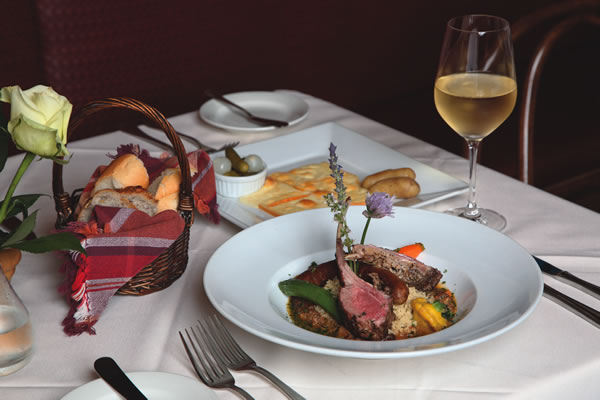 It's just before opening, and chef/owner Bernard Althaus sits at a lone table in front of his small restaurant on Balboa Island, having a coffee before the dinner guests arrive. The Dutch door's top half has been left open, letting in a pleasant evening breeze. The 24-seat restaurant's interior is welcoming and cozy, with wood paneling, bench seats and pillows, and small gas lamps for romantic lighting on the tables. After finishing his coffee, the chef dons his whites and begins cooking his well-loved Swiss-French cuisine.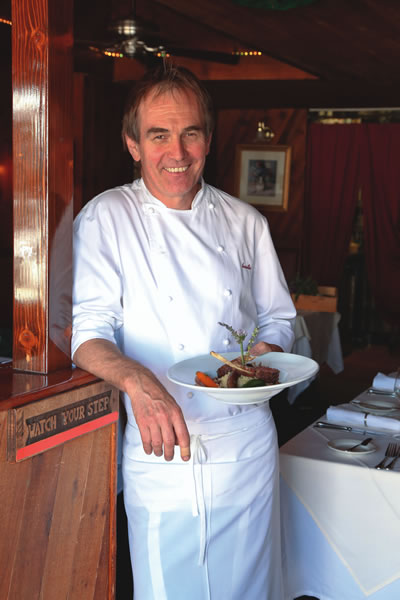 Born and raised in the Alps, chef Bernard's first smell was that of food from the family's restaurant downstairs. He never wanted to be anything other than a chef. Educated in Lausanne, Bernard's work as a chef took him all over the world, including a stint serving as the chef for French team of the 1970 America's Cup.
Bernard and his family fell in love with Newport Beach in the early 1990s on a visit and after traveling the country for a year by RV, they came back to Newport. After working at some of Orange County's top restaurants, Bernard and his family opened Basilic in 1997.
The chef grows some of his own ingredients in his backyard, including edible flowers, and tomatoes when they're in season. He visits local farmers markets to seek fresh and organic (whenever possible) ingredients.
The soups and salads change based on the ingredients that are in season and available. On our recent visit, we started with the extremely tasty ginger, carrot curry soup, followed by a fresh asparagus, goat cheese and baby greens salad topped with beautiful edible flowers. Next up was chef Bernard's famous raclette, a traditional Swiss cheese dish. While the restaurant hosts a monthly raclette night, guests can also order the raclette appetizer, a simply divine and a not-to-be-missed part of the Basilic dining experience.
For entrees, the peppered Alaskan cod—served over red rice with Napa cabbage, root vegetables and a sweet pepper mango—presents a symphony of perfectly played flavors. Even those who may not lean toward a seafood entree won't want to miss the cod. If lamb is more to your liking, try the trio of lamb (braised, grilled and sausage) with quinoa and vegetables plus Moroccan spices, inspired by the chef's recent visit to Morocco.
Of course, you can't go wrong with French and Swiss desserts, ranging from creme brulee to meringues and delectably creamy vanilla ice cream. Whether you're looking for the perfect place for an intimate, romantic dinner or a local gem to frequent regularly, this family owned and operated restaurant is well worth a trip to the island.

Basilic Restaurant
217 Marine Ave., Balboa Island; 949-673-0570; basilicrestaurant.com