Newport Beach Homes
In Newport Beach, a home could offer resort-style luxury or village charm—take a peek at what your money can buy at price points from less than $1 million up to $20 million.
By Cheryl Pruett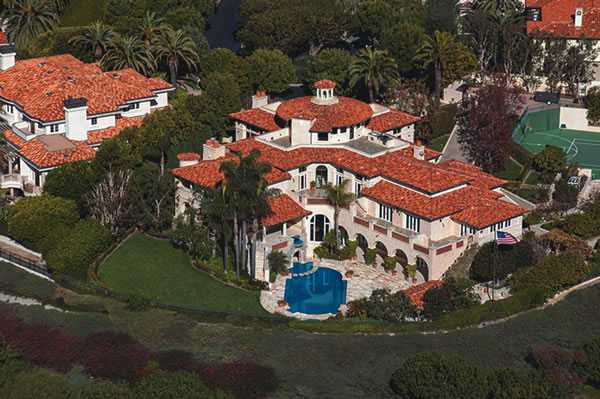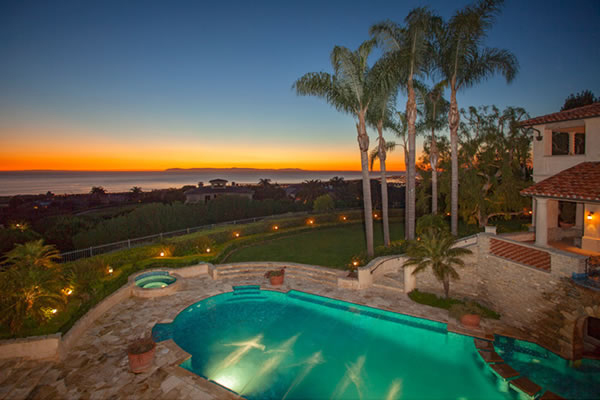 Newport Beach Homes are always more than the sum of their multiple listing service data. Views galore, custom designs, historic backgrounds and affordable charm can all be found within the city's six zip codes. With a wide range of neighborhoods and communities, Newport offers various price points and features throughout the city of nearly 60,000 residents. From village-like Corona del Mar and family friendly Newport Bay to the exclusive Bay Island and Newport Coast, the city always amazes with its diversity of home offerings. Here are few homes in Newport Beach—some of which may have sold by press time—that show what your money buys you from $20 million to less than $1 million.
More Than $15 Million 
15 Sailview, Newport Coast; $20 million
Situated in Pelican Hill, the flagship community for Newport Coast custom estates, this 15,507-square-foot home wraps family living and entertainment into a complete package with eight bedrooms, 11 baths, and panoramic views of Catalina Island, Newport Harbor, city lights, Palos Verdes and the ocean. Entertainment amenities range from an observatory tower and a tennis court to a theater, game room and glass-tiled pool with a waterfall and swim-in grotto.
"These are extremely quiet neighborhoods," says Nick Smith of Surterre Properties. "Each lot strives for privacy. The 1997 home was built with family in mind, but [with] the ability to have fun and entertain."
Nick adds that one level of the home is dedicated to bedrooms, with seven bedroom suites being located in the children's wing. The master bedroom retreat features a covered deck with views of the ocean and Catalina, a walk-in shower with spa tub and a walk-in closet with closet carousel for easy wardrobe access.
The large family room is open to the kitchen, while the theater room and observatory tower pump up the entertainment factor. The gourmet kitchen includes a prep area, two cooktop ranges with a griddle, a center island with a veggie sink and a walk-in pantry. A hobby room is located off the kitchen. Outdoors, a tree grove offers a bounty of fruit—guava, kumquats, oranges, lemons, limes and more—ready for the picking.
Adding to the luxury is an elevator with access to every level of the home, a wine cellar and enough garage space for eight cars. On top of all that's offered, each area of the house is enhanced with the ultimate in amenities: The tennis area features stadium lighting and basketball hoops for a fully playable basketball court, while the grotto includes a sauna, pool bath and changing room.
$10 to $15 Million
1509 E. Bay Ave., Peninsula Point; $13.8 million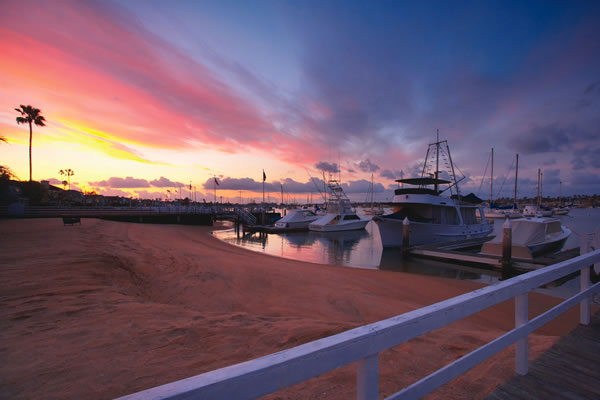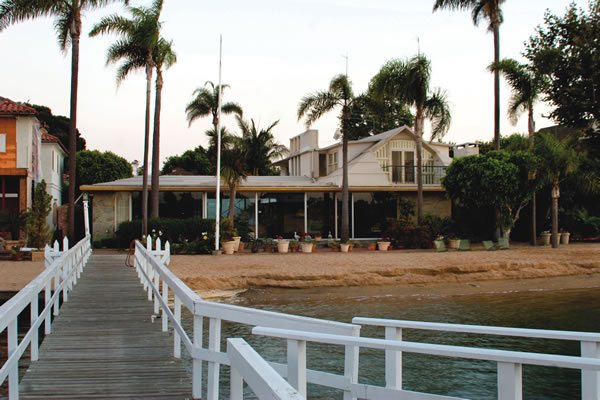 The Peninsula Point community, located in the Balboa Peninsula area of Newport, is steeped in history dating back to the 1920s and still holds an elite charm. Living here, within walking distance of the white sands of the beach and the bay at Newport Harbor, is like taking a step into a more sheltered, quiet time.
This approximately 5,000-square-foot mid-century home currently has been in the Cottons family for generations. The bay-front property, once featured in Architectural Digest in the 1950s, features four bedrooms and 4.5 bathrooms with an open, airy feel.
"[The home] does speak to a bygone era of simplicity," says listing agent Kim Bibb of Villa Real Estate Group. "It was a home before its time with great open rooms."
The highlight of the estate is not necessarily the home, however, but rather the property, Kim says. The $13.8 million price tag buys you not only the home and the parcel of land it sits on, but also three rear lots as part of a cumulative package that amounts to nearly a half-acre of sought-after property. There's potential for a compound-style home on the land; Kim adds that conceptual plans for an Eastern Seaboard-style residence, guest house, swimming pool, pavilion, gardens, service areas and garages are included in the sale.
"The more significant aspect about this listing is that this much bay-front property—nearly a half acre—couldn't be found all together on Peninsula Point," Kim says. "When this property is gone it can not be replicated."
In addition to the vast open space, privacy is one of the most desirable aspects of this home. From its vantage point, this East Bay Avenue property offers spectacular views of Fashion Island, a sandy beach, a dock and the ocean two blocks away.
$7 to $10 Million  
1101 Dolphin Terrace, Corona del Mar;$9,995,000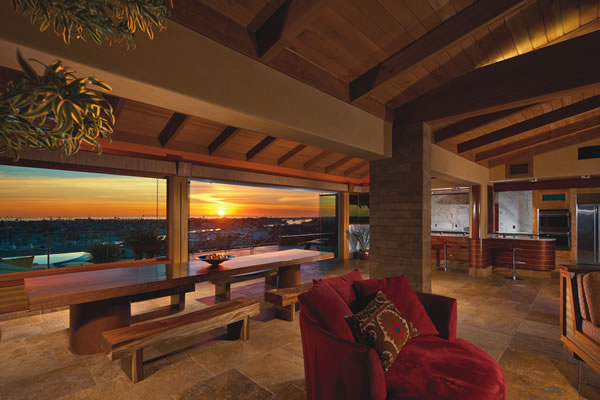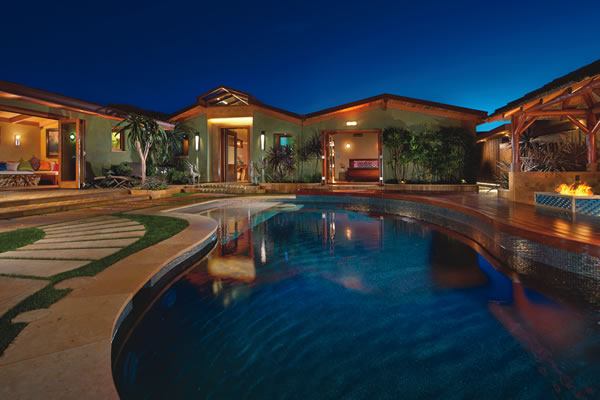 Atop Irvine Terrace bluff, a teak gate opens to a travertine wall entry and black-bottom pool, offering the first glimpses into the owner's vision of a tropical paradise inspired by a visit to Hawaii. The seed of inspiration grew into a magnificent reality: The 5,000-square-foot custom home features four bedrooms and five bathrooms, with a design that rivals that of a five-star resort. With an unobstructed 250-degree panoramic view, the home's residents can take in Newport Harbor, Balboa Island and Catalina vistas extending from Newport Coast to Long Beach.
"It's arguably one of the best locations in Newport Beach, if you aren't living directly on the water," says listing agent Tim Smith of Smith Group Real Estate. "There is zero transition from indoor to outdoor living that you only find in Hawaii."
Every inch of the meticulously designed home vies for attention. The structural copper roof and skylight with hidden LED lighting lines the entryway. The skylight is accented with Balinese legong dancers, hand-carved by artist Miguel Covarrubias. Inside offers an open layout with a great room, en suite baths and a master bedroom boasting a Swedish dry sauna, Japanese soaking tub and a river rock bottom walk-in shower.
The additional features are almost too many to be counted: 2,000 square feet of deck space with an infinity Jacuzzi and palapa-covered kitchen and bar, an indoor kitchen fit for a chef, a guest casita, a personal gym, a separate office and even a high-tech biometric fingerprint security system.
The only thing missing from this tropic sanctuary are the trade winds, which are easily conjured through the home's careful design—seamlessly blending indoors with outdoors.
$5 to $7 Million
20 Bay Island, Newport Beach; $6,695,000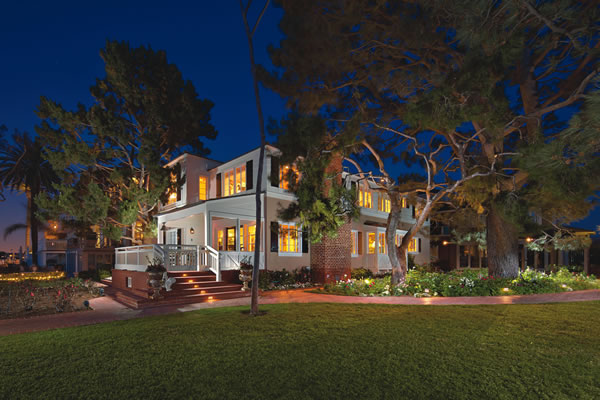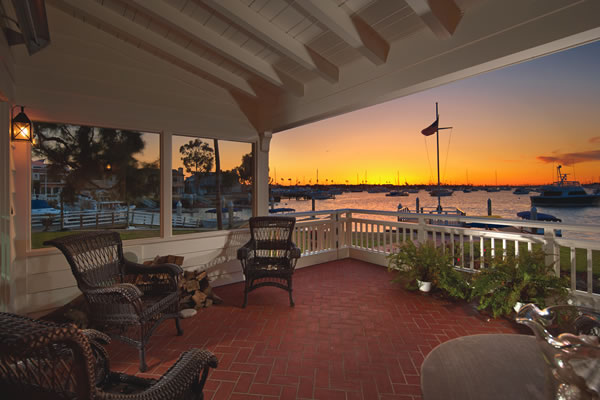 Twenty-three residences on Bay Island, where this historic home is located, create a private sanctuary in the heart of Newport Harbor. The small island is an exclusive enclave with homes offering extraordinary views of the harbor's main turning basin and the snowcapped San Bernardino Mountains. The island itself was originally a gun club in the early 1900s for the affluent Southern California community, but since then it's been transformed into a residential island with a tennis court, formal gardens and private beach.
An aficionado of architecture is among those that would appreciate this home, designed by celebrated architect Gilbert Stanley Underwood, says OC Premier Homes listing agent Steve High.
"I think what's really interesting is that the current owner has done an extraordinary remodel by honoring the 1930s character of the home while completely modernizing it for today's living—keeping the architectural and historic integrity," he adds.
The 3,504-square-foot, Cape Cod-style house has four bedrooms, a formal dining room, a living room with a brick fireplace, an elegant kitchen and hardwood floors throughout. Steve says that the home retains its original character and charm, from the hardwood floors to the shiny white paneled walls.
Homeowners can enjoy their leisure time watching sailboats and sunsets on the covered porch or relax on the private pier located right off the property that has three boat slips, one that will accommodate a boat up to 65 feet.
$3 to $5 Million
14 Oak Crest Ln., Big Canyon; $4,699,000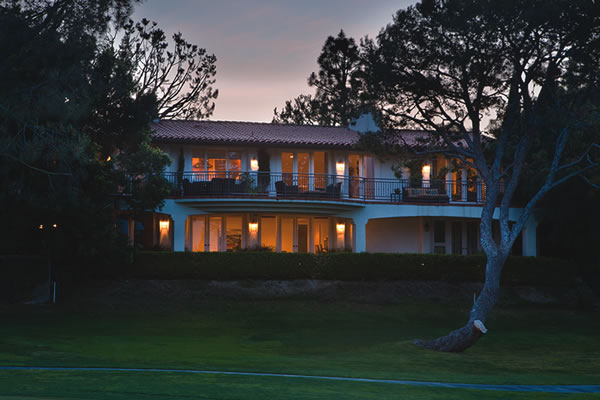 Located in Big Canyon at the end of a small cul-de-sac, this 7,300-square-foot Mediterranean-style home features a 13,000-square-foot lot, a gated courtyard and two levels with gorgeous, sweeping views of the golf course at Big Canyon Country Club.
"Big Canyon is noted for its privacy, well-maintained neighborhoods and large lots," says Natalie Raney, a listing agent Coldwell Banker Previews International. "It's a luxurious high-end property in one of the premier neighborhoods in coastal Orange County."
No expense was spared in designing the majestic home, Natalie says. Five bedroom suites, plus an office and bonus room are located on the house's lower level; the master bedroom features custom cabinetry, an oversized walk-in closet and marble counters in the adjoining bathroom.
A marble floor entry, marble fireplaces, custom lighting, art niches, five gas fireplaces and French doors are among the details that make the home an elegant architectural work. Dining areas offer all the modern conveniences, including side-by-side full Sub-Zero refrigerator and freezer, two dishwashers, a center island and counter seating.
For those who like to entertain, the carefully designed home obliges with a spacious family room with a wet bar and backyard access. Outside, find a swimming pool, Jacuzzi and sauna, in addition to an expansive deck with sitting areas and a built-in barbecue.
The home has a little bit of everything—elegance, entertainment potential, attention to detail and, of course, a large three-car garage—all in a private community environment.
$1 to $3 Million    
34 Castaways North, West Bay; $2,049,000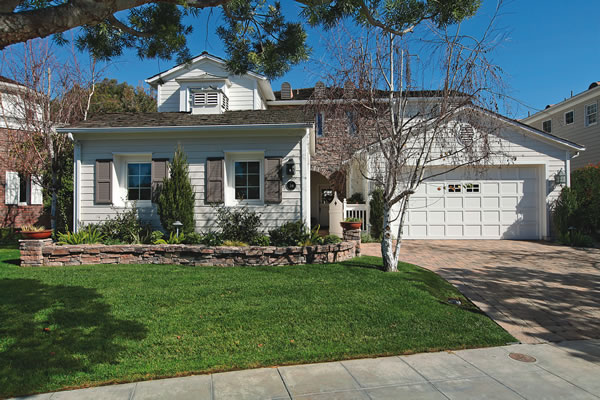 On the west side of Newport Bay, those in search of a safe, family-friendly environment can find The Castaways, consisting of 119 Cape Cod-style residences in a guard-gated community. The 3,700-square-foot, single-family home, near Newport Heights and Dover Shores, is ideal for those moving in with a family, says listing agent John Cain of HOM Sotheby's International Realty.
"The architectural style, the proximity to the bay, ocean, hiking, boating and shopping, plus the number of families in the community are some of the most notable features," John says, adding that hundreds of kids trick-or-treat in this neighborhood on Halloween.
The four-bedroom, 3.5-bathroom home shines on its own beyond the family-oriented community with its amenities that span the interior and exterior spaces. An abundance of natural light floods the formal living room with its two-story ceilings; steps away is a formal dining room that seats 12 and is accented with French doors that lead to a side courtyard. The kitchen provides a practical workspace with a large center island and state-of-the art appliances. Upstairs, an executive office features a built-in partner's desk and custom bookshelves.
The outdoor living space, renovated two years ago, provides alfresco relaxation with a custom rock pool and spa, fire pit, built-in barbecue, an outdoor fireplace and lush landscaping.
The attention to detail is seen in extras such as artisan-commissioned millwork, tumbled marble floor, custom audio, a three-car garage and a whole-house security system. The three-car garage has not been overlooked when it comes to detail.
With a lot size of 6,890 square feet, the home offers a triple threat of location, style and neighborhood in Newport Beach.
Less Than $1 Million  
700 Lido Park Dr., West Newport; $230,000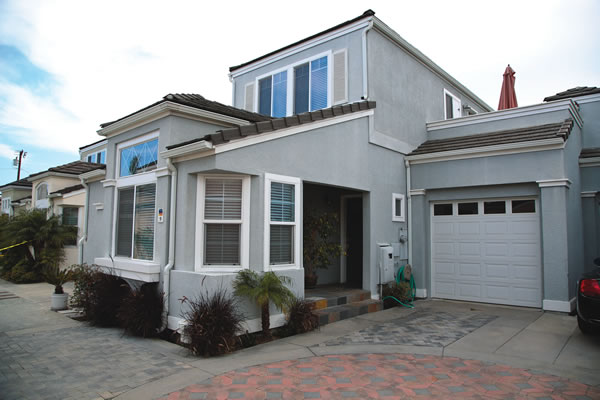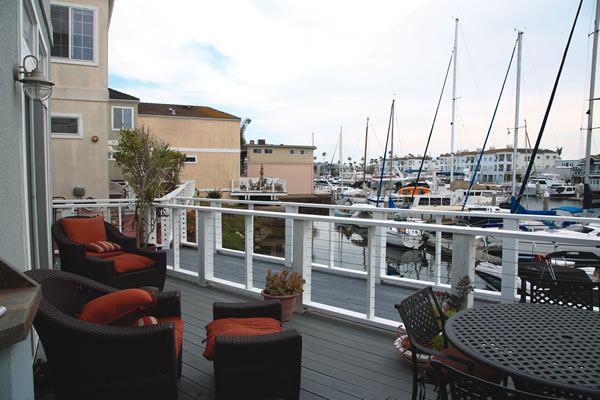 Bargains do exist in Newport Beach homes—case in point is the two-story, 1,325-square-foot dockside home in Cannery Village.
"It's a hidden gem because it's on the water and offers the Lido lifestyle for under $250,000," says Kathy Fallon, listing agent for Surterre Properties. The bonus: the lifestyle for a fraction of the cost.
Bay views, alfresco dining on an outdoor patio and close proximity—walking distance—to beaches, more than 20 restaurants, sailing and surfing make this home an affordable way to experience the Newport lifestyle.
The Cape Cod-style, three-bedroom home is a bay-front offering in the Cannery Village Mobile Park, which offers manufactured homes built on ground lease land. Built in 2002, the home is a perfect fit for a retired or young couple or even as a second home for desert dwellers who want to escape the heat.
Bright with an open-air feel, the home features two bathrooms, wood floors, forced-air heating and central cooling, as well as views from the first and second floors. Laundry amenities—a washer and dryer—are included, as are all major kitchen appliances.
The outdoor living for this home features a large patio and built-in barbecue to take advantage of bayside surroundings.
Whether owner-occupied or purchased as a second vacation home, this property offers an easy-going lifestyle at an easy-to-afford price, Kathy says. Despite its low price tag, it still has the panache of Newport Beach with a rich village feel. NBM
Sold to the Highest Bidder
A Harbor Island home distinguishes itself as the highest sales price in Newport Beach homes this year. The 6,524-square-foot 27 Harbor Island sold within nine days of going on the market in spring, listed at $17.5 million. The island's central harbor location put it on the must-have list.
"There's more value to Harbor Island than other locations in Orange County," says listing agent Tim Smith of Smith Group Real Estate. "It's the most authentically built Eastern Seaboard-style home, yet not overstated. There couldn't be a better home for entertaining because the practical floor plan utilizes the family and living areas to show off views as well as provide a social setting for parties."
Completed in 2004, the five-bedroom, seven-bath home boasts "his and her" baths in the master suite, a library and hickory flooring throughout. There are only 30 properties on Harbor Island, a draw for high-powered business leaders who want privacy in a central location in Newport Beach.