The First Cabin Restaurant at Balboa Bay Resort offers first-rate service and fine dining along the seaside.
By Karlee Prazak

Designed to make guests feel as if they're floating alongside a fleet of ships, First Cabin Restaurant at the Balboa Bay Resort features floor-to-ceiling windows overlooking the harbor, bringing the sea indoors. The elegant play on a ship's dining cabin is complete with white linens and wicker chairs below dimly-lit fixtures reminiscent of oysters—which happen to be one of the restaurant's many sought-after appetizer choices. After starters, diners discover the real treasure in an abundance of fresh seafood, meat and poultry.
"We serve fresh seafood with California flair," explains Michael Doyle, head banquet chef. This philosophy, mixed with the vision of Austria native Executive Chef Josef Lageder, results in Austrian-influenced accompaniments such as spatzle and prosciutto. But seafood is at the heart of the First Cabin experience, and with a few signature dishes, the restaurant wants guests to take the helm. "It's your restaurant; you're paying the bill and we want to make you happy," Michael says.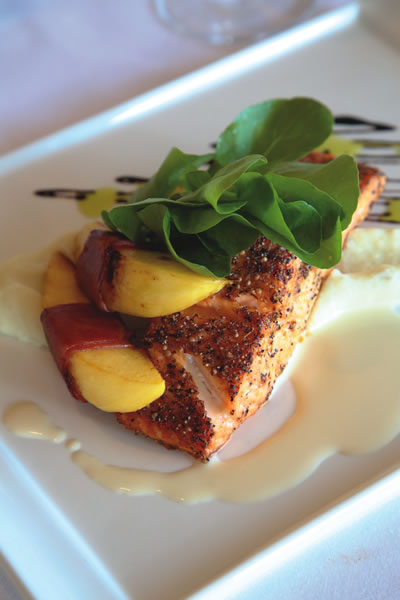 The journey starts with appetizers including the popular martini of jumbo crab meat "Louis." The light, flaky crabmeat pairs perfectly with the creamy avocado, pickled ginger and crispy wontons. Another favorite is the classic BBC Maine lobster bisque, a creamy treat with prawn pieces.When it comes to entrees, Michael says guests rave about the seared Chilean sea bass and macadamia nut crusted mahi-mahi—one of his personal favorites. His second favorite is the sauteed spice-rubbed Atlantic salmon. The rub—a mix of pepper, coriander, cumin, sugar and chili powder—is sweet and spicy. The wasabi-flavored whipped potatoes and surprisingly delicious combination of crispy prosciutto wrapped around warm, fresh mango complement the delicately cooked fish well.
The dinner menu offers a variety of red meat and poultry options; try the duet of filet mignon and half Maine lobster for the best of land and sea.
Vegetarian cooking is also wonderfully executed by the chefs. The light First Cabin Salad is a European-inspired dish of cucumber salad and butter lettuce surrounded by thick slices of ripe tomatoes and avocado, topped with white balsamic and olive oil, and shiitake mushroom quinoa.
For dessert, reach for the baked brioche bread pudding, made with a creme brulee base.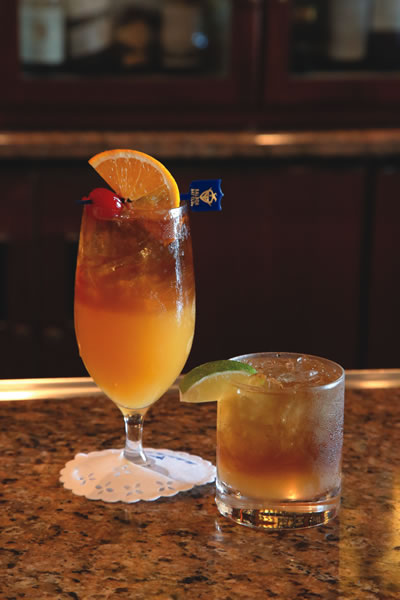 In the same way chef Josef adds his flair to food at First Cabin, the bartenders lend their mixology skills to the restaurant's libations with choices like the Conquistador Sour (made with Pyrat Rum and Pedro Ximenez sherry) and Snowy Manhattan, which is a refreshing blend of full-bodied Bulleit Burbon and Cointreau mixed with bitter orange and coconut essence. In addition to these cocktails, diners can choose from more than 600 wines, as well as classic cocktail options such as the BBC Mai Tai, a recipe dating back to 1948.
Some changes are on First Cabin's horizon, though. With the Balboa Bay Resort under new management, updates and renovations are taking place throughout the property, which Michael says will result in a more contemporary look and updated flavors at First Cabin. He says classics like the Chilean sea bass will remain, but with new twists falling in line with a more modern, lighter menu. Michael adds that the popular lunch entree salads will remain a staple on that menu.
First Cabin Restaurant, 1221 Pacific Coast Hwy. at the Balboa Bay Resort; 949-630-4145; balboabayresort.com