Innovative ideas—be it men's underwear made with NASA technology or 
charitable T-shirts—prove that local universities, investors and incubators are 
helping the city earn a reputation as a mecca for fledgling businesses.
By Sharon Stello
In the beach culture of Newport—and the rest of Orange County—young surfers and skateboarders can be found trying tricks over and over again, falling down and picking themselves back up until they get the maneuver right. From a young age, this approach to life becomes ingrained; these traits, it turns out, also are important qualities needed to start a business, explains Gene Alexander, interim director of Chapman University's Leatherby Center for Entrepreneurship and Business Ethics.
"That's the kind of attitude it takes to be an entrepreneur," Gene says. "… You have to be willing to fail, learn from your failures and try again."
But a determined mindset is just one factor in Newport's fledgling business growth. The climate, shopping and luxury lifestyle are draws for all types of people looking to live and work by the beach. Meanwhile, the region's bright university students and staff churn out research ripe for commercialization. Newport also offers many benefits for new companies: an abundance of wealthy investors, some business incubator programs, co-working offices and easy access to freeways and the airport.
"There's a high concentration of entrepreneurs and investors," Gene says, adding that this critical mass fuels more innovation and startups. "I think, in the Newport/MacArthur [Boulevard] corridor, that's happening. … I would say Newport is probably the top location of startup activity … at this point [in Orange County]."
At the Starting Gate
One indicator of the huge entrepreneurial trend is evident on Kickstarter, an online platform for creative projects. Approximately 90 Newport-based projects have launched campaigns on the popular crowdfunding site, with about a third reaching their funding goals. Successfully funded projects range from "Dirty Old Wedge," a documentary about Balboa's famous surfing spot, to Nitroxbuddy, a smartphone oxygen analyzer for scuba divers.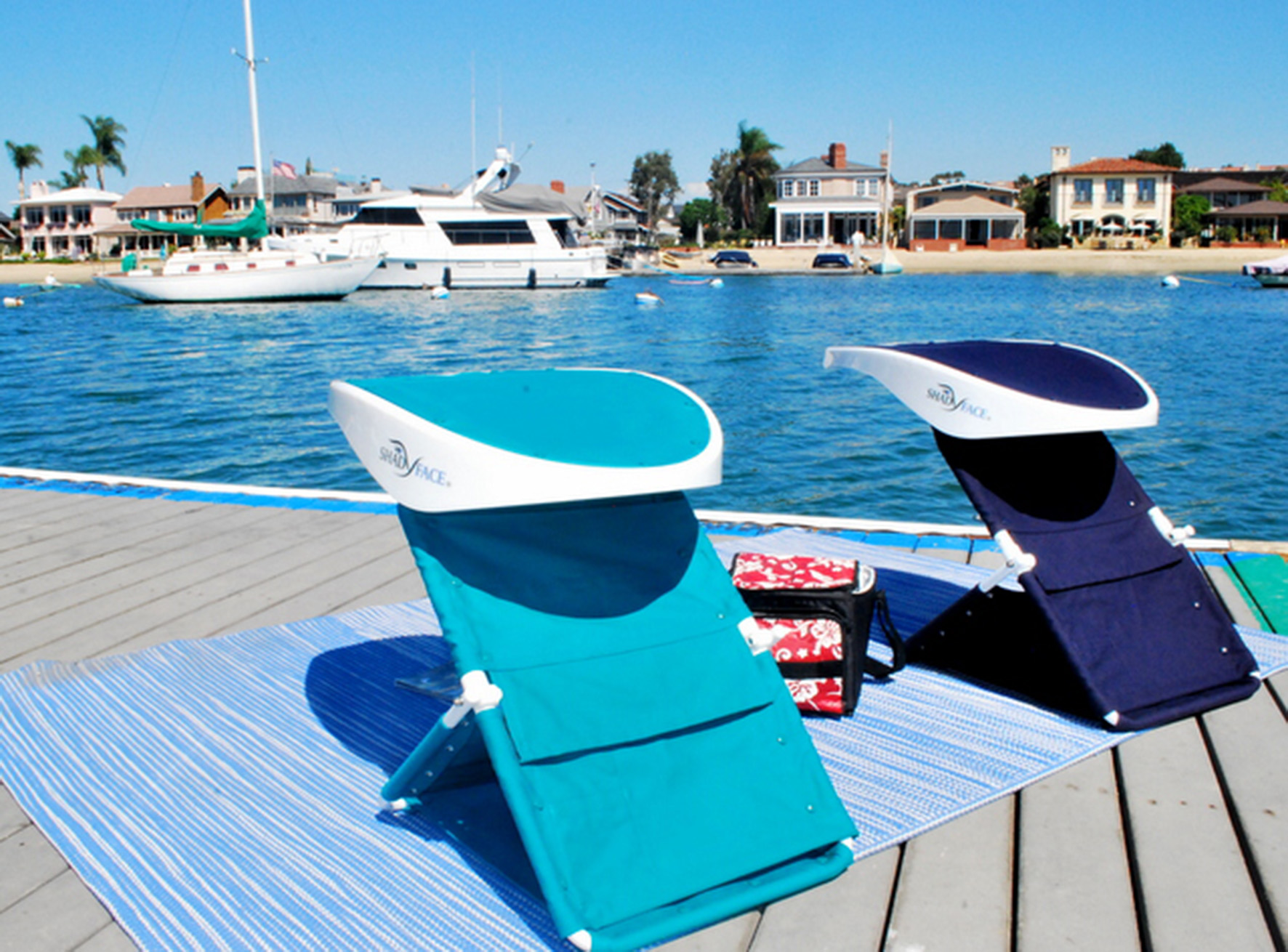 Kickstarter was the springboard for Patricia Darquea's ShadyFace, an adjustable canopy that provides sun protection and prevents glare on electronic device screens. Users can sit or lie underneath it, and it also folds up easily for travel. The Newport Beach resident raised more than $41,000 for manufacturing with a campaign that ended in June 2014.
"That was an intense month," Patricia says. "That gives you feedback on whether people like it or not."
The product idea dawned on Patricia as she struggled to shade her face with towels and shirts on the beach in Hawaii. "We can all identify," Patricia says of the common problem. She doodled her invention's first design on a cocktail napkin at a bar in Maui, then enlisted the help of a friend who was an engineer at Tesla Motors. The final version comes with sand spikes and fabric straps for anchoring, as well as mesh pockets that provide a safe place for keys and cell phones. Notably, ShadyFace was featured in celebrity gifting suites at the recent Teen Choice and Emmy awards ceremonies.
Another company that started in Newport Beach with a successful Kickstarter campaign is Swav, men's underwear made with fabric using NASA technology that responds to body temperature. While walking through the area's shopping centers, Anthony Ferraro wondered why there was no "Victoria's Secret for men" with premium options offering an alternative to athletic compression shorts.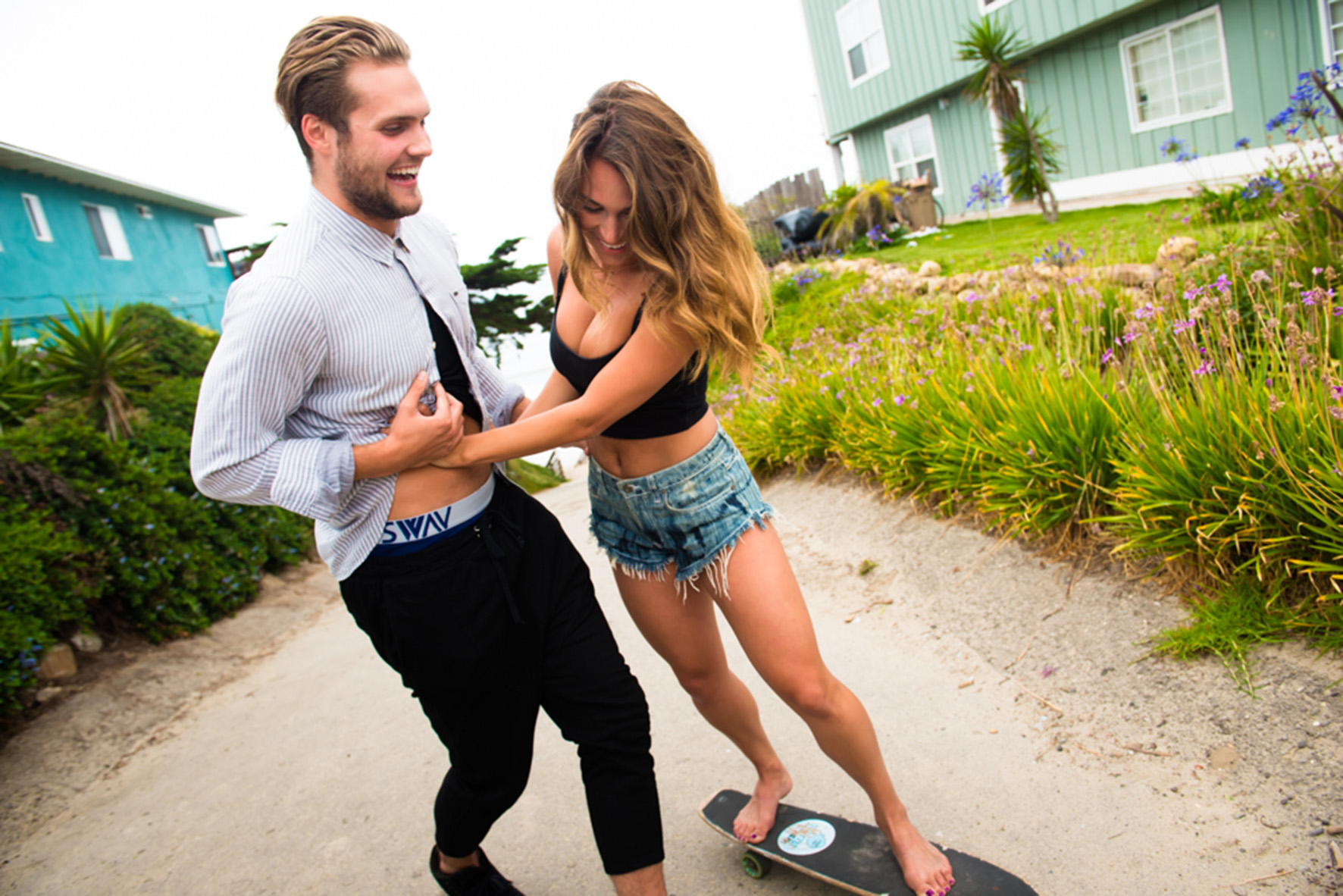 So, Anthony and his partners developed a pair of high-performance underwear equipped with a patented utility pocket to securely stash a cell phone, cash or credit cards. Swav won the 2013 business plan competition at Chapman University, where Anthony was a student. One prize was office space for a year in the Wells Fargo business center on MacArthur Boulevard in Newport, where Swav was based before moving to Anaheim.
This collaborative, open-source work environment is operated by Real Office Centers (ROC), which now hosts another Chapman business plan winner, Excelerate. The company, founded by Ladan Davia, produces data analysis software for test preparation centers, helping students pinpoint their weakest subject areas.
Working out of the ROC office space has proved to be educational, Ladan says. "Everyone's really friendly," she adds. "… Most of the people on that floor are in the startup world. It's really nice because if you have a problem, you can see how another team is tackling it."
Collaborative Spaces
At ROC, the concept goes beyond printing, copying, data entry, shipping and receiving services to create "an engaging environment."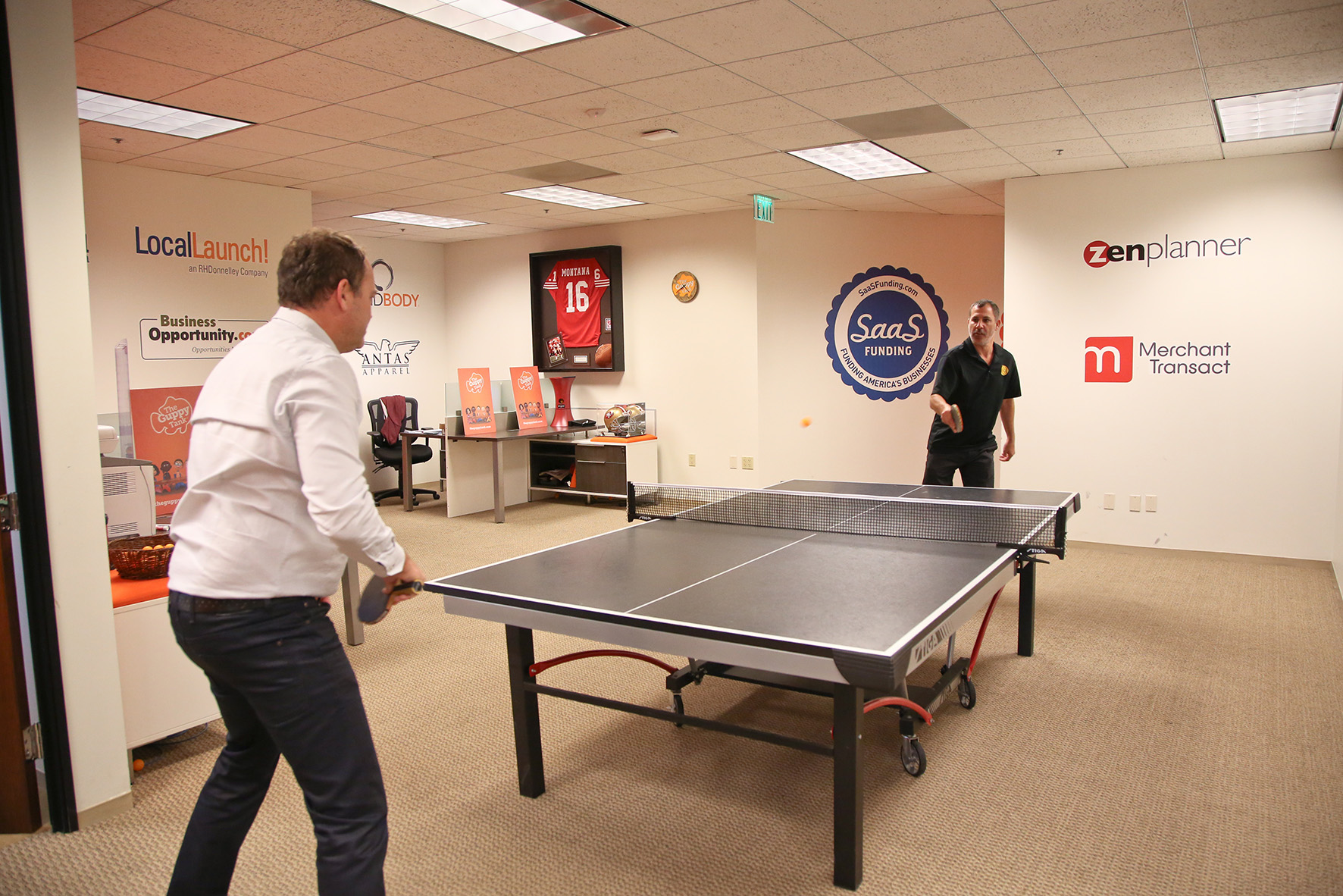 "It's like a shared office environment on steroids," says ROC CEO Ron McElroy. The center offers access to education, mentoring, capital, social engagement and marketing. There's also Taco Tuesday and Free Lunch Friday, allowing business leaders in the building to meet and share ideas if they aren't already interacting in the coffee and lounge areas.
Another ROC space on Corporate Plaza Drive near Fashion Island houses a business called The Guppy Tank, inspired by the "Shark Tank" TV show—it invites small business owners to come before an investor panel to seek funding. Entrepreneurs come from all over Southern California to seek a loan or equity investment at these nontelevised events in LA and Orange County. CEO Darrin Ginsberg says the first three events—the first of which took place at Balboa Bay Resort in 2012—generated about $2 million in total investments.
Helping new businesses get off the ground is also the goal of K5, a business in the MacArthur Boulevard ROC office that offers venture fund investments. It operates a two-year incubator program and runs a 3.5-month accelerator program to help companies quickly take their product to market, offering services from legal guidance to human resources. K5 connects entrepreneurs to resources so they can focus on what they do best: inventing and coming up with new concepts. "It's a place to get them started," says K5 co-founder Ray Chan.
Since starting in 2011, K5 has worked with around 40 businesses, including approximately 10 in Newport such as SignNow, which allows users to sign documents online with an electronic signature from any computer or mobile device. K5 co-founder Amir Banifatemi, who is also a board member and former president of the Tech Coast Angels investor network, anticipates big growth in new businesses in this region.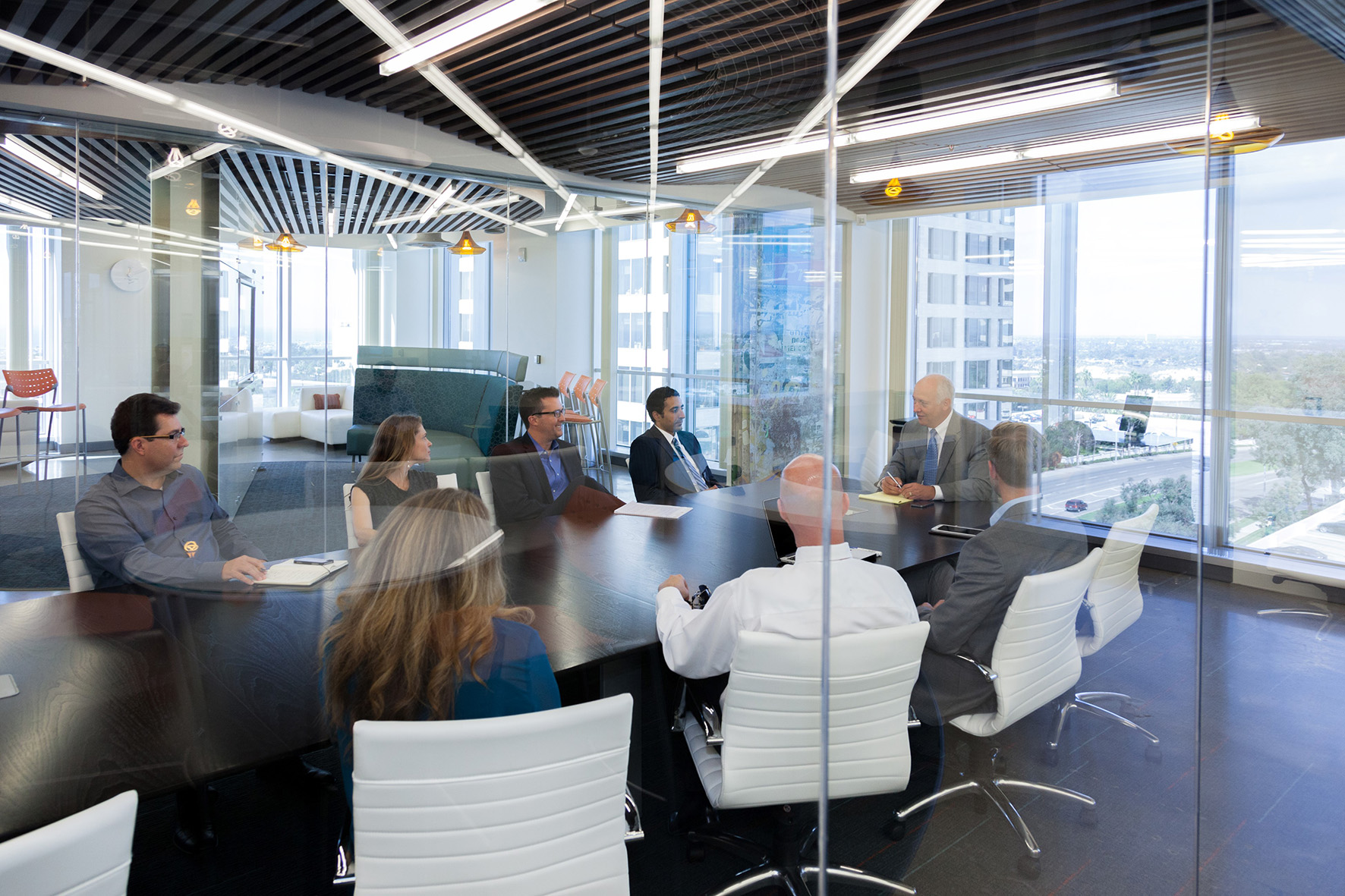 "We see a lot of signals pointing to the fact that Orange County is at a tipping point," says Amir, who views Newport as a key place for this to happen. "… There's a surge in people wanting to move to Newport [for the lifestyle]."
A similar collaborative office space recently debuted in the medical field. The Innovation Institute, founded by St. Joseph Health, opened its Innovation Lab on Newport Center Drive not too far from ROC in September to help doctors and staff turn their ideas into products and services that will help patients.
"We wanted somewhere people could feel creative and free, and uninhibited," explains Larry Stofko, executive vice president of the Innovation Lab. "… There's a lot of creativity [within the St. Joseph and Hoag medical community] and people didn't really have a place to take that creativity."
The lab's research staff can take any invention proposal, even a raw idea scribbled on a napkin, through the full scientific process. Proposed products range from equipment that detects if a patient has fallen in their room to a radiation-filled cement implant for patients with bone cancer in the spine.
Businesses That Give Back
The medical community's spirit to create new ideas to help others is also alive in the rest of Newport's entrepreneurial world. At fodada, a clothing company that has an office in ROC's Corporate Plaza location, giving back is central to the business plan.
"I want to set an example," says owner Bobby Barzi. "You can have a business, you can be profitable and earn a living, but why not do something good too?"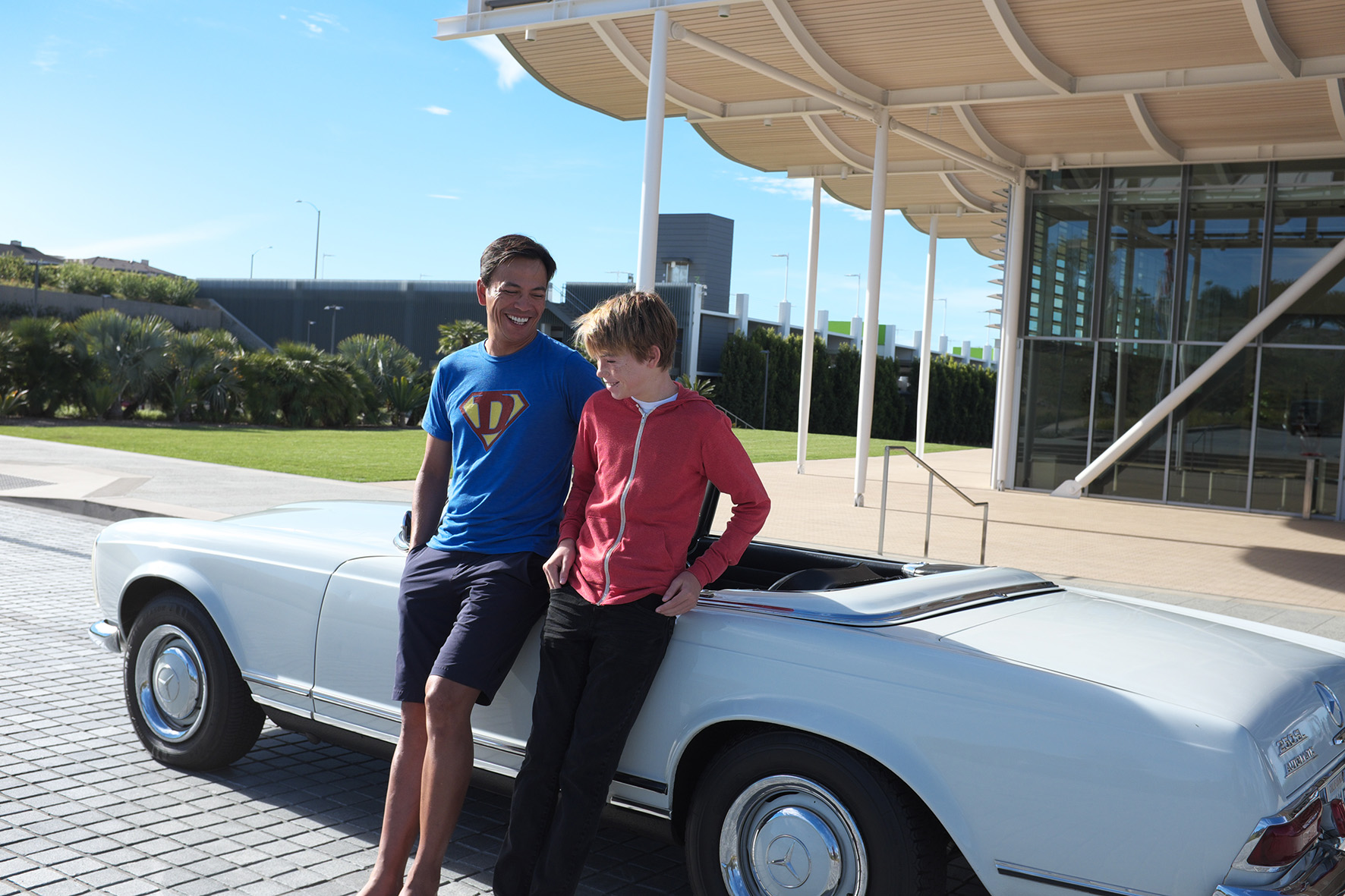 Bobby—father to Pierce, 5, and Royce, 2—says fodada is a cause-based business celebrating what a dad means to us all; clothing is just the message delivery system. One T-shirt features an oak tree representing strength and deep roots. Another shirt is emblazoned with a Superman-type symbol, replacing the "S" with "D" for "dad." These products allow the company to support existing charities as well as its own projects, such as International Women's Self-Defense Day, where self-defense experts around the world offer free instructional demonstrations.
Even Newport teens are embracing the entrepreneurial and charitable spirit. Sage Hill School senior Parker Reposa, 18, (along with classmate Kellen Ochi) took to Kickstarter to raise funds for ShutterStories, a project that will teach photography to children at a Santa Ana school; he collected pledges for more than $5,000 to purchase digital cameras.
"I wanted to tie in my passion for photography and share that with kids," says Parker, who received his first digital camera at age 9 on a family trip to Guatemala to pick up his adopted sister. "I just completely fell in love with it."
Parker's project stemmed from a Sage Hill School program, which sets aside one day a month for community service. He sees photography as a nontraditional tool for kids to express themselves, the way it helped him cope with dyslexia. "It gave me an outlet and I want to do the same for these kids," Parker says.
Taking this idea from concept through the fundraising process and putting the plan into place requires skills used in the business world, in which Parker hopes to become involved someday.
"I'm all about entrepreneurial spirit. That's my MO," Parker says, explaining that he sought funding through Kickstarter because of the ingenuity of the community using that platform.
And, perhaps that's one way a future entrepreneur is born in Newport Beach—one idea at a time, with the help of a crowdsourced fundraising website and a desire to start something that can make a difference.