Holidays in the Harbor
The city's beloved holiday event is adding an exciting twist to its 2014 iteration—actress Leslie Mann and singer/songwriter Mark McGrath have been named as the first-ever grand marshals of the Newport Beach Christmas Boat Parade. December will be a homecoming of sorts for Leslie and Mark; both prominent locals attended Corona del Mar High School and grew up in Newport Beach before launching successful careers in the entertainment industry.
Themed Deck the Hulls With Bows of Jolly, the 106th annual celebration will light up the bay with hundreds of decorated boats bringing holiday cheer and competing for recognition in categories including sweepstakes, light displays, originality, music and animation. Homes and businesses surrounding the harbor also join in for the Ring of Lights competition, which sees dazzling displays every year with everything from rooftop spectacles to animated animals and Christmas trees.
This year, the boat parade takes place nightly at 6:30 p.m. from Dec. 17-21, taking participants on a 14.7-mile journey that begins and ends at Bay Island. (christmasboatparade.com) —A.H.
Spa Scene
The flagship Spa Gregorie's location near Fashion Island received a facelift this fall. The Newport Beach spa reopened in November and debuted an "urban Tiffany" design, as described by founder Angela Cortright. Light colors throughout the lobby offer a calming contrast to rich espresso molding and hardwood floors, with a hand-painted ombre wall greeting guests as they enter. Crystal lighting fixtures and mirrored furnishings round out the cosmetic enhancements in the 5,800-square-foot space.
Complementing the refreshed interior decor is a host of new amenities and additional treatment rooms that improve the Spa Gregorie's experience. One featured upgrade is the addition of Aroma Sense vitamin C shower heads, which promote healthier hair and skin by neutralizing most of the chlorine in water. Infrared saunas for detoxification, weight loss, skin purification and relaxation benefits were also installed, in addition to a suite for hand-sprayed tans that pair with body scrub packages. (949-644-6672;spagregories.com) —A.H.
Join the Club
When the Pickup family gained ownership last year of the Balboa Bay Resort and its sister property, the Newport Beach Country Club, the first item on the agenda was to revamp the resort. Now that the renovations are complete, the owners have announced a new project to enhance the country club. Plans were unveiled in early October for a $40 million overhaul of the clubhouse to be completed within a year—just in time to host the annual Toshiba Classic in the fall.
"The first rule of having a successful clubhouse is to have a great golf course," explains club co-principal Kevin Martin. "[Newport Beach Country Club] had the golf course, but the clubhouse was so outdated."
Upon completion, the clubhouse will have an all-ages, social atmosphere with the addition of athletic facilities, two swimming pools and a reinvented ballroom space for sponsored events, corporate gatherings and weddings. "I'm excited our whole family can use the club now—the kids can swim, my wife can work out and we can all grab a bite to eat. It's a whole family place," Kevin says.
During construction, the iconic golf course will remain open; a temporary pavilion is set up for members to enjoy other services. (949-644-9550; newportbeachcc.com) —K.P.
Stylish Scrubs
Newport Beach resident Dr. Stephanie McClellan is something of a style icon for medical professionals. This past summer, she unveiled a fashion-forward line of female scrubs called Seven to Seven. Stephanie says the inspiration to redesign the traditional uniform came 10 years ago as she was watching the trial of Scott Peterson. "I looked at this man … and then at [myself and my coworkers]—who save and improve lives—and realized, 'We're wearing the same thing, just in a different color,' " Stephanie explains.
It became her goal to offer functional fashions for nurses, orderlies, doctors and administrators alike that feature flattering silhouettes as well as trendy details. From tunics to button-downs to coats, each item is meant to transition from work life to everyday life. Seven to Seven also offers shapely pants in neutral tones that pair with the tops, creating a look that can be completed with the collection's essential lab coat. Seven to Seven abides by medical apparel standards and is available online. (seventoseven.com) —K.P.
The ongoing efforts of the Environmental Nature Center, which offers education programs based out of a leed platinum-certified building, earned the nonprofit the 2014 Eco award for Most Sustainable
NGO from the U.S. Green Building Council's OC chapter.
'Dirty Old' documentary
Our legendary surf spot made headlines this summer due to a series of hurricanes that sent 30-plus-foot waves crashing onto a spectator-packed beach. These waves were a dream come true for Newport resident and avid bodysurfer Tim Burnham, who recently set out to document on video the insane swells and the people who regularly brave The Wedge.
Tim hopes to debut the documentary, titled "Dirty Old Wedge," during the 2015 Newport Beach Film Festival in April—a feat that's possible thanks in large part to a Kickstarter campaign that has raised nearly $25,000 to date. The money is being used to fund Tim and his trio of tech-savvy friends on their journey, allowing them to purchase equipment like high-speed cameras and drones.
From its creation in the 1930s to the increasing popularity of the bodyboard in the1980s to the 2014 politics of blackballing The Wedge, the film covers the surf spot's many facets. Offering a genuine local perspective, it's narrated by Ron Romanosky, a member of "The Wedge Crew," with anecdotes from others to help drive the story forward. "[It's] about the people and the culture of the place, and its dynamics," Tim explains of the documentary. (dirtyoldwedge.com) —K.P.
A Sweet Opening
Fashion Island added yet another iconic mall staple to its directory in late November.  See's Candies, which set up shop near Macy's at the south side of the shopping center, offers customizable 1- to 5-pound boxes of chocolates, truffles, nuts and its signature lollipops just in time for the holidays. The location maintains the brand's recognizable black-and-white checkered decor, as well as its tradition of handing out a free sample to guests upon arrival. 
(sees.com) —K.P.
Digital Visuals
The art community in Newport Beach recently got a new online gallery—Marina4Art—launched by painter and collector Marina Romanova-Arnott in September. "I moved to Newport Beach in 2008 … partly because of the vibrant art community," Marina says. "While there are museums and many art galleries in Newport Beach and Laguna Beach, few span the spectrum of known names and new artists; modern, contemporary and urban arts; abstract and abstract impressionist; and low-, mid- and high-end art."
Marina curated a gallery filled with her own paintings—an evolution of abstract impressionism using a mix of oil, acrylic, watercolor and mixed media—as well as collected works to share her passion for provocative and thoughtful pieces with like-minded enthusiasts. Some highlights from major names include an Andy Warhol screen print of Vladimir Lenin and earthenware molded by Pablo Picasso. Rare offerings range from Banksy screen prints to a first-edition copy of "Diary of a Genius" by Salvador Dali, its title page covered in notes and drawings written to his model.
Clients can place orders online or by calling Marina and her staff, who will answer inquiries about specific pieces and provide condition reports. Marina also offers her curatorial eye to help customers outfit their homes with an array of art that spans time periods and media. (714-598-9410; 
marina4art.com) —L.M.
Hoag Hospital earned a 2014 Women's Choice Award in October for being voted one of America's Best Hospitals for Patient Experience; the hospital's heart care and obstetrics departments were also recognized by the organization.
---
HAPPENINGS
'Tis the Season
Santa Crawl 
Newport Beach
Dec. 13
Suit up this holiday season with your best Santa or Santa's helper costume—the annual holiday pub crawl is back. Starting at Malarky's Irish Pub, hundreds of people work their way through the peninsula's bars before ending at American Junkie.
Nutcracker Tea Holiday Party
Dec. 14 and 21
The Resort at Pelican Hill invites families to participate in a whimsical winter tradition in the resort's ballroom, which includes a ballet performance of "The Nutcracker" accompanied by light sandwiches, pastries and warm tea.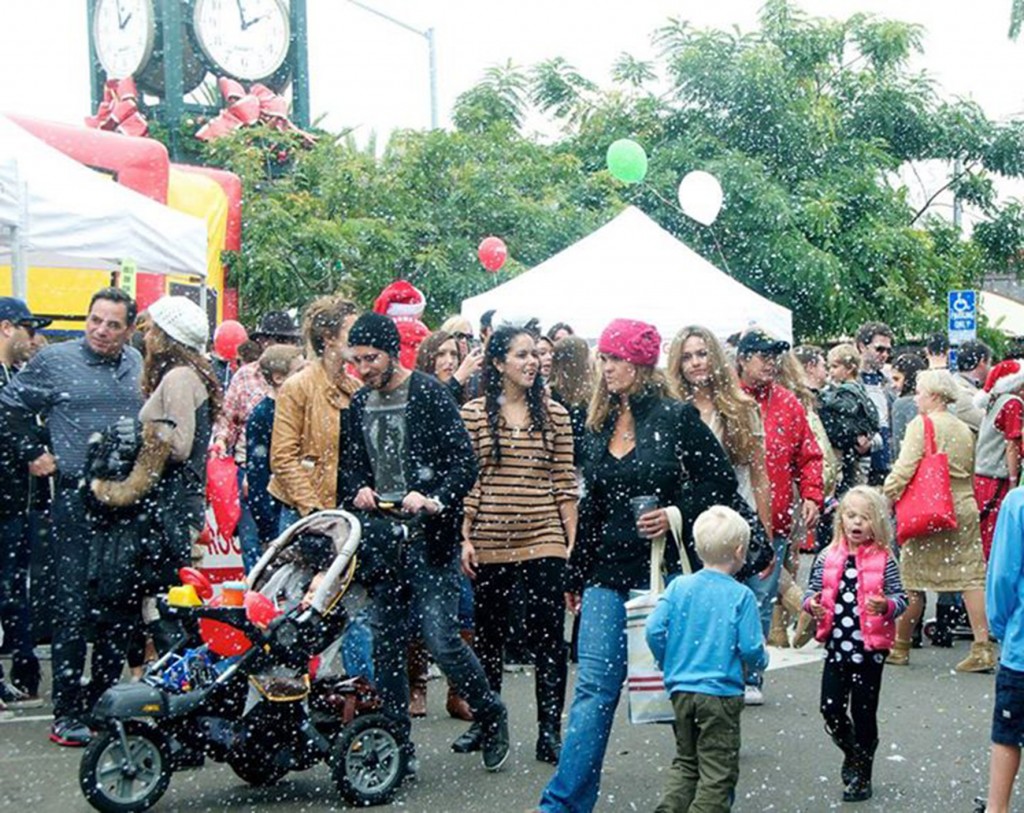 New Year's Eve 
Black Tie Gala
Dec. 31
Don your most glamorous attire and ring in the new year at Balboa Bay Resort, where the annual gala is complete with a martini bar, five-course meal with wine pairings, 12-piece band and a midnight toast to bid adieu to 2014.
Corona del Mar Christmas Walk
Dec. 7
The 36th annual festival draws holiday enthusiasts to Corona del Mar for festive happenings, including a vendor fair, live entertainment, restaurant tastings and a visit from Santa and his helpers, as well as a toy drive to benefit Toys for Tots.
Community
ENC Artisan Marketplace
Dec. 7
Walk the trails and shop handcrafted, eco-friendly gifts from local artisans. Visitors can also browse a selection of native plants for sale or participate in arts and crafts.
BrideWorld Expo
Jan. 3, 2015
Brides-to-be are invited to a planning expo for their big day that brings together designers, coordinators, photographers and florists at the OC Fair & Event Center in Costa Mesa.
Sunday Musicale: Hayk Arsenyan
Jan. 11, 2015
Join fellow aficionados in the Newport Beach Public Library's central branch to hear Armenian pianist-composer Hayk Arsenyan bring his diverse repertoire of musical styles from New York University classrooms to the California coast.
Culinary Craze
Dine Newport Beach Restaurant Week
Jan. 19 – Feb. 1, 2015
Newport Beach will celebrate its rise to culinary fandom with multicourse and prix-fixe menus for lunch and dinner, ranging in price from $10 to $50. The two-week event offers patrons a taste of restaurants across town—a full list of participants can be found on dinenb.com.
Outdoors
Whale Watching
Ongoing
Climb aboard a boat in the harbor with Newport Landing Whale Watching or Davey's Locker Sportfishing to catch a glimpse of whales and dolphins in their natural habitat.
Xterra Trail Run
Dec. 7
Held once again at Crystal Cove State Park, the fourth in a series of seven races along the California coast offers 6K or 15K trails for runners of all skill levels.
Hal Rosoff Classic
Feb. 7, 2015
An annual paddling competition hosted by Newport Aquatic Center, the Hal Rosoff Classic attracts 200 to 300 participants who race through the harbor using outriggers, kayaks and stand-up paddleboards. Proceeds from the event benefit the center's junior outrigger program.