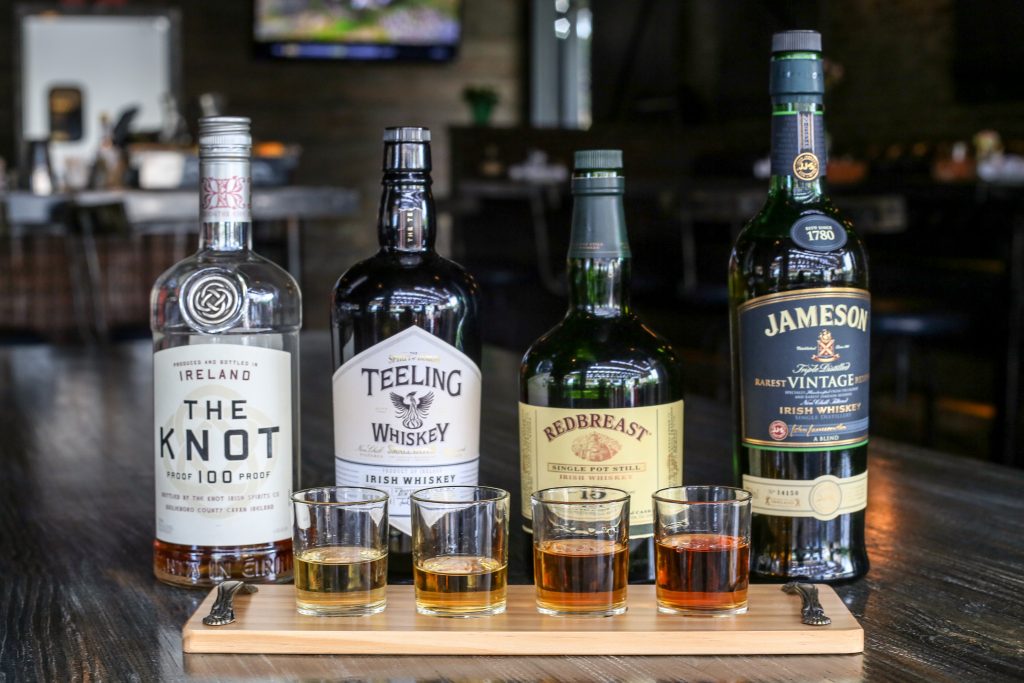 Newport Beach is in the midst of a spirited awakening.
By Bria Balliet and Linda Domingo
Almost one year ago to-date, we welcomed Bosscat Kitchen & Libations into the culinary mix. The Southern-inspired restaurant and bar not only introduced locals to cuisine like shrimp and grits, but shed light on the potential of the city's whiskey culture.
"I have to say, right now I think Bosscat is truly building one of the better whiskey portfolios in Newport Beach," says Jon Trainer, the West Coast brand ambassador for Glenmorangie. "… I think it's one of the best places to go to get an affordable dram of whiskey to try something new and different."
The growing popularity of the restaurant's tasting room signals a shift in the boozy culture around town—but though it's the newest and has one of the largest selections, Bosscat isn't the only place making an impression on locals with a penchant for the amber-hued spirit. From sips at mainstays like Muldoon's to pricey pours in the quadruple digits at Mastro's Ocean Club, Newport has an array of impressive collections and creative mixologists who are using the spirit in innovative ways. This spring, come over to the dark side and get a crash course courtesy of a few local experts.
Whiskey 101
The Art of Drinking
No one is born knowing when to swirl, sniff and sip. Knocking back a bourbon cocktail is easy enough, but when it comes to enjoying the flavors of a fine whiskey, the process can be intimidating—especially when a 2-ounce dram can cost anywhere from $20 to more than $2,000. Jon has a few tips for whiskey novices to make the most of their first experience.
"Maybe one day go out and try a bourbon and … take some notes down," he suggests. "Then, the next time you go out, try a blended Scotch whisky. … Eventually, you will understand what you like and be able to expand your horizons from that."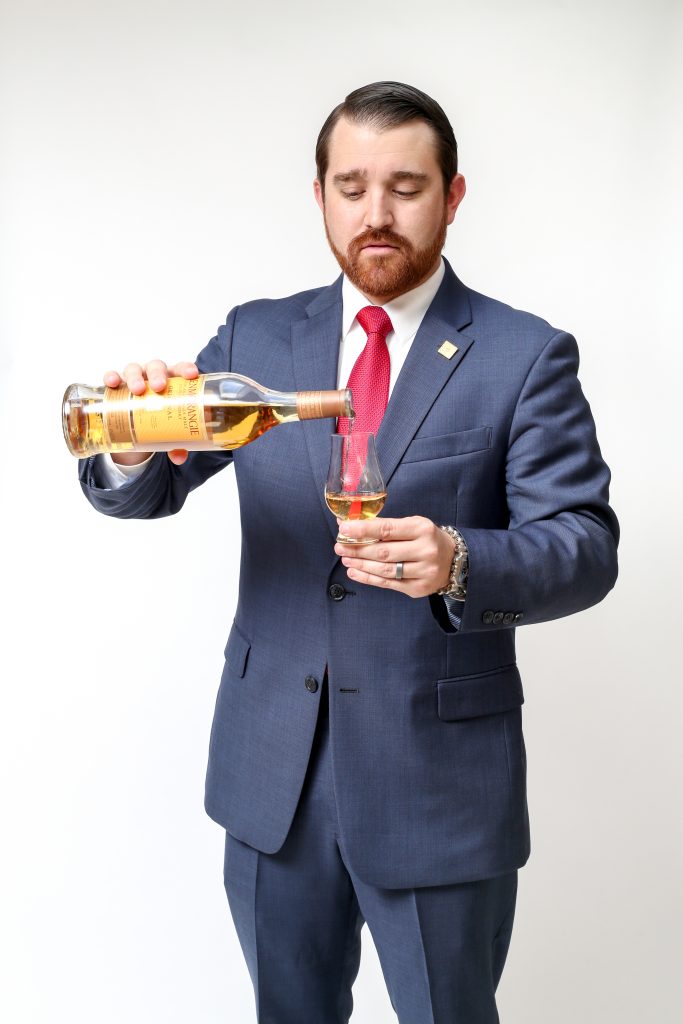 Step One: Once you have a handle on your preferred flavors (which can run the gamut from sweet and citrusy to smoky and rich), you're ready to take a proper sip. For Jon, this always begins with the right nosing glass to enhance the spirit's aromas. A Glencairn glass, which boasts a larger bowl and a small opening, helps to concentrate the scent for more flavor. Once the whiskey is poured, don't make the mistake of continually swirling the liquid—it has a higher alcohol than wine, so the evaporation can overwhelm your nose.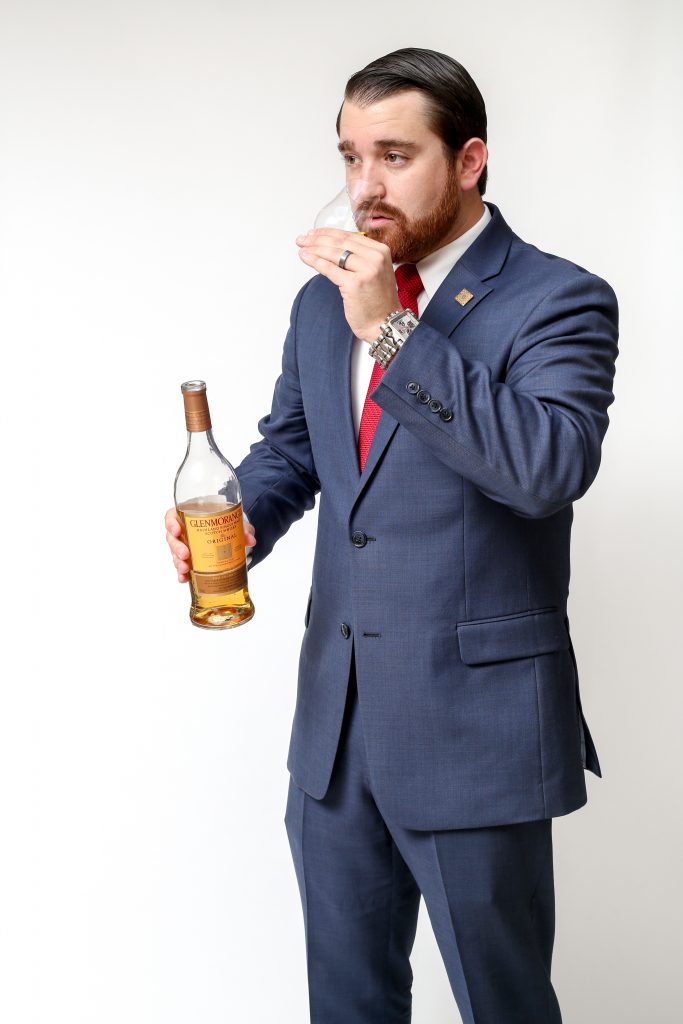 Step Two: Jon recommends first taking notice of the color, as rosy, golden, and orange hues are an indication of the type of barrel that was used in the aging process. Give it a single swirl at a 45-degree angle to release some of the aromas, hold it straight and take a few very gentle sniffs with an open mouth. By the third inhale, you should be able to differentiate specific notes like citrus or honey. The scent and way you describe it can vary from person to person.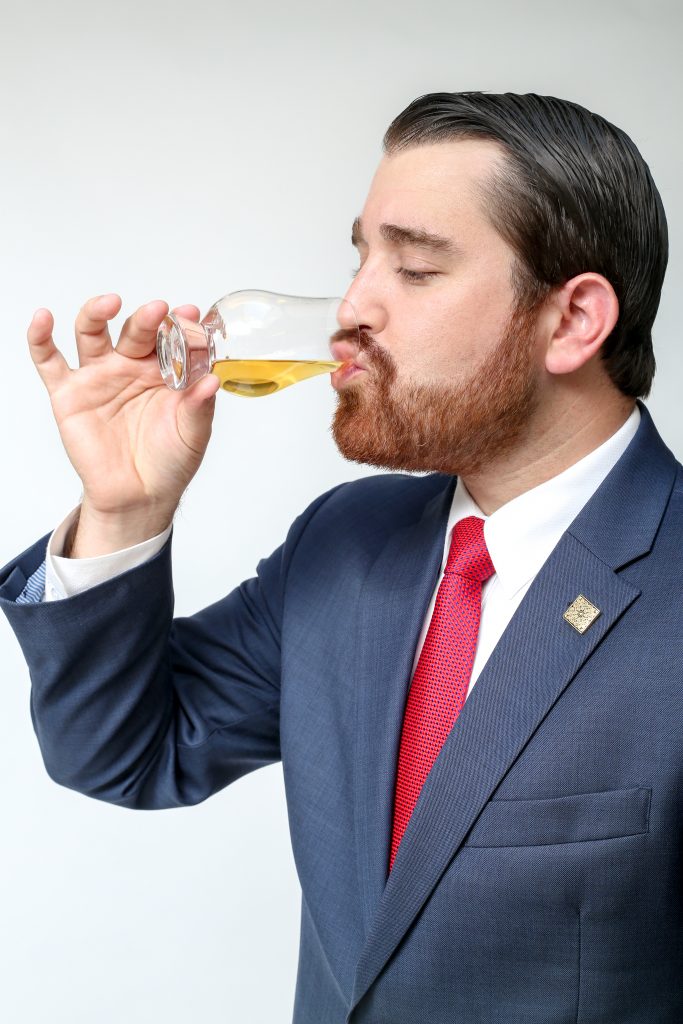 Step Three: "If it's the first time you've tasted whiskey that day, your palate is going to be a little shocked," Jon says. "So I like to take a very small amount on the tongue. Then I open my mouth and breathe out so some of the alcohol will escape." Chew the whiskey around your mouth for several seconds so it coats all areas of the tongue, then swallow, take a deep breath in and exhale. Think about the varied characteristics of the flavors while you allow it to settle—then you're ready to repeat. —B.B.
On the House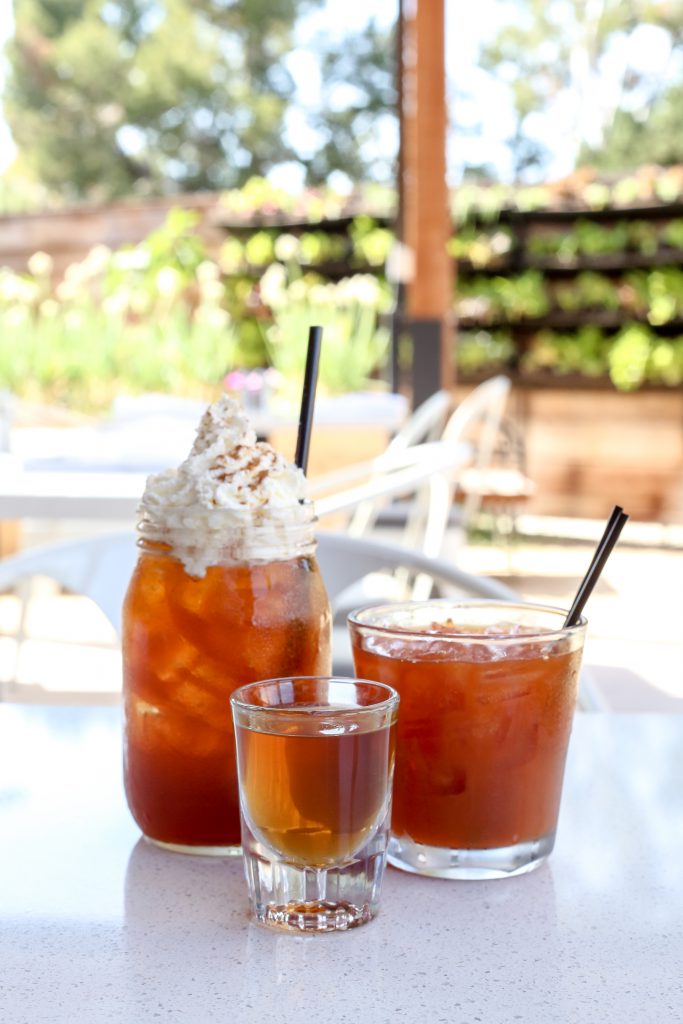 If you're still wary of stronger spirits, you may want to make Cucina Enoteca or Provenance your first stop on a whiskey tour of Newport Beach. Both restaurants stock a supply of refreshing house infusions, which can temper the bite of the alcohol and provide an enjoyable introduction for slow sipping.
Infused alcohols also offer a welcome challenge to chefs and mixologists: "Whiskey, bourbon and rye are harder [to infuse] because they have such different flavor profiles," says chef Cathy Pavlos of Provenance, which offers cocktails with cinnamon stick bourbon and star anise-vanilla bean whiskey. "I think that's what intrigued me."
As opposed to masking the true flavors of the spirit, these house-made infusions are meant to enhance. "If I'm doing something with … a bourbon—something with a little bit more honey—it means I'm trying to heighten up the honey flavor," explains Tucky Dias, a bartender at Cucina Enoteca and the mastermind behind the infused spirits program. Among Tucky's innovations is bourbon made with actual tree bark that he hikes and forages for each month.
This process also allows mixologists to bring a seasonal aspect to their drink menus. For instance, Tucky has a date and molasses Canadian whiskey in the works, while Cathy hopes to create a dark chocolate cherry variety for spring and summer. "It allows what would be a typical food program to apply to your bar," Cathy says. "And that's a really wonderful flexibility."
You can even try your hand at infusing your own liquor at home—all you need is a large jar and whatever alcohol, fruits or spices you choose. Throw all ingredients in the jar, store in a cool place with no sunlight and wait a couple days before tasting (it can be left longer if necessary). Then, simply strain and enjoy. —B.B.
The Top Shelf
Grab a seat at three sipping spots around town—each one offering a distinct way of enjoying the dark spirit.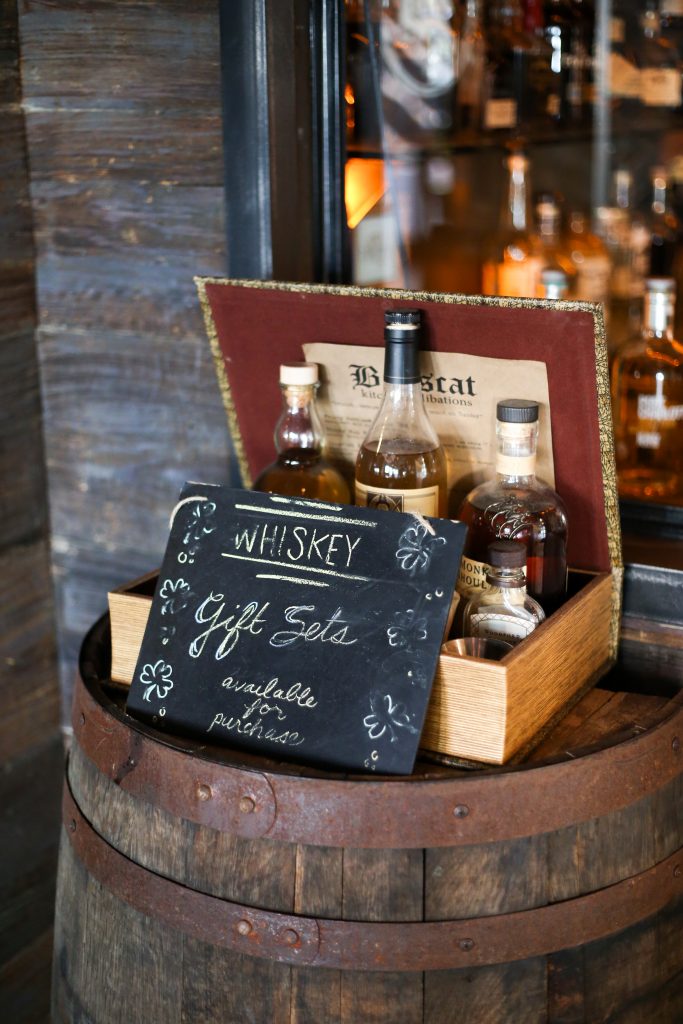 Celebrating its first year of business in April, Bosscat Kitchen & Libations has quickly become one of Newport's favorite watering holes. The restaurant's whiskey room houses more than 180 bottles that run the gamut from Kentucky bourbon to Japanese single-malt, and companies or individuals can purchase a whiskey locker to keep a personal stash. It's earned the respect of the local spirit-sipping community; The Macallan has even secured its own space.
"I'd put a hammock in the whiskey room if I could," says bartender Moustache Matt, known for his expansive knowledge of all things boozy as well as the hairy handlebar across his face. He, along with co-owner Leslie Nguyen and the Bosscat team, are happy to bring guests into the whiskey room and discuss different tastes.
"We tailor flights to each person, and they walk away knowledgeable and tipsy," Matt adds.
Bosscat now hosts whiskey events each month that feature tastings, food pairings and the chance to chat with bartenders and brand ambassadors. Those interested can sign up for the mailing list on the restaurant's website. Participants normally pay to reserve a spot, but locker owners can attend with a guest for free. As if that wasn't enough, those VIPs also never have to wait when dining at the restaurant.
Offering a whiskey list focused on the Emerald Isle, Muldoon's Irish Pub is currently celebrating its 40th year at the "little brick building on the corner" near Fashion Island. With a drink menu that complements the cozy outdoor patio and two pub-style bars, it's the perfect place to sit back and dream of green rolling hills with a glass of Ireland's finest export.
"The whole ambience of drinking whiskey today is a really special thing," explains owner Ron Schwartz. The staff keeps a rotating list of about 15 Irish whiskeys, ranging from Bushmills or Tullamore Dew for $10 per 2-ounce shot to Midleton Very Rare at $40 per shot. Half-shots are also available, as are pours of Scotch whisky—because, Ron says, "If you like Irish whiskey, you're going to like scotch."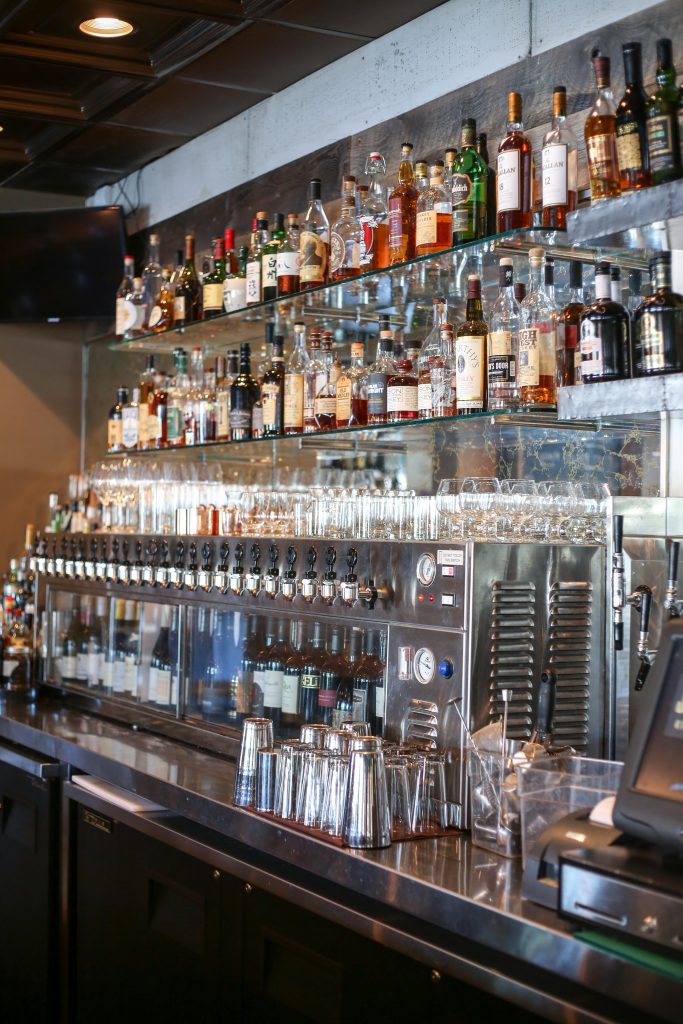 To round out a trip to the pub, Muldoon's provides sustenance in the form of Black Bush Stew, a hearty Irish soup served with two baby lamb chops and a special ingredient: a short shot of Bushmills Black Bush Irish whiskey. You can choose to pour into the stew or drink straight before eating, "for good luck," Ron adds.
And for the enthusiastic whiskey drinker, Juliette Kitchen & Bar is tucked away in a shopping plaza off Bristol Street and Jamboree Road. Co-owner John Hughes' interest in the spirit stems from "pure consumption," he says, and he now stocks more than 100 bottles of whiskey, good company for the restaurant's impressive wine selection.
"I only carry something if I like to drink it," he says, adding that you won't find any plastic bottles here. "We don't pour any cheap stuff in our well. … Really bad alcohol is really bad for you." To drive that point home, Juliette has started hosting whiskey tastings, the first of which was held in February and had John cracking open a bottle of Old Rip Van Winkle 10-year.
When it comes to whiskey-based cocktails, the bar serves all the classics. "Most are 100-year-old drinks," John says. "Those guys knew what they were doing 80 years ago. So we stick to quality." —L.D.
The Penicillin at Mastro's Ocean Club
When you're ready to take a break from sipping your whiskey neat, mix it up with a no-frills cocktail that packs a punch.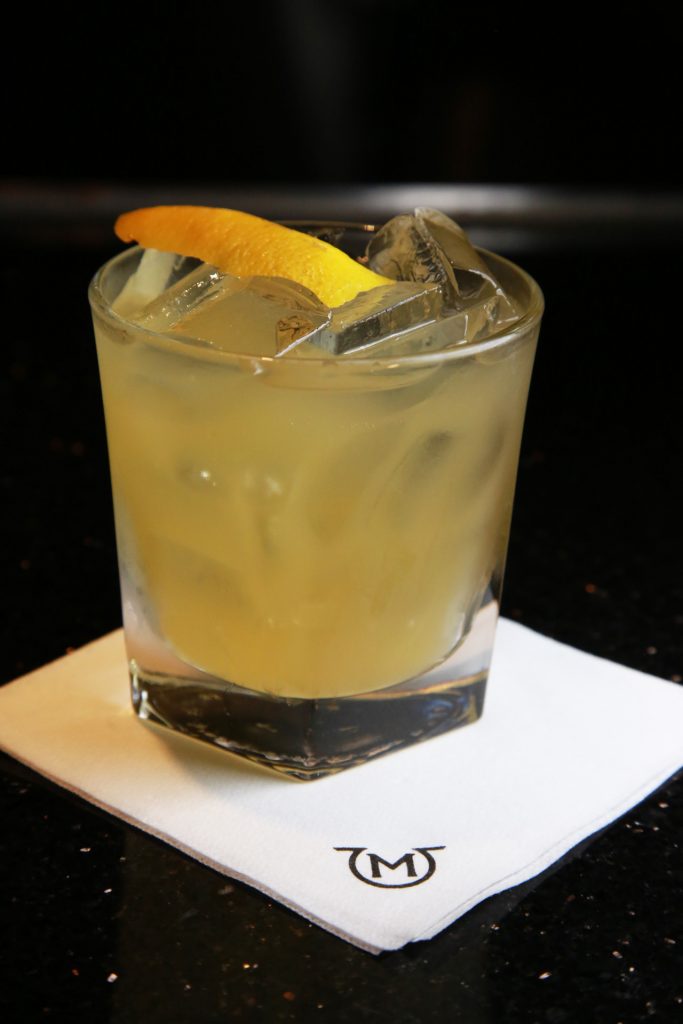 2 ounces Glenlivet 12 Year Old Scotch whisky
1 tablespoon Shrub & Co. spicy ginger shrub
½ tablespoon homemade honey water
Lemon wedge
Lemon zest
Ice
In a shaker, combine Glenlivet, ginger shrub, honey water and a half-squeeze of lemon. Add ice and shake. Strain into glass with fresh ice and garnish with lemon zest.
(Recipe from Mastro's Ocean Club)
Pair Like a Pro
Cigar lounges—rare yet revered by those who frequent them—are the ultimate hideaways for gents who wish to bond over a glass of bourbon with a stogie in hand. La Monde Byrd, owner of the peninsula's Beach Cigar Lounge, offers some recommendations for four perfect pairings.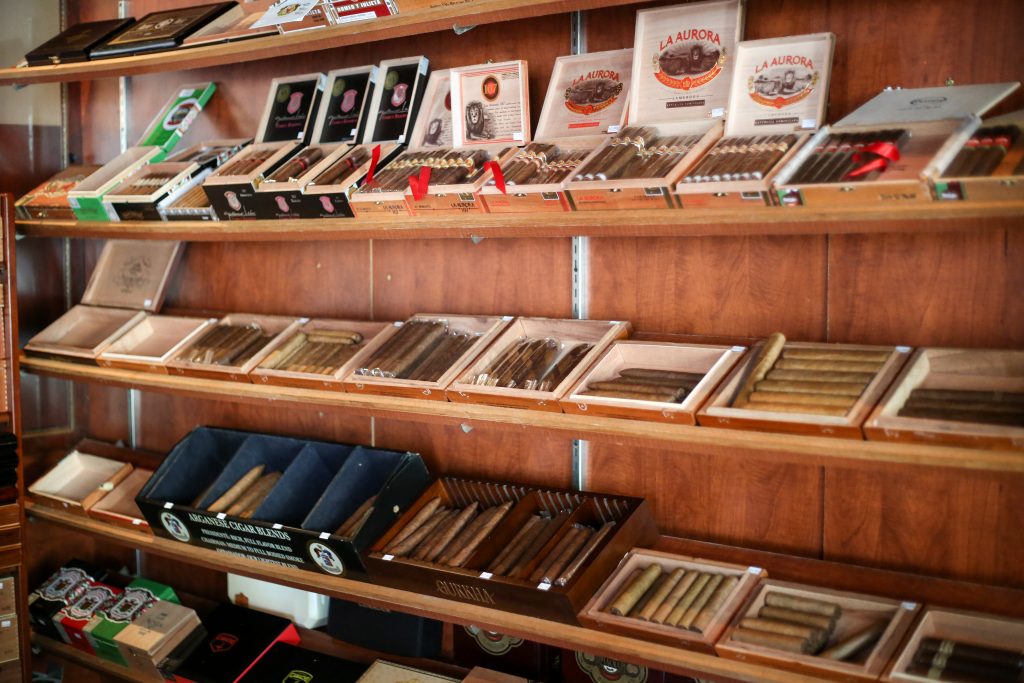 Glenmorangie The Original (aged 10 years) and Arturo Fuente Double Chateau Sun Grown: While sipping on a lighter, citrusy scotch, stick with a mild to medium cigar so the flavors balance. "It's all about not allowing for the scotch to overpower the flavor of the cigar and vice versa," he says. "You want the perfect marriage."
Four Roses Small Batch Bourbon and Cesar Cigars Maduro: La Monde explains that a lighter cigar will get lost in the sweetness of a syrupy bourbon, recommending the Maduro for its notes of dark chocolate, espresso and earthiness.
Ardbeg Ten Years Old and Arturo Fuente Fuente OpusX: "If [a scotch] is spicy or smoky, I recommend a darker cigar," La Monde says. Ardbeg's peaty and peppery flavors, for instance, fare well with the OpusX. "It's robust but balanced," he adds of the cigar.
Knob Creek Straight Rye Whiskey and Kentucky Fire Cured Cigars: A spicy yet smooth spirit requires a cigar that can stand up to bold flavor. In this case, La Monde recommends experimentation. "Maybe [try] a Kentucky Fire Cured cigar," he suggests. "It's about as unique as rye. It's cured with oak maple wood [and] it's smoked in Kentucky so it has a very campfire taste to it." —B.B.