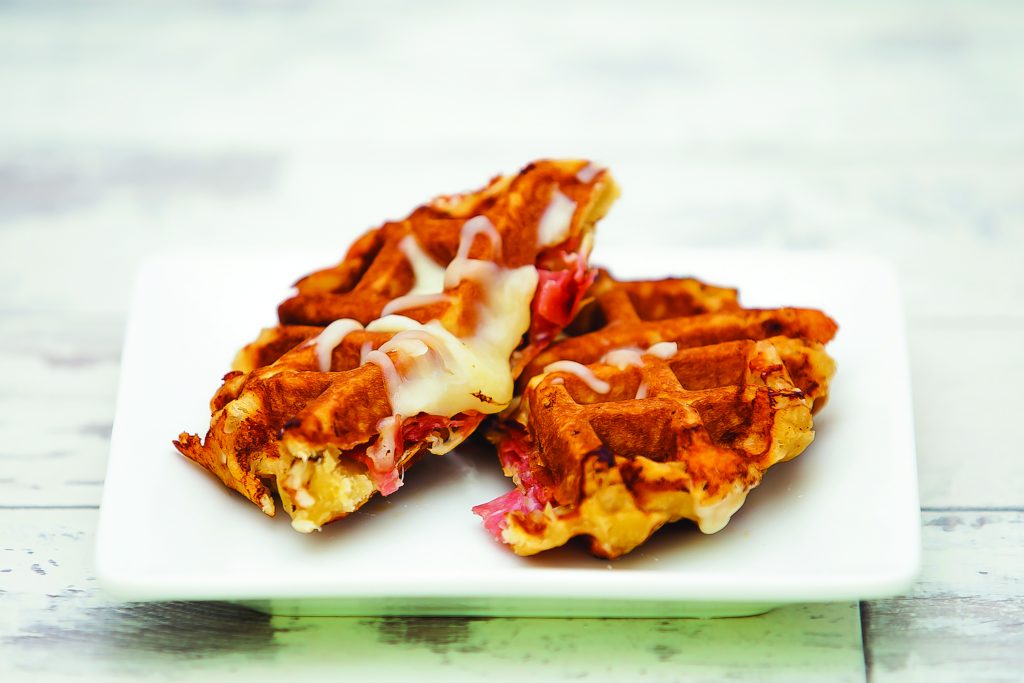 Coming Soon
Four new eateries are slated to arrive in Newport in the coming months.
The Waffle Affair, which opens in early December at Bayside Center, will serve an inventive take on a Belgian classic. The new eatery will offer 21 flavors of waffles that boasting a crispy exterior that opens up to a fluffy interior. Unlike other similar shops, The Waffle Affair will bake its toppings—like prosciutto and Gruyere—into the batter for a closer marriage of flavors. "When I spent time in Belgium, I became addicted to the Liège waffle," says co-founder Laury Zetrenne. "I could have it for breakfast, lunch or dinner." (thewaffleaffair.com)
Dory Deli will be opening in early 2015, bringing a variety of savory sandwiches and seafood options to the peninsula. Chef Chris Rubinstein is perfecting his collection of recipes, including a cioppino with yellowfin tuna, crab and shrimp previewed on its social media channels. The eatery will be taking over the former Perry's location. (949-220-7886; dorydeli.com)
"Napoletana pizza for Newport Beach" is how Paolo Russo, longtime employee of Sapori Ristorante, describes Pizzeria Sapori, the new space that will be adjoining the restaurant at the beginning of 2015. The pizzeria, which has been in the works for the past two years, will offer crispy Naples-style pies made with fresh ingredients in an oven sourced from Italy for a traditional taste. (saporinb.com)
Ways & Means, an oyster house serving an eclectic variety of seafood, comfort food and craft cocktails, recently closed up shop in Old Town Orange. One city's loss is another's gain, however, as the restaurant announced an upcoming venture in Newport, with a location yet to be determined. (facebook.com/wmoysters) —L.M.
Dine Across Town
The 2015 Dine Newport Beach Restaurant Week promises an updated experience for locals. Polly Peak, director of Dine Newport Beach, says this year's event will appeal to a wide array of diners in the city—connoisseurs and casual eaters alike.
Amongst the new updates, the event will be increased from 10 days to two full weeks, running Jan. 19 to Feb. 1, 2015. The price range now includes lunches from $10 to $25 and dinners from $20 to $50. Polly shares that the new range has opened the door for more sophisticated restaurants—such as Fig & Olive, which is confirmed to take part in 2015—that did not previously participate. The full list of restaurants and menus will be published on the Dine Newport Beach website in mid-December (855-563-9767; dinenb.com) —L.M.
On the Road
Despite their four wheels, food trucks are proving that they're here to stay. The latest truck to roll through the streets of Corona del Mar is Teri-Rocki Road, owned by Rob and Mari Taylor, who first launched the truck when living in Arkansas. The co-founders were enticed by the warmer year-round climate of Newport Beach, bringing the truck from Bentonville, Ark., to serve Asian fusion specialties to our coastal crowd.
Experimenting with Japanese-forward flavors that have a Mexican twist, the food truck's most popular dish is a shaved rib-eye steak wrap. The meat—as well as chicken or vegetarian tofu—can also be served as tacos, plated in a rice bowl with steamed veggies or ordered atop a baked potato.
The Taylors debuted the truck in Corona del Mar in summer 2014, and are often seen by the Port Plaza building off Coast Highway and Heliotrope Avenue. They recently established a more consistent route that includes regular stops at Irvine Co. buildings and near Fashion Island—though Mari encourages customers to track the truck using Twitter and Facebook. (terirockiroad.com) —K.P.
Candy Connoisseurs
Sugarfina, a gourmet candy boutique, has opened a temporary pop-up location on the second floor of South Coast Plaza in the Bloomingdale's wing. Each of the 150 varieties in the shop demands attention, with imaginative options that include Champagne gummy bears from Germany, chocolate-covered kumquats from Greece and green tea caramels from Northern California.
"More than half of our candies can't be found anywhere else in the U.S.," says Rosie O'Neill, who co-founded Sugarfina with her fiance, Josh Resnick. To help patrons navigate the unfamiliar delicacies and put together custom boxes—great for a holiday stocking stuffer or hostess gift—a full-service candy concierge is available at the store, which is open through Dec. 31. (714-472-9529; sugarfina.com) —L.M.
Late Night Nosh
Fleming's Prime Steakhouse & Wine Bar has long been a favorite dinner destination, given its hearty fare and central location at Fashion Island. With the recent popularity of the "5 for 6 'til 7" menu—offering five appetizers, five wines and five cocktails for $6 each until 7 p.m.—the premier steak purveyor has announced a similar concept for later in the evening dubbed "8 for $9 'til 10."
Launched in early October, the new late-night happy hour offers patrons eight appetizers and desserts, plus eight wines and cocktails, for $9 each from 8-10 p.m. Edible selections include shareable dishes such as the filet mignon flatbread and short rib empanadas, as well as sweets like the deconstructed s'more, which comes with Balvenie DoubleWood Scotch whisky-infused chocolate syrup. The libations list features seasonal mixes for winter, including the chai mule, which is a spiced take on the classic Moscow mule, and a chocolate lava milkshake. (949-720-9633; flemingssteakhouse.com) —B.B.
A Fresh Selection
In the newly refurbished lobby of Island Hotel, Market Place opened its doors in October to offer California-sourced bites and groceries for hotel guests as well as locals who want to pop by for a quick grab-and-go lunch. The food-focused retailer stocks snacks, including local fruits and vegetables, as well as light entrees like salads and sandwiches. Sweet offerings include treats from Nothing Bundt Cakes and Newport Beach-based B. Toffee, as well as fresh muffins, pastries and churro morning buns, a signature update on breakfast cinnamon rolls from the hotel's pastry chef Andy de la Cruz. An array of wine, craft beers, coffee and cold-pressed juices round out Market Place's beverage selection. (866-554-4620; islandhotel.com) —L.M.
Gourmet Gatherings
For Elizabeth An, cooking and eating are family affairs—and, as of early October, she invites members of the community to become part of her extended AnQi restaurant family on the first Monday of every month. GourMondays bring together 18 die-hard AnQi fans and new diners alike for a chef's table tasting experience. The specialty dinners feature multicourse meals that fall under a specific theme—in October, the nine-item "Pure Indulgence" menu included dishes such as slightly poached egg yolk served in a shell with creme fraiche topped with osetra caviar; Kobe Vietnamese tartare with miso egg sauce; lobster and hand-rolled noodles; and a "fire and ice" dessert of liquid nitrogen ice cream prepared tableside along with flaming bananas Foster. Chefs Ron Lee and Tony Nguyen let their imaginations run wild, with just one rule from Elizabeth: The dishes served must be original and not available on the regular menu. As each month highlights a different theme, the cost for each dinner varies—October's meal was offered at $198; each month, 20 percent of gross sales are donated to a designated local nonprofit. Elizabeth or her mother, House of An matriarch Helene, attend each dinner to personally welcome guests and dine alongside them for an indulgent evening. (714-557-5679; anqibistro.com) —A.H.