A local interior designer creates a breezy coastal living room with small bursts of bright color.
By Ashley Ryan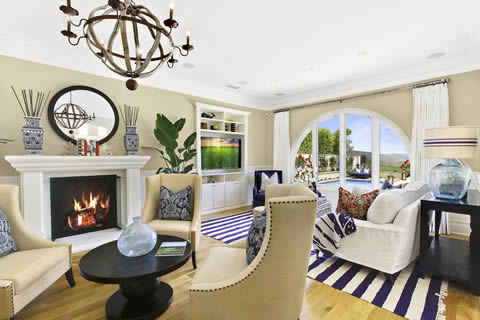 In a town as colorful as Newport—with its electric ocean blues and pale, sandy shores—it's not surprising that homeowners would want to replicate the beauty of the landscape in their homes. Rooms of all shapes and sizes can be transformed into open, elegant spaces by using neutral walls and furniture as a foundation on which to add marine hues, says Wendy Blackband, a Balboa Island resident and interior designer.
When it comes to the design of any home, beginning with neutral-colored base pieces can help keep a room from being overwhelmed with color. Choosing contrasting hues in the same family provides variety while still maintaining a consistent look throughout the space. For example, light-toned materials like burlap, which Wendy used on chairs in her client's home, complement darker pieces such as large coffee tables or wicker trunks that feature intricate detailing.
She also recommends making use of architectural focal points like fireplaces, as well as high ceilings. High-backed chairs grouped around a fireplace fill a room without making it feel cluttered, while tall, colorful vases placed on a mantle make use of vertical space. Additionally, high ceilings are a great canvas for hanging light fixtures; positioning a mirror strategically over a mantle draws the eye up and also ensures that a chandelier can be seen from multiple vantage points.
In choosing accent colors for a room, Wendy suggests taking cues from the backyard to create a sophisticated palette. She cites the coastal Newport room she worked on as an example: The red bougainvillea visible through a set of arched doors can be seen in the brick red pattern on the pillows, while the diverse blues of the sky and swimming pool are represented in a teal lamp, indigo vases and striped area rug. A large, versatile piece—like the deep blue swivel chair Wendy chose for her clients—can serve as a bright focal point and be moved to draw emphasis to different parts of the room.
Whether through flower-filled vases and coffee table books or bold statement furniture, color can be introduced in unexpected ways. "Keep it simple," Wendy offers as a final piece of advice. "You want to fill [a room] with everything, but you don't need to do that."
FIVE TIPS:
Vertical length helps accentuate high ceilings, showcased here with tall bamboo sticks and the high backs of the chairs.
A dark, oversized chandelier is an unexpected piece that adds personality to a simple room.
Colored stripes in rugs direct attention to outdoor vistas that are visible through large windows.
Decorative pillows are one of the best ways to add a pop of color, pattern or texture.
Simple, straight white drapes help to frame a view outside a window and provide a neutral color palette as to not clash with the bright, natural beauty of the backyard.
****
MOST WANTED: COASTAL FINDS
Large neutral pieces are best coupled with detailed color to light up a room.