Concluding its golden anniversary in 2014, South Coast Repertory continues to thrive as one of the nation's leading regional theaters.
By Peter A. Balaskas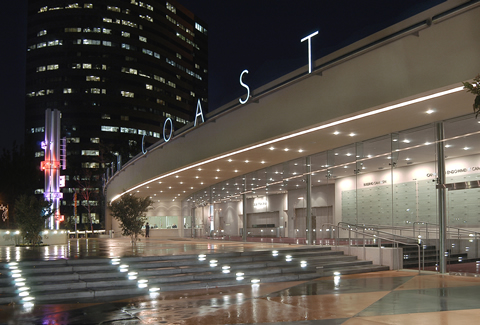 When theater lovers of all ages step inside the expansive lobby of South Coast Repertory, feelings of curiosity, anticipation and excitement reach new levels. The theater company's staff also feels this sense of wonder every day as they come to work at one of the most critically acclaimed regional theaters in the country.
"The theater … is an attempt to reflect the place that we are in," says Artistic Director Marc Masterson. "It wants to be curious, it wants to be open and it wants to have some sense of adventure—and you want to be surprised when you come here."
South Coast Repertory (SCR) has continuously maintained that sense of artistic magic since its inception in 1964. Defying all odds and surviving numerous national financial recessions, the theater has only grown and evolved, expanding Orange County's presence as a major theater force in the nation. And, after celebrating a successful 50-year anniversary season, SCR shows no signs of slowing down.
Beginnings at the Beach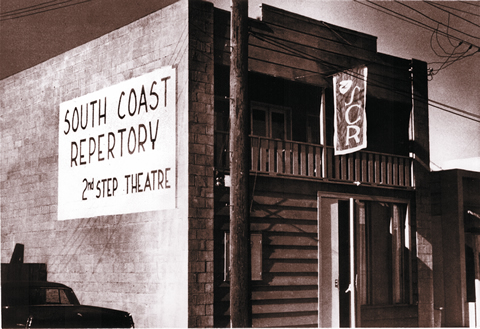 Long-lasting businesses and institutions always have their humble beginnings. This couldn't be truer for Martin Benson and his business partner David Emmes, who met and became friends during a theatrical production at their alma mater, San Francisco State College (now San Francisco State University). After graduation and a few collaborations, the two men decided to create a business plan for a regional theater company, solidifying their lifelong friendship even further.
"It's amazing how relationships are established and things happen," Martin says. "If I hadn't met David, we probably wouldn't have this theater. He wouldn't have started it; I wouldn't have started it. It took both of our energies to get it going."
SCR began to make its presence known in OC when, in 1964, it presented its first production, Molière's "Tartuffe," at the Ebell Club of Newport Beach. Four months later, SCR rented a two-story marine hardware store on the Balboa Peninsula, which was converted into a 75-seat proscenium stage theater. After presenting plays by Samuel Beckett and Harold Pinter, SCR moved to a Sprouse-Reitz variety store in Costa Mesa on Newport Boulevard in 1967, a venue that was renovated into a 217-seat theater. Then, from 1967 to 1978, SCR's subscription base and single-ticket buyers grew.
South Coast Culture
SCR's reputation as a formidable theater company spread throughout OC as it won numerous awards from the Los Angeles Drama Critics Circle and received its first grant from the National Endowment for the Arts in 1971.
The game-changing event, however, occurred in 1978. Local businessman Henry Segerstrom—the founding chairman of the Orange County Performing Arts Center (now the Segerstrom Center for the Arts)—donated a gift of roughly 1.5 acres of land on Town Center Drive to the company, in addition to a pledge of $50,000. The donation helped establish a foundation that launched a building campaign and raised $3.5 million toward a new space.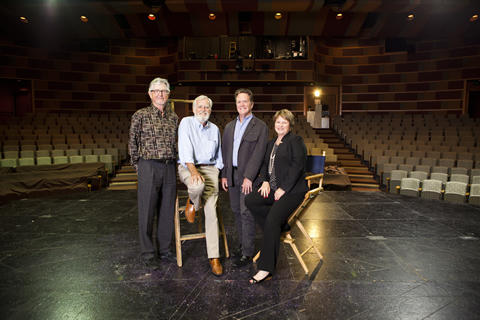 The theater opened for the 1978-79 season, and in later years expanded to include the 507-seat Segerstrom main stage, the 336-seat Julianne Argyros Stage and the 94-seat Nicholas Studio. The expansion allowed Martin and David to pursue the paradigm they envisioned when setting out to build the theater.
"There were three big components when we first started out," Martin explains. "We wanted to do the new, hot work that was extant. But we also wanted to develop new plays and … have an educational component as well."
This passion to debut new works has made the theater company a magnet for talented up-and-coming playwrights who go on to achieve critical acclaim. One notable example is Margaret Edson, whose first and only play, "Wit," premiered at SCR in 1995 and won the 1999 Pulitzer Prize for drama. Similarly, Donald Margulies, who debuted at SCR with "Sight Unseen" in 1991, also earned a Pulitzer Prize in 2000 for his comic drama "Dinner With Friends."
After guiding the theater through years of success—and even seeing it win a Tony Award for Distinguished Achievement by a Regional Theatre in 1998—David and Martin decided in 2010 to move into new roles as founding artistic directors. During this time of transition, Marc was named the new artistic director and Paula Tomei the new managing director.
A Golden Anniversary
As Marc and Paula began planning for the 2013-2014 season—SCR's 50th anniversary—the most challenging aspect was producing six world premieres, the most the theater has ever scheduled in one season. But according to Marc, this challenge wasn't planned; each new play was included because of its caliber. "[It's] also a way for us to acknowledge that the new work is our future and we play a part in that," he explains.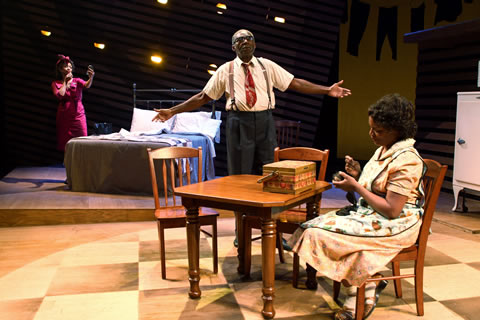 The golden anniversary season had a strong opening with Arthur Miller's "Death of a Salesman," a play that earned praise for its star, stage and television actor Charlie Robinson. The season also succeeded with all six of its world premieres, including Samuel L. Hunter's drama "Rest" and Gregory S. Moss' "Reunion." The company's first play also made reappearance: "Tartuffe," directed by renowned French director Dominique Serrand, closed out the golden season.
"I think what's been great about it for me is that it has been both a celebration of the past and a look towards the future," Marc says.
Beyond the Stage
Along with its variety of shows, SCR has also focused on creating a more solid connection with Orange County's diverse communities through two initiatives: The CrossRoads Commissioning Project and the Dialogue/Diálogos project.
Kelly Miller, SCR's literary director and CrossRoads project director, is excited about the potential that the programs have for the theater company and the local community.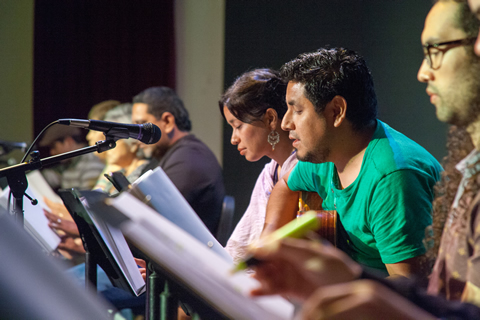 "[Marc] articulated a desire to … create new work to reflect the communities in which we live," she says.
One source of support came in the form of a two-year grant from the Time Warner Foundation for the CrossRoads project. The money allowed the company to commission eight playwrights locally and nationally—including LA-based writers Luis Alfaro, Julia Cho and Carla Ching, whose "Fast Company" was featured in SCR's 50th anniversary season. The works are not only inspired by the cultural microcosms of Orange County, but also take a deeper approach in exploring the unique societies. For example, in her research for "Fast Company," Carla investigated local Asian-American communities and programs through interviews with Community Action Partnership's Alan Woo, Project Hope Alliance CEO Jennifer Friend and filmmaker Angela Chen.
"The other big boon was getting to meet and spend time with Asian-American community members," Carla adds. "… So when they came to the show, they weren't just seeing work by some random playwright, but someone they met [and] had talked with."
Another community-based effort, Dialogue/Diálogos received two years of funding from The James Irvine Foundation in 2012. LA-based playwright José Cruz González—in partnership with Latino Health Access in Orange County—interviewed Santa Ana residents to create a new site-specific bilingual play inspired by their stories. González's new work will debut in late September.
"What excites me the most is [that they] are artist-driven," Kelly explains of the productions. "… We are putting our playwrights literally in the communities. There's also been great cross-pollination between the Diálogos community organizations, … individuals and artists, and our conservatory."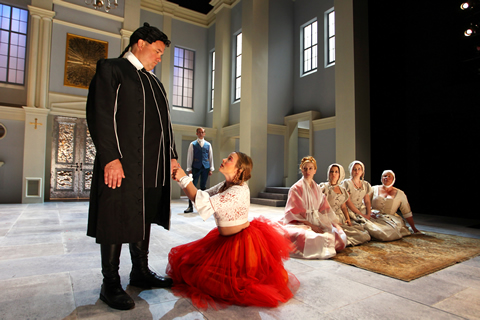 The theater also hosted SCR's first career fair for 200 high school students in early 2014. "[The students] were exploring the opportunities that you can get working in the professional theater with different staff members [and received] in-depth tours," Paula says. "So [it's] a very personalized experience for them."
As far as what the future holds for SCR, the  51st season won't disappoint. It's scheduled to open in August with a production of William Shakespeare's "The Tempest," co-directed by Teller, of the comedic magician duo Penn and Teller, followed by an adaptation of the Arthurian romance "Tristan & Yseult," on tour with the U.K.-based theater company Kneehigh. SCR also plans to continue its mission to feature new works with the debut of three world premieres.
"I see SCR being a strong and vital force towards the future," Martin says. "And I'm very, very happy about that."
***
WHAT'S TO COME IN 2014-15
Following William Shakespeare's "The Tempest" (Aug. 29 to Sept. 28), two world premieres will also grace the Segerstrom Stage: Pulitzer Prize finalist Theresa Rebeck's politically-charged "Zealot" (Oct. 17 to Nov.16) and Melissa Ross' comic drama "Of Good Stock" (March 27 to April 26, 2015). Also appearing are "Tristan & Yseult" (Jan. 23 to Feb.22, 2015) and "Peter and the Starcatcher" (May 8 to June 7, 2015), which has earned five Tony Awards for writer Rick Elice.
On the Julianne Argyros Stage will be David Ives' erotic comedy "Venus in Fur" (Oct. 5-26), alongside Matthew Lopez's suspense drama "The Whipping Man" (Jan. 4-25, 2015). What follows that play is yet to be determined, but the world premiere of Rajiv Joseph's drama "Mr. Wolf" (April 12 to May 3, 2015) will provide a strong finale to this stage's 51st season.