Cozy up with some hot cocktails.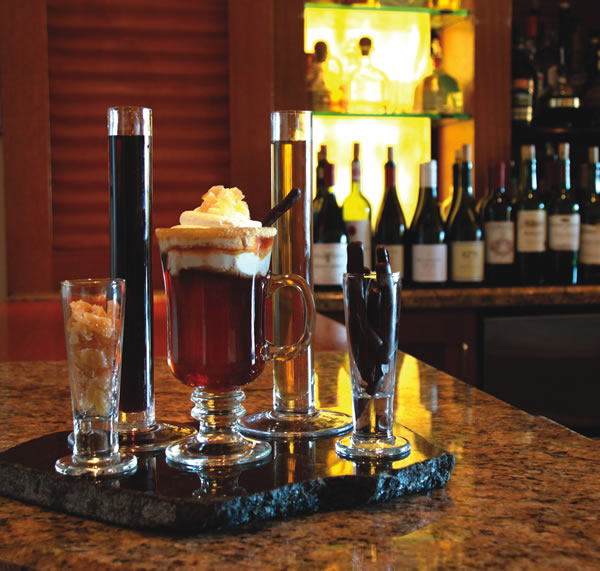 By Jeanette Calo
Nothing tops off a perfect winter day of sailing on the harbor or playing at the beach better than a hot drink. Except, perhaps, a hot, stiff drink. Even with our signature balmy weather, a steaming beverage can warm up the chilly evenings and foggy days. And whether you're craving a Hot Toddy, or looking for hot cider or coffee with a kick, Newport bars have got you covered.
21 Oceanfront 2100
W. Oceanfront; 949-673-2100; 21oceanfront.com
The Beachcomber at Crystal Cove 15 Crystal Cove; 949-376-6900; thebeachcombercafe.com
The Balboa Bay Club & Resort 1221 W. Coast Hwy.; 949-645-5000; balboabayclub.com
The Resort at Pelican Hill 22701 Pelican Hill Rd. S.; 949-467-6800; pelicanhill.com
Harborside Pavilion 400 Main St.; 949-673-4633; harborside-pavilion.com
SOL Cocina 251 E. Pacific Coast Hwy.; 949-675-9800; solcocina.com
An Apple a Day
Nothing says autumn like a hot apple cider, and Newport bars do not disappoint with this fall favorite that easily transitions to the holiday season. On a chilly evening, guests can cozy up with a Hot Apple Pie Cider at The Beachcomber at Crystal Cove. This drink—which combines hot apple cider with Tuaca liqueur and a dollop of whipped cream—is a popular choice at the café, says manager Marc Levine.
"We're out on the beach, so—especially on cloudy days and breezy evenings—we've got the heaters going and blankets on the deck," Marc comments. "The drink pairs nicely with the environment."
Cider is also at the heart of the BBC Lux Holiday Pie served at The Balboa Bay Club & Resort. A decadent combination of Luxardo Sangue Morlacco and ginger, this drink is served in a glass rimmed with ginger sugar and topped with fresh cream infused with cherry liqueur and ginger sugar. Garnished with a dark chocolate stick and ginger sugar, it tastes like a cherry pie hot from the oven.
The festive drink was created by Kimberley Halworth, a bartender at the resort's First Cabin Restaurant, who won an in-house competition to create a drink using Luxardo Sangue Morlacco, a cherry liqueur.
"I just wanted something different that wasn't coffee-based," Kimberley explains. "It's very much a holiday drink. It works well at Thanksgiving and Christmas … as an after-dinner drink."
And with its festive vibe, the Lux Holiday Pie also works well as a cozy indulgence to sip during the Christmas Boat Parade.
Fancy a Toddy?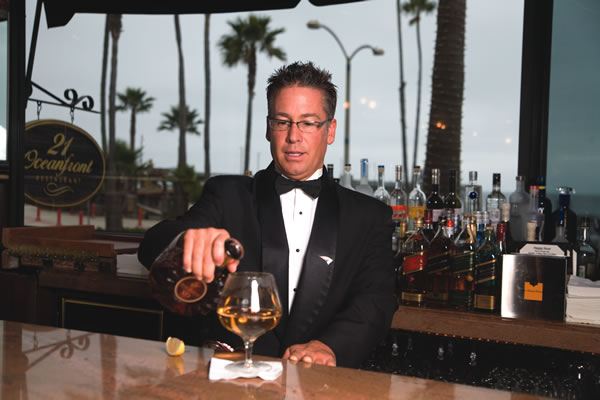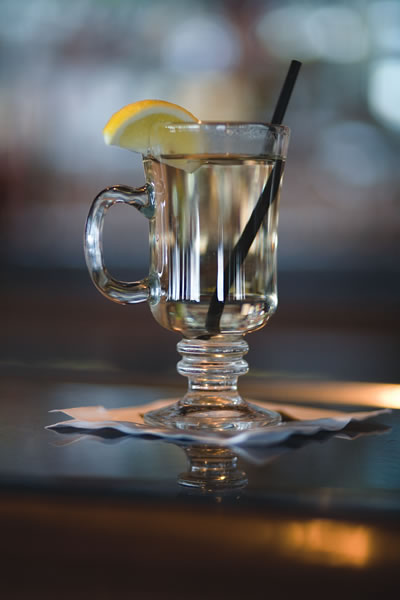 Classic cocktails are the current trend, and perhaps none is "hotter" than the Hot Toddy. Historically, this steamy cocktail was the drink of choice when one was feeling under the weather, according to Jack Robertiello, contributing editor to Nightclub & Bar Magazine.
"A toddy is meant to be a winter refresher and head cold annihilator, though I'm sure few doctors would agree," Jack says.
A traditional Hot Toddy recipe calls for hot water, lemon, honey, spices and a spirit, although exactly which spirit is up for debate. The drink has sported everything from whiskey to rum to tequila.
Brandy is the spirit of choice at 21 Oceanfront, a fine dining restaurant just steps from the sand. Foggy days often inspire customers to order a steaming drink, says Nicole Hays, the restaurant's director of marketing and special events.
"When the fog rolls in off the Pacific, bar patrons at 21 Oceanfront often trade in their traditional martini order for something to warm them up, like a Hot Toddy," Nicole says.
Tony Lawrence, a bartender at 21 Oceanfront for 10 years, admits the traditional Hot Toddy—which simply combines brandy, hot water and lemon—is not a customer favorite. He says he personally prefers the Tequila Hot Toddy, a twist to the classic drink made with tequila, triple sec, apple juice and cranberry juice.
Over at The Resort at Pelican Hill, a unique twist is added to create the Honey Toddy, which calls for Sazerac Rye Whiskey, lemon juice and Bärenjäger Honey Liqueur instead of honey.
"Our whole approach at Pelican Hill is to create unique, flavorful drinks using the finest ingredients," says Steven Ashworth, resort sommelier and manager of Andrea restaurant. "For the holidays, we've taken the idea of some older, traditional holiday drinks and given them a modern flair."
The Honey Toddy and other signature holiday drinks can be savored at the resort's three restaurants—Coliseum Grill, Andrea and Pelican Grill—from Thanksgiving through the New Year.
A Touch of Joe
The first Irish Coffee was concocted in Ireland by Joe Sheridan, a chef who decided to lace his coffee with whiskey on a particularly cold evening in 1952. A travel writer brought the drink to San Francisco, where it "was replicated and immediately generated a following," according to Robert Plotkin, contributing editor to Nightclub & Bar Magazine.
Since Sheridan's fortuitous invention, coffee-based cocktails have warmed many cold souls. In fact, nearly every bar in Newport has some kind of take on the drink.
For example, Harborside Pavilion—one of the few restaurants that serves a traditional hot toddy with a bourbon base—also serves up several stiff coffee drinks, adding Baileys Irish Cream, Amaretto or other liqueurs to the mix, and topping each with whipped cream. "People usually drink them as after-dinner drinks, or maybe drink it with dessert," says manager Katlin Kuntz. "And with the weather changing, they will probably become more popular."
For the holidays, the restaurant is serving a Gingerbread Man, which combines peppermint schnapps, Baileys and Buttershots liqueur with a coffee fill and a dollop of whipped cream.
At SOL Cocina chef Deborah Schneider serves up a special brew called Mexican Café de Olla that fits in perfectly with the restaurant's Baja cuisine. In this signature drink, café de olla—a sweet, spiced coffee—is combined with tequila or another liquor to create a comforting drink, perfect for sipping while lounging by the restaurant's fire pit or looking out onto the bay.
Deborah says her cocktail was inspired by the cooks at her restaurant, who drink café de olla—"without adding alcohol, of course," Deborah specifies—in the morning. The plain coffee concoction pairs well with sweet rolls in the morning and crunchy cookies or a pastry in the afternoon. Deborah takes it into the evening by adding some spirits.
"It's beyond traditional 'Mexican coffee' [cocktail], which is just coffee and Kahlúa," Deborah explains. "If you use spices or tequila or rum, it's really tasty and takes on a different taste."
And as far as Deborah is concerned, a hot stiff drink is a great way to stay cozy.
"On those cold nights, they're very comforting," she says. "They've got everything going on."