Military Maneuvers
Salute cool camouflage and fabulous fatigues. – By Cynthia Rupe
Military-inspired styles received a grand salute from the design world this season, and we gladly enlist to shop for the cause. Down-to-earth and no-nonsense, this utilitarian trend gives new definition to comfy-chic style, as designers transform masculine militaristic styles into femininely rugged designs. One of our favorites is the shimmery olive-green cargo pant by Rich & Skinny.
Achieve five-star status by infusing your wardrobe with key statement pieces, such as Son of John's military button-down shirt jacket with shimmery, sequined front pockets, or gorgeous brown leather Regina lace-up boots by Bernardo, which hearken back to WWI. And opt for a field-inspired accessory too, like the Ever + Jack Spade Military Tote Bag in olive and brown WWII raindrop print canvas. Soften the look with other seasonal trends, such as bold color and lace, for comfortable yet confident style that's ready to conquer the world.
Crystal Celebration
Jimmy Choo celebrates its 15th anniversary with a bit of sparkle. – By Jeanette Calo
Every follower of Emily Post knows that the traditional gift for a 15th anniversary is crystal, and Jimmy Choo is not one to turn up its nose to proper etiquette. The British high fashion house is offering crystal to its fans in celebration of 15 years of iconic shoes.
For The Crystal Anniversary collection, the signature jeweled shoes that helped make the brand famous have been modernized for a new generation in a gorgeous array of designs, from wild Glamazon to princess pretty. The star of the collection is the Marine heel, an edgy nappa leather shoe with long straps adorned by crystal discs and tied in bondage fashion. The tiny crystals on the Zafira emit high-voltage sparkle in a crisscross and ankle strap platform, while the Lancer heel provides a subtle and sophisticated evening shimmer.  With this much sparkle and shine, even Miss Manners herself would crave these simply brilliant pieces.  Available at Jimmy Choo, South Coast Plaza.
Luxe Leather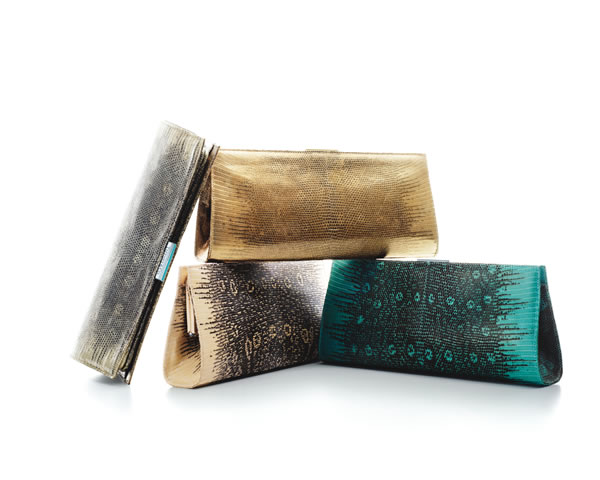 We're just crazy about the Tiffany Leather Collection. – By Jeanette Calo
This season, the little blue box is not the only thing you'll be coveting from Tiffany & Co. After a century of setting the standard in jewelry, the legendary house introduced the Tiffany Leather Collection this year—and it's already causing a stir. The sophisticated collection for men and women includes purses, briefcases and other accessories in sumptuous leather, from suede to snakeskin. Design directors Richard Lambertson and John Truex created the line to carry "the joys and demands of modern life with grace and equilibrium." They combined clean lines with luxe materials to offer a collection of timeless simplicity. And each piece is finished with the hallmarks of Tiffany's craftsmanship: custom-designed hardware, Tiffany Blue leather interiors and enamel, as well as subtle Tiffany & Co. labels.
The piece that's making us swoon this season is the Tiffany Lyn Clutch, a hidden-frame clutch crafted in South Africa from striking ring lizard and palladium-plated solid brass hardware. This elegant clutch is perfect for evenings out, from cocktail parties to black-tie galas. We know Ms. Holly Golightly herself couldn't resist adding it to her holiday ensemble.  Visit Tiffany and Co. at South Coast Plaza or tiffany.com for more information.
Time to Shine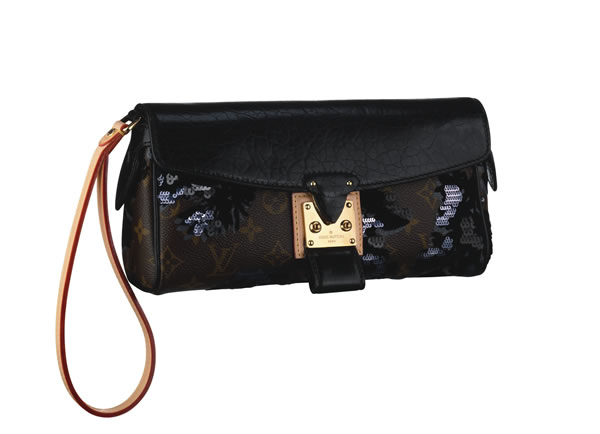 This season's holiday accessories sparkle and shimmer.– By Cynthia Rupe
The chilly months are the perfect time to add a pop of dazzle to your style, and, luckily for us, sparkling accessories lit up the runways this season with more than a few tempting options from which to choose. And all you really need is that one key accessory to create a brilliant look.
You'll love to get your hands on Kate Spade's Twirl Clutch, a head-turning number bedecked in gold sequins with gold bauble closure—it's sure to be the life of any party. The same is true for Trina Turk's sensational disco ball ring. Or opt for an elegant look with Wendi Grant's vintage-inspired, multi-strand necklace with shimmering accents.
This season, Louis Vuitton puts a twist on its classic Monogram canvas motif with black sequins, a sophisticated option for holiday charity events. We also love Tory Burch's Katie black leather ballet flats with knot accent at the vamp and platinum glitter fabric at the toe—a festive take on the classic flat.
Happily Ever After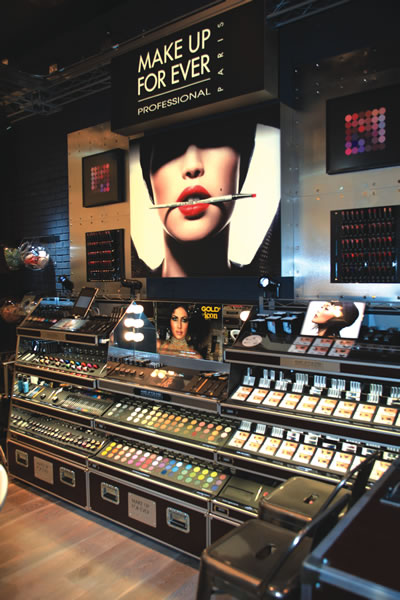 Make Up Forever comes to South Coast Plaza.– By Jeanette Calo
The go-to brand for industry insiders and beauty buffs has arrived at South Coast Plaza. As if going to Sephora wasn't already temptation enough, Make Up For Ever has opened a boutique within the store.
One of three locations in the country, the new Make Up For Ever Boutique & Studios is designed to be reminiscent of a backstage environment, complete with studio makeup stations and lighting. In addition to having a separate entrance from the main Sephora store, the boutique is stocked with more than 1,200 products—including iconic and professional-only items and special effects products—and is staffed by employees trained at the Make Up For Ever Academy in Paris.
The boutique also offers studio makeup lessons, from "Lip Technique Basics: The Longest Lasting Lip" to "Iconic Eyes: 1960s Eye Make Up." It's equipped with iPads to provide links for how-to-videos and allow customers to post on-the-go updates to social networking sites. And an interactive touch screen allows staff to create customized makeup designs and face charts that can be e-mailed directly to their clients.
With an Eye Shadow Station featuring the brand's entire range
of shadows for customized palettes, it's truly a beauty buff's
happily-ever-after.
Winter Warmth
Cozy up with a wonderland of choices. – By Cynthia Rupe
This winter, wrap yourself with delectable outerwear choices in structured style. Whether you prefer trench, wrapped-waist, toggled-ties or fur, you're sure to find a statement coat you adore. It's all about color with Tory Burch's Darcy coat in stunning variegated blue hues. Infuse a boho feel into your outerwear with cozy shearling styles, all the rage this season. And camel is, of course, a revisited classic this season. We adore Prada's Donna Camel Coat, which offers a classic-retro vibe, à la '60s icon and Warhol-muse, Edie Sedgwick.
Dare to step out in fresh winter white, which always makes a bold statement, such as Elie Tahari's Neve coat, a fur-trimmed stunner with black buttons and skinny belt. And you can't go wrong with classic black or grey, such as Louis Vuitton's classic ebony wool and cashmere overcoat. But our favorite coat styles this fall? Gorgeous plaids and prints! Prada delivers with a unique variety of plaid and print coat styles in bold blues, reds and black—all which will have you begging for chilly Newport nights.