Hit the slopes this winter at some of the best destinations from California to Canada. -By Eugene Buchanan
Come winter, there's more on locals' minds than surfing, bicycling and golf. Many residents ditch their board shorts, cruiser bikes and clubs to hit the high country for skiing and snowboarding. Even the school district gets the fever, closing for "ski week" every President's Day weekend.  Thanks to Southern California's trademark weather, you have to travel a bit to find snow. Luckily, five major airports make it easy to get to the slopes from the seashore. Here, we highlight a few top picks for a snowy getaway.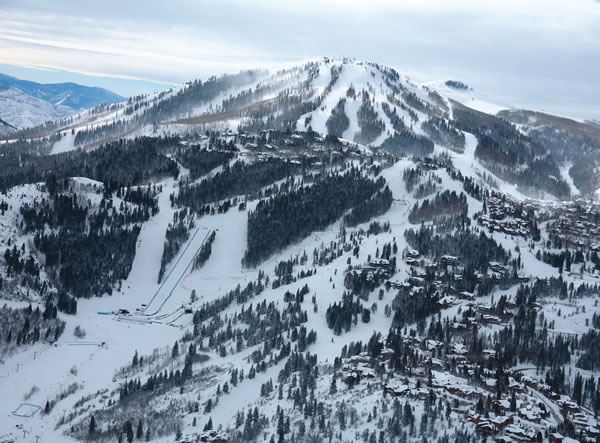 Killer deals: Save up to 25 percent on lodging and tickets with the "Exceptional Value Package," valid at various times throughout the season.
Local knowledge: Try the Snow Park Lodge's seafood buffet, offering everything from fresh sushi to chilled shellfish.
Après: Warm your innards at the new High West whiskey distillery.
More info: 800-558-3337; deervalley.com
Utah
Deer Valley
There's a reason Ski magazine has named Deer Valley its number one ski resort for the last three years. Its 21 lifts—including 12 high-speed quads—service 100 trails and six different bowls, all regularly blanketed by more than 300 inches of Wasatch fluff a year. It's all spread out among 2,026 acres, six bowls and 3,000 feet of vertical. While beginners might relish in the Wide West region on 8,400-foot Bald Eagle Mountain, advanced skiers can schuss runs that hosted the 2002 Olympics, including Know You Don't, site of the slalom events. For trees, hit Sunset Glade off Bald Mountain, and for steeps try Daly Chutes off Empire Mountain or Ontario Bowl on Flagstaff.
Deer Valley Deluxe
Prop your feet up at two new luxurious ski in/ski out lodges in Deer Valley. Opened last December, the Montage Deer Valley is adjacent to three high-speed chair lifts and offers 154 guest rooms and 66 suites and residences from one to four bedrooms, all with private stone fireplaces. Best yet, it boasts a 35,000-square-foot spa with wellness programs and fitness center (866-601-9044; montagedeervalley.com).  Barely a year old, The St. Regis Deer Crest Resort—located on Deer Valley's Deer Hollow run—offers expansive views of the Wasatch Range from 181 guest rooms and 67 suites, complete with private balconies and fireplaces. Pamper your legs after a day on the slopes in a split-level infinity swimming pool and adjacent hot tubs, or at the Remède Spa, where a hot-stone massage will keep you reflecting on that perfect turn (435-940-5700; stregisdeercrest.com).
California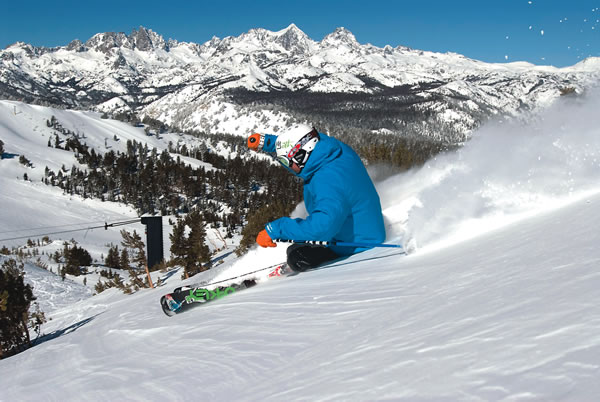 Mammoth Mountain
With flights twice daily from LAX, Mammoth Mountain offers some of the most accessible schussing to SoCal. It's also one of the biggest resorts in the country, serving up 3,500 acres of Sierra skiing and riding, all with 400 inches of snow and 300 days of sunshine a year. More numbers: Its 3,100 feet of vertical is spread over 150 trails, spelling crowd-free slopes and untracked snow days after a storm. Helping you access it all are 28 lifts, including nine high-speed quads, two high-speed six-packs and three high-speed gondolas—enough to melt your legs by noon. To get your huck on, head to one of seven terrain parks. For steeps, try Huevos Grande or Wipeout chutes. If you chicken out, you can always return; it has the longest season in California, often lasting through the Fourth of July.
Killer deals: Purchase "January Midweek Madness" tickets online, and look for special lift and lodging packages.
Local knowledge: Park at the base of Stump Alley Express or in town, and take a free public bus to the village.
Après: Warm up by an outdoor fire pit near Hyde Lounge or head to Whiskey Creek, home of Mammoth Brewing Co.
More info: 800-626-6684; mammothmountain.com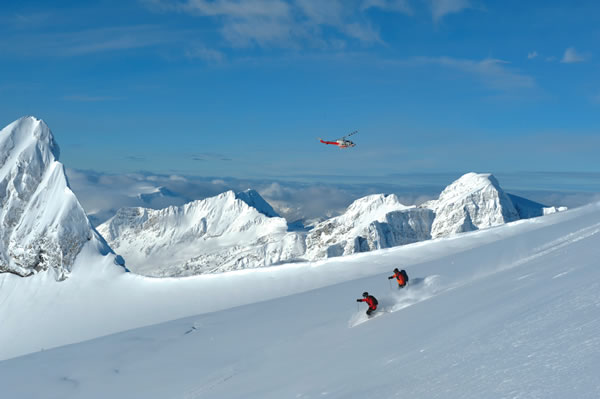 Heli-skiing Destinations
Want to travel by rotor instead of chair lift and shred untracked powder on every run? Then take to the skies with helicopter skiing, also known as heli-skiing. Head to one of these outfits and take your skiing and riding to a whole new level.
Ruby Mountains Heli-Experience
Nevada might be known for its high-rollers, but to skiers its real jackpot is heli-skiing. For 34 years, Ruby Mountains Heli-Experience has operated out of 95-acre Reds Ranch in Lamoille, half way between Salt Lake City and Reno. Guests stay in a 10,000-square-foot western-style lodge and ski and ride mountains rising to more than 11,000 feet out of the Great Basin foothills. The company operates on more than 200,000 acres featuring everything from wide-open bowls to Alaska-like fall lines. Combine that with its dry desert snow and you can see why many skiers call it the best kept secret in North America.
Details: The three-day, $4,100-ski/ride package includes a double occupancy room, all meals, choice of skis and a guaranteed 39,000 feet of vertical. If weather grounds the bird, they also have a snow cat.775-753-6867, helicopterskiing.com
Wasatch Powderbird Guides
Whirl away in Utah's Wasatch with Wasatch Powderbird Guides, which offers heli-skiing from two different locations—Snowbird and The Canyons—in some of the range's best powder stashes. After taking in views of the Little Matterhorn and Little Cottonwood Canyon, groups enjoy a guide-to-guest ratio of 1:4 and are grouped according to style and ability, so you'll always be matched with like-minded schussers. Whichever location you start from, you'll be whisked away into some of the best backcountry terrain in the lower 48 states.
Details: Save up to $170 by pre-booking, depending on the season. Discounted rates run from $980 per day in December to $1,050 in March for up to seven runs, with additional runs costing $150. Private birds run $6,000 for the first flight hour and $4,000 for each additional.
801-742-2800 : powderbird.com
Canadian Mountain Holidays
Heli-skiing in British Columbia is like surfing in SoCal—hit it right and it doesn't get any better. CMH Heli-Skiing has been operating since 1965 when guide Hans Gmoser invented heli-skiing in the province's Bugaboos. Since then the company has expanded to include 11 heli-ski lodges in the Columbia Mountain Range, with accommodations ranging from in-town hotels to remote backcountry lodges. Choose from trips in the Caribous and Kootenays to the Monashees and Revelstoke. Wherever you go, prepare for some vertical. Three-day trips guarantee 43,000 feet of vertical, while 10-day excursions promise a whopping 142,000 feet.
Details: Choose from a variety of programs, from a four-day excursion with twin bed accommodations in the Kootenays for $5,960, to a seven-day single-bed outing in the Monashees for $10,070.
800-661-0252: canadianmountainholidays.com
Nevada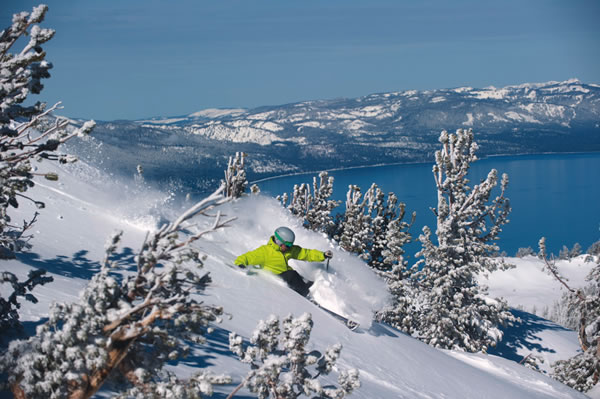 Lake Tahoe
From families to freeskiing world champions, California's Lake Tahoe offers something for everyone. Seven resorts surround North America's second-largest alpine lake, encompassing 20,000 acres, 535 runs and 125 lifts. And it's all within three hours of San Francisco, accessible from John Wayne or Long Beach airports. Couple this with Nevada-style partying, and you might not want to return. Save some energy from your nighttime festivities for the slopes. The resorts—Alpine Meadows, Heavenly, Kirkwood, Mt. Rose, Northstar, Sierra and Squaw Valley—serve up everything from trees and bowls to steeps and terrain parks. For a luxury stay, try the new mid-mountain Ritz-Carlton at Northstar, a gondola-accessed, ski-in/ski-out five-star hotel featuring a 17,000-square-foot spa.
Killer deals: Stays at the Silver Legacy (silverlegacyreno.com) and El Dorado (eldoradoreno.com) casinos start at just $69 per night.
Local knowledge: Carpooling gets you preferred parking and free sponsor goodies.
Après: Swing by the hookah lounge at Opal in the Montbleu casino and dance the night away at Harrah's casino.
More info: 800-588-7669; skilaketahoe.com
Snowbird and Alta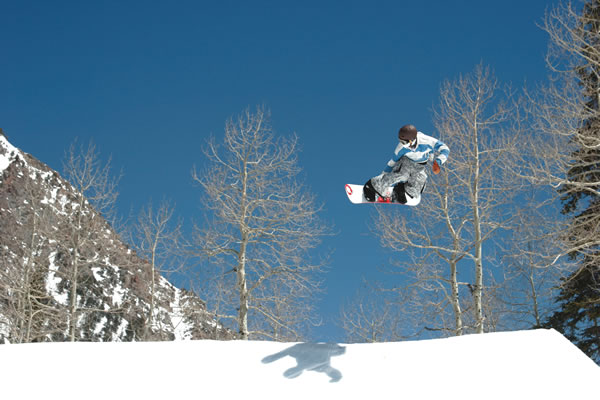 For a true skiing and snowboarding Shangri-La, head to Snowbird and Alta in Utah's Little Cottonwood Canyon. Both get more than 500 inches of powder a year, thanks to the lake-effect snow of nearby Great Salt Lake. The resorts offer some of the best terrain on the planet and are just 29 miles from the Salt Lake airport. To sample Snowbird's 2,500 acres and 3,240 feet of vertical, start on the 125-person tram, which whisks you to the top of Hidden Peak in seven minutes. Depending on the snow, hit either Gad Valley or drop off of the Cirque Traverse wherever you dare (try Great Scott). You can even take a George-Jetson-like conveyor belt through a tunnel to Mineral Basin. Get your extreme game on at 2,200-acre Alta by hiking Baldy Chutes (if they're open), or traverse over from the Sugarloaf lift to Devil's Castle. Later, lap the Supreme and Wildcat lifts until your quads can't take it any more.
Killer deals: Both resorts offer special packages including room, ticket and airport shuttle. (Keep in mind that $85 dual tickets are good at Alta and Snowbird, while $72 Tram or $62 chair-only tickets are valid at Snowbird only.)
Local knowledge:Snowbird: To avoid getting squished, enter the tram last and try to snag a spot by the window.
Alta: Teach a child or friend on Alta's rope tows, which are free all day long, then move over to the Sunnyside lift, where you can ski free after 3 p.m. every day.
Après: It's Utah, not Reno, so lower your libation expectations. Sample microbrews at the Tram Club in Snowbird, or munch nachos at the Alta Lodge while staring up at High Rustler.Snowbird: 800-232-9542;
snowbird.com  Alta: 801-359-1078, alta.com
Colorado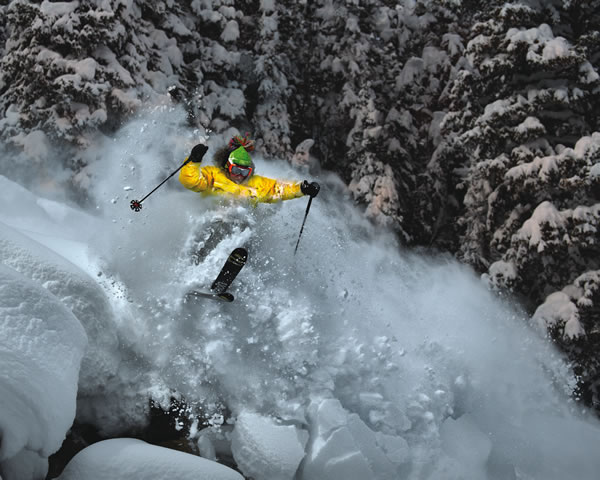 Vail and Beaver Creek
It's easy to see why sister resorts Vail and Beaver Creek were recently selected to host the 2015 World Alpine Ski Championship. Together they serve up more than 7,000 acres (5,289 and 1,815, respectively) of prime Colorado skiing and riding. And getting to each is easy: Fly direct to Eagle County Airport from LAX, or fly to Denver International Airport and hop on the resort-owned Colorado Mountain Express shuttle, offering door-to-door transportation.
Celebrating its 30th anniversary, Beaver Creek prides itself on its pampering, from hosting free daily "Cookie Time"—warm, fresh-baked chocolate chip cookies served at 3 p.m.—and "Disco Skate Night" to having a fleet of ambassadors on hand to answer questions and show you the best lines. Last year it earned its fifth consecutive "Best Overall Guest Service Program" award from the National Ski Areas Association. Bonus: Hit it Dec. 3 – 5 for the annual Birds of Prey World Cup, the only domestic stop on the men's racing tour.  At Vail, prepare your legs for a burn in the back bowls. The Sun Up and Sun Down bowls will be serviced with the new High Noon Express lift this year, carrying 70 percent more guests per hour in half the ride time. If you're with children, ride up the Eagle Bahn Gondola to Vail's Adventure Ridge and turn them loose on a rebound trampoline and new tubing hill, as well as ski biking by headlamp.
Killer deals: For $619, the Epic Pass (epicpass.com) provides unlimited skiing at Vail, Beaver Creek, Breckenridge, Keystone and Arapahoe Basin, as well as Heavenly Valley in California. The Epic 7-Pack ($469) provides seven unrestricted days at the same six mountains. Another hint: Look for "book by" dates on the website.
Local knowledge:
Beaver Creek: For powder, head to the Stone Creek Chutes and then make your way to Grouse Mountain. Also, ski Golden Eagle on Saturday morning; the World Cup run is groomed every Friday night. Ride the Riverfront Gondola in Avon to skip the buses.
Vail: Start at Golden Peak, head to Blue Sky Basin and then work back to the front side across the mountain to stay ahead of the crowds.
Après:
Beaver Creek: Head to the new Mamie's Mountain Grill atop Bachelor Gulch for do-it-yourself grilling and microbrews; or the Osprey Lounge for lobster nachos and fried Snickers.
Vail: Hit the new Tavern on the Square in The Arrabelle at Vail Square for live music and appetizers like elk quesadillas and lobster mac n' cheese.
Beaver Creek: 800-842-8062; beavercreek.com
Vail: 800-805-2457; vail.com
Canada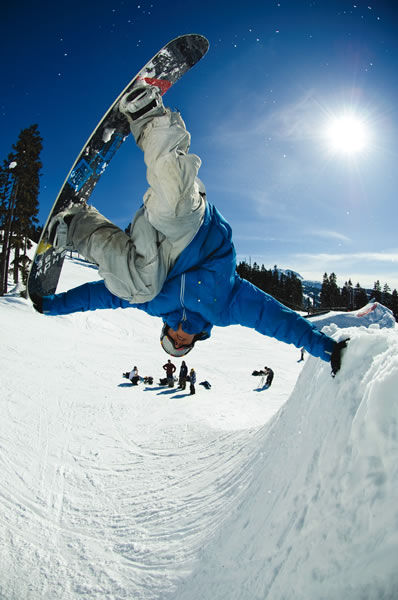 Whistler Blackcomb
With more than 8,100 acres, a vertical mile of relief, three glaciers, 12 alpine bowls and 200 trails, Whistler and Blackcomb feel as vast as the Pacific Ocean. That makes the hard part deciding where to go. Both 2010 Olympic hosts get plastered with more than 400 inches of snow each year, and offer terrain from knee-buckling couloirs to mirror-smooth groomers. Luckily, it's easy to hit both resorts. The new PEAK 2 PEAK gondola—the world's highest and longest—connects the peaks with an 11-minute ride across the valley floor. On the Whistler side, check out the terrain off the Fitzsimmons Express lift and Whistler Peak. At Blackcomb, take the short hike to Blackcomb Glacier to carve up an ancient icefield.
Killer deals: Check the web for special four-night, three-day lift and lodging packages starting at just $170 per night.
Local knowledge: The "Fresh Tracks" program (meets at Whistler Village Gondola at 6:45 a.m.) secures you early powder privileges and a breakfast buffet at the Roundhouse Lodge.
Après: Three words: Garibaldi Lift Co. (GLC), ranked North America's best mountain bar by Skiing magazine.
More info: 888-403-4727; whistlerblackcomb.com