Our guest columnist, a member of Surfrider Foundation,  suggests banning plastic bags in Newport Beach.
By Jessie Painter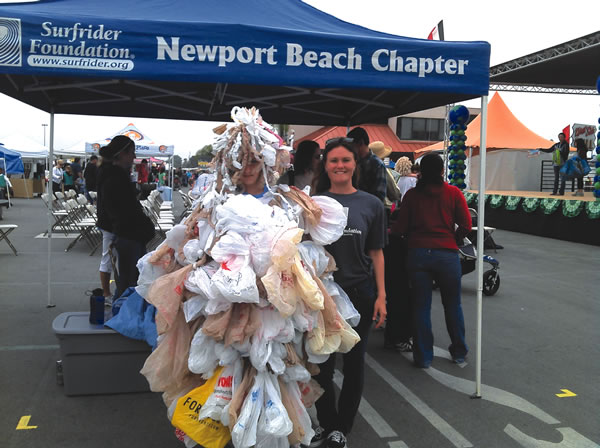 Plastic bags are relatively cheap and most certainly convenient, but they come at a great cost to our environment, and therefore, us. Being lightweight, plastic bags consequently fly away from landfills, settling into storm drains and beaches, and end up in our ocean. Ninety percent of the waste in the ocean is plastic—mostly plastic bags. This should be on the forefront of concern for coastal cities. We live on the coast to enjoy it, and our economy relies on the health of the ocean and beaches.
Many cities are starting to catch on and are banning the use of plastic bags. Of the 20 cities in California to pass a bag ban, two of them—Laguna Beach and Dana Point—are in Orange County. As Rise Above Plastics coordinator for Surfrider Foundation, Bill Hickman says, "There seems to be a groundswell of cities pursuing bans, and I think many more will come on board in the next few years."  So, why not in Newport Beach?
As the term "bag ban" has become more of a hot topic, the public is being pushed and pulled in many directions. As consumers are ditching single-use plastic bags and opting for reusable ones, producers of plastic bags have responded. The American Chemistry Council, a lead manufacturer of plastic, has endorsed signs around OC that read: "Plastics. Too valuable to waste. Recycle." Bins outside of grocery stores encourage consumers to recycle plastic bags, which gives them the feeling that they are being responsible. However, it is estimated that less than 3 percent of all plastic bags are recycled in California. Where the rest of the bags go is the problem at hand. "We are only seeing the tip of the iceberg," says Darrel Ferguson, vice chair of the Newport Beach Surfrider Foundation. "If the public could see half of the damage that plastic bags are doing, it wouldn't even be a debate. People would stop using them." But as evidence of plastic bag pollution is surmounting, communities are catching on.
The problem with plastic bags isn't that they don't break down; the problem is that they do.  Undergoing a process called photodegradation, plastics become tiny particles and turn into a plastic soup. These particles are mistaken as plankton and consumed by fish and other marine life. An estimated 100 million marine animals die each year from plastic consumption. A study by the Scripps Institute found plastic to outnumber plankton 7:1 in some cases, and fish in the North Pacific ingest up to 24,000 tons of plastic a year. A study published by the online research journal, ScienceDirect, found that plastic particles can also act as a magnet to toxins like DDT and BPA. Therefore, much of the plastic ingested by fish could also be contaminated.
One common sentiment I have encountered is disdain for the term "ban." When something is banned, people feel stripped of a freedom that they once had. But choosing reusable bags is a freedom you can feel good about. As Dana Point Councilman Scott Schoeffel states, "Our environment is our business." With the popularity of green tourism on the rise and the pride we take in our oceans and beaches, Newport Beach can be a leader on this issue. Cities that have passed bag bans have been backed by strong community support. Bag-free is the way to be. So Newport Beach, why not? NBM
We want to hear from you! Is there something you've seen in another city that you'd like to see in Newport Beach? If you're interested in being our next guest columnist, send your idea to edit@newportbeachmagazine.com.