SHAKESPEARE BY THE SEA TRANSFORMS OPEN PARKS INTO THEATRICAL ARENAS AS IT TRAVELS ACROSS SOUTHERN CALIFORNIA EACH SUMMER, HITTING NEWPORT BEACH IN JULY.
By Peter A Balaskas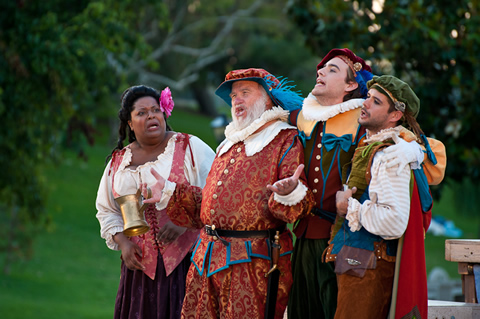 For more than 15 years, Shakespeare by the Sea (SBTS) has brought a special type of theatrical magic to the Newport Beach community, offering the highest quality Shakespearean productions while beautiful outdoor scenery serves as its backdrop. According to Lisa Coffi, producing artistic director of the nonprofit touring company, what has helped SBTS's longevity is the dedication of her volunteer staff and the loyalty of her Southern California patrons, including those in Newport. "[The] goal with our summer Shakespeare program … is to present work that is both spectacular and profound in neighborhood communities," she explains. "We provide opportunities for residents and visitors to come together to enjoy beautifully crafted timeless tales, with completely ticketless admission, for a priceless community experience."
SBTS's 2014 season will present two of the Bard's most popular works: "A Midsummer Night's Dream," a raucous comedy involving magically confused lovers and fairies, and "Hamlet," the classic tragedy centered on the revenge between the titular character and his uncle. The Newport Beach performances (July 19-20) take place at the expansive Bonita Canyon Sports Park at the corner of Ford Road and San Miguel Drive, where patrons can camp out on the grassy lawns between the baseball fields.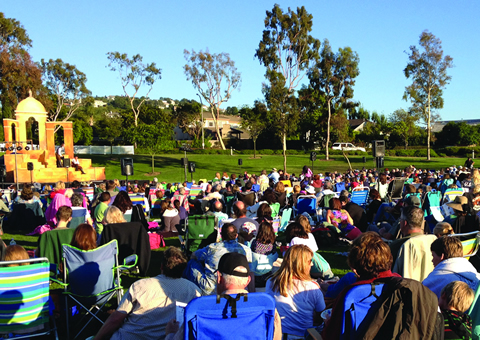 Lisa encourages people to come early—around 5 p.m.—and watch the actors and production personnel unload the sets and technical gear from their 15-foot box truck. The audience can see the theater group assemble the entire set, build the dressing rooms and hook up all the lighting and sound equipment within an hour. By 6 p.m., the music begins and everyone can continue to claim their places on the grass, bringing with them their own blankets, chairs, food baskets and other picnic items. A few of the actors then appear on stage around 6:15 p.m. to sell raffle tickets.
A concession booth before the show and during the 15-minute intermission sells coffee, hot chocolate, soda, water and a variety of snacks. There is also a gift booth selling T-shirts, sweatshirts and other SBTS memorabilia, including playbills. Promptly at 7 p.m., the play begins, and is scheduled to conclude by 9 p.m. To ensure an engaging experience for all ages, the plays presented by SBTS have been edited down to a one hour and 45 minute run time—no exceptions.
Lisa says that Newport Beach has consistently shown its support for the program. The combination of the summer weather and the city's picturesque scenery brings dynamic, creative "electricity" for the actors and production staff. It also helps that Newport produces one of the largest audience turnouts—approximately 1,000 people per night—proving that Shakespeare possesses a timeless charm that appeals to all ages and cultural tastes.
"… Shakespeare was successful because he wrote plays with universal themes—love, hatred, jealously [and] joy," she says. "It's our job to make sure those themes are present in the production, … to portray and convey a central [idea] that everyone can relate to."
Lisa's decision to produce ticket-free, public Shakespearean plays originated in 1998 when she created SBTS as part of her thesis project at California State University, Long Beach. After garnering an audience of approximately 3,000 people for its debut in San Pedro, SBTS proved itself as a viable touring theater company and began producing two Shakespeare plays every summer thereafter at more than 20 locations across Southern California. To recoup expenses, SBTS receives a majority of its funding from grants, sponsorships and personal donations, including small stipends offered by the cities where it performs.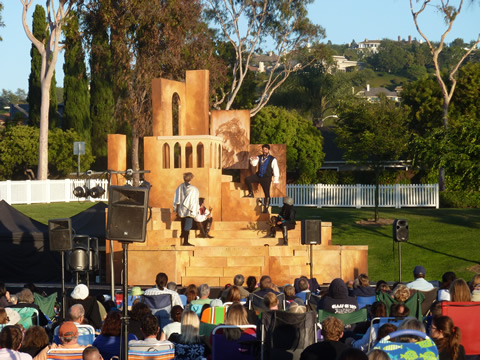 Looking forward, Lisa hopes to add a third show and a summer youth program to the regular season. As long as there are supportive local businesses and city representatives who share a passion for quality work, this is a likely possibility as SBTS continues to grow. And according to Jana Barbier, the former cultural arts coordinator for Newport Beach who resigned last year, the theater company is a welcome addition to the performing arts scene in the city. As she's said to Lisa in the past, "[SBTS] provide[s] a great interactive experience for the audience and make[s] Shakespeare something accessible for the average person."