Fresh Fare at Pelican Hill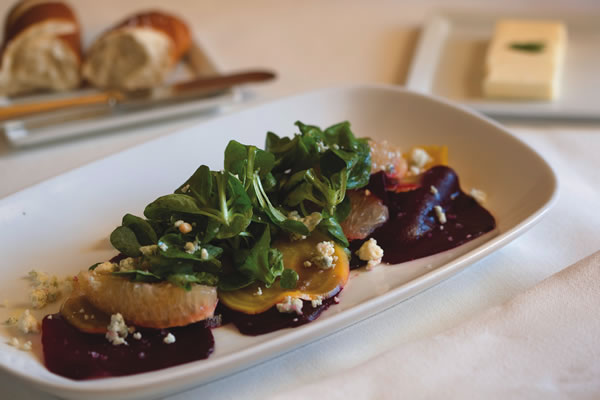 Autumn got a late start in Orange County this year, but at Newport restaurants, there's still plenty of time to sample the fresh fall bounty. With a menu available through mid-January, the Coliseum Pool & Grill at The Resort at Pelican Hill brings fall into winter, offering plates that feature an array of seasonal produce from the Irvine Ranch.
Chef Marc Osier says more than three-quarters of the resort's vegetables come from the Irvine Ranch, with seasonal staples including squash, avocados, zucchini, beets, heirloom tomatoes and even strawberries. One must-try dish is the beet salad, featuring golden yellow and deep red beets complemented by arugula, apple, goat cheese and a balsamic reduction. Subtly sweet and refreshing, it's an ideal way to sample the season's best without the heaviness of typical fall/winter dishes. Other seasonal items: a grilled Meyer lemon and vanilla marinated Chilean sea bass, and a flight of desserts in rich, comforting flavors—if you're not tired of pumpkin, try the restaurant's spin on pumpkin cake layered in a petite glass.
Paired with a gorgeous sunset and views of the pool and golf course, a meal at Coliseum Pool & Grill offers a taste of the summer resort life perfectly suited for a Newport December day. (800-820-6800; pelicanhill.com) —A.H.
New Cafe Slides into Balboa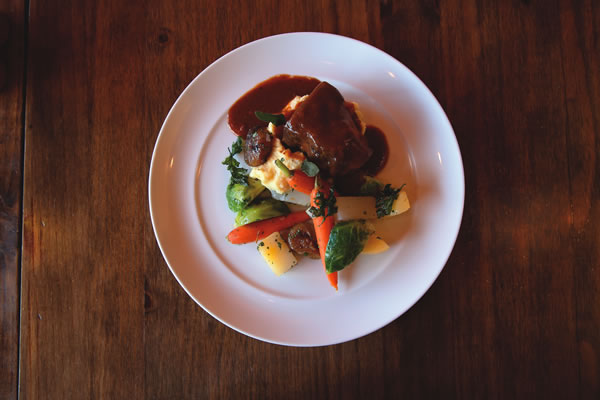 The Sliding Door Cafe and Bakery opened its doors Oct. 7 on Balboa Peninsula, bringing locals a new place to enjoy American food with a contemporary twist. The full-service restaurant offers a lunch and dinner menu featuring main course options like cabernet-braised short ribs and pan-roasted organic salmon, as well as the usual sandwiches, soups and salads. The in-house bakery provides a diverse dessert menu, including brownies, tarts and cheesecake. The cafe's co-owners, engaged couple Natalie Sarle and Kevin Cahalan, were childhood friends in New York who reconnected in California, opening the cafe in the span of a few months.
"It [has] seasonal comfort food," Kevin says of the menu. "I wanted to make food that people crave. It would be what your mom would make if she had a CIA (Culinary Institute of America) degree and 24 years of experience."
The small interior, big wooden tables and laid-back atmosphere make it the perfect place to relax with neighbors. The cafe also offers a take-out option, popular among customers headed out for a day of boating. (949-673-7173; theslidingdoorcafe.com) —A.R.