In a beach town like Newport, swimwear never goes out of style. Whether you choose function, fashion or something in between, this year's versatile swim styles and cover-ups allow you to lounge on the shore or play in the waves while looking great all summer long. Here's a preview of this season's hottest trends.
Bohemian Glam
Last year's bohemian aesthetic is still going strong, but Brit Barber, founder of the popular BeachCandy boutique in Corona del Mar, says it's receiving a glamorous update thanks to sparkly embellishments and body jewelry. Using a strappy suit as a base, she recommends adding a hint of sparkle with sandals and lightweight chandelier earrings.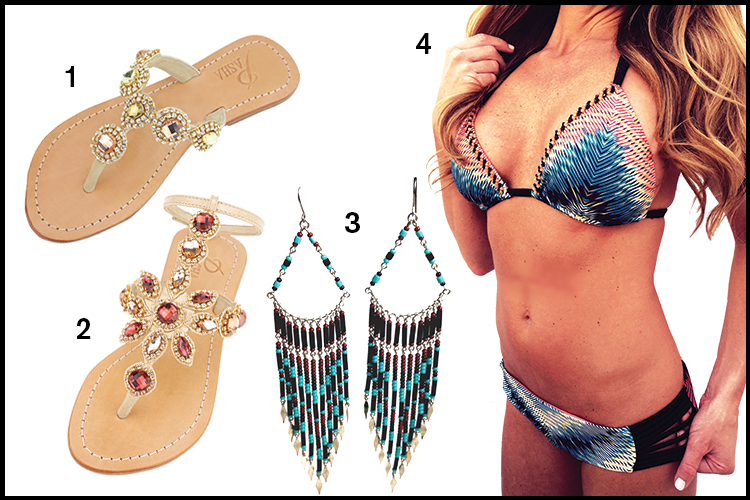 (1) Pasha Hisingen crystal sandal, $206. (2) Pasha Mylos crystal sandal, $206. (3) Turquoise native earrings, $24. (4) Mandy T-back triangle top, $295, and multistrap hipster bottom, $98. All at BeachCandy, Corona del Mar (949-640-0988; beachcandyswimwear.com)
Pattern Play
There's also a shift toward tropical prints—and with so many patterns and textures around, don't just choose one. A bikini in a bold, summery print like pineapples and palm trees looks great under a pair of intricate crochet pants, and accessories like straw fedoras are fun additions to amp up a traditional beach style. Brit suggests mixing textures and embellishments to add a touch of whimsy for a funky beach look.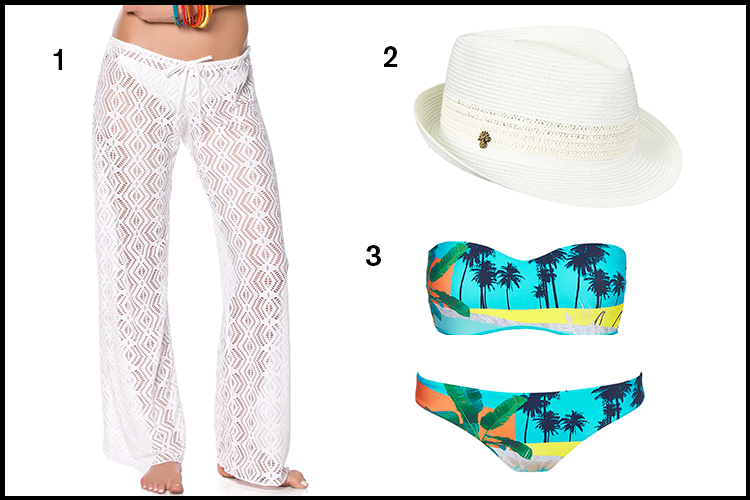 (1) Becca by Rebecca Virtue white crochet pants, $72, at Everything But Water, South Coast Plaza (714-540-8523; everythingbutwater.com). (2) Tommy Bahama fedora with woven stripes, $68, at Tommy Bahama, Corona del Mar Plaza (949-760-1886; tommybahama.com). (3) Poolside bandeau bustier bikini top, $102, and hipster bikini pant, $72, at Seafolly, Fashion Island (949-706-7690; seafolly.com).
Sporty Chic
Sporty swimwear is seeing a surge in popularity courtesy of ocean-centric activities like stand-up paddleboarding. A higher-cut top and well-fitting bottom keep everything in place, while a hefty beach tote can carry a towel, scuba gear and healthy snacks. Complete the look with a breezy cover-up (think a men's-style shirt) that offers versatility on and off the sand.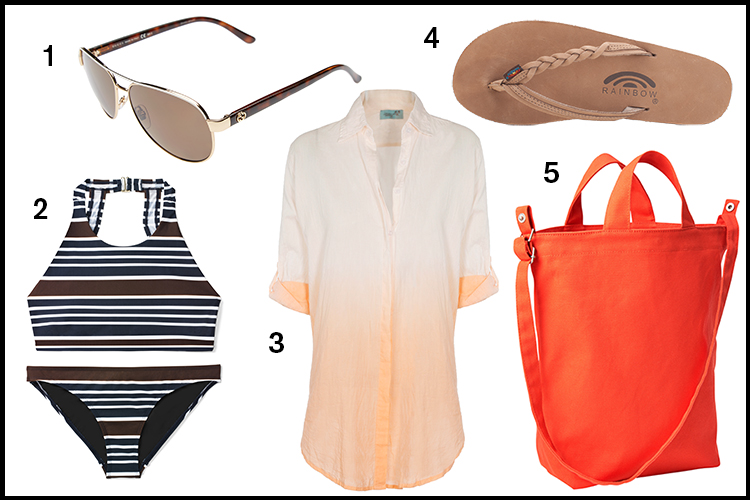 (1) Gucci polarized aviator sunglasses, $395, at Nordstrom, Fashion Island (949-610-0700; nordstrom.com). (2) Tory Burch high-neck stripe top, $115, and stripe bottom, $95, at Tory Burch, South Coast Plaza (714-689-0450; toryburch.com). (3) Ombre beach shirt, $184, at Letarte, Fashion Island (949-706-9182; letarteswimwear.com). (4) Rainbow Sandals braided leather flip-flop, $52, at Dick's Sporting Goods, Fashion Island (949-640-1107; dickssportinggoods.com). (5) Baggu Duck Bag recycled canvas tote, $26, at Athleta, Fashion Island (949-717-6650; athleta.com).
—Bria Balliet