Two years ago, a junior lifeguard program launched at Crystal Cove with the help of Schuyler Kirby, a California State Parks lifeguard supervisor. Now in its third year, the six-week program attracts as many as 300 kids each summer. Programs like this one, as well as the Newport Beach Junior Lifeguards, teach children essential skills and techniques for aquatic safety and physical fitness.
Kirby, who helped the Crystal Cove Junior Lifeguards more than double since its first year, shares some ocean safety tips for families to make the most of a day at the beach.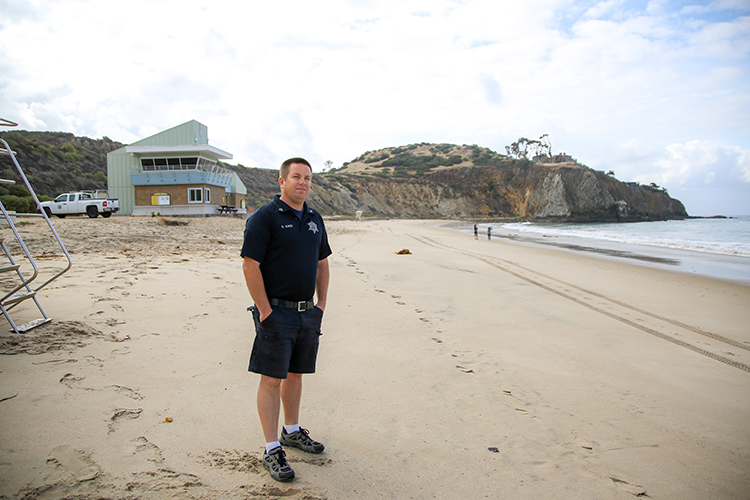 Newport Beach Magazine: What should children who are first-time ocean swimmers know in order to get acclimated?
Schuyler Kirby: Get an understanding of the way waves feel before … diving on in. When they do show up at the beach, the first thing they [should] do is put their stuff down by a lifeguard and talk to them to get an idea what conditions are.
What are some precautions to avoid getting stung by a stingray?
SK: As the water temperature rises in the summer, stingrays are commonly seen in shallow areas. Children are more likely to prevent stepping on one by shuffling their feet. This motion kicks up sand and scares the stingrays away.
What should you do if a child is stung by a stingray?
SK: The best treatment is hot water. Fill a bucket with water as hot as the person can stand and have them place their foot in it until the pain diminishes. It is also important to clean the wound at home to prevent infection.
One type of water activity to worry about by beaches is a rip current. How can children spot these as they're swimming?
SK: Rip currents are often recognizable by their brown, murky color due to churned up sand. When someone is in a rip current, they will feel the water pulling them straight out from shore. The river-like current causes the waves to stop breaking in the area. Without knowledge of rip currents, they may seem like a safe place to swim due to the lack of waves.
What should they do if they do get caught in a rip current?
SK: When a swimmer is already in a rip current, it is best to swim parallel to shore, out of the rip and straight into shore. Swimming straight in is often the first instinct; however, the swimmer is going against a strong force and may tire out and become unable to reach the shore.
What can kids do that will prepare them for a junior lifeguard program?
SK: There [are] a lot of exercises and activities done through normal recreational activities, whether you are playing a game on the beach—like running, soccer, volleyball—or playing with parents; just get outside and … play as much as you can.
—By Peter A. Balaskas