Back Bay Bistro serves up creative cuisine in an unparalleled setting.– By Jeanette Calo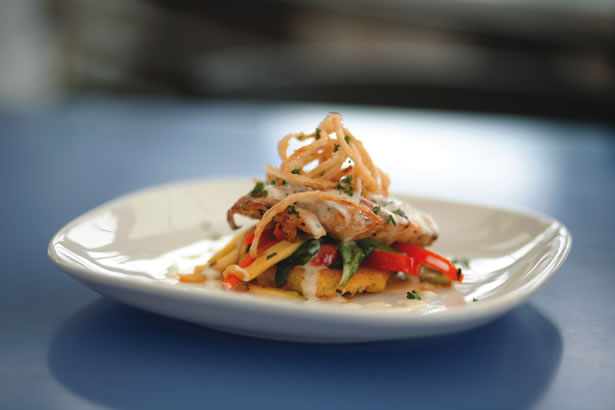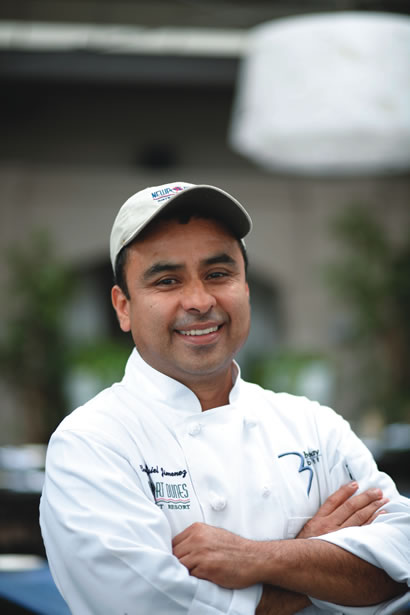 Many Newport restaurants can boast an ocean view, but few can claim the vista of Back Bay Bistro. Tucked into the back of Newport Dunes Waterfront Resort, the casual-but-elegant restaurant looks out on Upper Newport Bay, providing the perfect foreground to a spectacular background. Outside, the wraparound patio is a pet-friendly place to dine al fresco and watch other patrons dock their yachts. Inside, a bar lining the floor-to-ceiling windows faces west, allowing diners to admire fiery sunsets while they sip mojitos, Bloody Marys, Long Island iced teas and creative concoctions like the Lava Flow, a mix of piña colada and daiquiri.
And creative is just what the restaurant is striving for—while it serves delicious soups, salads and sandwiches, the menu is intended to go beyond the typical bistro menu."I like to look for new ideas," says Executive Chef Daniel Jimenez, who has been at the bistro for 21 years. "In my free time, I always look for something. I like to be creative."
Originally from Acapulco, Mexico, Daniel has been cooking since he was a child."The place where I come from [in Mexico] is close to the ocean, so I love seafood," he says. "We used to go fishing and cook tilapia on an open flame."
Daniel handles seafood well, as evident in his lobster bisque—a buttery blend made with aged sherry—and in his award-winning seafood chowder, a hearty combination of shrimp, tuna, clams and bacon. There are several tempting salads on the menu, but a must-try is the Greek Ahi Salad, a fall special featuring seared tuna. Also on the fall special menu is marinated fresh mahi mahi, served on top of a cheese polenta cake and nuanced with citrus cream sauce. Other menu favorites include Kobe beef sliders, seafood pasta, macadamia nut crusted halibut, shrimp and lobster cakes, and the "pasta your way," which offers mix-and-match options for pasta, sauce and protein.
The extensive wine list is impressive for a bistro. The restaurant offers 25 wines by the glass and 75 by the bottle, all representing a wide range of vintages, terroirs and price ranges. The resort-style cocktail list also includes 11 specialty ice cream drinks in which to indulge. Speaking of indulgence, Back Bay offers plenty of treats to satisfy every sweet tooth, from Manhattan-style cheesecake and double chocolate espresso brownies to Chocolate Thunder, an enormous slice of chocolate cake that serves four people. A favorite is the Banana Delight, fried bananas and vanilla ice cream presented in a chic martini glass.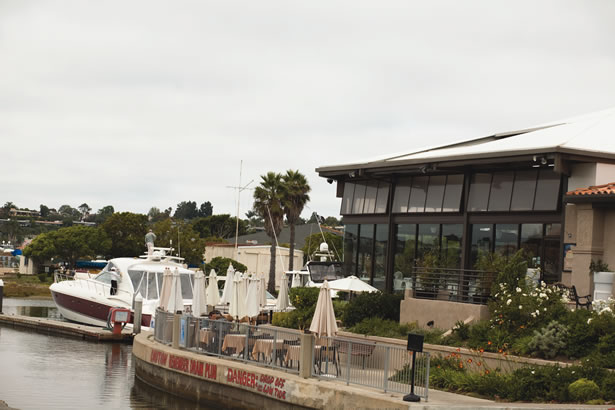 The bistro is busiest during its Sunday Champagne Brunch, for which the restaurant "pulls out all the stops," according to Manager Thomas Jackson. Highlights of this buffet include live music, unlimited sparkling wine, king crab legs and—the kids will love this—a chocolate fountain, all for $27.95 a person. A popular site for weddings, the atrium-style dining room also boasts a retractable roof for enjoying warm days and clear evenings.
"At night, we turn the heaters on and the guests can see the stars," Thomas says.Back Bay Bistro serves lunch Tuesday to Sunday, dinner Thursday to Sunday, and breakfast and brunch on Saturday and Sunday.  E