Months of planning, hours of hard work and thousands of lights go into creating the winning entries at the Newport Beach Christmas Boat Parade. -By Bruce Porter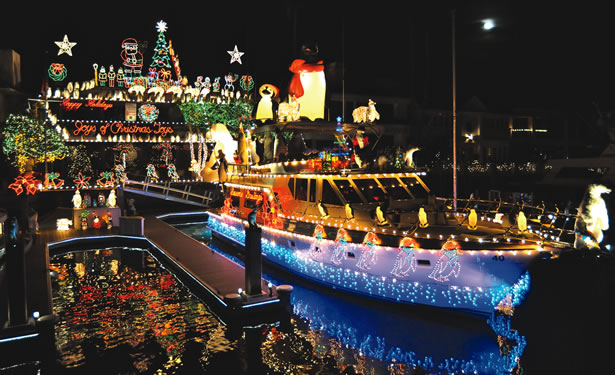 Nothing lights the holiday festivities more brightly than the Newport Beach Christmas Boat Parade. More than a century after a lone gondola adorned with Japanese lanterns crossed the bay, the tradition has grown in size and scope to the sensational spectacle it is today. Last year, a million visitors from around the globe were drawn to the wonderfully decorated harbor homes and more than 100 vessels—from homemade wooden dinghies to magnificent luxury yachts—all taking part in a "Joys of Christmas Toys"-themed extravaganza.
"All the boats in the parade put a lot of time and thought into it," Linda Isle resident Mary Raymond says.
And she should know. Mary and her husband Carl's "Penguin House" display has won the top "Overall Sweepstakes" award three years in a row. "People love it," she comments. "It's a friendly competition for those who live on Balboa Island, with thousands of people coming down to look at the lights. It's fun and festive, and in hard times you need something like this. That's why we do it."
Carl and Mary rent three storage units to warehouse their massive amount of decorations during the off-season. Then, as soon as the Christmas season arrives, two electricians work for four weeks straight to assemble the 300 penguins and polar bears that go into making their house and 55-foot yacht, the Capricious, into award-winning entries. "We've converted to LED lights, so we're not taking everyone's electricity," Mary adds with a chuckle. "It's all pretty elaborate."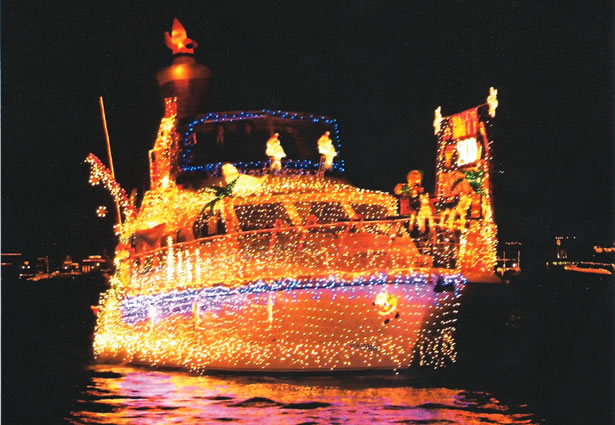 Winning Ideas
Many boat paraders draw on their professional skills and talents to make their efforts stand out. "I do my own designs," says Arman Muratyan, owner of Herb's Garage in Costa Mesa. He makes the most of the spare materials from around his auto mechanic shop. He cuts, bends and welds exhaust pipes to form large Christmas trees and other holiday-inspired shapes. Arman and his 18-year-old son Daron work an evening shift, from 4 to 9 p.m., five days a week for almost a month, to ready their boat for the big event.
Arman, who has decorated his boat, the My Bebek, nearly every year since moving to Newport Dunes 24 years ago, says the decorations have become increasingly sophisticated. "I think about it nonstop," he says. The deck of his motor yacht is an impressive winter wonderland, with white lights draped over the sides to create the illusion of snowflakes falling onto the surface of the water. Daron and his girlfriend dance to the beats of a hired D.J. for an added measure of pizzazz. Going the extra mile has paid handsome dividends with the judges. My Bebek has scored a podium finish for three years straight, including first place in the 2008 "Best Powerboat" category.
Peter Barbour also exploits his business acumen, transforming an unassuming 11-foot utility boat into one of the most widely admired marvels in the parade. With a background in computer engineering and physics, Peter programs whimsically animated light shows that are displayed in the field of the mainsail. "Last year the theme was Christmas toys, so I decided I was going to have bouncing balls," he says. "I have animation computers on the boat that allow me to synchronize the lights show to music."
Peter's small-but-mighty dinghy, the D25, pulls out all the stops. "The lights are the mainstay of it, but I use different special effects from year to year," explains Peter, who has been competing since 2004. He recreates flames in a fireplace with lights and fans pointed on strands of silk. A theatrical smoke machine for the chimney offers an extra boost of realism. There's a fire engine's rotating beacon on the masthead and an old automobile horn that provides a great sound effect. An oversized Christmas tree, sparkling with green lights, stands in place of the foresail. All of this led the D25 to victory in 2009 in the "Best Special Effects & Animation" category. Peter has also won for "Best Humor & Originality" and "Best Boat Under 30 feet." The complexity of lights, special effects and moving parts presents a challenge, even for someone with Peter's ingenuity. "It was two years ago that I first tried to use the computer lighting controls," he recalls. "The first night out, I was running on my generators and they weren't quite working the way they were supposed to. I was changing parts out as we were going out, trying to solve the problem on the water—so we could put on a good show for everyone. It wasn't what I wanted, but at least we got it fully working the next night."
Accolades and bragging rights aside, Mary, Arman and Peter—and hundreds more—get involved in the Newport Beach Boat Parade because they relish the camaraderie of the holiday season. "It's a lot of fun," Peter says. "What I enjoy the most is hearing the parade viewers along the route. You get to motor 13 miles around the bay each night, and everyone is cheering and waving. You really get caught up in the spirit of the holidays."
The Big Event
This year's theme, "Lights, Camera … Christmas in Newport Beach," is sure to inspire fantastical scenes that reflect the grandeur and glamour of Hollywood. When asked what he has in store for the D25 this year, Peter prefers to keep his plans under wraps. "I came up with an idea, chatting with my neighbors out on the patio, that seems doable in my mind," he says coyly. "It's all top secret, so you'll just have to wait until the parade." The Newport Beach Christmas Boat Parade runs from Dec. 15 – 19. For more information, visit christmasboatparade.com.