Rower Esther Lofgren shares how to get an Olympic workout.
By Somer Flaherty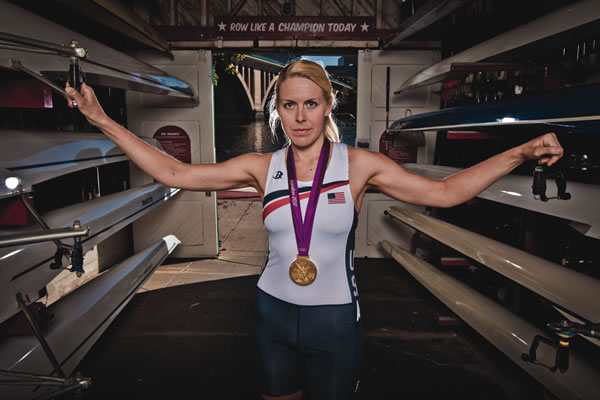 Esther Lofgren grew up in Newport Beach and is the daughter of elite rowers Christine Plapp Lofgren and Karl Lofgren. Her earliest memories include wearing a life vest and eating Cheerios as her parents rowed her around the Long Beach Marina. Fast-forward and now the 6-foot-2-inch Harvard graduate has won gold in the 2012 Olympics in the women's eight, a 2,000-meter race with eight rowers and one coxswain. She also set a world record as part of the women's eight team at the 2012 Samsung World Rowing Cup II.
Newport Beach Magazine: What were your workouts like when you were training for the Olympics?
Esther Lofgren: Generally, rowers focus on building bigger lungs and getting the strongest muscles we can for endurance. Our workouts include rowing—on the water as much as possible, and also on rowing machines—as well as weightlifting, running, cycling, core workouts and yoga.
NBM: What are your workouts like now?
EL: I'm back to training for this year's World [Rowing] Championships. I've been doing road cycling (usually we cycle indoors to avoid the risk of crashing) and running, including running a marathon with zero prep in November, and surprising myself by qualifying for Boston next year! I also started doing CrossFit, which is always both challenging and humbling.
NBM: You're an elite athlete, but what kind of workout can non-Olympians get from rowing?
EL: Rowing literally works out almost every single muscle in your body. Whether you like working out to increase your fitness or to look good, it's a great sport. And the bonus is that you burn the most calories per minute of any machine in the gym! Rowing works your legs, glutes/hips, core and shoulders.
NBM: How can we fit in an effective workout despite a busy schedule?
EL: Spending even 20 to 30 minutes on the rowing machine can be enough time to get an effective workout in. Because it's a full-body workout, it's good to be warmed … so if you just jump on the machine, spend at least three minutes just rowing.
NBM: What do you have to have when working out?
EL: My friend gave me an awesome Waterfi iPod Shuffle that swimmers use. I love it because as sweaty as a workout might get, I'm not going to kill my little Shuffle! Sunglasses are a must for rowers, both for being able to see things out on the water and to trying to keep the crow's feet away. Sunscreen is another big yes, for both vanity and safety.
NBM: What type of workout clothes do you like?
EL: For rowing tops and the rest of my sporting activities, I love Lululemon. For cold-weather gear, Patagonia all the way. I've loved having Patagonia's base layers and warm layering tops.
NBM: What's next for you?
EL: I will row this year for the U.S. and then retire, so I'm currently applying for jobs that will start in the fall of 2013.
What Champions Wear
Get gear fit for an Olympian. 
By Somer Flaherty
| | |
| --- | --- |
| Run Back on Track tank, available at Lululemon, Fashion Island (949-644-9642; lululemon.com). | Waterproof iPod Shuffle by Waterfi, available at waterfi.com (619-438-0058). |
| Spray sunscreen by Kiss My Face, available at Whole Foods, Newport Beach (949-999-8572; wholefoods.com). | |
| | |