Charity pursuits and coastal happenings in Newport Beach
By Newport Beach Magazine Staff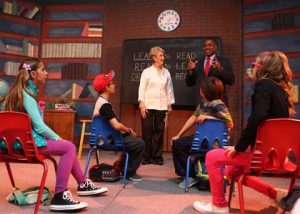 What Dreams Are Made Of Gala
Held Sept. 19 at the Island Hotel, The Literacy Project's What Dreams Are Made Of gala brought together more than 240 supporters and raised approximately $100,000 in support of the organization's efforts to improve the reading skills of at-risk and disadvantaged youth. In addition to dinner and musical entertainment, the fifth annual event featured an original performance created by Orange County School of the Arts. Shining a spotlight on the issues of low self-esteem and difficult circumstances, the program led attendees through the journey to literacy in the classroom. Four role models—including composer and artist Nikola Bedingfield and former professional football player Vince Ferragamo—also took the stage to share how their student mentees are now on a path to success after mastering the essential skills of the English language. A silent auction, which featured items such as an Omega Speedmaster watch, use of an Angels suite for a 2015 season game and vacation rentals, helped raise additional funds for the cause. —A.H.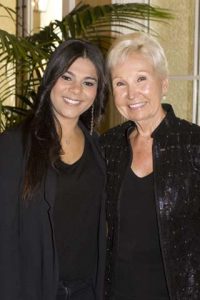 More Priceless Than Diamonds Luncheon
In Orange County, 226 human trafficking victims were identified and treated last year—a number that stunned attendees when it was announced by Vanguard University's Global Center for Women and Justice at its 11th annual fundraising luncheon, More Priceless Than Diamonds, held Sept. 13 at Balboa Bay Resort. On stage, PBS SoCal producer Maria Hall-Brown interviewed Shyima Hall, who was sold into slavery as a child in Egypt, then came to Irvine when her captors moved. She was abused and forced to work in the couple's home until a neighbor's anonymous phone call led to her rescue. "I don't know if I would be alive right now if someone didn't stand up and speak up for me," said Shyima, now in her 20s. Also at the luncheon, producer Jody Hassett Sanchez spoke about her film, "Sold: Fighting the New Global Slave Trade," and awards were presented to local volunteers. More than 300 people attended the afternoon event, which raised over $75,000 to continue the Costa Mesa-based group's efforts to train first responders, educate students and partner with international groups to prevent trafficking. —S.S.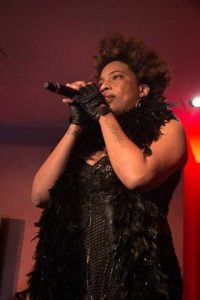 Red Hour Jam Session
It was a star-studded night at AnQi restaurant at South Coast Plaza on Aug. 8. Part of the Fashionably Late Fridays series, the Red Hour Jam Session featured dinner, late night bites and musical entertainment for a sold-out crowd. Hosted by singer/songwriter Jared Lee and "American Idol" season 10 contestant Pia Toscano, the event saw notable alums from the hit Fox TV show as well as "The Voice" step up to the mic with powerhouse performances. Short sets from Candice Glover, Haley Reinhart and Dylan Chambers kept guests entertained as they enjoyed a la carte items from a curated menu of AnQi's popular dishes. Multi-instrumentalist Casey Abrams, who finished in sixth place on the 10th season of "American Idol," was a crowd favorite as he displayed his musical versatility on the double bass, bass guitar and piano. Near the end of the evening, AnQi CEO Elizabeth An joined husband Gordon Clune, co-founder of the LA-based Left Shoe Co., on stage as headliner Macy Gray serenaded him with a soulful rendition of "Happy Birthday." —A.H.
Candlelight Concert Kickoff
An intimate group of supporters and colleagues of the Segerstrom Center for the Arts met in late August to collectively kick off the forthcoming Candlelight Concert that will be held this year on Dec. 5. As guests mixed and mingled at the bayside home of this year's co-chairs, Shanaz and Jack Langson, many reminisced over the concerts of yesteryear with just enough zeal to get the center's chairman, Larry Higby, to begin the announcements for the 2014 event. Before welcoming Shanaz and Jack to the mic, Larry thanked those in attendance as well as the many supporters: "[The event] helped touch over 900,000 with the activities at the center [this year], and Candlelight alone has contributed over $32 million to the center. It's a tradition that's not only rich and deep in Orange County, but it's very meaningful to the center on an ongoing basis." A drumroll then welcomed Jack to announce that Frank Sinatra Jr., accompanied by a 30-piece orchestra, and the Neil Diamond tribute band Super Diamond will provide the 2014 entertainment. Finally, it was announced that Judy Morr, the center's executive vice president of programming, will be this year's Candlelight honoree. —K.P.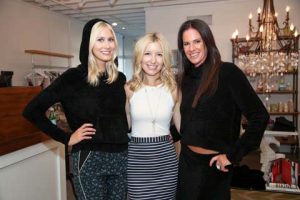 Girl's Night Out at Bardot
Shoppers scanned racks filled with the latest trends while sipping bubbly drinks during the  Girl's Night Out event at Bardot, a chic boutique tucked in the Westcliff Plaza that carries a mix of local and high-end designers. During the event on Sept. 11, Lori Gladstone, a Laguna Beach-based stylist with roots in New York's fashion industry, was on hand to offer style tips to shoppers and advise pieces that are necessities this season. A trunk show also introduced guests to a new collection by the founders of Juicy Couture called Pam & Gela, which features versatile pieces that can be worn for morning errands or a night out. Throughout the evening, a model appeared wearing casual yet chic pieces from the line. Dana Harmon, the owner of Bardot, described the new collection as "a home-run line" for the boutique. Shoppers who purchased items by Pam & Gela also supported a good cause—15 percent of the proceeds were donated to St. Jude's Children's Research Hospital. —L.M.
Festival of Children Opening Night
Festival of Children led guests at its annual opening night party on an international tour to celebrate the kickoff of National Child Awareness Month and the corresponding events taking place at South Coast Plaza throughout the month. The summer soiree, held Sept. 3 at the center's Garden Terrace, offered attendees an opportunity to sip sangria and Singapore Sling cocktails as they sampled global cuisine from Asia, Latin America and the Mediterranean. Festival of Children Founder and Executive Director Sandy Segerstrom Daniels presented 16-year-old Miles Saunders with the organization's FRED Award, which is given annually to an outstanding philanthropic youth. Miles, a junior at Edison High School in Huntington Beach, was recognized for his dedication to raising awareness about Alzheimer's and caring for his ailing mother. The event continued past sunset, with a dynamic band entertaining guests as they enjoyed dessert and celebrated the foundation's achievements in serving more than 2 million children since its inception. —A.H.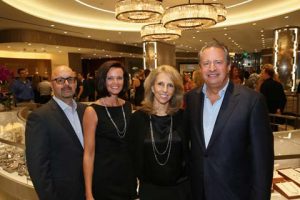 Traditional Jewelers Grand Opening
Traditional Jewelers welcomed guests into its newly unveiled space at Fashion Island with a series of grand opening events that took place Sept. 3-6. On Sept. 4, a VIP reception showcased the 10,000-square-foot showroom, giving insiders an exclusive sneak peek at the glittering gems held within before the public debut. More than 300 guests enjoyed bites catered by Jon Shook and Vinny Dotolo from Animal, Son of a Gun and Trois Mec restaurants in Los Angeles, as well as specialty cocktails such as an Absolut French 76 and an Avión "elevated" margarita. Strolling hip-hop violinist Josh Vietti and illusionist David Minkin entertained attendees as they browsed jewelry and watch collections by designers that included Mikimoto, Marco Bicego, Jaeger-LeCoultre, Omega, Breitling and Kwiat; a portion of proceeds from the evening's sales benefitted Orange County chapter of Juvenile Diabetes Research Foundation. Following the reception, the store opened to the public Sept. 5 with a two-day trunk show featuring pieces from designers such as Fred Leighton, Ivanka Trump and Stephen Webster. Guests were invited to enter a giveaway to win jewelry items from the trunk show. —A.H.