Our guest columnist proposes bringing a chocolate festival to the city's streets.
By Beth Fhaner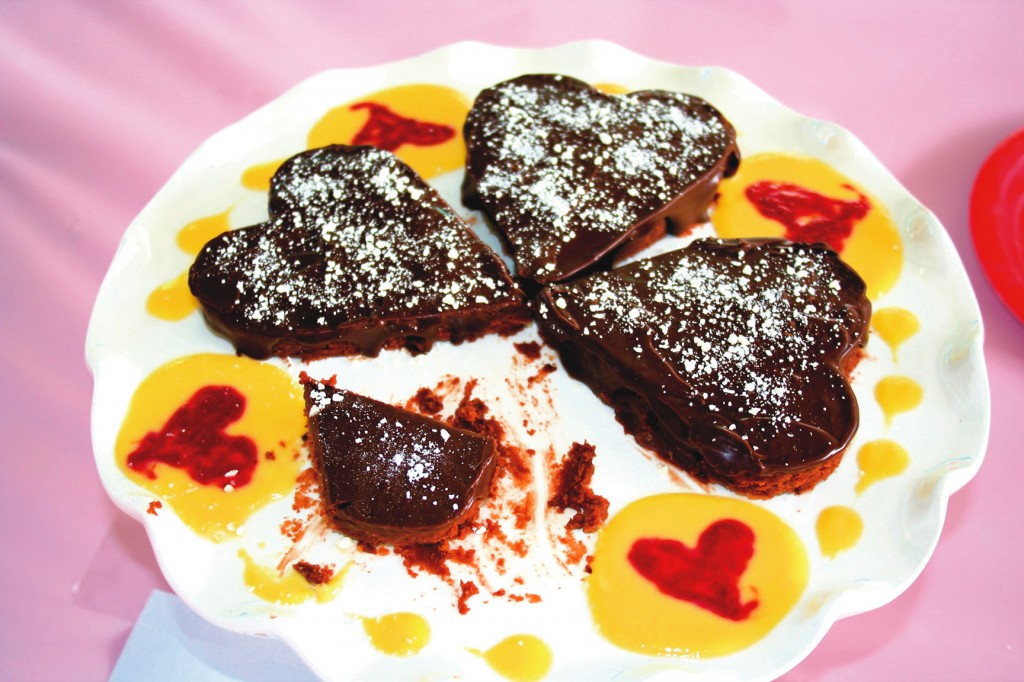 With Valentine's Day right around the corner, this time of year always brings thoughts of romance, flowers, candlelit dinners and, of course, chocolate, which the ancient Mayans referred to as "the food of the gods." Those looking for a sinfully delicious way to celebrate the season of love should consider attending a chocolate festival—an event that, sadly, Newport locals must travel across the border to attend.
Since 2009, the Island Hotel has successfully enticed chocolate connoisseurs with a similar type of event: its popular Cocoa Lounge, a themed, multiday dessert event featuring an array of gourmet confections of the white, dark and fruit-infused chocolate varieties. Chocolate cherry cobbler, red velvet s'mores, triple chocolate profiteroles and chocolate caramel lollipops were just a few of the scrumptious sweets featured on last year's menu. For a set price, chocolate fans of all ages, including couples and families, are invited to indulge in the all-you-can-eat chocolate buffet.
Although local denizens can pay to indulge the palate at the Island Hotel's decadent Cocoa Lounge, Newport Beach doesn't yet have its own public chocolate festival to celebrate every facet of the treat on a grand, citywide scale. Several California cities host chocolate festivals, however, and one of the area's most popular takes place just north of us in the charming Long Beach community of Belmont Shore.
Held annually on the second Saturday of February, the Belmont Shore Chocolate Festival marked its 11th anniversary on Feb. 8. Created to celebrate Valentine's Day, the popular event draws a large crowd of chocolate lovers to Second Street—Belmont Shore's main business corridor—where various retailers and restaurants offer visitors an array of tantalizing treats. The family-friendly event is free, although tickets ($10 for a book of 12) are required to sample the various desserts.
A chocolate cream pie-eating contest and a homemade chocolate dessert contest also are featured during the day's activities. Any individual who believes they have an award-winning chocolate recipe can submit their entry to the panel of judges who sample the desserts and declare winners in three categories. Additionally, a cake and coupon walk, live music and children's activities such as face painting add to the festival's fun, family-friendly atmosphere.
"The chocolate pie eating contest is popular especially with the kids, and the dessert contest brings out a lot of people who like to bake," says Dede Rossi, executive director of the Belmont Shore Business Association.
For all of my fellow chocolate lovers, I propose bringing a chocolate festival to a local outdoor area where residents could shop, enjoy entertainment and indulge in mouthwatering chocolate treats, similar to the annual event in Belmont Shore. With an abundance of retail shops and restaurants, Balboa Island or Corona del Mar could both be possible contenders to host a Newport festival. I can just envision either one of these vibrant shopping districts hosting an event where residents could enjoy a day of strolling , shopping and savoring tempting chocolate delights while partaking in special activities revolving around the heavenly treat. Not only would such a festival be beneficial for the local economy, but it would be another regular event that would help foster a sense of community among retail owners and residents.
For local cacao fans, a day dedicated to all things chocolate would be a day well spent, not to mention a welcome addition to the city's lineup of annual events. To have our own chocolate paradise in Newport for a day—wouldn't it be sweet?
Beth Fhaner is an Orange County resident, food writer and self-proclaimed chocoholic. NBM
We want to hear from you! Is there something you've seen in another city that you'd like to see in Newport Beach? If you're interested in being our next guest columnist, send your idea to edit@newportbeachmagazine.com.