lash out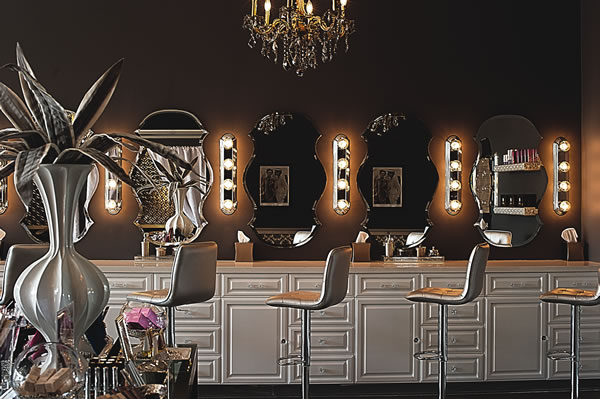 Old Hollywood glamour is making a comeback in Newport Coast with the opening of Lashfully, a new beauty salon specializing in semi-permanent eyelash extensions. With more than 70 types of lashes varying in length, curvature and thickness, guests can customize their set according to their lifestyle and desired look. Or, choose from strip lashes inspired by starlets like Marilyn Monroe. Owners Liv Contreras and Matana LePlae started Lashfully in San Francisco, and Newport Coast is their fourth location, decorated with girly touches such as black fleur-de-lis and pink pillows. "It's not a fad; it's here to stay," Matana says.
Liv and Matana recommend lash extensions for women looking to add a little drama to their look, as well as busy women who want to wake up looking fabulous, since many of their customers ditch the mascara after having extensions applied. "We call it the 'gloss and go' look," Liv says. Lash extensions last about five to six weeks, with recommended touch-ups after two to three weeks. (949-494-5444; lashfully.com) —L.D. 
spreadinG wellness
Two of Orange County's largest hospitals are reinventing health care for the community. Hoag Memorial Hospital Presbyterian and St. Joseph Health plan to unite to create a combined health care system, with the mission of providing more people with access to medical care that's both higher quality and less costly. Under the new umbrella, not yet named, will be the five St. Joseph Health hospitals, two Hoag hospitals, and additional health services developed by the two organizations. The affiliation is still seeking approval from the California Office of the Attorney General; a decision is expected by early 2013. —A.B. 
Light up the Night
The annual tree lighting at Fashion Island and Crystal Cove are part of many families' holiday traditions. This year, Fashion Island's ceremony takes place at 6 p.m. Nov. 13 and 14 and features Mickey and his Disney pals followed by photos with Santa on the Atrium Lawn (Santa will be available through Dec. 24; shopfashionisland.com). Head to Crystal Cove for the 16th Annual Tree-Lighting Ceremony Dec. 1 at sunset, complete with Santa, warm beverages and carolers. The Historic District will be decked out in retro holiday décor throughout the season, and Dec. 1 and 2, shoppers can enjoy special activities and a Holiday Bazaar, with shopping proceeds from the holiday season benefitting the ongoing Crystal Cove Alliance restoration, conservation and education efforts (crystalcovebeachcottages.org;crystalcovestatepark.com). —M.M.
Urban Winery
Newport's own urban micro-winery, Orange Coast Winery, is celebrating its one-year anniversary under the direction of award-winning Southern California winemaker Doug Wiens and his wife Deborah Israel Wiens. The pair announced an exclusive partnership with "Endless Summer," so expect new bottles, movie screenings and more in the near future. The tasting room offers tastes of Orange Coast and Wiens wines, as well as microbrews for beer lovers and small-plate offerings. Through partnerships with 10-plus local restaurants, visitors can purchase bottles to enjoy over dinner with no corkage fee. Soon the winery will also sell beer from its own Wiens Brewing Company. To celebrate its first year in Newport, it hosted Oktoberfest celebrations, with a portion of the proceeds benefitting the International Princess Project, a Costa Mesa nonprofit advocating for women enslaved in prostitution. Stop by for wine tasting Thursday – Friday from 4 – 9 p.m. and Saturday – Sunday from noon to 8 p.m. (orangecoastwinery.com) —M.M
cutting-edge plastic surgery
In October, Orange County Plastic Surgery (OCPS) expanded its practice with a new surgery center in Newport Beach. Headed by Dr. Juris Bunkis and Dr. Clay Forsberg, the office offers not only cutting-edge cosmetic surgery but also restorative procedures and surgical treatments for traumatic and cancer-related defects. Using the very first ThermiGen Radio Frequency Generator in Orange County, they can provide improved reliability and clinical outcomes for skin tightening and sculpting procedures. In addition to the new Newport center, the OCPS has offices in Rancho Santa Margarita and San Clemente. (949-888-9700; ocps.com) — J.H.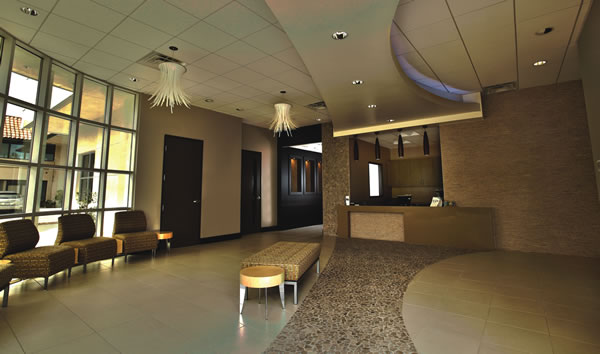 choc plays dress up
It's every little girl's dream to become a real-life Cinderella, from strutting in a shimmering dress to the magnificent application of makeup. Two 9-year-old princesses hailing from Newport Beach are helping to make that dream a reality for CHOC oncology patients. Alyssa Antoci and Brooke Besikof got the idea to start their nonprofit, Just a Little Cloth, in January 2012 because they wanted to inspire girls to see themselves in a different light. In mid-January, they will host an event at CHOC in which girls ages 4 – 18 can play dress-up to bring out their inner princess. Each girl will be given the opportunity to have her makeup done and pick out a dress. "I'm so proud that the idea we had to help other kids in need has turned into reality," Alyssa says. "It feels good to be connected to others from my heart and watch our idea come to life." What a truly wonderful way to give self-esteem back to these young women who may have lost hope. (justalittlecloth.com) —B.T.
Grand Openings
Tip Top Trends
British style authority Topshop comes to town with its recently opened women's department at Nordstrom South Coast Plaza, one of only two locations in Orange County to carry the retailer's full line. Featuring limited edition pieces created especially for Nordstrom, the new Topshop department offers clothing and accessories that range from dresses and jackets to fashionable maternity wear, petite apparel, boots, bags and more. (714-549-8300; nordstrom.com/topshop)
Coastal Cool
Quiksilver brings its coastal heritage to Newport Beach with the brand's first OC boutique for women, opened at Fashion Island in October. Customers can find an assortment of apparel and select items from other brands, such as Ray-Ban sunglasses and 31 Bits jewelry, as well as an exclusive collection with a percentage of proceeds benefitting the Newport Bay Conservancy. (949-718-9792; quiksilver.com)
Pour Homme
A newly renovated Ermenegildo Zegna was unveiled at South Coast Plaza this fall. The 2,421-square-foot store carries the full line of Ermenegildo Zegna and Zegna Sport apparel and accessories, and features a video installation showing seasonal Milan runway collections. New to the store is the designer's Couture collection, which offers ready-to-wear handcrafted menswear. (714-444-1534; zegna.com)
Fit and Fab
Located off East Coast Highway in Corona del Mar is the new Ivivva Athletica store for girls. A concept created by fitness retailer Lululemon, Ivivva Athletica carries dance gear, outerwear, yoga attire and other active wear. The Corona del Mar location also offers complimentary classes from local studio instructors. (949-723-0849; ivivva.com)
Be Beautiful
Beauty retailer Ulta plans to open its doors for makeup aficionados at Fashion Island this fall. Browse the store's selection of cosmetics, fragrances and hair care and skin care products, or stop by the full-service salon for a cut, color or skin treatment. (ulta.com)
South Coast Chic
Haute couture continues to find its way to South Coast Plaza: Slated to open in November are two high-end retailers, M Missoni and REDValentino. Looking forward to 2013, Parisian fashion house Lanvin and Italian men's shoemaker Berluti also have plans to open at the luxury center. —A.H 
pedaling promises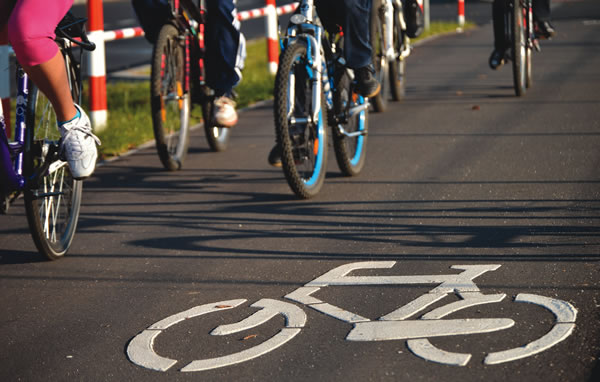 When it comes to turning "green," Newport Beach bicyclists are getting the green light. Thanks to $9.4 million in funding approved by the Orange County Transportation Authority—to be shared among OC's cities—Newport, with matching funds, will receive a total of $1,492,920 for bike lane improvements on San Joaquin Hills, Spy Glass Hill and Jamboree Roads and Eastbluff Drive. Expect to see new bike lanes and trails, bridges and crossings for cyclists, in addition to improved signs and bike racks. "Bicycles are an ideal way to get around Orange County and OCTA believes strongly in improving this mode of transportation," says OCTA Chairman Paul Glaab. "This is a collaborative effort with cities throughout Orange County, and we look forward to providing a better ride for all cyclists." —A.B. 
SUPthin' to Celebrate
The world's largest group paddle lesson graced the waters of Newport Dunes Marina on Aug. 19 at Paddle Party 2012, presented by Laguna Beach Paddle Boarding and Cal Coast Fitness. The event had 500 participants, breaking the previous record of 414 set by Stand Up for the Cure. According to Cal Coast Fitness trainer Jade Tully, they had two official timers at the event, a videotaping and two ways to count in order to break the world record. Throughout the day, paddlers of all ages enjoyed standup paddle yoga and fitness clinics, kids treasure hunts, scenic paddles, free paddles, a silent auction, food, music and more. The event raised awareness for Hailey's House, an Orange County-based organization helping middle school-aged girls develop life skills and make good decisions, and assist the families of these girls set up a structured home environment to foster a harmonious family life. —L.D.
"Batman" Stars Appear in Newport
Two stars of Batman's "The Dark Knight Rises" recently made a local appearance: The Sesto Elemento and Aventador LP 700-4, the film's featured rides, were on display at the grand opening of Lamborghini Newport Beach. Built by Lamborghini's Advanced Composites Research Center, the Sesto Elemento's weight was brought down to just 2202 pounds; with a 570 horsepower V10, the AWD sports car accelerates from 0 – 62 mph in 2.5 seconds. The Aventador LP 700-4 boasts a 700 horsepower, 6.5-liter V12 engine and reaches 60 mph in 2.9 seconds with a top speed of 217 mph. As one of the strongest markets for the brand, Lamborghini president and CEO, Stephan Winkelmann, says he expects the new dealership to take off. (lambonb.com) —A.B.
newport beach boat parade
The 104th Annual Newport Beach Christmas Boat Parade returns to the harbor in all its beauty and color. This year's theme, Surf, Sand and Santa, makes its rounds Dec. 19 – 23, and viewers will experience the parade of million-dollar yachts, boats and canoes—as they light up the harbor with holiday spirit. Named one of the top 10 holiday happenings in the nation, the parade is treasured by residents and visitors alike. The contest for best decorated house on the harbor also returns, and fireworks will close the event. (christmasboatparade.com) —L.Z. NBM