From Boucheron and Van Cleef & Arpels to John Hardy, a Southeast Asian jewelry brand that is as popular for its approach to sustainability as it is for fine masterpieces, Guy Bedarida has had a prolific career in jewelry design. He's served as the head designer and creative director for John Hardy for the past 16 years, but his European upbringing in Florence and Paris set him on the path to become a top name in the industry early on.
Newport Beach Magazine had the opportunity to sit down with Guy when he came to town for a special  show at Neiman Marcus Fashion Island. Here, he shares a few top trends for summer baubles.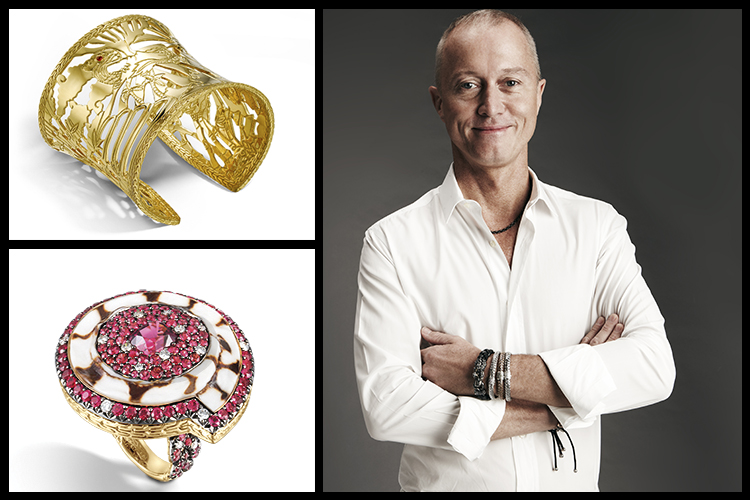 What details should we take note of this season?
Guy Bedarida: Well I would say, more than ever, incredible cuffs, which are a signature at John Hardy because I love powerful, beautiful cuffs. Also, you'll see a mix of materials. We have buffalo horn and also wood, which is a very nice color—very, very elegant. … Long necklaces are a big trend, or multistrand necklaces. Definitely keep in the style of layering bracelets and necklaces.
Are there specific trends for fine jewelry?
GB: Lots of color, and in Cinta (John Hardy's one-of-a-kind collection), I like to offer some unique gems. … There are some stones that you've never heard the name, but they are so beautiful. That's why I choose them to create things in this collection. … For instance there is sphene and spinel. These are incredible gems. … They're quite rare, so you will not see them a lot.
Summer is a season that can be hard on accessories. What is something everyone should know about caring for their pieces and keeping them looking like new?
GB: There are some stones that you should never spray perfume on, like turquoise. Turquoise is very sensitive and can change color. And for silver, I recommend just to polish with a polishing cloth every one to two weeks to make sure it doesn't tarnish.
—Written by Lauren Matich