Take a seat at the chefs' tables in private  dining rooms around Newport Beach.
By Rich Manning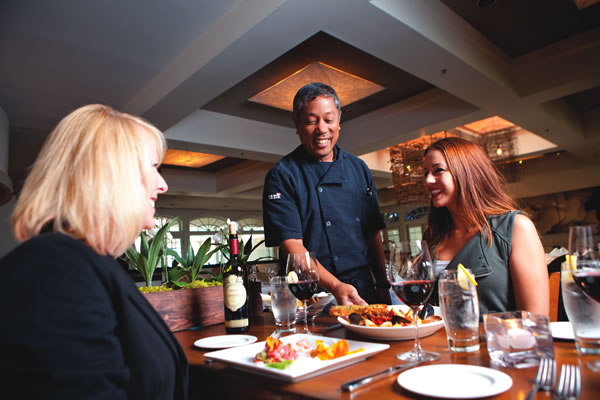 In a way, a chef's table is attached and detached to a restaurant all at once. The setting is typically tucked away from the rest of the venue. The menu oftentimes features multi-course meals stocked with specially crafted dishes not on the regular menu or designed specifically for your special occasion. Everyone enjoys the meal together, complete with visits from the chef for details on the evening's dishes. All of these elements combine to create a uniquely intimate vibe. So pull up a seat and explore some of the special chef's tables in and around Newport Beach, each offering a singular dining experience.
Food and Feng Shui 
At the chef's table at Scott's Restaurant & Bar in Costa Mesa, the table that diners gather around nearly shares equal billing with the exquisite tasting menus that Executive Chef Mike Doctulero crafts to match whatever occasion is being celebrated. The reason is that it's more than just a hunk of wood—it's breathtaking Balinese teak that was fossilized in an Asian bog for approximately 150 years. "The 'mana,' or energy, of the chef's table is special," Mike explains. "It [takes] people back to a time where the ritual of breaking bread together is revered and sacred."
The energy not only radiates with a communal vibe, it has been known to possess the occasional healing touch. "One of my favorite experiences was this one time when we were doing a tasting menu for a family that was sullen after a family wake," Mike says. "By the end of the meal, they were completely re-bonded; they had been lifted into a better place of laughter and smiles." Of course, Mike's cuisine has plenty to do with forging the connection that can be experienced by as many as 22 family members or inner-circle friends. "At our chef's table, we usually create the tasting menu after we ask the three questions: What don't you eat, what allergies do you have, and how hungry are you?" he says. "Then we just see what is fresh, and go from there." Once the outline is determined, Mike fills the journey with artfully prepared, seasonal seafood creations like ike jime sea bass, seared scallops with ahi tartare, and house-cured gravlax with Persian cucumber. (714-979-2400; scottsrestaurantandbar.com)
Dockside Dining
The Balboa Bay Resort knows it's nice to have a room with a view. They also realize it's even nicer when that room is part of the view, which is why its private dining experience takes the decorative notion of "bringing the outside in" to an extreme. "We have a private waterfront patio that provides an incredible view amidst the yachts and the beautiful Balboa Bay," explains Richard Szilagyi, director of food and beverage. "[The] setting allows it to be a very flexible space."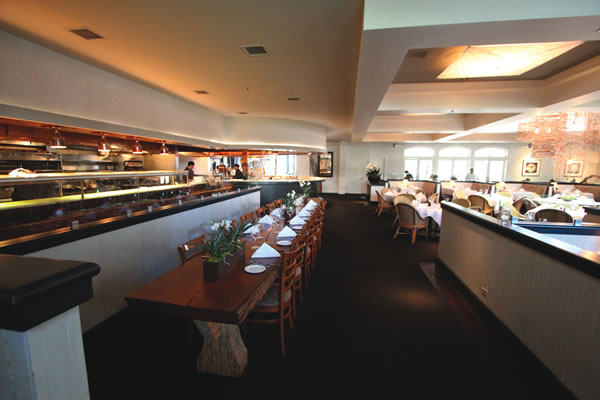 This unique locale, which is available nightly and can accommodate up to 16 guests, provides more than just a pretty backdrop for Executive Chef Josef Lageder's custom menu, featuring seasonal ingredients and succulent seafood from the Pacific Rim. The sights and sounds of the surrounding bay also add an intriguing level of depth to the anniversaries, birthdays and family gatherings that are celebrated in the space. "We believe dining is a complete sensory experience," Richard says. "It is critical that the room, food, wine and service all work together to create a memorable experience. This is something we feel is our specialty." (949-645-5000; balboabayresort.com)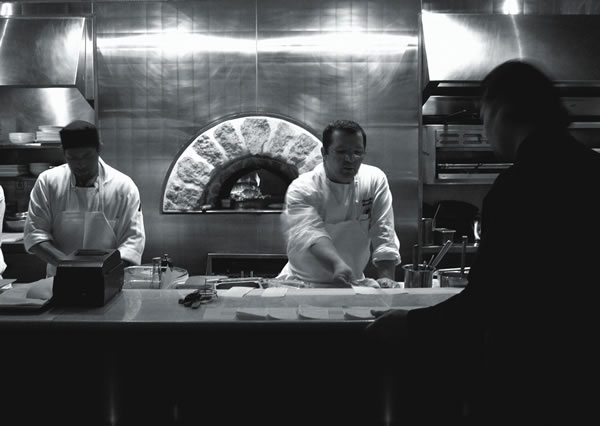 A Visit to France
When a group of up to 12 patrons request Marche Moderne's chef's table, it's usually for a special occasion. The experience is not just special for the guests, however. "I am honored to be asked to be part of someone's milestone, whether personal or professional," says Florent Marneau, owner and executive chef of Marche Moderne. "Because of this, it is always my hope that they feel that I am engaged in making sure what I contribute fits in with their vision of a perfectly executed occasion." For Florent, part of this execution involves being able to play the part of passionate educator and storyteller as he serves up his acclaimed French cuisine via tasting menus featuring dishes created exclusively for the table. "I see my main role as someone who can open to my guests my childhood growing up in my mother's kitchen, and the foods I grew up with, to bring them the comfort that I experienced," he says.
While Florent's culinary interpretation of this story changes with the seasons, guests can always expect to see one cherished ingredient. "I love truffles," he says. "It is the earthiest ingredient you can find. I love to share it with my guests, to make them discover, and appreciate the unique scent which is very necessary to enhance a well prepared course." All fungi aside, Florent can typically tell how well received the menu he built is by what he hears—or what he doesn't hear. "I know things are going well if the table is quiet," he says. "It's silent because everyone is enjoying every course. They'll wait until the end of the tasting to share the same experience with each other." (714-434-7900; marchemoderne.net)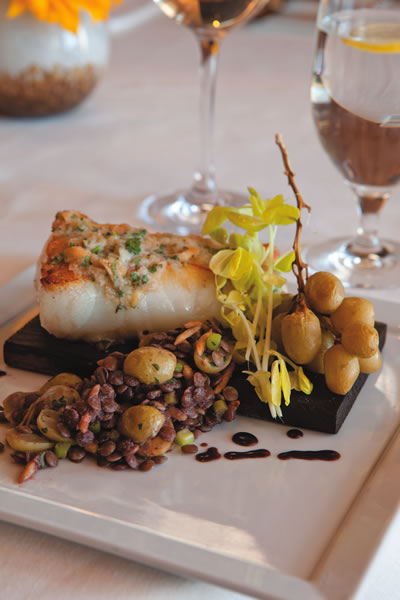 The Culinary Connection
For Derek Brooks, chef de cuisine at Pelican Grill at The Resort at Pelican Hill, ensuring that the private, enclosed chef's table he oversees connects with its guests is the key to success. In order to accomplish this, he touts the connections that he has with the elements of the exclusive, specialized menus that he puts together. "For my chef's table, I create five courses that highlight eco-friendly seafood, grass-fed natural meats and the freshest local produce from the Irvine Ranch," he says. "For example, this season I will feature spring peas, squash blossoms, zucchini blossoms, asparagus, fava beans and spring ramps, which are all hand-selected from the ranch." Derek goes beyond just creating menus built around the season, though; he also specializes in creating playful menus that connect to annual events like the Masters Golf tournament. "I've had a lot of fun creating Southern dishes with golf-inspired names, like Fairway Fried Chicken Birdie, Shrimp 'n' Bunker Grits and Pimento Grilled Cheese Sandwich, which is a Masters tradition," he says. And every so often, Derek is able to use the power of the chef's table to create new memories by honoring old ones. "A while ago, I helped create the wedding menu of a couple that was married at Pelican Hill," he says. "They came into dine at my table for their one-year anniversary and I recreated their wedding menu that evening. Through the cuisine and intimate setting, I helped them remember cherished memories from their wedding." (949-467-6800; pelicanhill.com)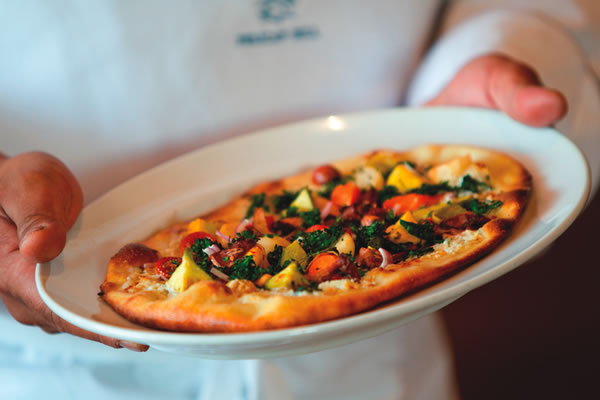 A Familial Affair
When Five Crowns hosts its multi-course chef suppers on Fridays, the dining experience is created under the assumption that the eight to 10 guests are comfortable with each other. "While the menu evolves with each supper, we always provide engaging presentation, a communal, casual atmosphere and warm, family-style service," says Executive Chef Greg Harrison. "Service at these chef suppers is always family-style." Like any good gathering amongst close family members, conversation is a key element of the evening—something that Greg relishes as he personally visits the table to explain each course of his custom menu to his guests, which has been known to feature exotic cooking techniques such as heated stones and items like Santa Barbara sea urchin. "I look forward to being at the table with the group to describe each dish and what makes it so special," he says. "I am inspired to take my guests on a journey through my food." (949-760-0331; lawrysonline.com/five-crowns)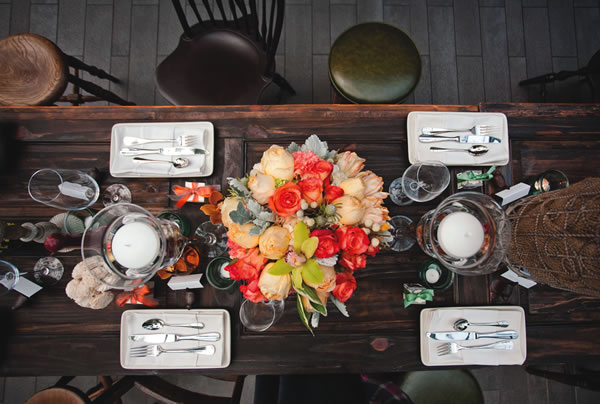 So Close, Yet So Far
It stands to reason that the 24-seat private dining space inside Palm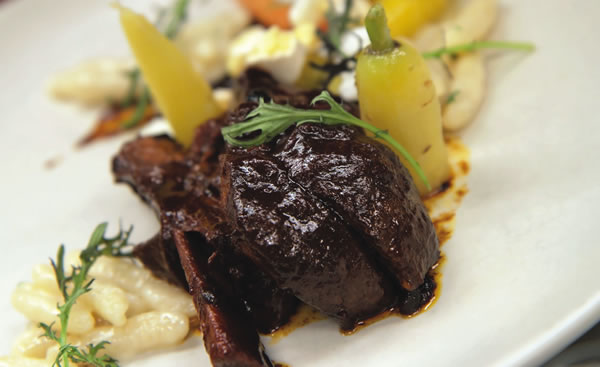 Terrace restaurant would create a sense of escape. After all, it is the flagship restaurant of The Island Resort, which thrives on this vibe. "The private dining room is quiet with a glass double door leading into it," explains Executive Chef David Man. "It's in the heart of the hotel but feels like it is miles away." The intimate setting sets the stage for an even more personalized experience—especially since David interacts with the guests throughout the meal—but in a way that makes them feel at ease and comfortable. "First and foremost, we want to be a host and to welcome everyone," David says. "But we also want to make sure we're not overwhelming them, even as we educate the guests on the food and the wine pairing." One of the main ways that they provide this kind of comfort is by serving up some of the restaurant's most popular dishes such as their slightly smoked pan-seared wild sea bass and their prime beef short ribs braised in red wine. (866-554-4620; islandhotel.com)
An Inside Job
At Landmark, one of the chief joys of dining at a chef's table occurs in a very literal sense, as the restaurant features a Chef's Counter inside the massive kitchen space which seats up to four. "The Chef's Counter gives the diner a unique behind-the-scenes look at how a meal is designed and prepared," says Executive Chef Travis Flood. "It's also a great opportunity for me to create a relationship with the people I'm cooking for, which makes the meal much more personalized."
This intimacy allows Travis ample space to be creative with his menu. "I tend to not have that 'one' item or dish that I serve every time," he says. "The food I serve at the chef's table is reflective of what is around me. You'll see things on the menu that are playful, serious and artful." The secluded kitchen setting also allows him to freely tap into his roots as a people person. "I like welcoming guests into my kitchen and preparing food for them. I also like when I can share stories or information about a particular ingredient or new technique I am using that excites me. If I can inspire them to try cooking something like kale at home, then I'm even happier."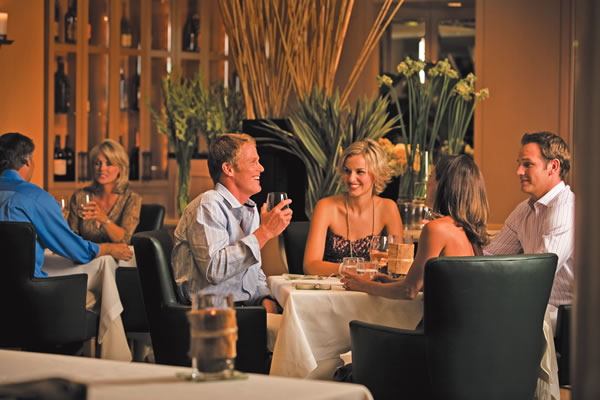 Travis also loves to use the kitchen as a forum to turn people on to the power of vegetables. "A vegetarian dish can easily stand on its own and be very satisfying and memorable depending on how you prepare it and the flavors you accent," he states. In general, Travis' affinity for vegetables represents his even larger passion for getting his guests to step out of their comfort zone. "The most memorable moments for me are the times that I can get a guest to eat something they swear they won't eat because they dislike it. I like getting people to try new things."  (949-675-5556; landmarknewport.com)
Regardless of setting or approach, each of these chef's tables is connected through the common goal of creating a memorable dining experience for guests. From the energy of a century-old table to the thrill of being immersed by the sounds and smells of the kitchen, there is a wide range of ways for these kinds of memories to be made. NBM