Food & Fashion Fête
AnQi CEO Elizabeth An personifies the American dream in aristocratic Vietnamese style. – By Lauren Simon: Photos By Sean Armenta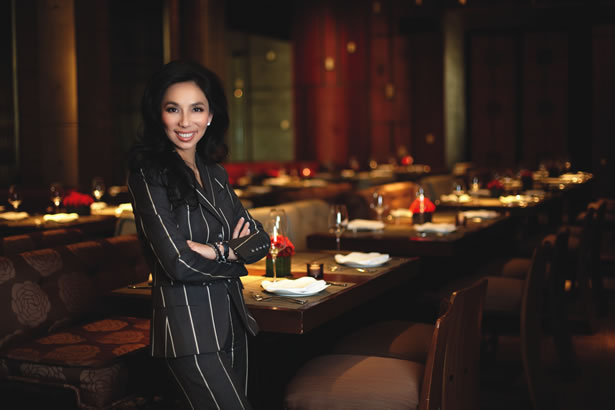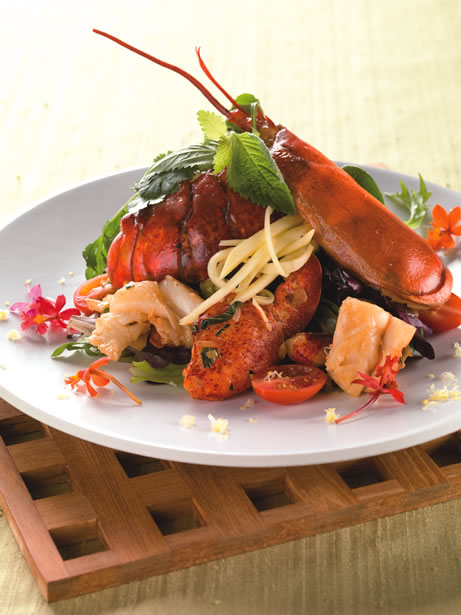 AnQi at Bloomingdale's South Coast Plaza is a relative newcomer to the bustling O.C. restaurant scene, but in two years, it already has garnered a reputation for exciting, eclectic, healthy and delicious Asian-inspired dishes served in a glamorous setting that caters to upscale fashionistas, on-the-go professionals and late-night sophisticates who appreciate the unique combination of cuisine and couture built around AnQi's signature 60-foot glass catwalk.
The restaurant is the newest project for the highly successful An family, which also owns Crustacean in San Francisco and Beverly Hills, Tiato in Santa Monica, and the family's original restaurant, Thanh Long in San Francisco. Named for her family and for the Chinese word "qi" for "life energy," AnQi is An's first venture on her own and in a new market, both geographically and in terms of price point.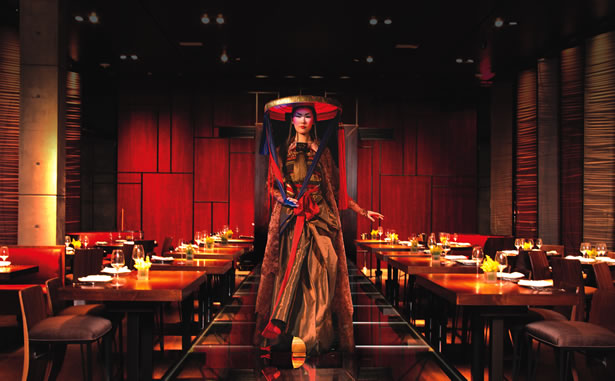 "Crustacean has always been a family business, and although I was instrumental in starting it, AnQi was the first time I said I want to do something different and on my own," Elizabeth explains. "I wanted to have a new concept as the family business grew that would be more mid-range. I felt that a mid-range price point worked better in a plaza shopping retail experience."
Whereas Crustacean is known among Hollywood celebs for its formal, white tablecloth service, AnQi is a "gourmet bistro," says Elizabeth, where she welcomes customers to try three distinct dining experiences: the main room, which features a full menu; a lounge with happy hour, before- and after-theater menus and small plates; and a 12-seat noodle bar, where diners can be in and out in 15 minutes for less than $10. Located across from Charlie Palmer's, AnQi also offers a private dining room for up to 50 people and 18-seat Chef's Table, where lucky diners may catch a glimpse into the famous, whispered-about An "secret kitchen," accessible only to family members and chefs who have been with House of An for more than 10 years.
Haute Cuisine and Couture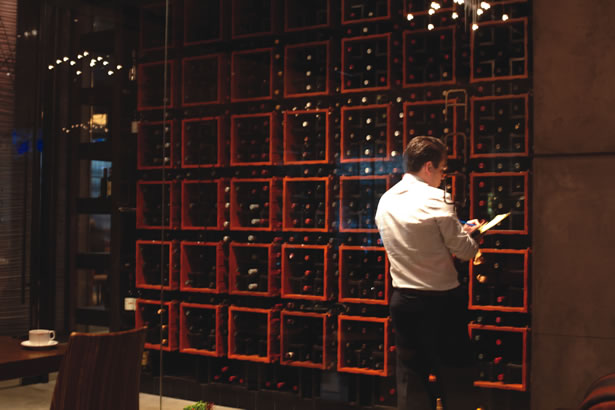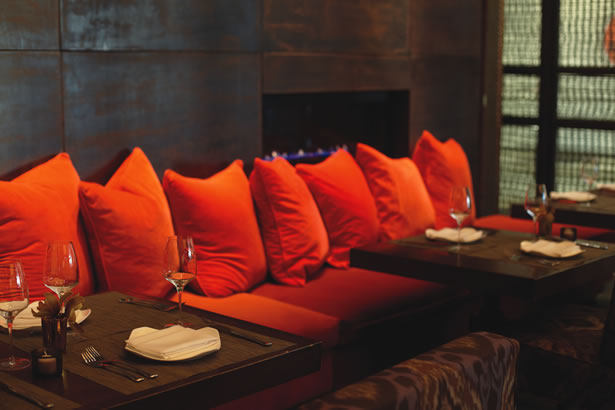 But AnQi is more than just an eatery. It also is a community gathering place where Elizabeth hosts fun and fundraising events, such as the recent New Year's Eve/Second Anniversary bash where Berlin performed live. In September 2011, she organized a fashion show to commemorate the 10th anniversary of the terrorist attacks in New York and Washington, D.C. Proceeds from the event, which featured Costa Mesa firefighters strutting their stuff in the likes of Polo Ralph Lauren, were donated to the Costa Mesa Fireman's Fund and the Uniformed Firefighters Association Widow's and Children's Fund.
"Because I love fashion, and fashion has been like my second life, I always wanted a restaurant where fashion and food would marry together," Elizabeth says. "When I was approached by Bloomingdale's and Henry Segerstrom said, 'Come to South Coast Plaza,' I said I've got to have a catwalk in my restaurant."  Now, every Friday is Fashion Late Friday from 9 p.m. to 2 a.m., and several times a year, AnQi hosts dinner fashion shows featuring South Coast Plaza retailers, such as La Perla, Pucci, Cartier and Mikimoto. Students from the Art Institute of California Orange County have also shown their works on the AnQi runway.
Saigon to San Francisco
Elizabeth's familiarity with food comes from years of working in the family business, but her dream of a career in fashion began as a way to escape the poverty brought on by her family's sudden departure from Vietnam after the fall of Saigon, when Elizabeth was 8 years old. Typically gracious and composed, Elizabeth, 43, is moved to tears when she remembers that time. "I recall being outside in the yard when my mother called and said, 'Pack up kids. Now. We're going away on vacation.' … [but] when we got to the airport, I knew this was not going to be a vacation."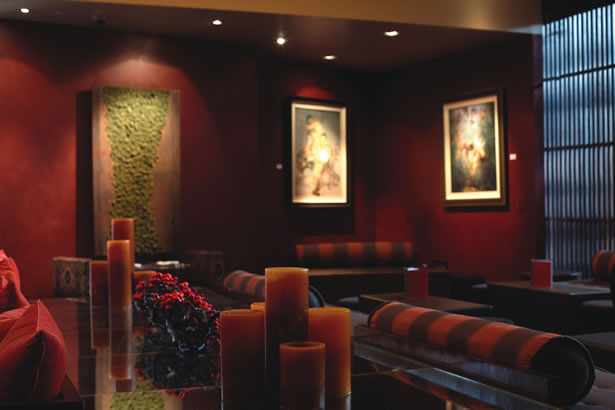 Elizabeth's early life in Saigon was a luxurious one, lived primarily inside the protected walls of the family enclave, with plenty of money for entertainment, clothes and dolls, and servants catering to her every need. "I never even went to the streets of Vietnam," she says. "I never even went to the marketplace, and all of a sudden, I find myself with people at the airport crying and yelling, wives looking for their husbands, mothers looking for their children, little kids looking for their parents. It was really scary.
"Before I knew it, we were shoved into [an American] military cargo plane like sardines in a can—pushed into the back of the plane. My mom told us to hold onto each other because there were no seat belts."
The An family spent the next several weeks as refugees at Clark Air Base in the Philippines. There, Elizabeth's mother, Helene, desperately searched for her husband, Danny An, a pilot in the Vietnamese air force. Once they were reunited, the family then relocated to Camp Pendleton in Oceanside, Calif., before eventually landing in San Francisco, where four years earlier, as fate would have it, Elizabeth's grandmother, while vacationing in San Francisco, had bought an Italian delicatessen on a whim.
"My grandmother heard about the concept of American picnics, how American women go to the beach, wear bathing suits, get a tan," Elizabeth explains. "So she was walking to the beach … and there was a sign on the [deli] door that said, 'Picnic baskets to go,' and 'hot dogs.' My grandmother never heard of hot dogs, so she said to her cousin, 'We're going to do this right, do it the American way, so let's go in and buy this hot dog.' "
Grandma Diana never made it to the beach. Instead, she spent the whole afternoon talking to the deli owner and by evening had agreed to buy the business for $44,000. "Little did Grandma know," Elizabeth says, "that would be the foundation for our family business in America."
Always in Fashion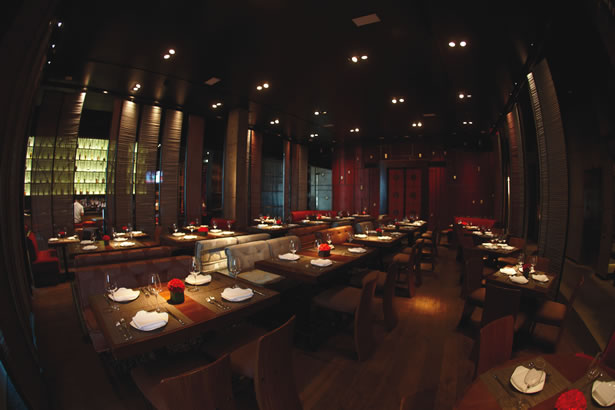 One of five sisters, Elizabeth spent many years working in the restaurant, which Helene and Diana converted from an Italian deli to Thanh Long. After school, Elizabeth sang happy birthday to customers, cut vegetables and wrapped egg rolls. By the time she was 16, she wanted a change, so she took a part-time job at Macy's. Eventually, that experience along with business studies at San Francisco State University led to work as a clothing buyer and later as proprietor of a San Francisco boutique, but through it all, Elizabeth remained close to her restaurant roots.
"I wanted very much for my fashion friends to have a place they could go after work, but they would never want to go to my restaurant because it was in the middle of nowhere, and it wasn't a cool place," Elizabeth says. "But I saw how restaurants were so successful with the fashion crowd, so I went to the family and said, 'Let's do a restaurant that's a step up from Thanh Long.' I wanted a place for my friends to hang out that I could be proud of and have fun with." With the family's blessing and a $99,000 investment, Elizabeth spearheaded the opening of the first Crustacean in 1991. She was only 23 years old.
Twenty years later, the An family has six restaurants, and Elizabeth aspires to open a dozen more noodle bars in and around O.C. (perhaps even in Newport Beach) in the next two years. With her focus on growth in the SoCal market, Elizabeth divides her time between homes in Los Angeles and Corona del Mar. She married aerospace exec Gordon Clune in 2009, and their combined family includes six children between the ages of 16 and 25. Of the six, two have shown interest in the family business. But with three generations of Ans still going strong and their restaurants and a catering business expanding, Elizabeth may have many more family partners in her future. ,