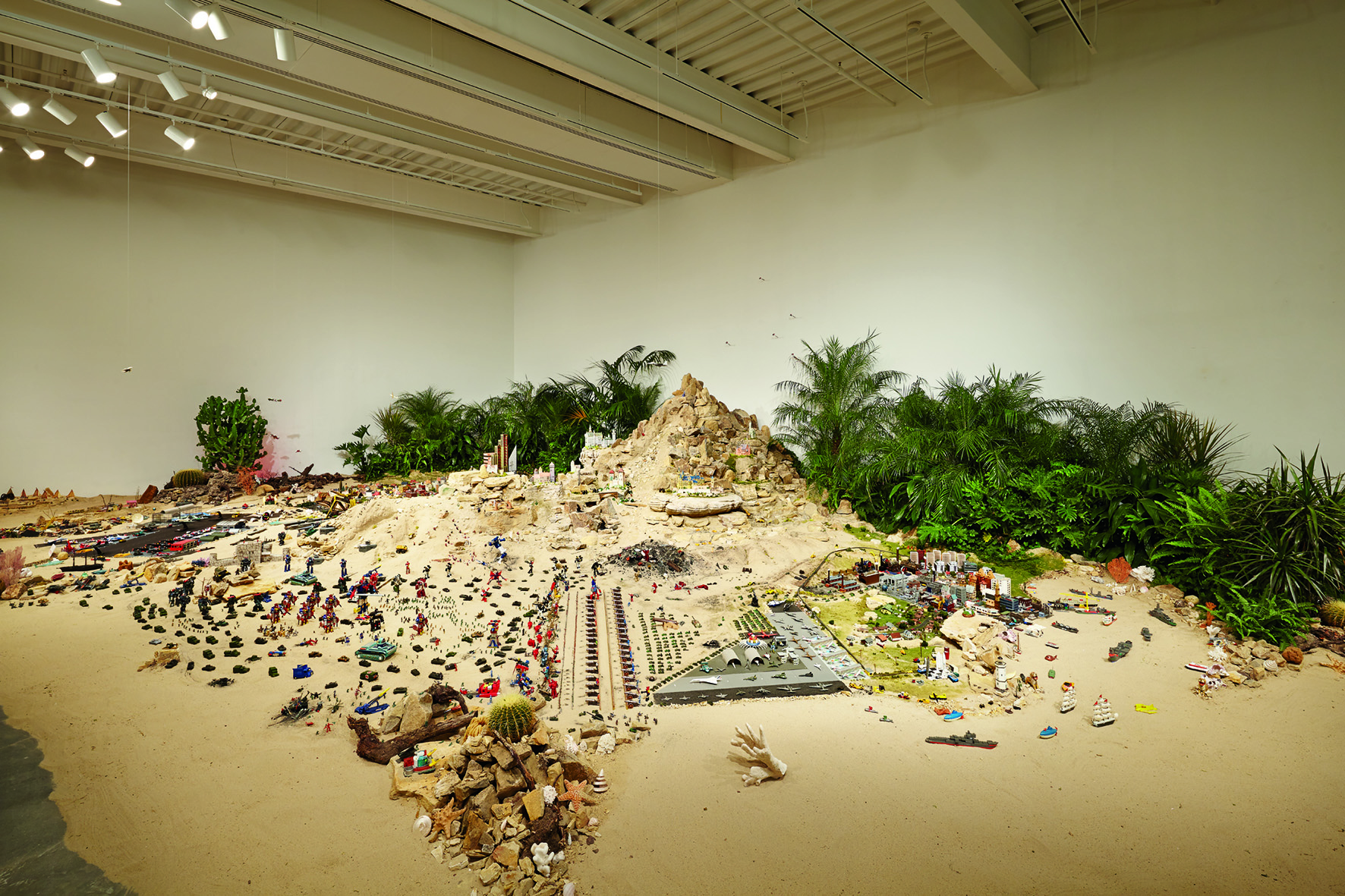 The Orange County Museum of Art's "Avant-Garde Collection" details decades of trendsetting works that reflect the institution's move into the future.
By Adreana Young
On the crisp white walls of the Orange County Museum of Art (OCMA), history is revisited. From the sweeping lines painted on canvas to transgressive portraits, each of the approximately 100 pieces in "The Avant-Garde Collection" tells the story of experimental art through five decades.
Spanning from the 1960s to present-day, the exhibition features paintings, sculptures and installations that were considered cutting edge for their time. It took three years to plan and will be on display through Jan. 4, according to co-curator Fatima Manalili. All of the pieces shown were taken from the museum's existing collections, allowing its leaders to look back at the institution's past and see how it, too, pushed the envelope in terms of progressive thinking.
"This [entire exhibition] is based on a theme, and the theme is challenging the ideas of what the avant-garde is," says CEO and Director Todd DeShields Smith. "… It's an ongoing process."
Even today, OCMA keeps visitors on their toes with a slew of forward-thinking moves: Perfectly timed, "The Avant-Garde Collection" not only serves as a nod to the museum's past, but also its present as it plans a move to Costa Mesa's Segerstrom Center for the Arts campus in 2016. Another recent change, Todd took the helm as the director in August 2014 and is expected to lead the charge in breaking ground on a new building that will allow for more 21st-century art forms.
"We've built a collection over 50 years, and we're still building a collection," Todd explains. "… And I think that's what the museum is doing as well—looking anew at who we are and what we offer to the public."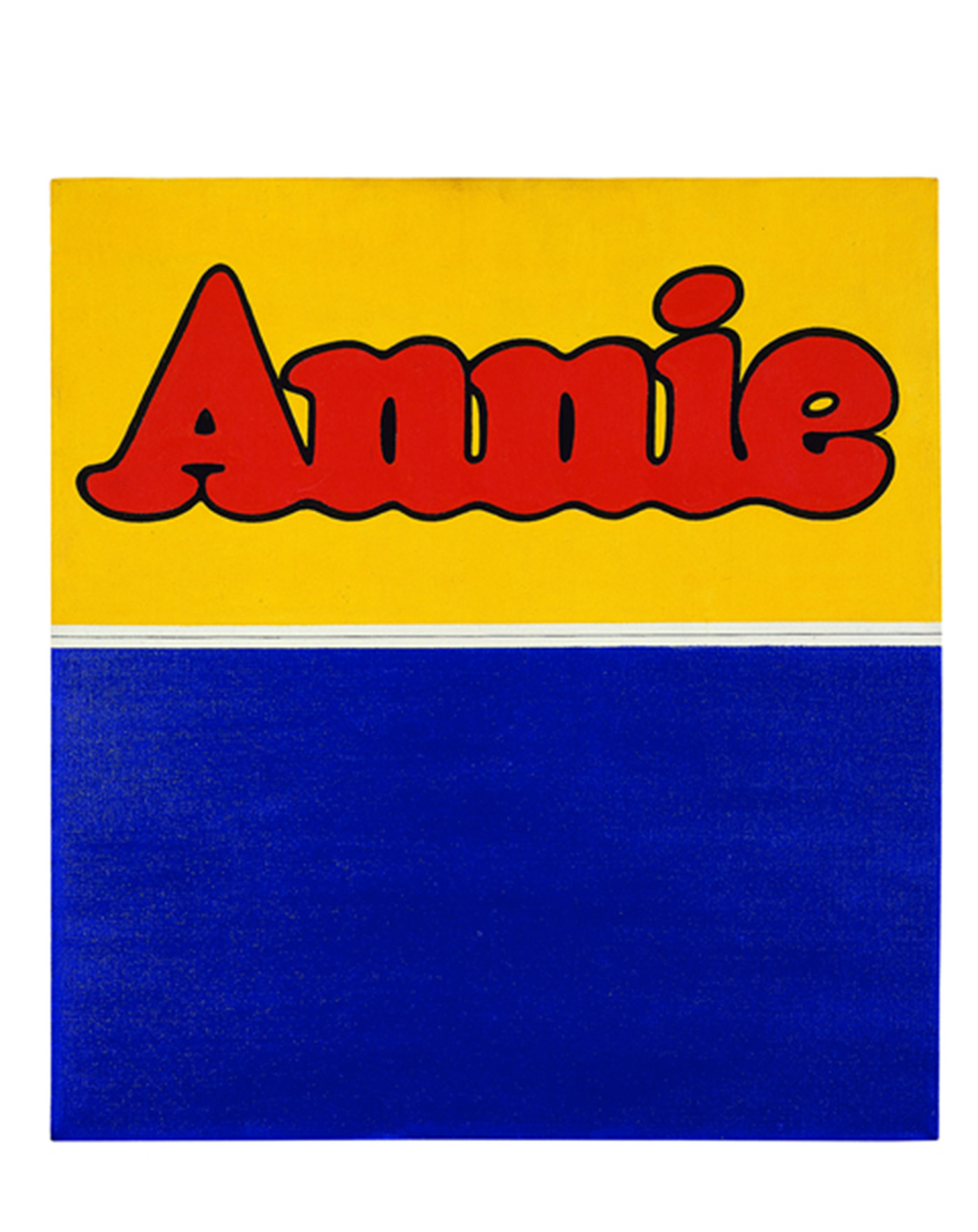 1960s: HOLLYWOOD INFLUENCE
"The Avant-Garde Collection" at OCMA aptly begins with the countercultural 1960s—an era synonymous with radical change and subversive trends. Images and portrayals of popular culture were at the forefront, with memorable works emerging like artist Ed Ruscha's "Annie," a simple color-blocked yellow-and-blue oil painting with the eponymous text illustrated in red. Inspired by comic books, films, music and Hollywood culture, the decade's pop art style opened the doors for discussion and even criticism as artists repurposed imagery from mass consumer packaging and media into new works. Pieces like "Annie" along with Richard Pettibone's "Niagra #1," an oil painting of a train that pays homage to vintage comic strips, bring viewers back to a time when the definition of art began to expand.
1970s: FROM CANVAS TO CAMERA
Performance and installation pieces in the 1970s brought art off the canvas and onto film. This decade's aesthetic came in the form of videos such as John Baldessari's black-and-white film "Baldessari Sings LeWitt," a four-minute piece in the OCMA collection featuring the artist singing Sol LeWitt's writings on art. Performances like these literally brought the idea of art to life, giving patrons the ability to view works in a new and captivating way. Video art could take on various forms, from a conceptual presentation of images to documentation. The approach showcased an influence of vibrant physical expression that, up until the later part of the decade, had been largely nonexistent.
1980s: REWORKED, RENEWED, REVISITED
Reimagined works became the centerpiece for progressive art in the 1980s. Similar to the 1960s, this decade's avant-garde work focuses on appropriation, though the pieces underwent little transformation as they were placed into a different context. Chris Burden's installation piece titled A Tale of Two Cities is an example of this form of art—it depicts childhood toys arranged as a commentary on warring city-states in the futuristic 25th century. The massive 5,000-toy setup took a team of about three and four people working every day for three weeks to install. Completed in 1981, as the Cold War was around 10 years from its end, the installation spoke to the absurdity of war and served as a prophecy of sorts as to the battles yet to come.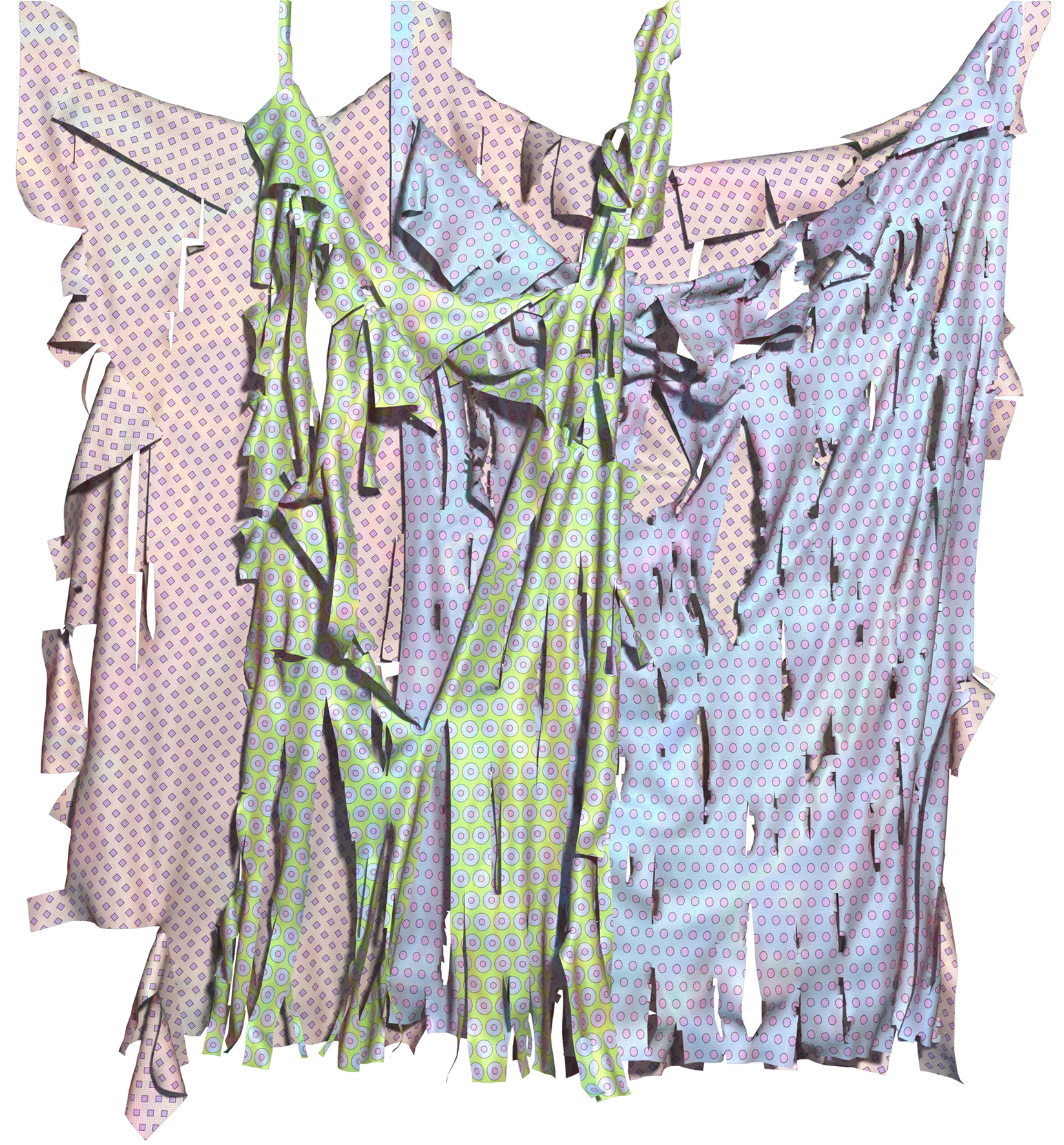 1990s: A PORTRAIT OF US
Throughout the 1990s, art thoughtfully focused on identity. Featuring a generation of individuals determined to find themselves, art showcased this angst and inquiry through works like Catherine Opie's photograph "Bo," which pictures a minimal, up-close shot of a man's face. Staring directly into the camera, "Bo" speaks to the true-to-life aesthetic of the 1990s by capturing this man's emotion. Identity politics became prominent during this time, with art that addressed socioeconomic and racial divides. One such work on display at OCMA is Allan Sekula's "Dockers Loading Sugar Ship," which shows blue-collared, hardworking men on the job. While these photographs may be simple, it's the principle behind them that speaks to a larger concept. Rather than art focused on things in our environment, the raw portraits of the 1990s created conversation about the importance of finding ourselves and exposing social and cultural inequalities.
2000s: FROM ME TO WE
The digital age and the Internet came to life in the 2000s, leading to internationally inspired art that was more accessible and widely enjoyed. For the first time, art went from an individual experience to a collective one. Tom LaDuke's Private Property at OCMA illustrates the connection between people and technology—it's a fitting representation of the decade's budding relationship with and reliance on technology. The sculpture features electricity pylons connected by wire and human hair sitting atop hillsides cast from the artist's head and the length of his pelvis. Likewise, Jennifer Steinkamp's Moth 5 is part of a computer-animated installation that explores motion and perception in a technological space. The artwork of the 2000s creates a standard for new types expression and sets itself apart through acceptance of intercultural exchange.
CALENDAR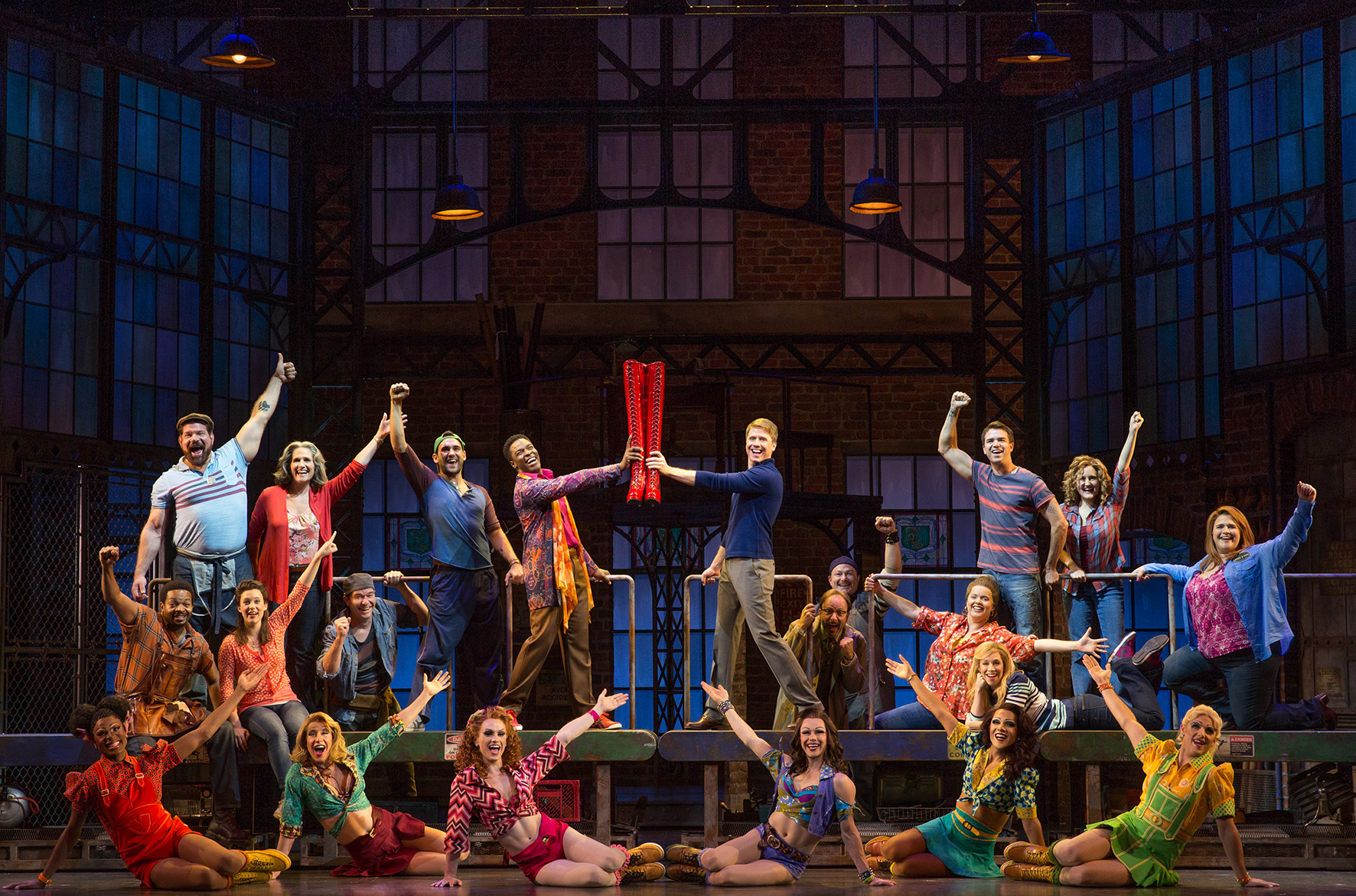 "Kinky Boots"
Dec. 30 – Jan. 11, 2015; Segerstrom Hall, Costa Mesa
Join the high-heeled hype and learn what boots really are made for walking. This Tony Award-winning musical takes audiences on the journey of a struggling businessman, Charlie Price, who finds an unlikely partner in cabaret star Lola to save his failing shoe factory. The dynamic production, scored by the hit singer-songwriter Cyndi Lauper, is sure to leave hands clapping and toes tapping with snappy numbers like "Everybody Say Yeah!" and "What a Woman Wants." (714-556-2787; scfta.org)
"Anna in the Tropics"
Through Dec. 14; Newport Theatre Arts Center
Set in Florida in 1929, a new lector in a Cuban-American cigar factory reads aloud from "Anna Karenina" and becomes a catalyst in the lives of his avid listeners. (949-631-0288; ntaconline.com)
"OC 125: Exploring Orange County's Story"
Through February 2015; John Wayne Airport
Explore 125 years of OC through historic imagery decorating the pre-security pedestrian walkway within the Thomas F. Riley Terminal. The exhibition features notable sites and milestones from the earliest settlers to today's accomplishments. (949-252-5200; ocair.com)
"Dr. Seuss' How the Grinch Stole Christmas!"
Dec. 10-14; Segerstrom Hall, Costa Mesa
The Broadway musical adaptation of this beloved holiday tale is a sensation sure to steal the audiences' hearts—just in time for one little girl to help the Grinch find his own. (714-556-2787; scfta.org)
Free Second Sunday: Winter Festival
Dec. 14; Orange County Museum of Art
Enjoy a winter-themed day filled with seasonal art, activities and performances by Newport's talented students. Food trucks will also serve up snacks throughout the event, which runs from 11 a.m. to 4 p.m. (949-759-1122; ocma.net)
"Alien She"
Feb. 15 – May 17, 2015; Orange County Museum of ART
"Alien She" lands at OCMA as a unique tribute to a feminism movement of the 1990s known as Riot Grrrl. The exhibition itself explores the movement's impact on visual art through more than 900 pieces, from sculptures to documentaries. (949-759-1122; ocma.net)
The Maestro's Series 2014-15
Throughout January 2015; Renée and Henry Segerstrom Concert Hall, Costa Mesa
Join the Pacific Symphony as it welcomes an elite group of musicians handpicked by Carl St.Clair to perform at the Segerstrom concert hall. This winter, enjoy the formidable violinist Augustin Hadelich (Jan. 8-10, 2015), followed by a three-night tribute to the legendary composer and conductor Leonard Bernstein (Jan. 29-31, 2015). The 11-performance series runs though June. (714-755-5799; pacificsymphony.org)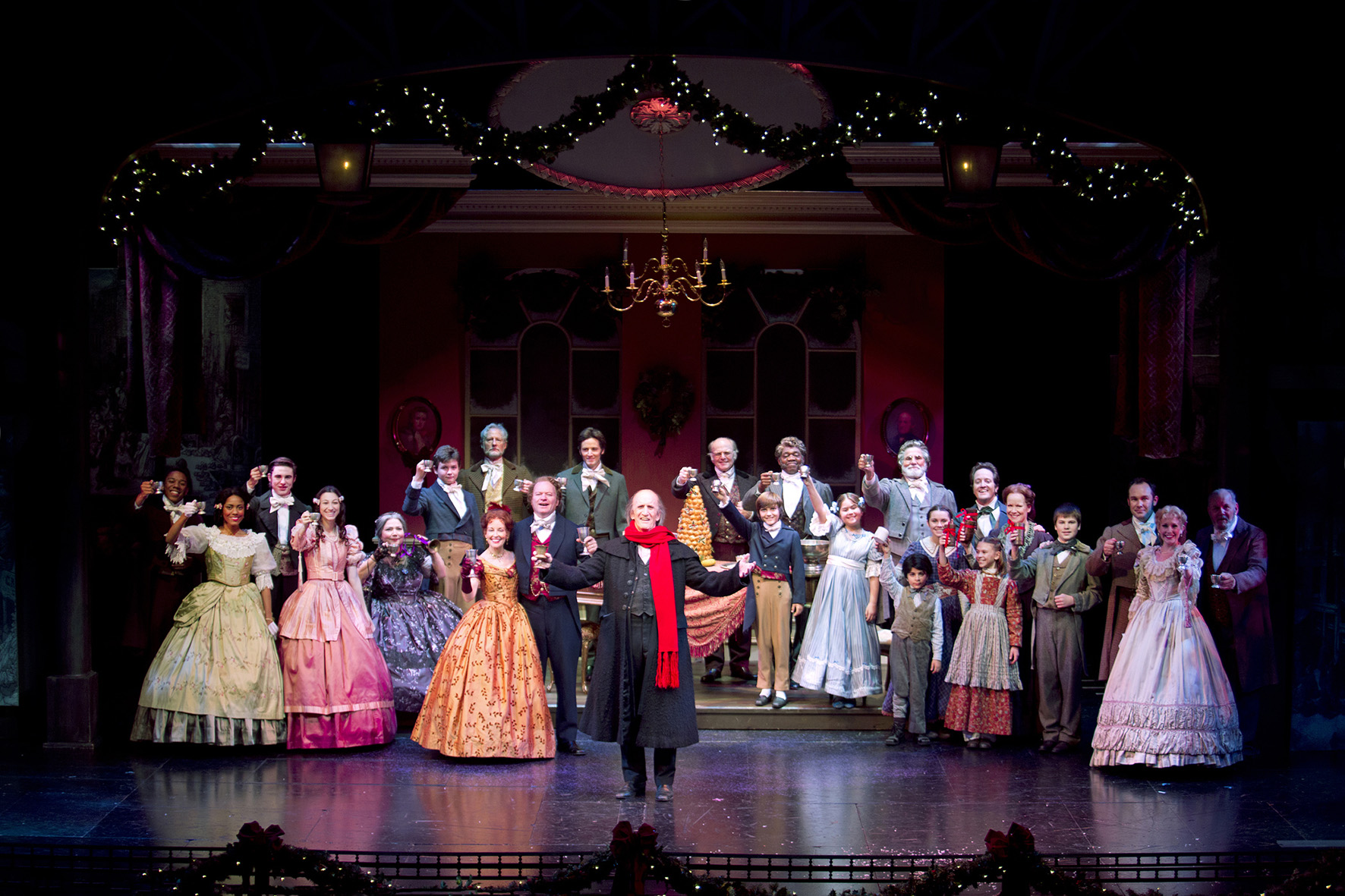 "A Christmas Carol"
Through Dec. 27; South Coast Repertory, Costa Mesa
Watch as 19th century London comes alive on the Segerstrom Stage at South Coast Repertory. The "bah humbug" attitude of Ebenezer Scrooge and the larger-than-life love of Bob Cratchit and his family delight audiences of all ages seeking a traditional interpretation of the holiday classic. (714-708-5555; scr.org)