Renowned designer Rebecca Minkoff sheds light on the inspiration behind her summer style.
By Ashley Breeding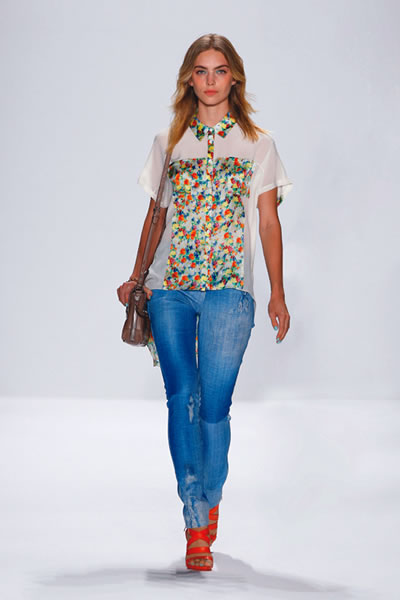 Rebecca Minkoff got her proverbial "big break" when actress Jenna Elfman donned the designer's "I Love New York" T-shirt on "The Tonight Show with Jay Leno" just more than a decade ago. A seemingly overnight sensation,  Rebecca's since rocked the fashion world with collections tailored to the feminine but edgy style-setter. The San Diego native, who moved to NYC at age 18 to pave her future in fashion, recently returned to Southern California where she made an appearance at Nordstrom South Coast Plaza during the launch of her summer collection.
Newport Beach Magazine: Your style in one word (or two):
Rebecca Minkoff: Sexy tomboy.
NBM: What inspired your summer 2013 ready-to-wear collection?
RM: The book, "Poolside [with Slim Aarons]." I imagined what a girl from the book would wear now if he were following her around. There is an [emphasis] on colors and prints, and the connection between the two.
NBM: A celebrity you'd love to dress?
RM: Kate Moss—she just keeps getting better.
NBM: You grew up designing and sewing; what inspired your interest and what was the first garment you created?
RM: When I was 8, I wanted this particular dress, and my mom wouldn't buy it for me. Instead, she taught me how to sew. At the time I was so upset about it but it turned out to be one of the best things she's ever done for me.
NBM: What pieces from your current collection fit well with Southern California beach culture?
RM: Oh, 90 percent of the runway show—silk dresses, flared pants, fading floral prints—they're all perfect for California girls.