South Coast Repertory brings global recognition to Orange County with award-winning performances.
By Josephine Ho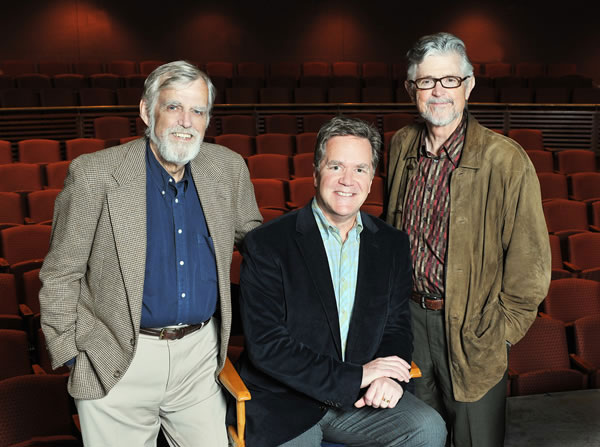 South Coast Repertory started out in 1964 at the Newport Beach Ebell Club, as a small group of former theater students with great talent, ambition and passion for performing arts. Led by David Emmes and Martin Benson, they aspired to create a theater company to call their own.
Working tirelessly in hopes of accomplishing this goal, the group members found themselves working nights and weekends, without pay, in addition to their full-time day jobs. They operated on a small budget and consequently designed and built all scenery sets by themselves as well as personally sold tickets, ushered and acted in the first productions.
In 1967, the group relocated the theater to a converted Sprouse-Reitz variety store on Newport Boulevard in Costa Mesa, the city in which SCR currently resides. It was not until 1978 that the theater moved to its current location in the heart of Costa Mesa's art district and opened doors with a production of William Saroyan's "The Time of Your Life." A year later, SCR expanded into a two-theater complex, with David and Martin as artistic directors, continuing their dream of self-owning the theater.
"SCR originally started out in the back of a car," says Director of Public Relations Tania Thompson. "It really came a long way."
In 1988, the theater earned the highest recognition in regional theater—the Tony Award for Distinguished Achievement. It gained momentum, prominence and resources from the numerous grants it received from generous donors, such as the well-known Segerstrom, Argyros and Folino families, amongst others.
In addition, SCR attracted playwrights who held premieres at the complex—playwrights who later became household names.
"SCR has an international reputation for producing some of the best works in the American theater and global canon of theatrical offerings," says Artistic Director Marc Masterson. "It is famous for the creation of new works that launch here and span out around the world."
Marc, who was appointed the artistic director position in 2011, is involved in the hiring of all artistic staff, and even directs a few programs.
"Known for its artistry and commitment to excellence, it has one of the larger literary staffs in the country," Marc comments. "They have built long relationships with agents, writers and performers."
Originally, SCR was founded on the basis of presenting theater as a unique power to illuminate the human experience. Today, that mission still lives on strongly. With three stages—Segerstrom Stage, Julianne Argyros Stage and Nicholas Studio—and holding a total of 942 seats in the complex, the repertory strives to merge both literature and performance in a way that pushes the limits of theater. It also aims to serve the community through educational, intercultural and outreach programs.
"Audiences have the possibility of discovering something each time they watch a performance," Marc explains. "We know that they come away each time with different perspectives, and that's one of the perks of the job."
Coming to SCR
"Chinglish"
Jan. 25 – Feb. 24
Blending Eastern and Western cultures together, this repartee explores the life of Daniel, who expands his sign-making company into China. Hilarious and upbeat, the performance leads audiences into discovering the power of languages and foreign traditions.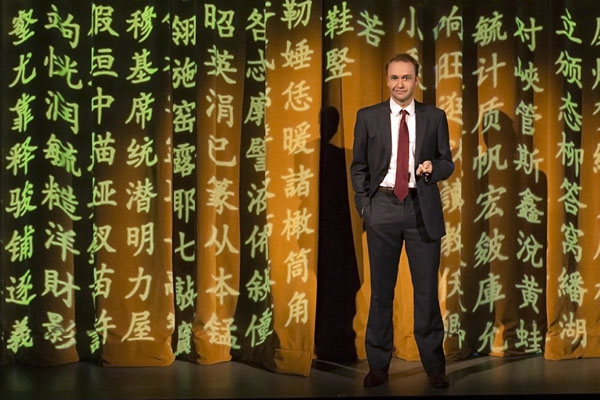 "Anastasia Krupnik"
Feb. 8 – 24 
Based on the book by Lois Lowry (author of "The Giver"), "Anastasia Krupnik" is told through the perspective of 10-year-old Anastasia, who offers an enlightening multi-generational experience that touches on family ties and the turbulent process of growing up.
"Track 3"
Feb. 21 – 24 
Combining music, dance and humor, the creators of "Track 3" adopt the storyline of Anton Chekhov's famous play "Three Sisters," with a spin to investigate the power of personal growth and discovery in a 21st-century setting.
"The Whale"
March 10 – 31
Charlie, a queer fellow who weighs 600 pounds, only has one friend and one acquaintance. When his estranged daughter suddenly makes contact with him again, Charlie, as well as the audience, is guided into reevaluating the meaning of life.
"Smokefall"
March 29 – April 28
An eccentric Midwestern family is faced with impending circumstances that will forever change their lives. This story guides the audience into exploring the fragility of life and the intimidating idea of change.
Call 714-708-5555 or visit scr.org for more information and to purchase tickets.
EVENTS
"Ex-pose: Allison Schulnik"
Feb. 24 – April 28, Laguna Art Museum
Allison Schulnik's unique paintings, sculptures and clay animations embrace expressionistic and surreal ideals through their bright colors and abstract forms. The exhibition also includes all three of her animated films: "Hobo Clown" (2008), "Forest" (2009) and "Mound" (2011). (949-494-8971; lagunaartmuseum.org)
"Hamburg Ballet: The Little Mermaid"
Feb. 8 – 10, Segerstrom Hall, Costa Mesa
In this exclusive Southern California engagement of the Disney favorite, the Hamburg Ballet celebrates the 200th birthday of Hans Christian Andersen, the writer of the beloved fairytale. (714-556-2787; scfta.org)
"Dr. Cook's Garden"
Through Feb. 24, Newport Theatre Arts Center
From the creator of "Rosemary's Baby" and "The Stepford Wives," this suspense melodrama, directed by Brian Page, is sure to chill audiences with its suspiciously tranquil Vermont village setting and a doctor who appears to have dark side. (949-631-0288; ntaconline.com)
"Development (World Premiere)"
March 1 – 10, Lyceum Theater, Costa Mesa
This contemporary drama explores the concept of Pandora's Box in the form of one man's battle with schizophrenia and the hope of redemption as he is suddenly faced with the two sons that he had abandoned 20 years ago. (714-668-6145; theatre.vanguard.edu)
"Cut! Costume and Cinema"
Through March 10, Bowers Museum,
Santa Ana
Discover the artistry of cinematic couture with this traveling exhibit that features 43 award-winning period costumes worn by Johnny Depp, Keira Knightley, Daniel Craig, Kate Winslet, and many more film stars over the years in 27 different films. (714-567-3600; bowers.org)
"DanceBrazil"
March 13, Irvine Barclay Theatre
Fusing history and culture with the power of dance, "DanceBrazil" has enthralled audiences on an international scale with its artistic blend of Afro-Brazilian movement, contemporary dance and the traditional Capoeira dance that originated in early Africa. (949-854-4646; thebarclay.org)
"Brooklyn Boy"
March 29 – April 28, Newport Theatre Arts Center
What happens to a writer's personal life when his novel hits the bestseller list? Does it soar along with his novel? Find out with this witty performance that follows a best-selling writer who grapples with the unfamiliar experience of fame and its effect on family and friends. (949-631-0288; ntaconline.com)
Richard Jackson at OCMA
Known for his large-scale works, Richard Jackson dares to push the limits of painting, as seen in this first retrospective, "Richard Jackson: Ain't Painting a Pain," at Orange County Museum of Art, Feb. 17 – May 5. Based in Los Angeles since the early 1970s, Richard's imaginative and exuberant approaches to art have allowed critics to commend him for expanding the practice of painting more than any other contemporary figure and to compare him to prominent European artists such as Yves Klein, Lucio Fontana and Niki de Saint Phalle. In "Ain't Painting a Pain," the artist showcases his major works in the form of room-size installations—wall paintings, monumental stacked canvases, painted environments and more—previously unseen by the general public.
Art enthusiasts will be able to gain insight into Richard's distinctive style of merging "action" paintings with sculptures. In addition to the exhibit itself, a 350-page, full-color catalogue with essays by Dennis Szakacs, John Welchman, Michael Darling, Jeffrey Weiss and Hans Ulrich Obrist, all notable figures in the art realm, will be on display. (949-759-1122; ocma.net) NBM