Pass the plates at A&O Kitchen and Bar, where the creative fare is meant to be shared with everyone at the table.
By Kirsti Correa | Photos by Jody Tiongco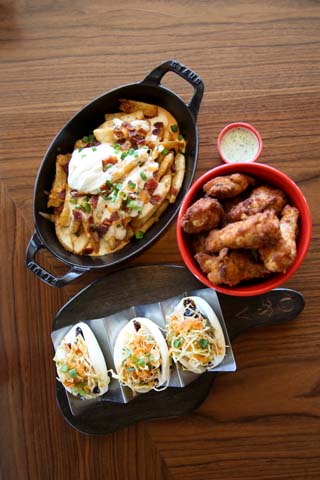 When Balboa Bay Resort shed its guard tower a little more than a year ago, it served as a reminder to the community that the iconic hotel and all of its facilities are open to the public. Among the amenities that visitors and members alike are invited to enjoy is the newly opened A&O Kitchen and Bar, which moved into the former Duke's Place location late last June. A completely renovated space, walls were knocked down to bring in panoramic views of the harbor for all guests, no matter where they're seated.
Unlike typical restaurant offerings, the new menu features one column of selections, without a separation of appetizers and entrees—each dish is meant to be enjoyed family-style. The ambrosia salad, for instance, is served in a large bowl that can be passed around a table of four, with plenty of spicy watermelon Jell-O, cherry tomatoes, red quinoa and feta cheese drenched in a balsamic dressing to go around. Chicken wings—a shareable bar standard—are also reinvented at A&O. The wings are plated in a ceramic dish resembling a crushed red cup alongside an Indian raita yogurt dipping sauce to introduce a burst of contrasting flavor.
Another must-try item is the beer batter fries, described by the waitress as a refined serving of Animal-style fries from In-N-Out. Thick steak fries are piled high with cheese, bacon, sour cream, scallions and Thousand Island dressing. The larger-than-life servings continue with the Kobe burger, which is one of the few entree-sized options on the menu. Two cheddar bacon buns are slathered with a special "baconnaise" sauce and sandwich a pile of pickled onions, grilled romaine lettuce and heirloom tomatoes atop 8 ounces of juicy Kobe beef. For a smaller yet still savory dish, try the pork belly steamed buns: Three pillowy white buns are filled with crispy pork belly and topped with hoisin sauce and a kimchee vinaigrette slaw.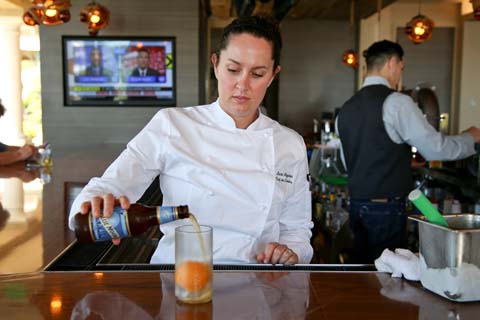 The restaurant's makeover extended to the cocktail list as well. Replacing the signature Duke's Cocktail, the most touted drink on the menu is now the real beer float, which comes in three crafty versions. The first, and possibly the favorite, is a bottle of Blue Moon served in a glass with a dollop of house-made mango sorbet to complement the citrus undertones. Served in a large mug with a couple of long spoons to share, the drink can be savored one small scoop at a time or chugged in between bites of the sorbet. The other two options include a Guinness stout with salted caramel ice cream and Red Seal Ale with coconut ice cream.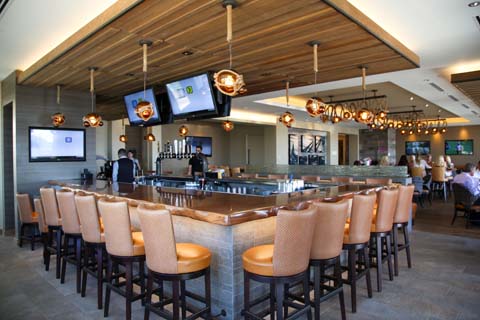 In terms of the decor, A&O—an abbreviation of anchors and oceans—features subtle nautical elements, from the montage of canvas paintings that depict an anchor to the ceiling light fixtures entwined with sailing rope. Outside on the patio, two fire pits surrounded by wicker furniture separate guests from the yachts docked on the water. The gastropub also boasts an impressive horseshoe-shaped bar framed by TVs for a true lounge experience. It's a dramatic departure from the infamous Duke's Place, but the modern eatery will no doubt gain many fans as a new generation of diners and drinkers clink glasses over a savory spread of contemporary flavors.
A&O Kitchen and Bar, 1221 W. Coast Hwy.; 949-630-4285; balboabayresort.com