Back Bay Rugby brings another season of hits, tries and unmatched camaraderie to Newport.
Section by Brett Callahan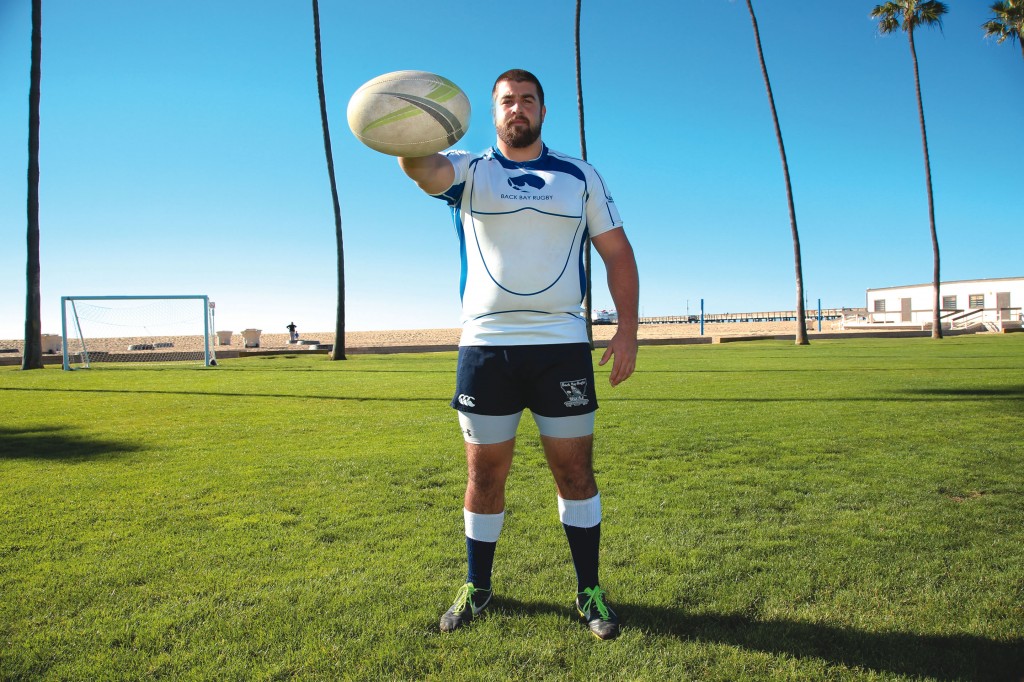 The casual observer of a rugby match might think the sport to be a bit brutal, spasmodic and confusingly exciting all at the same time—and he'd be right. But what the observer might not know about the game, which many call "elegant violence," is that it's actually one of the safest and most social games played in the world.
Because athletes are taught not to tackle with their heads, rugby is statistically safer than American football and other contact sports that are littered with concussions and other head traumas. Apart from the stats, rugby is a contact sport that does necessitate a high level of physical prowess as players break across the grassy pitch to score tries that will give them the win. Though rugby athletes spend 80-plus minutes scrumming, rucking and tackling one another to advance the team score, oftentimes they'll spend the consequent hours toasting teammates and opponents alike with a beer.
The sport originated in 19th-century England and eventually traveled across the pond, becoming one of the fastest growing games in the U.S. It's been played locally since 1966, but the Back Bay Rugby Football Club wasn't officially formed until 1985.
Today, the Newport club has a men's team as well as youth programs for boys and girls. The competitive men's team has a home base of Peninsula Park adjacent to Balboa Pier and is a member of the Southern California Rugby Football Union, traveling across the country for national championships.
A younger player on the team, 21-year-old Travis Whitlock has played with the Back Bay Rugby Football Club's youth and men's programs. His background in football serves him well in his position as prop forward—one of the players on the front lines of a scrum (a formation in which opposing forwards huddle and try to gain possession of the the ball). Travis recently took some time to discuss rugby, the sport he's proudly come to represent—both locally and as part of the winning U.S. under-20 team in 2012.
Newport Beach Magazine: What interested you in playing rugby for Back Bay Rugby Football Club?
Travis Whitlock: I joined Back Bay when I was 17 because one of my buddies invited me out. I went to one practice and then told my mom that I wanted to play rugby. She wasn't really happy because she was scared. Then there was a tournament at UCLA that my coach invited my mom and me out to, and she immediately fell in love with it just like I did.
NBM: That seems to have been a good decision, since you've now been invited to play overseas and with the USA men's under-20 team. Can you tell us more about those experiences?
TW: I got to play two seasons in New Zealand for a club in Taranaki and another in Wellington. Then, with the U.S. under-20 team, we ended up winning the [International Rugby Board] Junior World [Rugby] Trophy while competing against Tonga, Japan, Russia and Kenya. With rugby, I've been able to play throughout the world.
NBM: Having played other sports, where would you personally rank rugby as far as a fitness challenge?
TW: I'd rank it first, for sure. You're constantly running [and] you need to be fit enough to be there to get the ball or make the tackle.
NBM: Beyond practice, what else do you do to stay in shape for the game?
TW: [I] grab a buddy, go to the beach and run pier to pier, or head to a park and do footwork drills and run sprints. You always have somebody to go with from the club.
NBM: What is it about rugby that breeds genuine camaraderie?
TW: There is a huge social aspect to the game. We have barbecues, we'll do 5K runs to help promote the club and after every match, we'll go to our sponsor bar, the Tap Shack. You're always doing stuff with them because your rugby team becomes your second family.