Muldoon's
Muldoon's brings the pub traditions of good food, great drinks and a fun atmosphere from across the pond.- By Linda Domingo | Photos by Jody Tiongco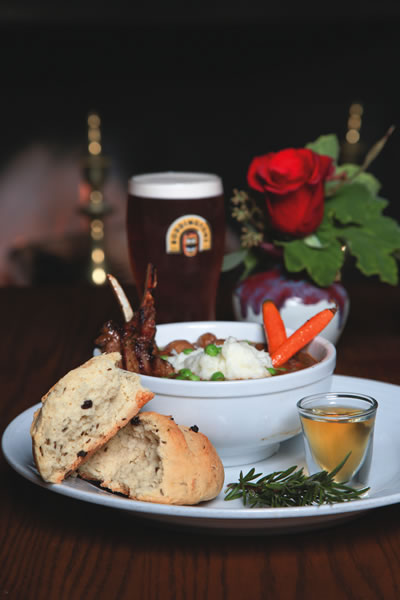 The tradition of the pub (short for public house) spans hundreds of years and is held dear by many countries. In an unlikely location for this Emerald Isle import, Muldoon's is situated across the street from Fashion Island and offers carefully crafted food, beer and Irish whiskey lists that would make a Dubliner proud, and best of all, authentic pub culture.
Ronald Schwartz opened Muldoon's in 1974 with the late Smyth brothers. After the brothers sold their interest in the pub, Ronald took over. Now, he and his wife Sindi keep the ovens warm and the beer flowing from the taps with the help of a passionate staff. That staff includes Dudley Tomasi, the food and beverage director who shares his extensive knowledge about beer and whiskey with a smile on his face, and Lisa Teixeira, the red-haired bartender who makes any guest feel like family.
Before jumping into the food menu, sampling one (or more) of the beers, whiskeys or wines is a must. A local craft brew like the Loakal Red from The Bruery will satisfy, or stick to an Irish classic: Guinness. Whiskey fans can sip Tullamore Dew or Bushmills, or those wanting to indulge can order a shot of the limited-quantity Midleton Very Rare. Once you have something to cleanse your palate, share some appetizers like the smoked salmon with chive mascarpone on flat bread or the salt and pepper calamari and shrimp fry with spicy chile tartar sauce. Have a sip of your beer and move onto the entrees: The Irish influence is clear in dishes like the shepherd's pie and bangers and mash. Sandwiches such as the Dublin dip and burgers such as the Celtic are good bets, but on chilly nights, dive into the Black Bush stew, which comes with a shot of Black Bush whiskey. Of the shot, Sindi advises diners: "Pour half or whole into the stew, and good luck!" Vegetarians will love The Goddess Salad, served with peach, olives, organic egg, pearl potatoes, smoked Gouda and Goddess dressing.
Leave room for dessert because Sindi Rae's dark chocolate pudding is a treat that is difficult to skip. "At about 8 o'clock at night you start hearing, 'clink clink clink' because [diners] are trying to get more out of that little cup," Sindi says. Pair it with an Irish coffee for a sweet nightcap.
Muldoon's features two pubs, which surround a large patio with plenty of outdoor seating. Drop in on Fridays or Saturdays between 9 p.m. and 1 a.m. or Sundays between 2 and 4 p.m. for free concerts outside. The bars, restaurant and patio all make for a lively, yet intimate atmosphere. "We seat almost 250 people, but it kind of feels cozy and small," Sindi says. "You can come in on a date, or after work, or in your tennis garb, and you're going to eat beautiful food in a casual way." NBM