By Kirsti Correa, Allison Hata, Lauren Matich and Karlee Prazak
Photos by Chad Mellon

It's difficult to define exactly what it means to be influential. The dictionary tosses around synonyms like "authority" and "prestige," which certainly fit the bill for the city's prominent business tycoons, real estate developers and generous philanthropists. But, in curating our third annual list of Newport Beach Magazine's most influential people, this definition seemed the most fitting: "the power of persons or things to affect others."
The 10 individuals chosen as this year's biggest influencers, including one couple jointly sharing the designation, share a set of critically important traits—they've all shined as masters of their trades, making relevant, timely contributions to the city in the last 12 months. While not an exhaustive list, the people profiled on the following pages have made it their mission to be powerful forces for change. Whether they're philanthropists, mothers, business owners, activists or educators, each has stepped into the spotlight in 2014 as a leader in his or her field.
The
 Entrepreneur
Betsy Thagard
A mother, business owner and philanthropist, Betsy manages to juggle her many responsibilities with an effortless grace. Though many people around town know her as the "toffee lady," her sweet venture really only began five years ago after her two children graduated from Newport Harbor High School. With an empty nest, Betsy decided it was time to pursue a passion, turning the toffee she gifted to friends and family into a successful business.
It's been a big year for Betsy—during the holiday season in 2013, she moved into her first commercial kitchen; shortly after, she received top honors in packaging at the Taste Awards in San Francisco. B. Toffee was featured at major local events throughout 2014, including the Newport Beach Film Festival and the Golden Foodies, where it was deemed the official toffee. Betsy has also donated product to numerous charitable events and nonprofits, such as Project Hope Alliance in Costa Mesa.
But even with so much on her plate, Betsy remains grateful for this second career. "I had a dream; I had an idea," she says. "I didn't let the fact that I was older stop me from doing that."
How Newport Beach has factored into her success: "[B. Toffee] was founded in Newport Beach; I live in Newport Beach; my husband and kids … were raised here," says Betsy, who's lived in the city for more than 30 years. Newport is also home to the first store to carry her toffee, A Market.
What she'd like to see changed in her field: "I think sometimes the labeling can … get overboard," she says. While she sees the need to indicate food allergens, she explains that the requirements about nutrition facts and similar items change so frequently that they pose a constant challenge.
Future plans: Though she has a small business office in town, her commercial kitchen is currently in Irvine. "We're looking for a building to move back to the Newport Beach area," Betsy says.
The
 Venture 
Philanthropist
Debra Miller
Debra is a mother on a mission. In 2002, her life changed forever when her son, Hawken, was diagnosed with Duchenne muscular dystrophy. The degenerative disease affects one in every 3,500 boys worldwide, but there's no FDA-approved treatment. In addition, Debra found there's a very shallow pool of fundraising for research efforts to find a cure. Armed with this knowledge, she co-founded the nonprofit CureDuchenne with her husband in 2003.
In 2014, CureDuchenne pioneered another new model with CureDuchenne Ventures, an LLC. To date, CureDuchenne has leveraged upward of $100 million thanks to venture philanthropy, which allows investments to become part of a fundraising cycle. Financial returns from one effort are used to support future projects and inspire outside investors.
"You don't have to do things the way they've always been done because obviously there isn't a cure for Duchenne," she explains. "If we had kept doing it the way it'd been done, we'd keep getting the same [fatal] result."
CureDuchenne Ventures has also translated into new funding opportunities for effective trials, including one that's aimed to make its U.S. debut in early 2015 thanks to a partnership with Netherlands-based biotech company Prosensa.
How Newport Beach has factored into her success: "Newport is fantastic because there [are] a lot of generous people here," Debra says. In fact, two crucial CureDuchenne donors came from a playgroup that Hawken belonged to growing up.
What she'd like to see changed in her field: Debra is seeking scientists to work out of the Newport Beach offices. "[Newport] just isn't a hotbed for biotech," Debra says, explaining that researchers are mainly in the North Carolina and Boston areas.
Future plans: Although the family hasn't been able to change the nonprofit's name to "CuredDuchenne," this is the ultimate goal.
The 
Activists
Jack and Nancy Skinner
It's hard to believe that there was a time when Jack and Nancy weren't Newport's resident water experts. For the last 30 years, the couple has educated themselves about water quality, doing research and meeting with city and county officials to improve the state of local aquatic bodies. It was this shared reputation and passion that earned them joint distinction as Citizens of the Year. In addition, Nancy has campaigned over the past year to promote women's reproductive rights and minimize commuter traffic in Newport Beach.
Though the Skinners are active on many committees, an advocacy for water cleanliness and efficient use of resources remains top of mind for the couple. Their passion for the cause is deeply rooted in their connection to Newport—it all began with a shared love of swimming in the ocean, and a desire to improve the city they lived in. Pointing to pictures of himself standing knee-deep in the murky, brown water of Newport Harbor, Jack says, "The bay was crying out for help, and that's when we got involved."
How Newport Beach has factored into their success: For the pair, the best part of Newport is its proximity to the water. Their daily swims drove them to work for better water quality. "We can't live without the ocean," Nancy explains.
What they'd like to see changed in their field: "Urban runoff can be used as a source for drinking water when it's treated," Jack says, adding that he would like to see the city take advantage of that untapped source, especially during the current shortage.
Future plans: With only one area of the bay that remains to be cleaned, Jack looks forward to helping complete the project he began decades ago. He also plans to continue his work on water quality committees.
The 
Executive Physician
Allyson Brooks, M.D.
Allyson has established a career based on quality patient care—and her resume is a testament to that continuing effort. She just completed her fourth year as executive medical director of the Women's Health Institute at Hoag Hospital, and is prepping to graduate in April from the prestigious Academy GE Fellows Program, a two-year fellowship that helps just 10 physicians across the country transition into corporate leadership roles in health care.
She recently implemented her own project, the Hoag Early Risk Assessment for breast cancer detection, which opened to the public in October. She also helped put together the pieces for Hoag Hospital's new Obstetric Emergency Department.
She first arrived in Newport to attend medical school at UC Irvine, and has since become enamored with the city. In addition to her work at the hospital, the board-certified gynecologist has a private practice in town where she focuses on improving patient care and exploring new avenues of treatment.
How Newport Beach has factored into her success: "It's a tightly knit community," she says, adding that many of her patients are women whom she delivered as an obstetrician years ago. "You feel like you're part of the growth of the community."
What she'd like to see changed in her field: "We need to focus on and understand mental illness, as well as intimate partner violence as a health condition," she says, describing two areas where she believes health care could better serve patients.
Future plans: Allyson plans to dedicate more time to her administrative and managerial duties. "Rather than making the biggest difference one-by-one with a single patient interaction, [I] will be looking to making a bigger difference at a system level," she explains.
The
 Ocean Educator
Tom Pollack
As the CEO of ExplorOcean, Tom shares his love for living near the water with the public. Since joining the nonprofit a few years ago, he's led the charge in spreading ocean awareness to the next generation. In April, ExplorOcean was named the No. 1 California-based nonprofit teaching children, and this summer marked the premiere season for his student education programs. He's also teaming up with other organizations, like the Balboa Angling Club and the Wrigley Marine Science Center, to build relationships that foster ocean literacy and anchor the program as an institution of Newport Beach.
Influenced by his travels as a former member of the sailing team representing the U.S. in the Olympics in the 1980s, he draws from his exposure to other cultures to take a global, forward-thinking view of the ocean. ExplorOcean now incorporates the teaching principals of STEM—science, technology, engineering and math—which has earned a grant from the Office of Naval Research for a program building underwater robotics.
How Newport Beach has factored into his success: "We operate under the principle that the ocean is largely unexplored," Tom says. Newport's proximity to the Pacific helps ExplorOcean continue to educate the next generation of adventurers.
What he'd like to see changed in his field: Tom explains that cultural institutions in Newport Beach are underfunded, with no official channel available to secure municipal support. He hopes to get a procedure approved that would offer a "master plan" for organizations like ExplorOcean to get aid from the city more easily.
Future plans: Tom is working to build up the organization's lecture series and purchase a pontoon boat, which would expand the student programs and field trip offerings.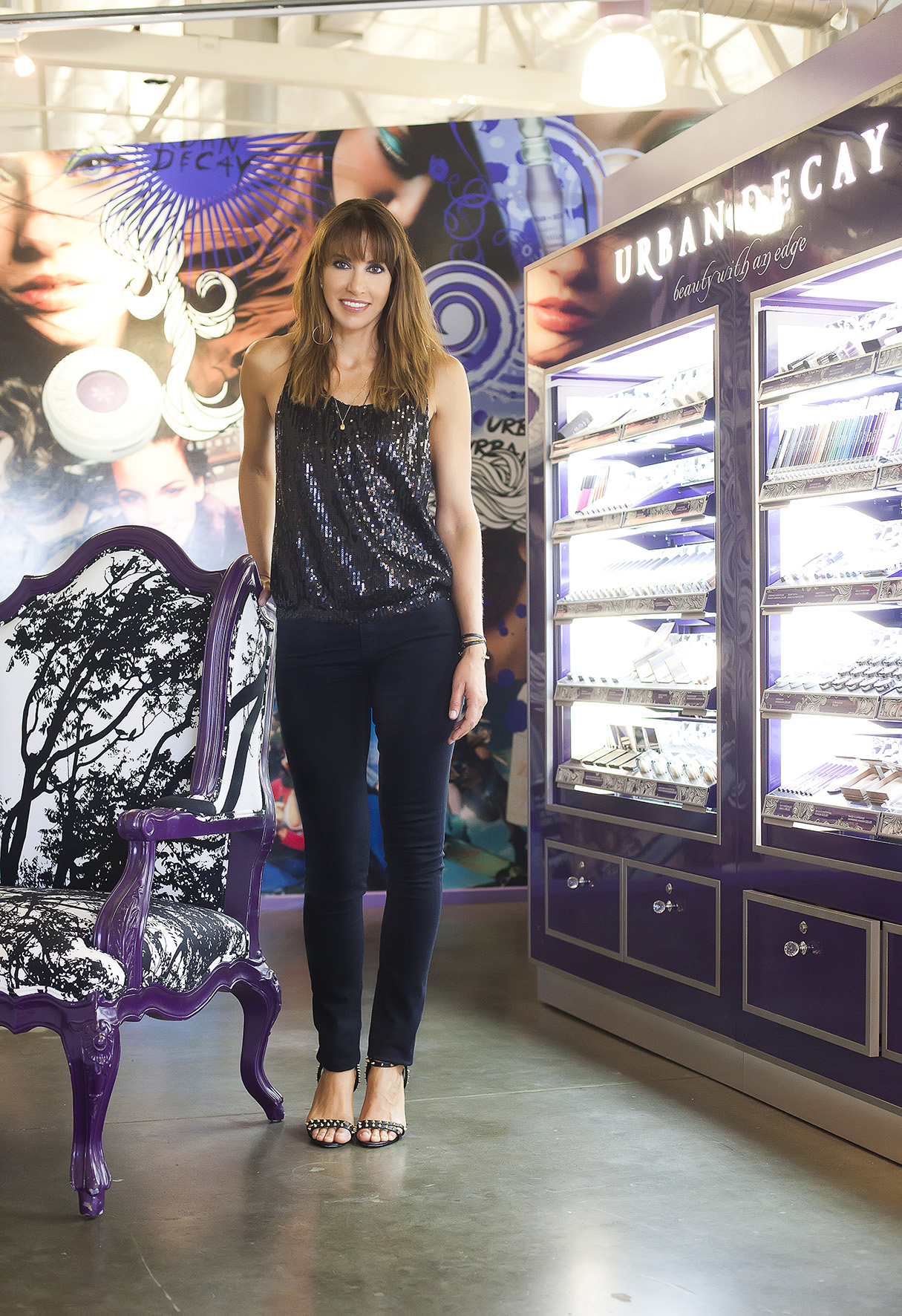 The 
Trendsetter
Wende Zomnir
Just shy of 20 years ago, Wende flipped the cosmetics industry upside down by helping to unleash eye shadows, lipsticks and nail polishes in edgy hues. "I'm not a believer in the idea of makeup covering your flaws," says Wende, now the chief creative officer of Urban Decay. "It's a means of self-expression."
Today, the brand is a global business rooted in Newport Beach. It's also branching out into a new form of retail with its first stand-alone boutique, which opened at Fashion Island in November. "We were bought by L'Oréal and with that comes a lot of international expansion," Wende says. "Free-standing stores are the way [most markets] do business, so we felt like we needed to [launch] now so we have a future model."
With help from CEO Tim Warner, Wende balances the creative side of the makeup line with sound business principles, adding what she says is a yin-yang mood to the company's Newport headquarters. "We stick to what we're passionate about and what our customers who value the whole notion of self-expression would want," she explains.
How Newport Beach has factored into her success: "The influence Newport has is more on the quality of life," Wende explains. "People are able to find this great work-life balance here. … The climate and attitude of Newport helps people understand they can be efficient in their time [at the office], then go have some downtime … and come back to the job refreshed."
What she'd like to see changed in her field: "In the beauty industry, I would like animal testing ended—[particularly] in China," she says. "We're hoping the Chinese government decides they no longer have to test on animals in order to allow products in their country."
Future plans: "We're really about supporting women and women's rights—we sponsor the Global Women's Rights Awards and give a lot to charities," Wende says. "We have a new charity initiative that we are going to be unveiling next year that we are really excited about."
The
 Modern-Day 
Renaissance Man
Stan Frazier
Stan is a man of many talents—he's a rock star drummer, music producer, self-taught chef and local restaurateur. His work with the band Sugar Ray launched him into the musical field, but it took him years to seamlessly meld his skills to become the entrepreneurial creator he is today.
"Food and music are my two passions, and to be able to marry those two—they've always been to me like cousins, but I guess cousins shouldn't marry though," Stan jokes about the talents he gleaned from a musician mother and chef father.
A whirlwind of family, fun and cooking in Newport inspired Stan and three friends in late 2013 to save their deteriorating childhood pizzeria, Sgt. Pepperoni's. The revamped eatery now hosts popular school fundraiser parties and has launched Stan into charity chef appearances, including OC's Golden Foodies. He also recently connected with the Orange County District Attorney's office to curate and host the Keep Calm and Beat the H.E.A.T. Rocking & Rally, which raised awareness for human trafficking. "The more people I can expose the charitable, musical side of myself to, the better," he says.
How Newport Beach has factored into his success: "I always felt supported by our community, and I just feel like it's a terrific place to give back to with the pizzeria now," explains Stan, who started calling Newport home at 2 years old.
What he'd like to see changed in his field: "The family pizzeria has died off," he says. "If we can bring the life and the good food back into the pizzeria, we'd really have something." He also says the industry needs a show that incorporates a travel, food and music element—a gap he's hoping to soon fill.
Future plans: Stan has an array of ventures in the works—two potential TV shows, an entertainment company startup, writing and producing music, and starting a mini super-group band. He also divulges his dream is to own a mom-and-pop-style Italian restaurant.
The
 Hobby Historian
Bob Rogers
Nineteen years into what was estimated to be an eight-week project, PBS SoCal premiered a much-anticipated 26-minute documentary in May 2014. "The Wedge: Dynasty, Tragedy, Legacy," which was written and hosted by Bob with the help of extensive family records, recounts the beginning of the Rogers lineage sparking change within Newport—starting with Bob's great uncle, George Rogers Sr., who lost his son in a boating accident.
Although devastating, there's no sadness as Bob recounts the loss sitting just yards away from where it all happened nearly 90 years ago. Bob explains the son's body was never recovered, but the tragedy inspired George to spend his final 10 years making the harbor entrance a safer place for mariners. Coincidentally, while destroying one epic surf spot, he inadvertently created another that's now known by local thrill-seekers as The Wedge.
Until Bob's documentary, one of the only reminders of The Wedge's tragic past was a plaque on a rock in Jetty View Park.
"Nobody knows what that rock is about," Bob says. "I kept thinking it [would] be great if those people walking by knew the story."
How Newport Beach has factored into his success: Bob's family ties to Newport date back to 1905. He says his upbringing here sets him apart from the other "Hollywood types" he encounters while overseeing his Burbank-based company, BRC Imagination Arts, or serving on the Academy of Motion Picture Arts and Sciences' Board of Governors.
What he'd like to see changed in his field: Bob urges the community to support a local archive at Sherman Library &   Gardens that he utilized and donated to extensively while creating "The Wedge." "If we don't take care of it and support them, we could lose it," he says.
Future plans: "Anything I planned to do stops with this," Bob says of the documentary. "[I] put ['The Wedge'] out here and made sure everybody knew, or at least has access to, the story."
The 
Artistic Visionary
Rita Goldberg
A seasoned veteran of the local arts scene, Rita has resided here for nearly 18 years and served on the City Council-appointed arts commission for six. In 2014, she entered her second—and easily most fruitful—year as the Newport Beach Arts Commission chair. She and an appointed team oversaw the installment of the Civic Center and Park's sculpture garden this fall, which accounts for two years of public art exhibitions and is the first use of the Public Arts and Cultural Facilities Fund that was approved by City Council in March 2013. This, in turn, segues into another accomplishment and highlight of Rita's endless hours of volunteer work: creating a city arts master plan.
"In my time, this is the first example of something that is concrete and meaningful that incorporates this many views and this much effort of research," Rita says of the master plan proposal. "… My main concern as a commissioner, and especially as chair, is to really give the community what it wants."
Once approved, the master plan will make it easier for arts proposals, like a recent one to honor fallen lifeguard Ben Carlson with a statue, to become reality and enrich the city.
How Newport Beach has factored into her success: "When you live in an area like Newport, the culture here is to give back to the community," Rita explains. "… [You] have to pick [a cause to support] that is close to your heart. The one I felt really drew my heart was always the arts."
What she'd like to see changed in her field: "Any city, any locale, is always going to be a better place to live when it brings arts to its residents," Rita says.
Future plans: With the fate of the city's arts scene in her hands, the near future is simple for Rita. "I'm just excited to see how this plan all plays out and see this town become even more artistic," she says.